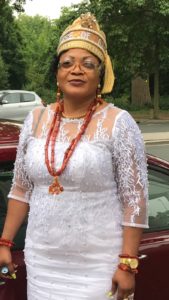 Chief Mrs. Remi D. Ojutalayo
Chief Mrs. Rémy .D.OJutalayo, Yeye Tayese 1 of Ojora Kingdom, Ijora, Lagos Nigeria is a hard working woman who has passion for children. She is the President of the United Nigerian Women Association in the Netherlands .The organisation was formed among groups of Nigerian women in the Netherlands with the sole aim of helping the less privileged in their home country. The association focuses on how to help children in motherless homes in Nigeria by providing the needs of these children.
In an interview with Green Savannah Diplomatic Cable Chief Ojutalayo speaks on her association is impacting on Nigerian children and the vulnerable.
Why the focus on children in your home country, Nigeria?
We are mothers, so naturally we should be concerned about anything that affects the children in our home country. Nigeria is a great country and all of us whether at home or in diaspora should do our best to make it greater. Whatever little we can do to put smiles on the faces of the children should be done especially orphans and other children whose parents are too poor to take proper care of them. This is what we have been doing. I want to thank my members. They have been very wonderful using their resources to help the vulnerable.
It is not until you have millions that you can help the less privileged. One Euro might look small but it can put food on the table of a child at home, so I always encourage my members to give to children back home. I also encourage them to help women who have one challenge or the other.
What other things do you do for children in Nigeria?
Apart from providing help for the motherless homes which are called Children Reception Centers, we also provide shelters for street children and re-integrate them back into the society. The reason for this is simple. If you leave children to grow on the streets, you are indirectly creating insecurity in future; therefore, we have made it a point of duty to take as many children as we could off the streets of Nigerian cities. The future of any country depends on her youth most especially the children. If the foundation is shaky, then a building cannot stand well. Because we realize this fact, we shall continue to do our best to give back to children in Nigeria.
You are a mother, how do you feel when you see youths especially ladies on the sea trying to cross to Europe?
The trend is very worrisome and we have been speaking against it. The unfortunate thing is that some of these youths don't make it to Europe. They die along the illegal routes. A lot of them are economic immigrants. This is a big challenge to governments of African countries. If the economy is good, only a few will probably think of leaving their countries. I plead with our leaders in Africa to ensure good governance. I also want to appeal to our youths that they should not risk their lives trying to cross to Europe illegally. They should follow the path of the law in coming to Europe if they wish. However, they should consider the potentials in themselves and make the best use of it instead of crossing to Europe or any other part of the world illegally.