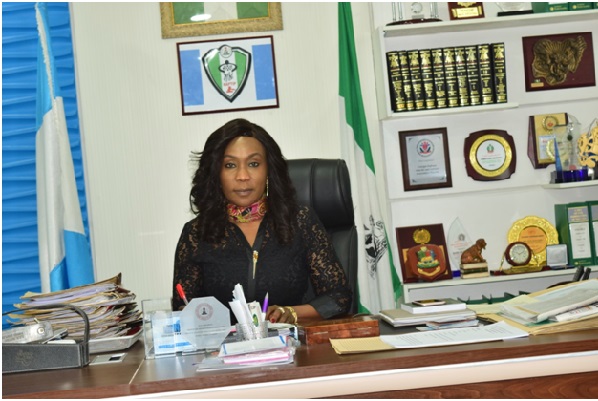 BY Sunday Oyinloye
As the heat on human traffickers gets hotter in Nigeria, a Federal High Court sitting in Sokoto, presided over by Hon. Justice Idrissa Kogu, has sentenced two men, Lawali Alhaji Gado 25 and 21-year-old Umar Abdullahi to five years imprisonment for human trafficking offences. This brings to 360 the total number of convictions gotten by NAPTIP since it was established.
The National Agency for the Prohibition of Trafficking in Persons (NAPTIP) under Dame Julie Okah-Donli has been persistent in the fight against human trafficking which has led to many arrests, prosecution and convictions of criminal elements in the country.
The Suspects, who hail from Sokoto State, were charged to court on 8th December, 2016 by NAPTIP for "procuring''a 15-year-old girl for sexual exploitation.
This contravenes Section 16 (1) of the Trafficking In Persons (prohibition) Enforcement and Administration Act (TIPPEA) 2015 which states that: Any person who procures or recruits any person under the age of 18 years to be subjected to prostitution or other forms of sexual exploitation with himself, any person or persons, either in Nigeria or anywhere else, commits an offence and is liable on conviction to imprisonment for a term of not less than 7 years and a fine of not less than N 1,000,000.00.
In the course of the trial which commenced on 8th February 2017, the prosecution called two witnesses and tendered one evidence, while the defendant also called two witnesses. At the end of the trial, the suspects pleaded guilty to the charge and were sentenced to five years imprisonment each with effect from 24th September, 2018, and an additional fine of two hundred and fifty thousand naira each.
Reacting to the development, the Director-General of NAPTIP, Dame Julie Okah-Donli commended the officers for their efforts. She also reiterated the resolve of the Agency to stamp out human trafficking from Nigeria, and warned perpetrators of human trafficking to cease from such acts as "NAPTIP's eyes are everywhere and will fish them out and make them pay for their crimes."
Julie used the opportunity to call for more speedy trials of cases of human trafficking to ensure justice is served promptly, and victims can move on with their lives after successful rehabilitation and reintegration by the Agency.
The Director General called on victims of human trafficking to always report to NAPTIP and bear witness against their traffickers.
In a press release signed by Nneka Aniagoh of Press and Public Relations of NAPTIP, the Director General assured them of the Agency's protection and dedication to their case in order to ensure that their traffickers are put behind bars.