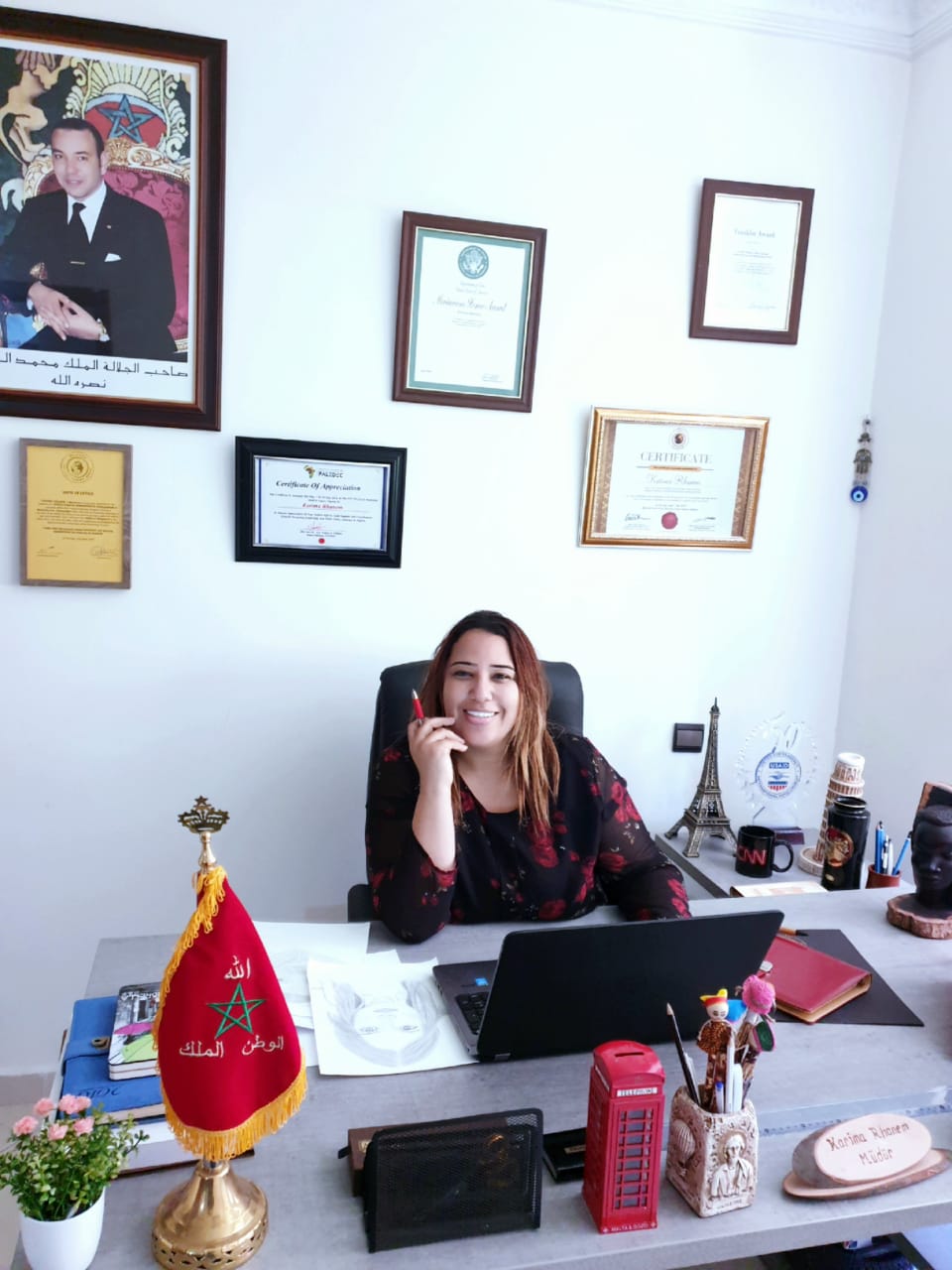 Ms. Karima Rhanem is an African citizen diplomat from the Kingdom of Morocco who has accumulated more than 18 years professional experience in youth and civil society, public policy, strategic communication and advocacy, media and outreach, capacity building, strategic studies and research, citizen and digital diplomacy, and international development. She serves as the President of the International Center for Diplomacy. Karima has previously worked as a Public Policy Advocacy Specialist at Counterpart International and Development Outreach and Communication Specialist at USAID/ US Embassy Morocco. She also worked as Managing Editor for Morocco Times Newspaper. Ms Karima has more than 22 international and national awards for engagement in civil society and human development. She was the first Moroccan woman to be awarded the Pan African Humanitarian Award for the Young Achievers for Social Leadership and Nation Building in 2017. She has also won an Outstanding Award for Global Leadership Excellence in Public Policy and International Integration and named Humanitarian Ambassador for the World Habitat Ambassadors Foundation. Karima was also nominated 2018 Ambassador of the Pan African Humanitarian Summit and Awards and was named Women of Substance at the Executive Leadership Summit in Zambia by PeacfulMind Foundation. She was selected by the Pan African Leadership Youth Foundation among the 30 most influential young leaders in Africa of the year 2019. Karima Rhanem has a BA in communications, MA in Governance and Public Policy and an MA in media studies. She is fluent in Arabic, French, and English. She also speaks average Spanish and basic Turkish
Karima in an exclusive interview with Sunday Oyinloye, Publisher, Green Savannah Diplomatic Cable, speaks about diplomacy, her humanitarian work, migration and other topical issues as they affect Africa.
Excerpts: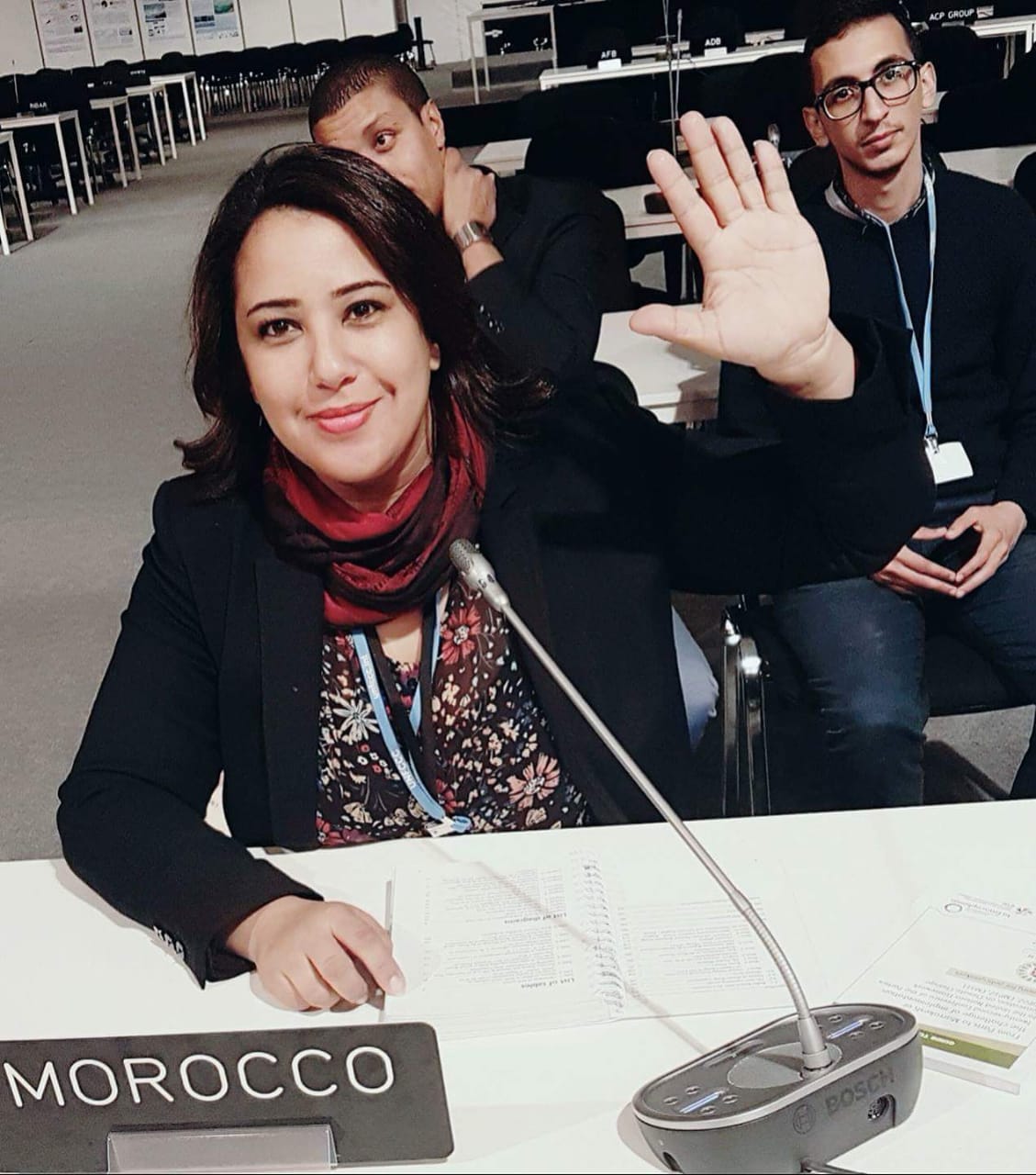 You have recently been selected among top 30 most influential leaders in Africa and you have also won several awards for your engagement for the continent, tell us more about it?
It is an honor for me to be recognized by many African organizations for the field work I am doing in Morocco and in other African countries, more specifically my work with young people. I have received more than 22 awards, many of whom are from African institutions. Just this year, I won the title of "Woman of Substance" at the Executive Leadership Summit in Zambia by PeacfulMind Foundation, Award in Global Excellence in Public Policy and International Integration and was appointed Humanitarian Ambassador by the World Habitat Ambassador Foundation and the list is long. Basically, I do a lot of humanitarian work and a lot of coaching for young people on a voluntary basis to assist them in their life projects. I think it is my social engagement duty to transfer the knowledge and experience I learnt to my generation and help many overcome life challenges with the means that I have. Certainly, I will not solve Africa's problems but I do believe that even a small initiative can change something. Therefore, I never hesitate to join initiatives that could make a difference and bring an added value. The real and hard work is made in the field and not in closed conference rooms and media outlets. I want to be a real actor and not a spectator of change in the continent.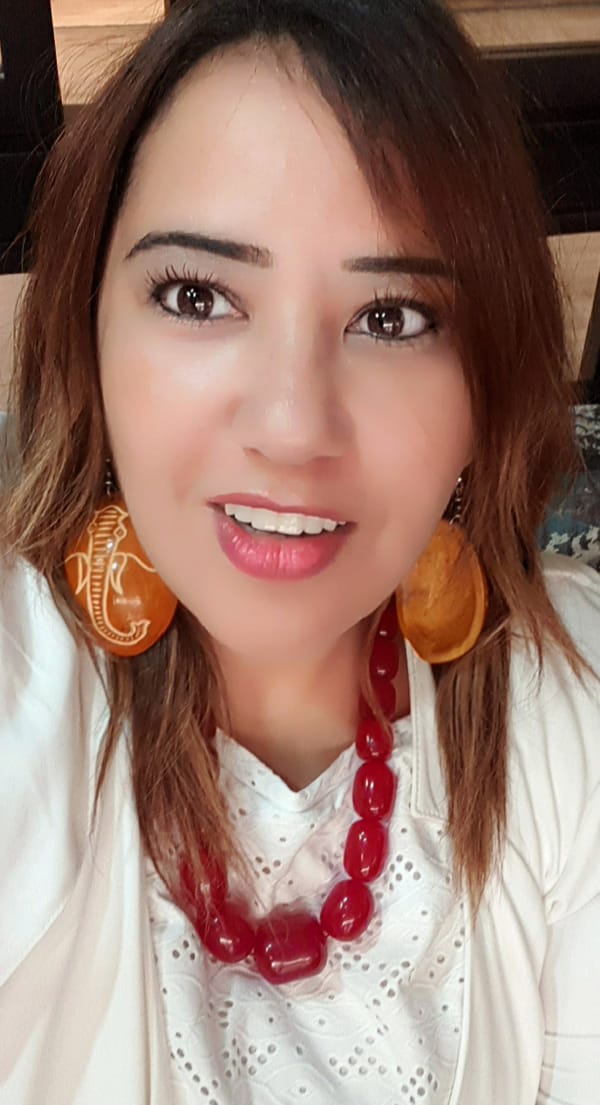 Some see you as a communication specialist and journalist, others see you as a social activist and diplomacy expert; tell us who exactly Karima is?
It is a very pertinent question as I have been involved in several actions in the past 20 years. I would rather qualify myself as an engaged global citizen, proud of my origins as Moroccan and African, interacting with issues of interest to humanity. I take part in many civic actions I think will bring an added value to communities and where I have an expertise and knowledge to share. I am a person who believes in positive and pacific change, a change that starts from within and is reflected in my small community with a wider impact. Yet, I can say that my background as a journalist and communication specialist helped in understanding and working with people and telling their stories, especially whose voices are not heard. I then learnt that empowering them to advocate for their rights is more efficient and sustainable than speaking on their behalf. Therefore, I have chosen to work on the field of public policy advocacy. I am so proud I have managed to raise the capacity of more than 3500 civil society actors and contributed to building more than 60 policy advocacy projects. As we are facing today the globalization of issues, our networking and communication efforts with global players and decision makers is a must, more importantly when our countries are signing international conventions that would eventually impact our lives. Leadership and diplomacy skills are important in this regard as tend to think global and act local. That is why I have chosen diplomacy in a time characterized by global and inter-regional conflicts to identify how I can contribute to promote dialogue, peace and global partnerships using the power of people to people diplomacy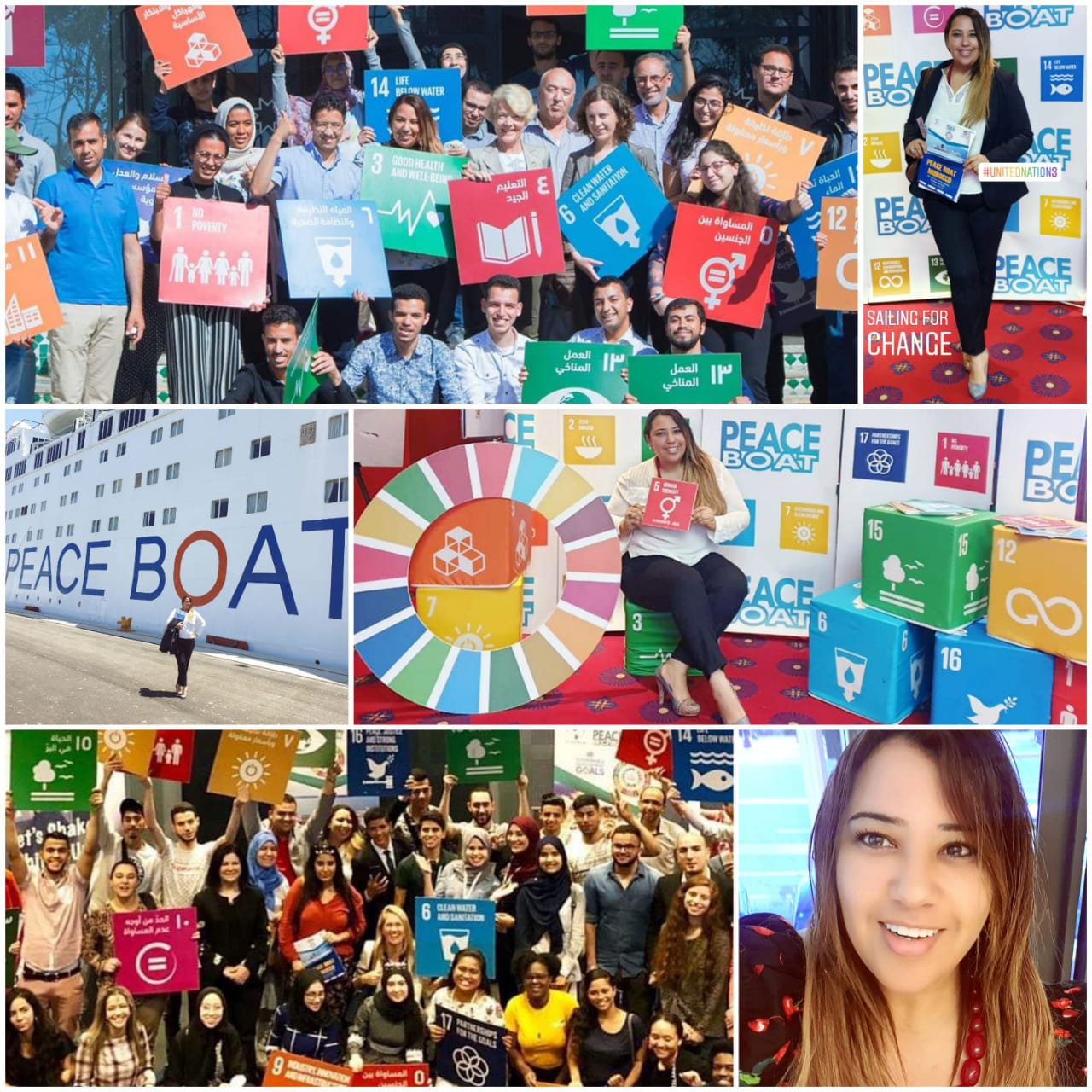 There are crises in many parts of Africa, what are you doing in your capacity as the President of the International Center for Diplomacy to make people embrace dialogue?
You know that official diplomacy cannot be efficient without the complementary and important role nongovernmental and citizen diplomacy is doing to promote people to people dialogue, bridge cultural gaps and reinforce inclusive mechanisms of dialogue and communication between different stakeholders. Our is to highlight the importance of people to people diplomacy in nation branding and change the negative perceptions and stereotypical images about countries involved in bilateral or multilateral relations with Morocco. We had the experience of either organizing or taking part as partners in many actions aimed at promoting peace, and showcasing the crisis and conflicts in any country in Africa with a different approach and perspective. Usually, we found out there are many actors who have no knowledge or biased information about these conflicts; they often have one sided view and never had the chance to listen to the other side of the story and take time to understand the conflict before judging or even being involved. Stakeholder meetings are efficient in bringing one another' views and trying to reach out to a consensus based on real fact and not media biased information. We also do trainings for non state actors in leadership, diplomacy conflict management and advocacy. These reinforce actors' skills in better establishing mutual interests and win win sustainable relations that could only pave the way for a more structured dialogue for peace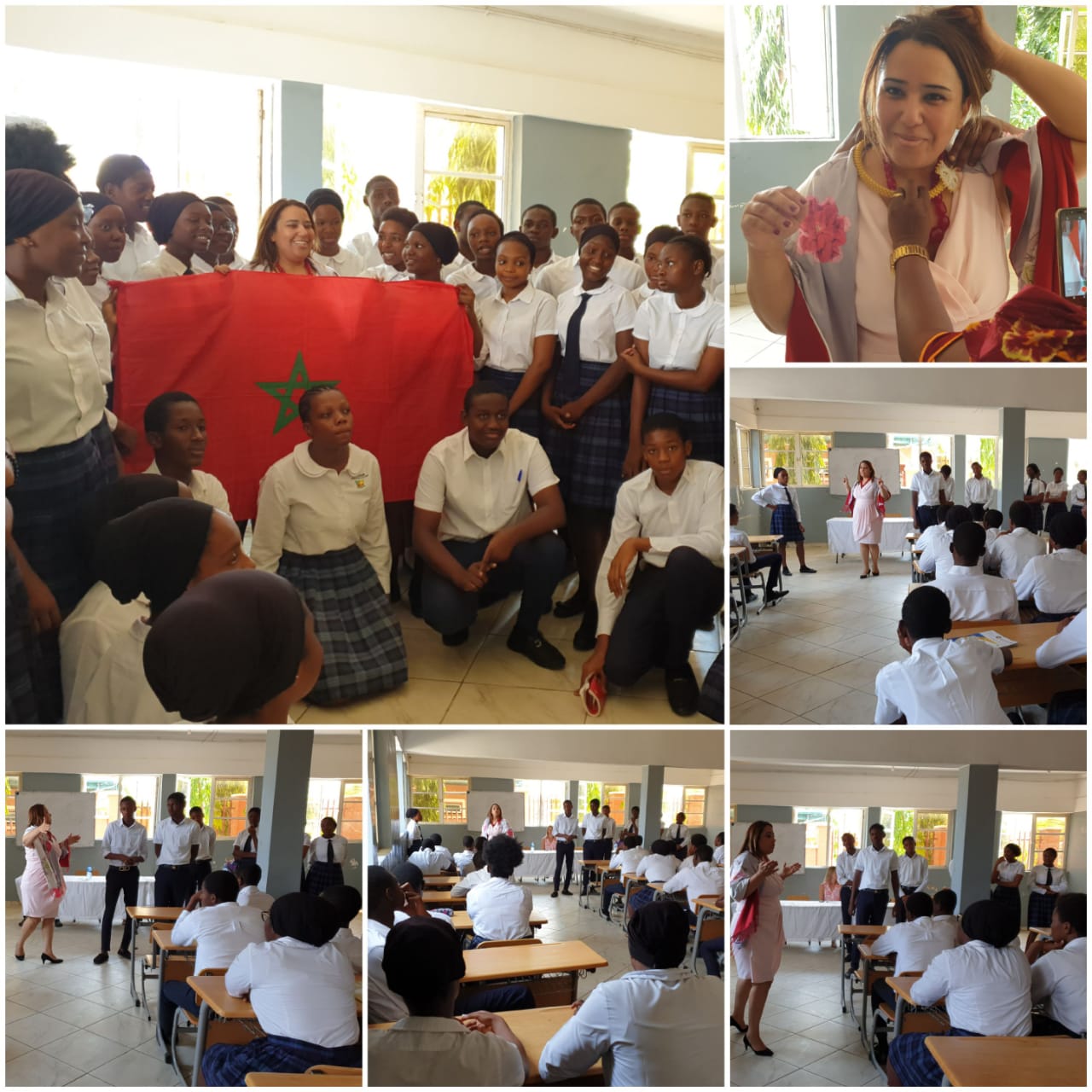 I see you are passionate about Africa and you have founded Africa My Home, do you see this initiative as an efficient platform for dialogue on African affairs?
Exactly, that's the aim of Africa My Home. It was inspired from HM King Mohammed VI speech during the return of the Kingdom of Morocco to the African Union. It simply means that Africa is our common home, we might be geographically distant, we might speak several vernacular languages, we might have variations of cultural differences, but we are more or less facing similar types of issues. It is our collective duty to work together regardless of our differences to build our common home in an inclusive way by Africans and for Africans to ensure local ownerships and sustainable solutions to Africa's development issues. Benchmarking is just importantly efficient for international cooperation and Africa should be viewed today as a development strategic partner rather than a subject of Aid. And I would like here to commend the Ghana Model Beyond Foreign Aid' agenda which focuses on managing the country's resources in a manner that will allow the country's development agenda to be financed without recourse to external assistance and reflects the approach "Trade but not Aid". In partnership with the Pan African Leadership and Entrepreneurship Development Center, an African NGO based in Nigeria, the International Center for Diplomacy hosted in Morocco the 4th edition of the Pan African Humanitarian Summit, bringing more than 200 leaders from 42 countries to discuss issues pertinent to African affairs including but not limited to migration, education, African Union Agenda 2063, youth employment, health and many other issues. Also, in collaboration with the World Habitat Ambassadors Foundation, we took part in the 6th edition of their leadership conference speaking about ways to include youth and women in habitat policies. We have also provided workshop for young entrepreneurs and social actors and school-aged students in Nigeria about humanitarian work, peace building, volunteering, leadership and advocacy. The list is long, but what I want to emphasize on is that we also seek to build sustainable relations and do something concrete in the field that would eventually have an impact in the medium and long term. This will eventually lead us to collect best practices and lessons learned and shared them with other African counterparts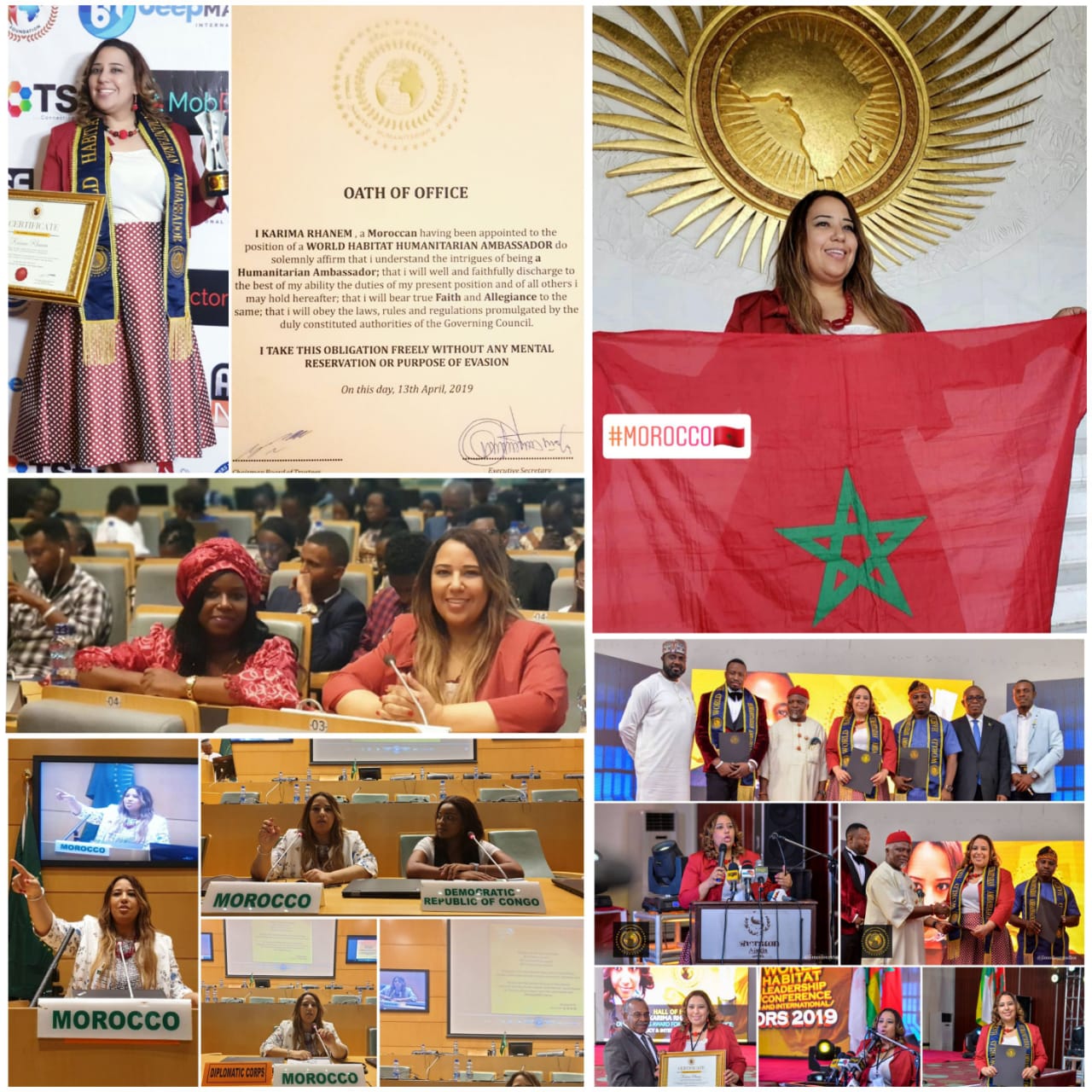 Your country, Morocco, just celebrated 20 years of reign of HM King Mohammed VI, what major achievements happened in your country that you think are most valuable?
Well, there are many big achievements that I recall, including but not limited to the establishment of the 2004 Moroccan Truth & Reconciliation Commission which examined past violations of human rights and set the ground for new era of human rights and liberties in Morocco. There is also the revision of the family code, the nationality code allowing women of mix marriages to transmit Moroccan nationality to their kids, laws fighting discrimination and violence against women; reforms of the religious sector and measures to fight against terrorism and violent extremism; social laws and initiatives including the National Initiatives for Human Development, constitutional reforms, migration policies; big infrastructure projects such as the fast speed train Al Buraq, constructions of modern highways and railway stations, huge energy projects and many more. At the African level, the King has made Africa a priority for Morocco foreign policy. Even before Morocco's return to the African Union, Morocco has never left Africa. The King has paid more than 50 visits to more than 30 African countries. Morocco has managed to sign more than 1000 partnership in Africa and initiative big infrastructure projects with many countries, including Nigeria. Morocco has also since received more than 23,000 African students who completed their education in Morocco from 47 African countries. Currently out of the 13,000 foreign students studying in Morocco, 11,000 thousands are from Africa. Morocco also contributed to training more than 4300 African government employees in different sectors from 42 countries. Morocco not only was able to regularize the situation of the more than 20,000 undocumented migrants from sub-Saharan Africa, but is working to socially and economically integrate them. In his recent Throne day, the King announced the beginning of a new era  that would be characterized by new skills and capable of handling challenges. While we have made important strides in infrastructure; yet, we have long battle to win to empower and invest in the human capital, our biggest wealth. This could only be done through an inclusive and collective thinking of a new national development model, where skilled young people have a say in different aspects of public affairs of the country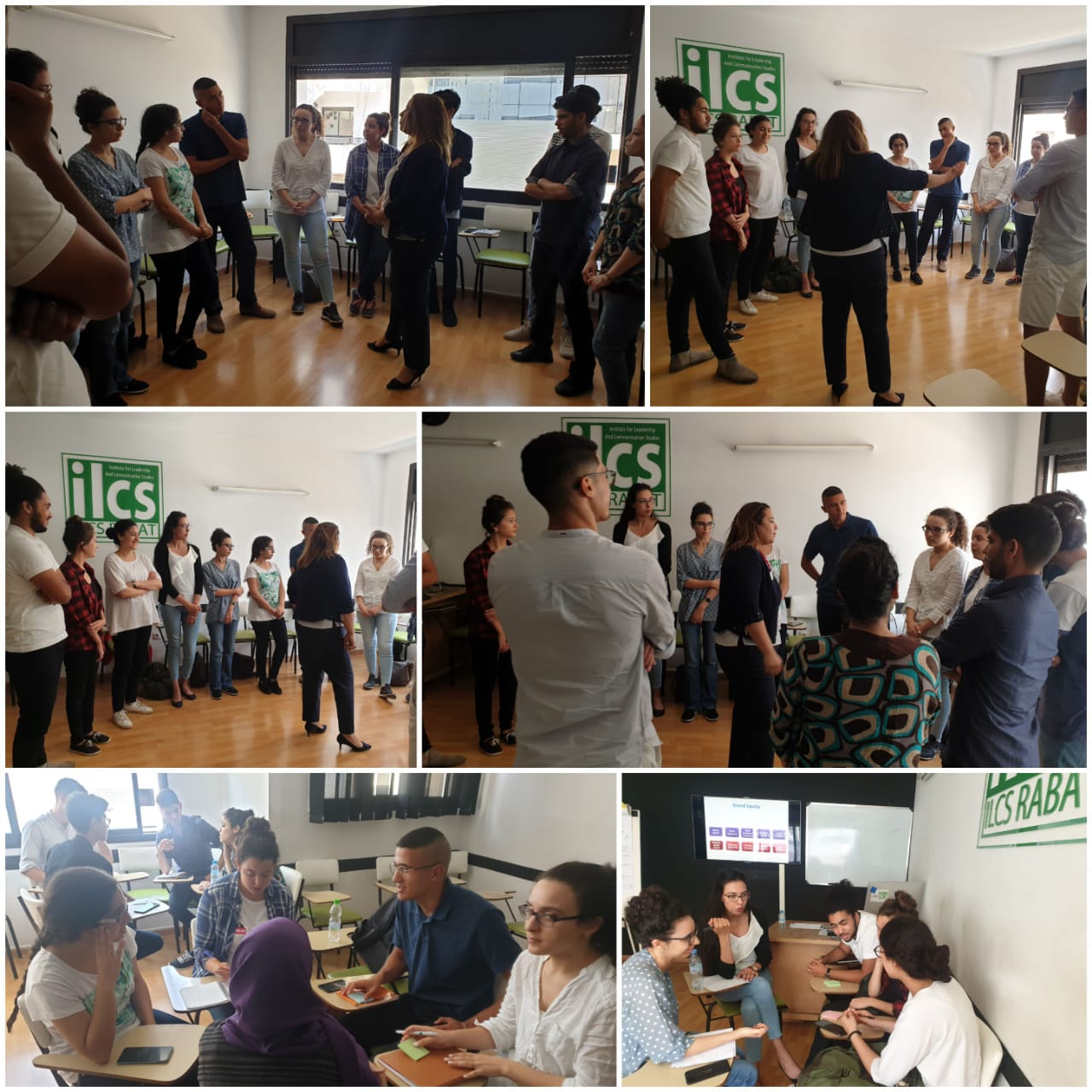 Speaking about migration, one of the greatest challenges facing Africa is the desperation of youth to travel to Europe at all costs. What should be done to check the ugly trend?
Unfortunately, everyday, Africa loses its youth in the seas who risk their lives for a better future. Also, Africa loses its best academics, scientists, doctors, nurses, accountants, and other sought-after professionals, through brain drain, into other richer continents. The question is: Why? The impact of the problem is to the detriment of development of the African continent. It also seems to be a continuous issue without any trend of ceasing. Due to its geographical location, Morocco's role in intercontinental migration has grown throughout the years, and has become a model country in terms of transit and reception for migrants. Morocco adopted the National Policy on Immigration and Asylum in 2013. This policy was launched in September 2013, under the instructions of HM King Mohammed VI. This policy, which not only seeks to regularize the situation of undocumented migrants, but also integrate them in the society, has been applauded by the United Nations, the European Union and the African Union. In May 2018, the Peace and Security Council of the African Union endorsed the establishment of the African Migration Observatory, as proposed by HM King Mohammed VI, AU Champion for Migration, which aims mainly at collecting data, ensuring information exchange and coordination between African countries. This has officially been launched in Marrakech during the intergovernmental conference on international migration and witnessed the adoption of the global compact for safe, orderly, and regular migration. I think the issue is also how we deal with mobility issues for young people. There are less if nonexistent policies to encourage youth mobility, apart from the limited educational exchanges programs. To fight illegal migration, countries need to invest in the human capital, in education, promote youth employability and social entrepreneurship, and provide institutionalized, inclusive and transparent space and mechanisms for youth to freely voice their opinion and participate as partners in the decision making process because it is key to the development of the future generation contributing to unlocking the potential of the continent's over 60% of its young generation. Also, efforts need to be done in terms of facilitating visas among African countries. Initiatives such as having regional passports, African passports and visas upon arrival procedures for African travelers are commendable. It is a step forward to promote intra Africa travel and trade thereby enhancing exchanges and generating income inwards to support African growth and development and Gross Domestic Product, calling on other AU member states to follow these examples to facilitate Africans' mobility
Would you say African nations have explored enough diplomatic channels to improve trade among them and make the continent united?
If we look at the international political economy, its major objectives in international relations are diplomatic negotiations to establish trade and economic blocs for partnerships. Through diplomatic relations Africa has managed to establish eight economic blocks namely: AMU, CEN-SAD, COMESA, EAC, ECCAS, ECOWAS, IGAD and SADC. This experience is quite interesting in fostering trade at regional levels more specifically with countries which share similar culture, language and interests in trade for specific goods and services based on needs. Now, with all the challenges Africa is witnessing, and more specifically after world super powers have stripped the continent from it raw materials, it was highly important to think of establishing the African Continental Free Trade Agreement (AfCFTA) which recently went officially into force. The agreement establishes the largest free trade area in the world since the creation of the World Trade Organization in 1995. AfCFTA should cover more than 1.2 billion people and over $3 trillion in GDP. While AfCFTA promises to unlock Africa's economic potential, the agreement still faces an uphill battle for implementation. And I guess here lays the efforts of diplomatic relations in order for Africa to forging a new path for itself to foster sustainable wealth and development for the continent
A lot of youth in Africa are brilliant but are limited because of their environment, what is the way forward?
It is unfortunate to say that the issues facing youth today in Africa are basically the same they have been facing in the past 20 years. While many efforts have been made to establish youth policies, little has been done to ensure proper implementation in order to make sure there is an impact on youth daily lives. The current socioeconomic and political conditions in many African countries are still leading youth to protest on the streets demanding jobs, freedom, democracy and the establishment of the rule of law. We have followed the revolution in South Sudan more recently and I think it is high time to empower young people and provide them with institutionalized mechanisms to contribute to building their own future and that of the next generation of their respective countries. Education also continues to be a stumbling block for many youth across the continent who found difficulty to connect to opportunities. Youth are still dropping out of school. Issues of health care, early marriages, child labor are also there. Most of these are reinforced by some African traditional values. Today, the family and even the school have had to relinquish much of the responsibility of guiding youth on these concerns. It is great that the African Union has recently launched the "1 million by 2021 Initiative", which targets direct investments in millions of African youth on four key elements of Employment, Entrepreneurship, Education and Engagement, through leveraging partnerships and private sector opportunities. Also the AU Youth Envoy has just released the AU action plan for youth. Yet, efforts should be made on how to effectively adopt these initiatives and implement them within each AU member state. African nations should deploy more efforts to implement integrated youth policies and increase the quality participation of youth in decision making processes. As for the African Network of youth policy experts, we have been able to launch this initiative at a Global UN forum on youth policies and we have worked to establish this network as an umbrella organization, bringing together youth practitioners from the continent to monitor the implementation of youth policies in Africa
Have you always wanted to do what you are presently doing and in what ways have you made your impact felt in your home country?
Absolutely, I love what I do. Each time I wake up in the morning and I contribute to putting a smile on the face of someone who needed assistance; I get more motivation to work harder. To have an impact, you need first to believe, you need to love what you do and you need to have a vision and goal. Then you need determination and courage. Personally, I have never been afraid of failure. Success and failure are relative. The most important is to learn how to stand up at each hardship and learn from life lessons while making it a real determination for success. . Change doesn't happen in one day; I have learnt to be patient with time and focus on priorities and have Plan A and B. As to the impact I am making in my own country, I would say that each time I meet young people on the street and they qualify me as their model and that I have changed their thinking, approaches or their way of looking at themselves or their communities in a more positive way through my coaching and advises, I feel that I am on the right way.
Is there something special that the world doesn't know about you?
Oh yes, because that is also a bit of a discovery for me. In the recent two months, I have discovered my talent for drawing and painting and I have produced some pieces of arts, some of which are thematic that I have used in advocacy for women and children's rights. And I am thinking to use my arts talents for advocacy related issues for positive change in Morocco and in Africa