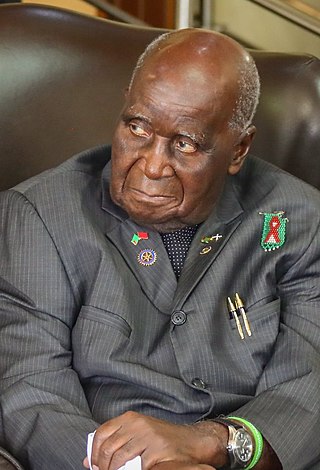 By Sunday Oyinloye
When a great man dies, for years the light he leaves behind him, lies on the paths of men- Henry Wadsworth Longfellow.
Just as I said when the former United Nations Secretary General, Kofi Annan died; weep not for Kenneth Kaunda an icon of Africa, don't cry for our hero, save the tears rolling down your cheeks for another person; it is not meant for a man who put his life on line for the liberation of the black race, not for Kaunda because his records live after him.
Papa Kaunda does not need you to gnash your teeth, he doesn't need you to bite your fingers, and neither does he need you to call professional mourners to cry from sunrise to sunset.
This great Pan- Africanist does not need you to sob when you see his body; he doesn't need your lamentation, he deserves not to be mourned but celebrated. After all, he has not only left his foot prints in the sands of time, his age was full before Almighty God called him to glory.
What else could he have prayed for after spending 97 impactful years on earth? You can now see why I said he should be celebrated rather than being mourned? His service to Africa was legendary and in age, he was advanced.
The headline of my tribute to late Kofi Annan was captioned Erin wo , now I decided to caption this tribute to Dr. Kenneth Kaunda as Erin nla wo. Are you wondering whether I am speaking in tongues, no, I am not. I am speaking the language of one of the most educated people on the planet.
Are you still pondering about the meaning of Erin nla wo? Again, just as I said in my tribute to Kofi Annan and for the benefit of readers across the globe, I am proudly a Nigerian and a Yoruba man.
The Yorubas are people with rich cultural heritage. A typical Yoruba man communicates with his eyes, legs, smiles and even laughter. The Yorubas are also known for their unique ways of using words and phrases. They are a people known for powerful usage of expressions to describe situations and to pass messages. In Yoruba land, many myths surround strong animals, elephant inclusive. They are sometimes used to qualify or describe human beings
Erin nla wo, when translated into English means the mighty one has" fallen". We all know how big and powerful the elephant is. Erin wo is a term commonly used by the Yoruba people when a powerful and great person passes on. Therefore, Erin nla wo, means a very big elephant has "fallen". Now, this can be applied to the late Zambian President who was an extraordinary person and whose memory will remain evergreen in the minds of the black people across the globe.
What is more? On the 29th of April, 2021, I wrote a tribute captioned "Kenneth Kaunda: birthday gift for a true freedom fighter at 97". I am not sure many sent him such a birthday gift until his last day on earth. I give glory to God for giving me the wisdom to present him such a birthday gift which incidentally was his last.
As stated in my birthday tribute to him, Dr. Kenneth Kaunda was a man I loved to read as a school boy, and how can I forget "Zambia Shall Be Free" authored by the late sage? Kaunda also authored many African political development books.
Some names ring bell within and outside of Africa because of their struggles to liberate their people and the kind of leadership they provided. One of such persons was Kenneth Kaunda.
Others are : Kwame Nkrumah who fought very hard for Ghana's independence, Emperor Haile Selassie of Ethiopia who not only modernized his country, but also helped to establish Organisation of African Unity (now African Union) , hero of the poor and proponent of Pan- Africanism, Thomas Sakara of Burkina Faso, Nelson Mnadela who spent a total of 27 years in prisons for the sake of South Africans and Julius Nyerere of Tanzania, a nationalist who was committed to the creation of egalitarian socialist society and popularly called Mwalimu ( Teacher).
The list also includes South African anti-apartheid activist, Steven Biko, Samora Machel; Leader of Mozambique Liberation Front , and first President of Mozambique after independence who died in controversial plane crash on 19 October, 1986, and Ahmed Sekou Toure of Guinea ; an exponent of radical socialism and a host of other Pan- Africanists.
Kenneth Kaunda was an activist as a youth; little wonder he was unanimously elected the President of Zambia African National Congress (ZANC) when he and a group of political activists left National Council of Congress to form ZANC.
The road to stardom was not an easy one for this great Pan Africanist. Not only did the British authorities ban his ZANC, Kaunda was also arrested on March 12, 1959 only to be released on January 9, 1960.
And because of the trust his political associates had in him, again, he was elected President of a new political organization called United National Independence Party (UNIP) whose approach was to lead a non-violent struggle for self-government in Zambia. That was to later earn him a nickname; "Gandhi of Africa"
On October 24, 1964, Kenneth Kaunda as the leader of the UNIP officially became the first President of the independent state of Zambia with the mindset that his country could establish a democracy where both Africans and white settlers could live in peace.
Kaunda worked so hard that his name became a household name in Africa as one of the continent's greatest political leaders. It was therefore not surprising that he emerged as the Chairman of the Organization of African Unity (OAU) in 1970. He served in that capacity till 1973.
The late President was generally loved by Zambians and other Africans. He was not only known for resolving many crises within the continent, his role in Zimbabwe's independence earned him a positive space in history.
He did his best for the development of his country and the unity of Africa. Kaunda stepped down as the President of Zambia and retired from political life in 1991
Even in death, we need to celebrate those who have impacted positively on human race. Kenneth Kaunda was one of them. Chuck Palahniuk has said it all "We all die, the goal isn't to live forever; the goal is to create something that will"
I say good night to our hero, good night the star of Africa; Papa Kaunda, may God grant you eternal rest. You live forever in the hearts of Africa and Africans.
Once again, good night papa