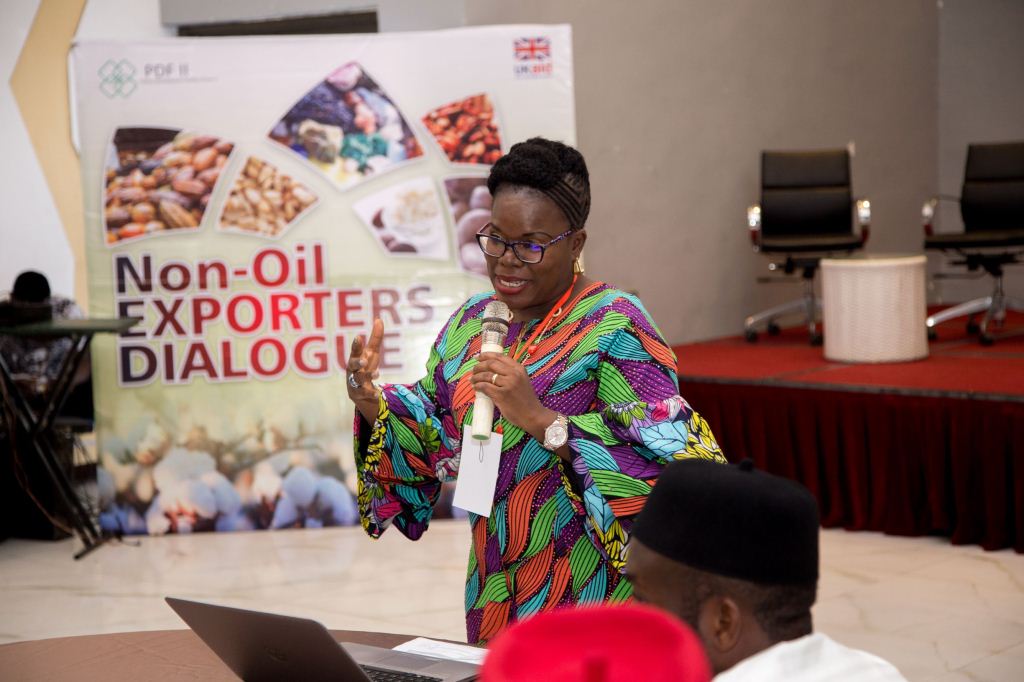 By Sunday Oyinloye
A rare opportunity has been created for young entrepreneurs and aspiring entrepreneurs (young and old) as a leading consulting firm in Nigeria, Agrochains Consult Services holds the full webinar version of its Export Readiness Workshop from August 27-29; same faculty, same content for just N40, 000
According the CEO of Agrochains Consult Services, Titi Ojo, the workshop will cover the following:
• Exportable products from Nigeria
• Export market entry strategies
• Handling quality and packaging issues
• Pricing options and strategies
• Payment methods and terms (incoterms)
• Pre export documentations
• Post export documentations
• Sourcing for buyers abroad
• Mitigating export risks and frauds
• Details of viable export contracts
• Securing export financing
• Meeting Regulatory and Compliance requirements
• The process of obtaining relevant export certifications
• Introduction to Trade mapping tools
• How to position your company for Export
• Exporting of Services – What, Why, Where & How
• Case studies review
• Export readiness assessment
• Developing an Export business plan
On target audience she said "individuals, Startups, SMEs interested in diversifying into Export, Cooperatives, Business Development Professionals, and Commodity Trade Associations"
The CEO of Agrochains Consult Services, Titi Ojo has supported the implementation of Agricultural Value Chain and Rural Development projects from donor organizations such as the UNDP, IFDC, DFID and USAID. She served as a National Advisor on the 2SCALE project (Toward Sustainable Clusters in Agribusiness through Learning in Entrepreneurship), a five-year Dutch-funded project supporting business ideas from the private sector that addresses both commercial and development objectives. Titi served as the Exporter Voices Lead, on the Trade Policy Workstream of the Policy Development Facility Program of UK AID where she played a prominent role in developing the capacity of SME exporters to participate in non-oil trade and evidence-based advocacy.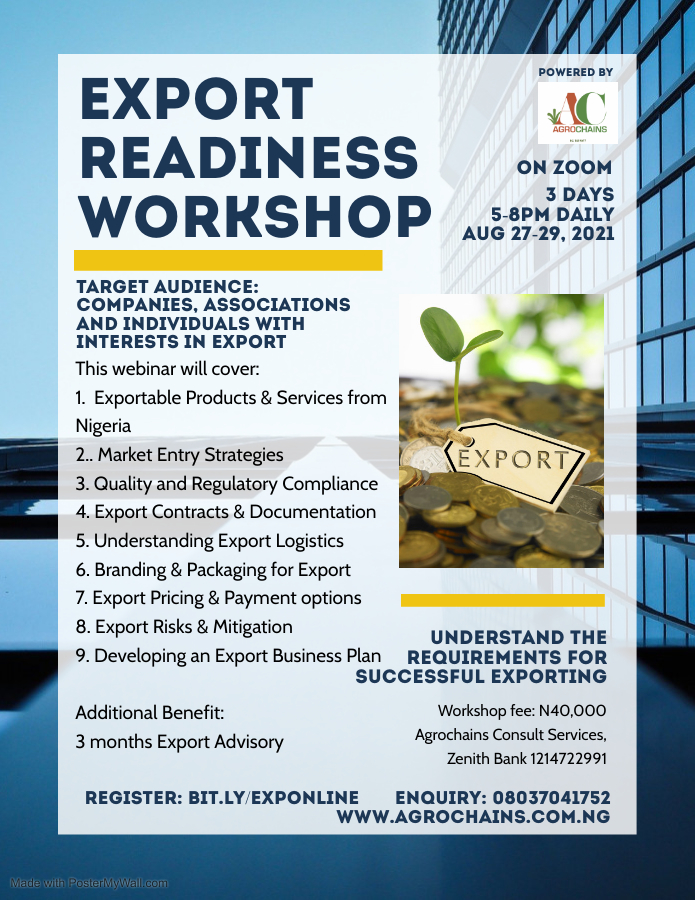 Over the years, she has acquired expertise in organizational leadership and project management skills through learning, certifications, and practice. She is a trained Lead Auditor under the International Standards Organization (ISO) in the following Management Systems: ISO 9001:2015 Quality Management Systems (QMS), ISO 14001:2015 Environmental Management Systems (EMS) and ISO 22000 Food Safety Management Systems (FSM), a set of worldwide proprietary, industrial and commercial standards. She is also a certified Project Management Professional (PMP).
Register to participate at http://bit.ly/EXPONLINE
Payments should be made to Agrochains Consult Services, Zenith Bank 1214722991