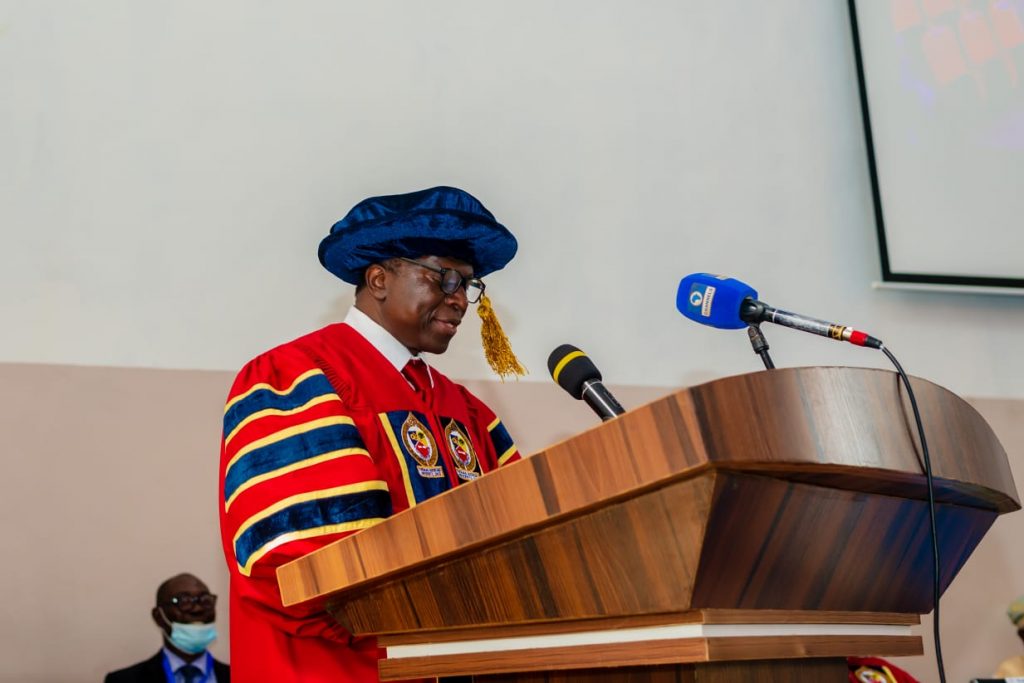 Text of Speech delivered at the Maiden Matriculation Ceremony of Thomas Adewumi University, Oko, Kwara State by the Vice Chancellor, Professor Kolade Luke Ayorinde on Friday, August 20, 2021
ALL GLORY AND HONOUR BE TO OUR GOD FOR THIS BEAUTIFUL DAY THAT HE HAS MADE.
WE GIVE THANKS UNTO HIM; FOR HE IS GOOD AND FOR HIS MERCY WHICH ENDURES FOREVER (PSALMS 136:1). THEREFORE WE WILL GIVE THANKS UNTO THE LORD AAL OUR DAYS; WE WILL CALL UPON HIS NAME AND MAKE KNOWN HIS DEEDS AMONG THE PEOPLE (PSALMS 105:1).
I give all the honour and adoration to the Lord God Almighty who has brought us to this memorable day, the Maiden Matriculation Ceremony of our University, Thomas Adewumi University, Oko, Kwara State. We owe Him all the glory and endless encomiums for making today a reality.
It is therefore my delight to welcome you all to this very significant component of the Academic Life of Thomas Adewumi University as we formally welcome our Pioneering class to the academic world.
Let me also on behalf of the entire Thomas Adewumi University community, from the Proprietor to the students, welcome you all, our eminent guests, who are here to celebrate the formal launching of Thomas Adewumi University, Oko into the comity of Universities. It is our immense joy and pleasure to welcome you all to this momentous occasion, the first of many to come to TAU in Jesus' Name. Amen.
Today marks the beginning of a game changer in the Committee of Universities in Nigeria and it is particularly exciting as it marks the beginning of the realization of the dream of the Founder, Engineer Dr. Johnson Bamidele Olorunsola Adewumi, The Asiwaju of Oko and his amiable and supportive wife Dr. Mrs. Gloria Oluwakemi Adewumi, Yeye Asiwaju of Oko Irese. It is good to dream dreams and to work towards their actualization. We should therefore raise a glass as we celebrate this momentous occasion.
I heartily welcome His Excellency, Mallam AbdulRahman AbdulRasaq, The Executive Governor of Kwara State, who is the Special Guest of Honour today. I also especially welcome our distinguished Matriculation Lecturer, Professor Olugbenga Mokuolu, a distinguished Professor of Paediatrics and Fighter for Malaria Eradication in Africa, a seasoned academic with wealth of experience as Biomedical Researcher on neonatology and malaria, and Administrator at the University of Ilorin for agreeing to share with us from his wealth of experience. I count this Pioneering Class lucky to have such a Gentle Giant who deals tenderly with little children as the Guest Speaker at today's Matriculation ceremony.
I also want to acknowledge the Chairman, Board of Trustees, Members of the Board of Trustees and Governing Council of Thomas Adewumi University, all our dear friends, families, associates, former members of the PIC of Thomas Adewumi University, Oko and all other stakeholders for the sacrifice and dedication that has resulted in a University such as ours and by which we have the privilege of gathering here today to rejoice with these young Ladies and Gentlemen as they formally become students of the Thomas Adewumi University, Oko.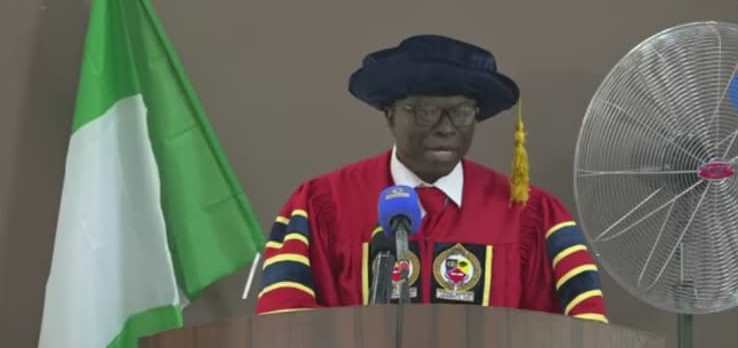 Your Royal Highnesses, my Lords – Spiritual and Temporal, my fellow Vice – Chancellors, Deputy Vice – Chancellors, Registrars, Rectors, Provosts and Officials of other institutions here present, my darling wife Adejoke Morounmubo Ayorinde, who has been a committed partner to this new challenge, The Deans, Heads and Coordinators of Departments and Units and entire Staff of Thomas Adewumi University, Gentlemen of the Press, Security Personnel, Parents and Guardians of our Pioneering Students, Our Commencement Class of 2020/2021, Eminent Personalities, Distinguished Ladies and Gentlemen, once again, I welcome you all.
The Founder, Eng. Dr. J. B. O. Adewumi, through sheer determination, doggedness and absolute trust in God has remained committed to his dream of endowing such a Legacy as this to humanity. The challenges of establishing Thomas Adewumi University were enormous; and though the road was short, the path was long, tortuous, treacherous, slippery and discouraging. However with real determination, vision and belief in his dream, the result is what we are witnessing today and I believe that it is a lesson in perseverance for all who want to succeed in life. The Founder has also put in place a system that only rewards competence and excellence, builds integrity, probity, hard work, Godliness and passion and love for the community, other people and the country. I hope that the addition of this new University, with its distinctive brand especially in Science, Technology and Medicine will mark the beginning of new academic, professional and entrepreneurial skill acquisition needed by our youths to make real changes in the socio-economic needs of our dear country, Nigeria. I therefore call on you all, our friends and well- meaning individuals, to join and support us in all ways possible in this endeavor.
The University of Ilorin was appointed by the National Universities Commission, NUC, as our Mentor University and we are enjoying great synergy and guidance especially with regards to current academic programmes, staff recruitment and training, and exchange of academic staff and materials. We are grateful to the University of Ilorin, through the Vice – Chancellor, Professor Sulyman Age AbdulKareem, for the support given thus far and hope for the continued assistance and cooperation. We are forging close collaboration between our University and the industry by integrating the much needed skills into our programmes. We have also taken steps to establish partnerships with the University of Ilorin, University of Ilorin Teaching Hospital, Landmark University, Omu Aran, General Hospitals at Ilorin and Omu Aran, The Oko Medical Centre and some other world class Universities and organizations.
We have received much support from both NUC and JAMB and I sincerely appreciate the heads of these two institutions: Professor Abubakar AbdulRasheed, the Executive Secretary of the National Universities Commission and Professor Is'haq Olanrewaju Oloyede, the Registrar and Chief Executive of the Joint Admissions and Matriculation Board.
We were licensed by the National Universities Commission in April 2021 to run 15 Programmes in ten Departments in three Faculties. The 15 programmes are Medical laboratory Sciences, Nursing Science and Physiotherapy in the Faculty of Basic Medical Sciences, Biochemistry, Chemistry, Computer Science, Mathematics, Microbiology, Physics with Electronics and Software Engineering in the Faculty of Computing and Applied Sciences, and Accounting, Business Administration, Criminology and Security Studies, Economics and Mass Communication in the Faculty of Management and Social Sciences. Academic activities commenced on the 16th day of May 2021 in 12 of these programmes and today we are matriculating a total of 60 students comprising 25 males and 35 females from 16 States of the Federation. While congratulating these lucky students, I must appreciate you the parents for entrusting these your children and wards into our care. God helping us, we will groom, nurture and make them to be great young men and women in future.
The mandate of a University, as a citadel of higher learning and repository of the highest levels of human intellectual attainments, covers three or four main areas of learning, teaching, research and community engagement; although very often learning is subsumed under teaching. These areas or Tripartite Mandates are what this young University will assiduously pursue to ensure provision of knowledge and understanding and to accelerate development of the immediate and wider communities of the University. We are prepared to do these and are being equipped by the Proprietor to ensure that we do not fail in attaining the vision, mission and objectives for which this University was established. We have therefore put in place core values of Capacity Building, Entrepreneurial Culture, Excellence, Global Relevance, Godliness, Innovation, Integrity, Service to Humanity and Personal Responsibility to guide us as we work together as a team to achieve the reasons for which Thomas Adewumi University, Oko, is established.
As a young 21st Century University, we are ICT powered and compliant in all our activities and programmes. Our ICT facilities include support for high grade e-learning platforms and modules, admission process, student registration, fee payment, student/staff biometric, library services, administrative tasks, examination result computation, transcript issuance, campus security, etc. Our lecture theatre, classrooms, laboratories and studios are equipped with multimedia facilities and are internet powered.
We are engaging world renowned academics and professionals to ensure quality of our teaching and mentoring. This should place our students at a competitive advantage at becoming international graduates who are exposed to the best of practices and well equipped to go out into the world and make a difference wherever they might find themselves.
Our student hostels are world class and provide the much needed comfort, leisure and security expected of a World Class University. We place great emphasis on the security of the campus especially in view of the ongoing challenges globally and in our country in particular. We have therefore put in place robust security architecture and top health facilities to guarantee the safety and well-being of all on the campus.
Ladies and Gentlemen, you will agree with me that earning a degree, no matter the class, is not enough for today's world. Although the greatest goal of every student should be to graduate with a colourful result but while that is good, TAU is determined to ensure that our students acquire practical skills and entrepreneurship that will make them self-reliant even without white collar jobs. We will thus place emphasis on skill acquisition and entrepreneurship for all students. Therefore, in order to sharpen the skills of our students, we are focusing on vocational and entrepreneurial education as part of the curriculum of every programme run by the University. It is our belief that this will stimulate job creation and innovative abilities in our students from the onset of their studies in such a way that our graduates shall be resourceful, self-reliant and job creators. I therefore advise all you our students, not to just learn about entrepreneurship but to become an entrepreneur. You should learn the theory, pick up the practical skills, obtain knowledge necessary to put your ideas into action and develop both as a businessperson and entrepreneur. We are determined to make a difference in your lives and propel you to success. People have ideas, entrepreneurs make them happen. That is the secret for success in future.
My dear Pioneering Students, today you are being formally enrolled in Thomas Adewumi University, Oko, and this confers full membership of the University on you. Let me make it clear that your admission to Thomas Adewumi University, Oko is a special privilege bestowed upon you for the acquisition of the needed academic, professional and moral skills that will enable you go out into the world and become agents of change. I therefore challenge you, my dear students, to seize this opportunity, break all barriers and limitations by being dedicated to your studies, being of good behaviour and maximizing all opportunities that will come your way. The visa between matriculation and graduation comprises diligence, dedication, discipline, dignity, focus, vision and ability to dream dreams. You are therefore strongly advised to work very hard in order to attain good grades and acquire the moral, academic, entrepreneurial and leadership skills needed for you to excel in life.
You need to dream dreams but if you are to succeed in life or be outstanding, you need to work assiduously towards the realization of your dreams. You must defer certain pleasures, sweat it out now and burn the night oil in order for your dream to become a reality. You must understand that success is not a straight line but much more of a dance that is open to so many possibilities but with a lot of ups and downs and with its turnings and twistings. I assure you that you can still enjoy the music and dance to the melody while you are here but all within the limit of guided freedom. You must constantly remember that the primary focus of your training here is for your academic and character molding. Therefore be very mindful of your status as an undergraduate and future Ambassador of this University.
Every University tries its best to provide an environment that is conducive to prolonged meditation but it is the duty of each student to lookout for ways of stimulating their interest. I therefore advise you my dear students to join clubs or societies, attend public lectures, participate in debates, sporting activities and the like. However, more importantly you must be a lover of books. Please read widely all books you can lay your hands on. As you pass through this University, I urge you to let the University pass through you by using every opportunity to sharpen your intelligence.
Thomas Adewumi University is determined to be a Centre for learning, research and character building or formation. To succeed, you must set out at dawn, attend your lectures regularly, carry out all assignments, and shun deviant behaviours and all vices and build good habits. I urge you to contribute your quota to the growth, development and image of this University. Please participate fully in all activities of the University, be committed to your studies, be vigilant and security conscious and stay safe and healthy. The University has zero tolerance for cultism and frowns at any form of drugs and substance abuse, sexual harassment, bullying, examination malpractice, hooliganism or gangsterism and all other vices. You have to be of good behavior on and off the University campus because you can only graduate if you are found worthy in both character and learning. So, please do what is just and right and report any case of sexual harassment and misconduct. I assure you of maximum protection from the University. We will always reward excellence and good behavior but will not hesitate to meet out sanctions to offenders and violators of the University rules and regulations.
My dear Pioneering Students I urge you to dream dreams. However, while dreaming a dream is good, it will remain a mere mirage or wishful thinking if not backed up with actions. You must therefore work hard towards actualizing your dreams, whatever they are in life.
God helping us, we will concentrate on how to educate you, our dear students so you can develop your potentials and transform your hearts, mind and hands as major tools of change for leadership roles in the society. We will encourage and instill hard work to achieve and maintain the highest standard in all endeavours. Therefore, adequate facilities, conducive environment and right caliber of staff are being graciously put in place by the Proprietor as we commit ourselves to your holistic transformation and development. We are also providing you with curricular that will lead to development of the major tools that will equip you for the leadership roles expected of you in the society upon graduation. Thus, in this University, you will be equipped with the knowledge, skills and attitudes that would be needed to develop the total man in terms of academic, moral, social, spiritual, etc , such that each of you will imbibe the core values of integrity, honesty, fear of God, diligence, fairness, love and respect for others and for country. I can assure you that you have made the best choice and I assure you that you will be armed with lifelong skills and competencies needed to develop sustainable solutions to the myriad of problems faced by the society.
Permit me to join my voice with those of my other colleagues in Private Universities on the need for a more inclusive approach by the Federal Government of Nigeria to funding tertiary education in Nigeria. The present practice whereby TETFUND subventions and grants are restricted to Public Institutions to expand their infrastructures, implement a number of capital projects, improve teaching and research facilities, train staff for higher degrees, sponsor staff to conferences, seminars and workshops, publish books and journals, etc, is not only giving undue advantage to these public institutions but has not recognized the unique great contributions, sacrifice and potentials of Private Universities and indeed the Private Sector from which the bulk of TETFUND resources derive. The argument that Private Universities are established by Proprietors as a money- making venture is not only myopic but unfortunate. The contributions of Private Universities to manpower development, research needs, technological development and socio economic development of our country are enormous and should be so recognised, supported and rewarded. I therefore advocate for the modification of the present Laws and Legislations to provide financial relieve to Private Universities in Nigeria. I also that a Special Fund that will serve as a source of Grant or Loan for students of Private Institutions will go a long way in increasing enrolment in the Private Institutions and reduce the dilemma of many youths who have struggled for years seeking to pursue higher education in Public Institutions.
God helping us, our University will be a credible alternative to Public Universities as we mount programmes that are in high demand and run such based on best practices, use of world class staff and industry experts or facilitators and in state of the art classrooms, laboratories, studios and other facilities. With the integration of entrepreneurial and skill acquisition modules in our training, our student will graduate with alternative means of livelihood so they can be job creators.
On our part, we plan to develop and organize tailor-made training courses for specific capacity building and IGR generation to reduce dependence on the Proprietor. However we are instituting an Endowment and Capital Project Campaign, ENCPROCAM, to help sustain the quality and standard we have set for ourselves as a 21st Century University. Through this fund, we also hope to provide scholarship for outstanding and indigent students and Fellowships to sustain our teaching and research endeavors. I therefore plead with you all our friends here today to donate towards this. As you do I pray that you will continue to enjoy more of the blessings of God in Jesus's name. Amen
Once again, i congratulate you, our Pioneering Students, on your good fortune in being admitted to Thomas Adewumi University, and do wish all of you a most rewarding and fulfilling experience at the University in Jesus' Name. Welcome to the TAU Family. I wish you our Distinguished Guests and esteemed parents journey mercies back to your various destinations in Jesus' Name. Amen. Ladies and gentlemen, I thank you very much for your attention and please don't just dream dreams, but make them a reality. God bless you all. Amen