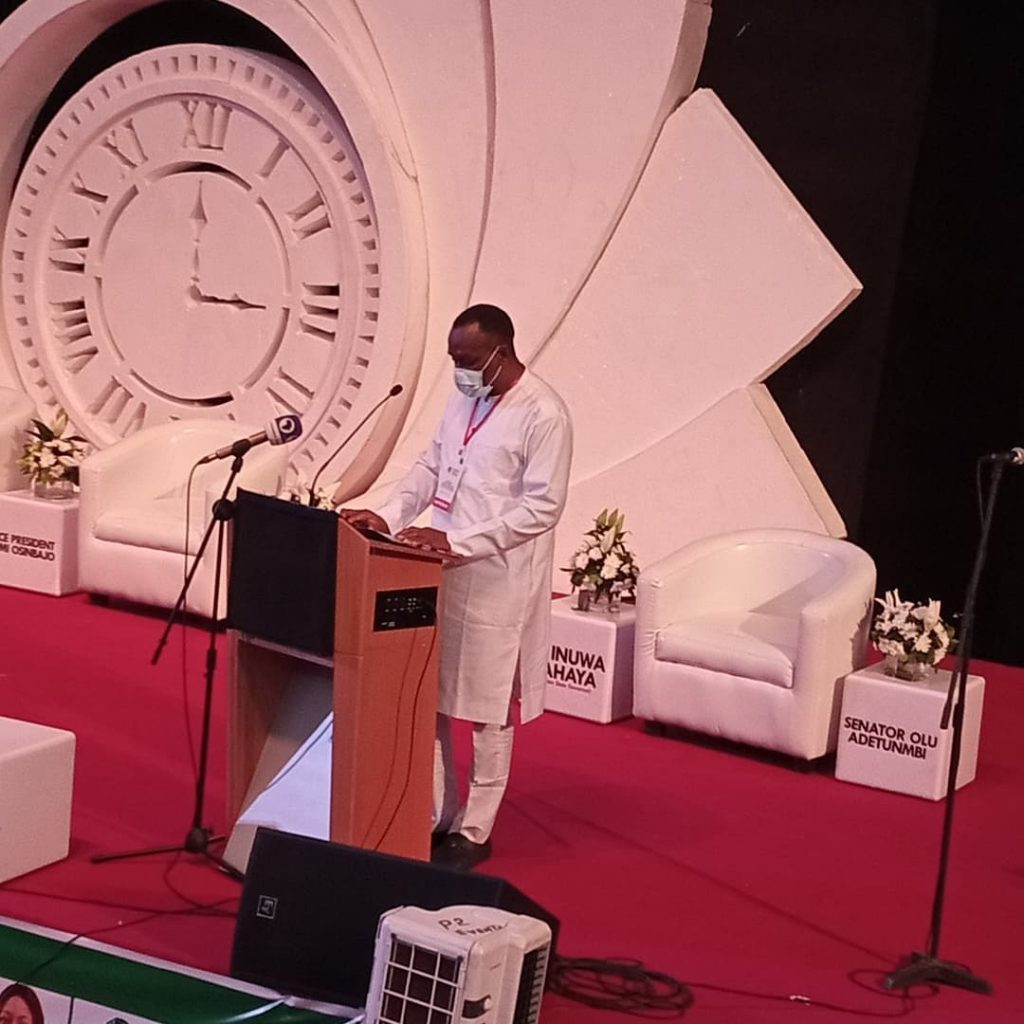 By Sunday Oyinloye
Acting Executive Secretary/CEO, Nigerian Investment Promotion Commission (NIPC), Mr Emeka Offor, on yesterday assured the Ekiti State government of the Commission's support to drive Responsible, Inclusive, Balanced and Sustainable (RIBS) investments to Ekiti State.
Offor said the three-tiers of government need to be deliberate in their investment attraction and retention approach to maintain a competitive edge, noting that due to increasing global competition for capital occasioned by the devastating impact of COVID, efforts of sub-national governments are now more critical to ensuring that Nigeria remains a destination of choice for investment.
The Acting Executive Secretary stated this in Ado-Ekiti during the maiden edition of the Ekiti State Economic Development & Investment Summit also known as Fountain Summit 2021, with the theme, 'Investment Attractiveness and Economic Development: Lessons for sub-nationals', hosted by Governor Kayode Fayemi.
His words"Please permit me to assure you of NIPC's continued collaboration with the Government of Ekiti State to drive 'RIBS' investments to Ekiti and indeed the rest of Nigeria.
"At NIPC, we consider the subnational governments to be incredibly crucial in economic development; hence we developed the Nigerian Investment Certification Programme for States (NICPS) to improve the capacity of States to provide effective facilitation and after-care support to investors. Their success is our success, their growth our growth.
"Also, through collaboration with the Nigerian Governors' Forum, NIPC produced the 'Book of States', in an effort to drive greater attention to subnational investment opportunities in Nigeria. The 'Book of States' is a tool for investors' location benchmarking in Nigeria,"
Ekiti State has vast arable land for agriculture and its value chains, a brewing tech start-up ecosystem, a budding healthcare industry around the huge private investment in the Afe Babalola University, Ado-Ekiti (ABUAD) and the multi-system Teaching Hospital, amongst other investment potentials and attractions.
A good example of Ekiti's agricultural prowess and government's private sector focus was the turnaround of State-Owned, Ikun Dairy Farms after 40 years of underutilisation. The State Government divested 76% of its shareholding to Promasidor, a private dairy company which resulted in a turnaround under a year. Ikun Dairy now produces over 80,000 litres of milk per month from a herd of just under 500 cows.
There is also the recent concession of hospitality facilities such as Ikogosi Warm Springs, affirming the same private-focus principle of the State government.
Other agricultural investors in the State include Premier Plantations Limited, a subsidiary of Nosak group with a massive cassava value chain project; Dem Eli Farms owns a N5 billion snail farm at Egbeja Snail Village which is focused on export and has been described as the second-largest snail farm in the world, second to Cyprus.
The growing tech start-up ecosystem in Ekiti has companies like Kinplus Technologies, a software and web development company building applications and enterprise promotion software, and is also focused on talent development; JM Tech Centre, a research and technology institute also recently launched in Ikun Ekiti.
For the budding healthcare industry, Ekiti State recently signed a N300 million e-medicine deal with Helium health; and as of today ABUAD (mentioned above) is getting international recognition for the sort of complex surgeries carried out in their facilities – a variety of cardiac surgeries, neurosurgery breakthroughs in skull-based tumours surgeries, spine surgeries, amongst others.
The Summit was declared opened by Nigeria's Vice President, Prof. Yemi Osinbajo and attended by some state governors, while the Minister of Industry, Trade and Investment; Otunba Niyi Adebayo also delivered a goodwill message at the event.