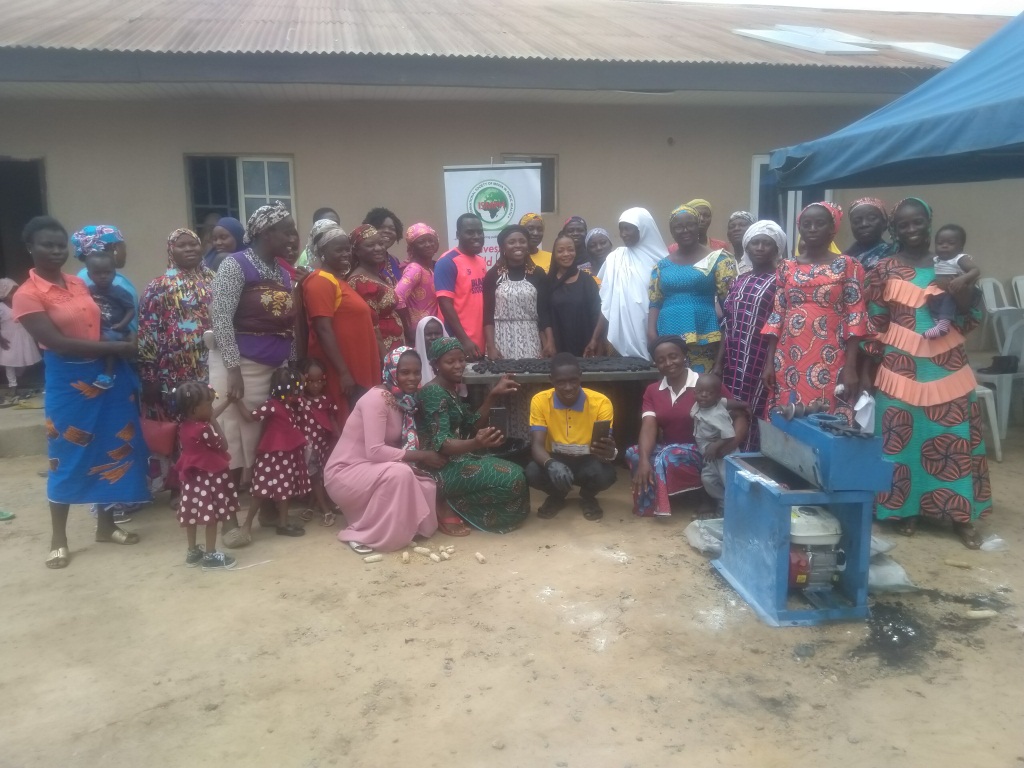 By Sunday Oyinloye
Event, 3-day empowerment programme for vulnerable women aimed at ending Severe Acute Malnutrition (SAM) funded by European Union Agents for Citizen- Driven Transformation (EU-ACT) , venue; Palace of the Etsu Kwali, in Kwali Area Council, Abuja, Nigeria.
About 29 women were seated under a canopy listening with rapt attention to their trainers teaching them how to convert waste to charcoal. Half an hour into the programme, a woman and a man carrying a child entered the palace with three beautifully dressed little girls walking in their front.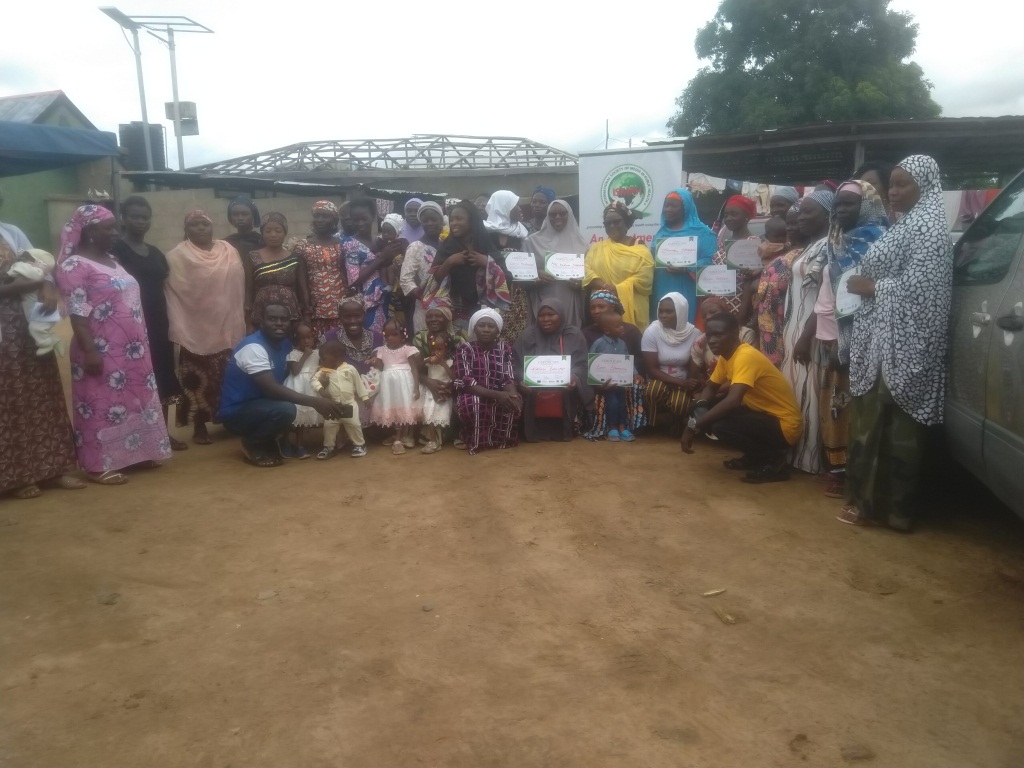 Suddenly, almost all the women shifted the attention to the "late comers". The women quickly noticed the "late comers" because of the sitting arrangement. They were all under a canopy facing the palace gate. Even the two trainers had to look back to see what was happening.
Though the three little girls who are triplets dressed very well, one does not have to be a medical doctor or health personnel to know that the triplets are facing some health challenges. Facially, they look beautiful, but their legs and hands tell their state of health. Not only are their legs very thin without much flesh, their hands are also thin with little flesh. Born June 11, 2019, the triplets; Perfecta, Peculiar and Precious are suffering from Severe Acute Malnutrition.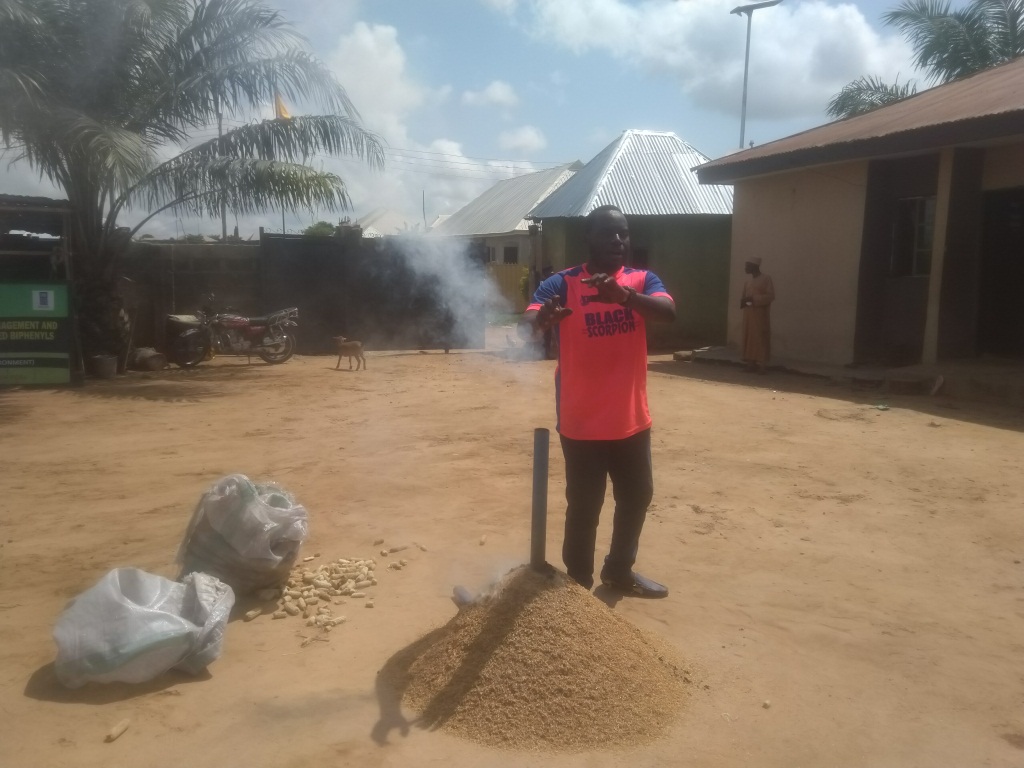 Their mother and 29, others were last week trained on how to make charcoal and organic fertilizer through the EU-ACT project implemented by International Society of Media in Public Health (ISMPH) founded by a veteran Journalist, Moji Mkanjuola.
The training was taken to Kwali Area Council after a successful one at Barangoni community in Bwari Area Council, where 30 vulnerable women were also trained on how to produce environmentally friendly charcoal and organic fertilizer.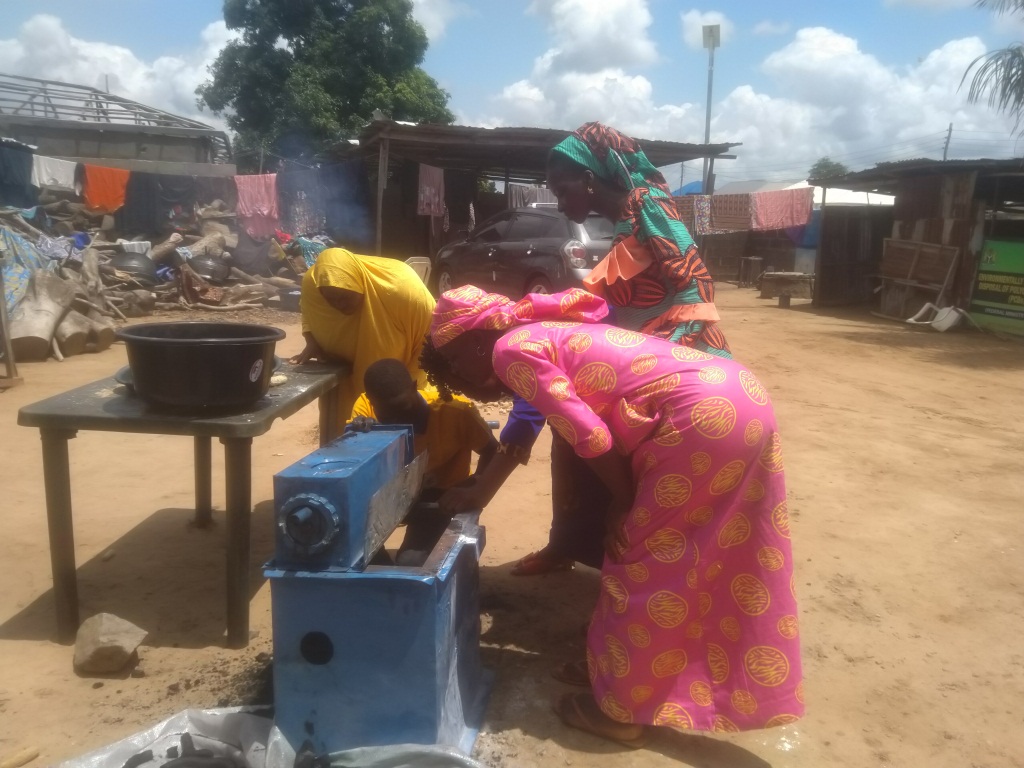 Green Savannah Diplomatic Cable asked the mother of the triplets, Praise Omari Sunday her experience. The mother of six, who is a graduate of University of Abuja, said it was a mixture of sadness and joy
Her words" It was a sweet- bitter experience because it has not been easy taking care of three babies after having two children before without work or any good source of income. Their father lost his job the very day I put to bed. He was working with a private cleaning company. I was 5 months pregnant, when I discovered I was carrying triplets.
"I worked with a FCT Micro Finance Bank, so I could not continue because the pressure was too much and the task they were giving me was too much for me to handle with my condition. I was a Cashier and I was always lying down. The triplets would not allow me do anything, so I had to quit the job. I had to resign because; my manager then was putting so much pressure on me that I almost had miscarriage.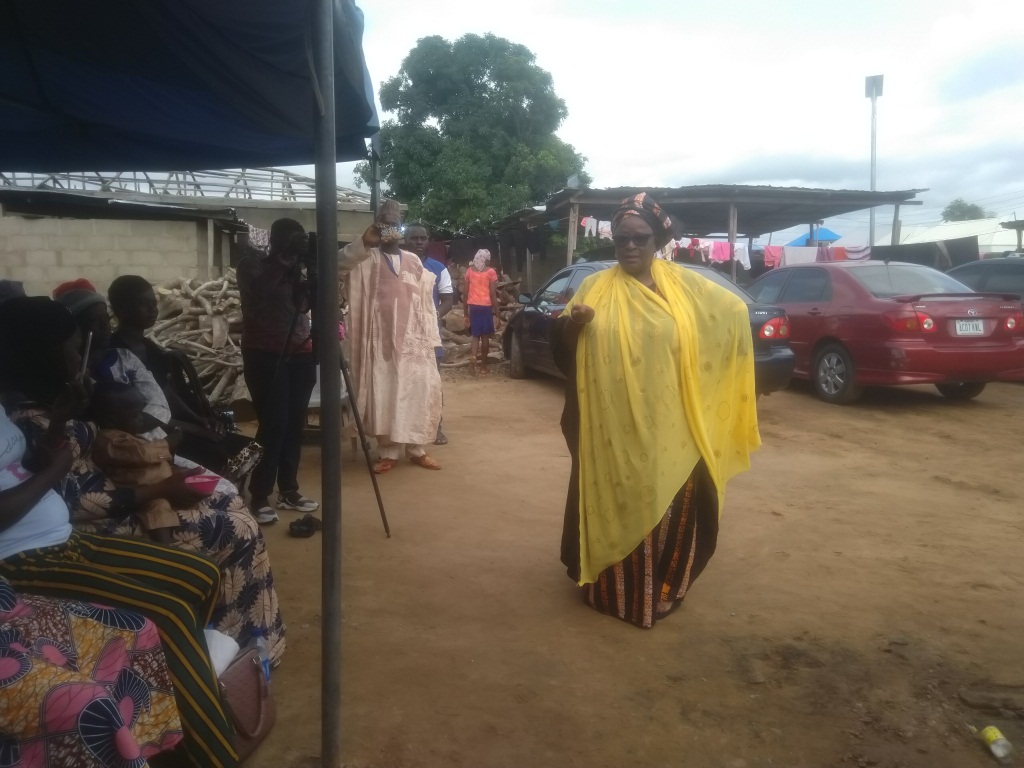 "It was so difficult when I had them. My husband and I had no job; the triplets are alive today through the grace of God and the help of good Nigerians who have been helping us for the past three years."
Green Savannah Diplomatic Cable asked her why she decided to have another child (the sixth child) when she could not provide the needs of Perfecta, Peculiar and Precious and their elder ones.
"As a human being, you need to question me, but it was something God did that I cannot question Him. I did family planning; the one they inserts; I was bleeding almost to death. It got to a point where I could not stand up to carry the babies. When I removed it, I was using condom, but I don't know how it happened that I became pregnant again. When I noticed it six weeks later, I almost killed myself, but there was nothing I could do. I went to the hospital, the doctor told me that just for the sake of my faith, it is 50-50 chance. He said if I accept anything flushing, then I should come back with my husband to sign in case something went wrong. I sat down and gave a deep thought to what the doctor said and decided not to do the flushing" she said.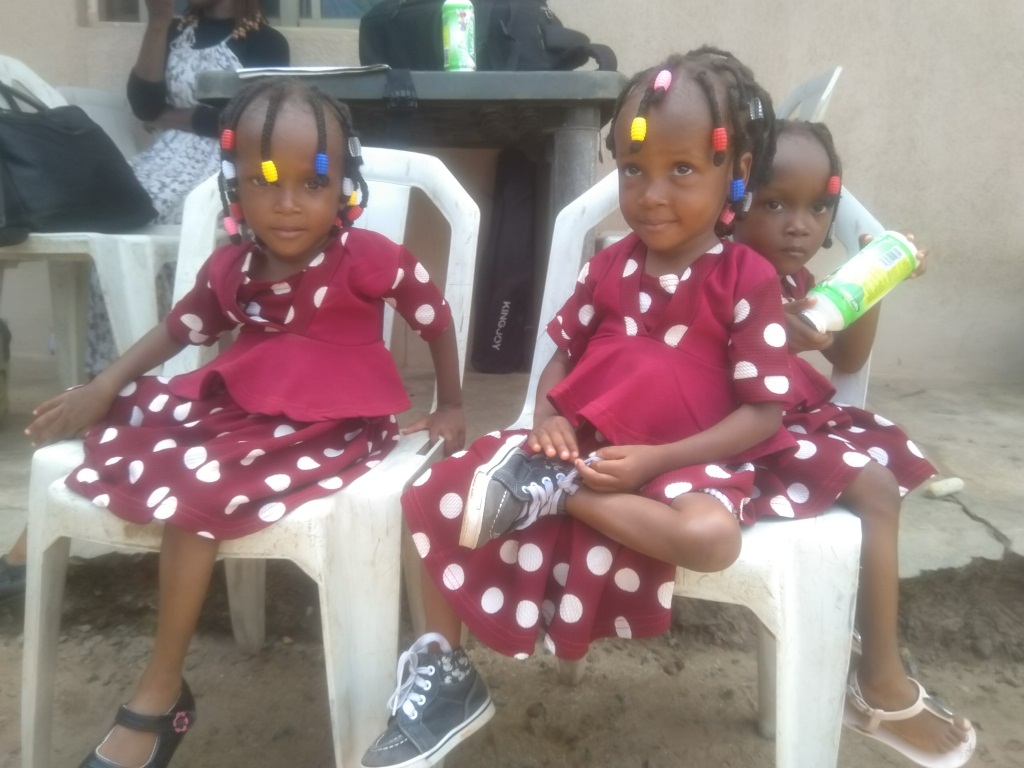 Praise is not doing anything at the moment while the husband works at a security man in a private school with a salary of N25, 000 a month.
"At times, he would drop N1000 for me and the six children to feed for a day. Even though what we eat is not nutritious enough, I still sacrifice my own food for the children "She revealed
On the triplets' medicals, the graduate of University of Abuja, said initially when they are sick, they used to give them free drugs at the hospital , " but for about a year now, I have not been going to the hospital, if they are sick, I treat them locally because they are not giving us free drugs again.'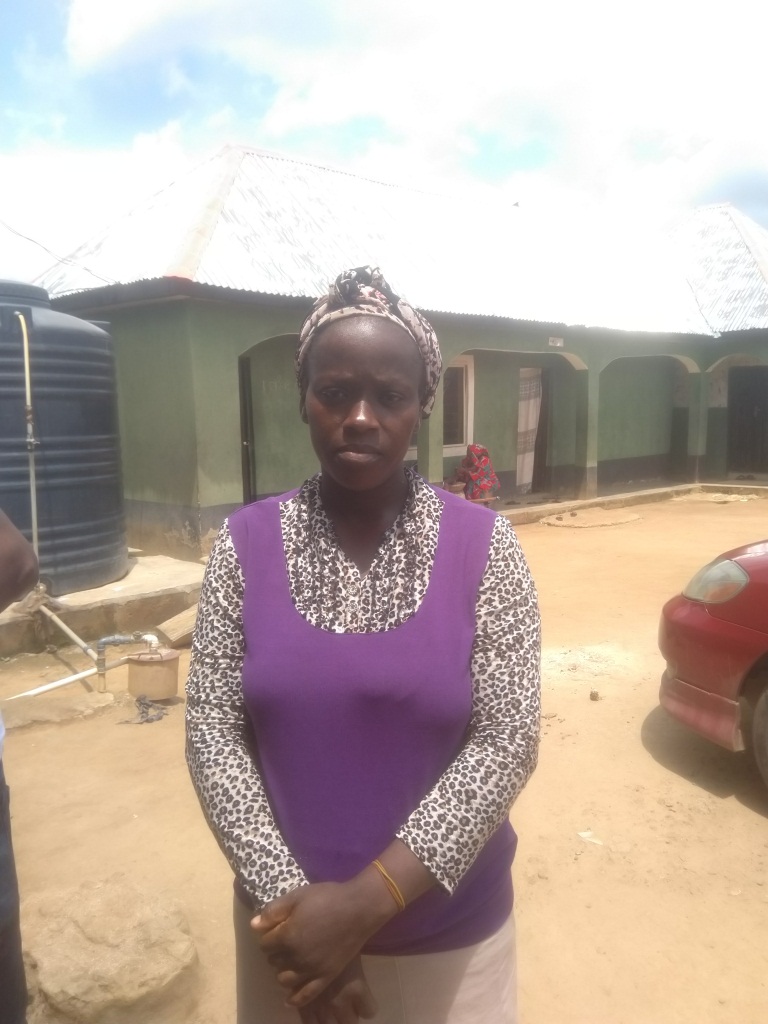 The woman who is originally from Cross Rivers State, said the triplets could not speak any word apart from "mummy, daddy" and they are not attending any school.
Our correspondent attempted to speak with the children, but they didn't respond. Even they were playing with sand in the company of two other children, they didn't talk.
Praise, who claimed to have made fruitless efforts to see the Minister of Women Affairs, Pauline Tallen appealed to Nigerians to come to her aid stressing that she sometimes take the children to the city center and start walking the streets, so that people could give her alms to be able to survive, a practice she described as shameful.
According to her "the Ministry of Women Affairs people said they could not find my file again because I couldn't go there during covid -19 pandemic. It was just yesterday that I did another documentation at the ministry with the details of the children; their date of birth, photos and their condition.
Listen to her" I am looking at how I can start a business that would make me to be economically independent. I have been advised to be feeding the triplets every two hours because of their condition. It has not been easy to follow this medical advice. As you can see, I am fit; I can do something tangible if I get support. I want something I can do with my hands."
While appealing to the Federal Government to come to her aid, she commended EU-ACT for funding the training which she said would go a long way in making vulnerable mothers like her to be financially empowered..
Other women who spoke with Green Savannah Diplomatic Cable also described the project as something that could transform their lives.
A single mother, Blessing Yahaya said" I am happy that this programme was brought to our Area Council; it is an eye opener for all of us here. This will lead to our economic freedom"
Also speaking with Green Savannah Diplomatic Cable, the Etsu Kwali, Alhaji Shaban Audu Hizzazo commended the EU –ACT for bringing the programme to his domain. The traditional ruler who also commended the Executive Director of ISMPH, Moji Makanjuola said the training was timely and capable of reducing poverty in the community.
"This empowerment programme by EU-ACT being implemented by Moji Makanjola's NGO will improve the lots of our women .It will help them economically and socially, their situation will not be the same again and they will have a good direction for themselves. Therefore, we are elated hoping that more and more NGOs will bring similar programmes. I am happy that the programme is being implemented by a veteran broadcaster with a track record." he said
Moji Makanjuola while addressing the women challenged them to pay more attention to their children and the environment. According to her, women should try very hard to lay good foundation to their children something she noted would determine the kind of citizens they would become in future.
On the training, she said" majority of the women whose children are malnourished are women who are not gainfully employed; they are the poor of the poorest and a lot of things missing in their lives and that is why we are here.
''The training we have given is such that they can do it themselves because they are using raw materials that they don't have to buy; things that are available in their community, and we have ready up takers; people who can buy from them ,and so ,we believe that when they buy from them, these mothers will have economic power. When they are economically empowered and they see any sign of malnutrition in their children, they can quickly go to the health facilities around, before it becomes Severe Acute Malnutrition.
"A child who has SAM is exposed to all kinds of sickness. This training is multi-purpose because we are not just teaching them how to make money; we are also teaching them some things that mothers should know and also encouraging them on some of the foods they can give their children. That was why we brought in nutritionist "
Makanjuola disclosed that efforts are ongoing to ensure sustainability of the programme, something the Etsu of Kwali prayed for.