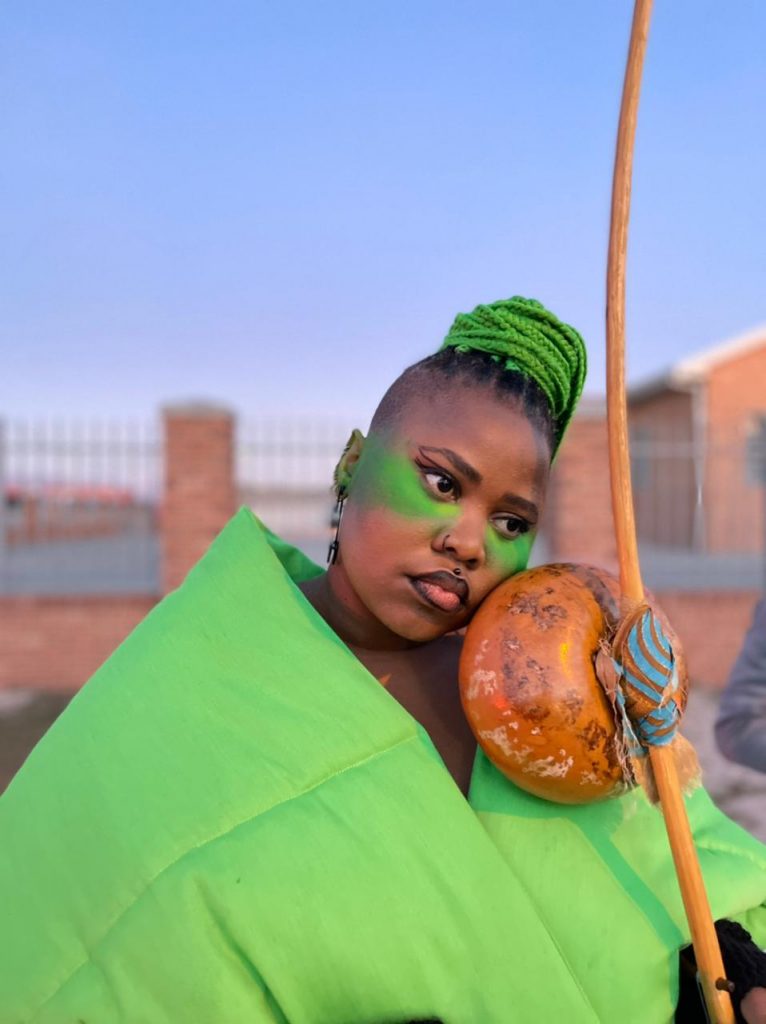 Thandeka Louisa Mfinyongo is a musician born and raised in Nyanga East, Cape Town South Africa. She specialises in two Xhosa instruments, uhadi (gourd/calabash bow) and umrhubhe (mouth-bow). Mfinyongo recently finished her Master's in Music Performance at SOAS University of London, with a major in kora (an instrument from West Africa) and doing her PhD in Ethnomusicology at Rhodes University. She has performed in various stages including the Baxter Theatre and ArtsCape Theatre. In May 2018, she released her first single called Wenza Ngabom ,the same year she had her first solo performance at Baxter's Masambe Theatre. Still in 2018, Mfinyongo had the opportunity to perform with the legendary Madosini in an event called 'At the Feet of a Living Archive' at Youngblood Gallery in Cape Town. She worked with Zyo on a song called Brighter Day which was released in 2019. While at SOAS University of London, she performed in events like Young Gifted and Black during Black History Month. She also performed at the Antariksha, a fundraiser event organised by Sister Library and SOAS Indian Dance Society.
Mfinyongo also worked as a Social Media Ambassador for the SOAS School of Arts. In November 2019, she performed at the South African Embassy, an event held at the International Maritime Organisation Headquarters in London, alongside the Kalahari Band. During the Covid-19 lockdown, she did virtual performances. The first one was organised by the House Concert Bombay in India and the other by the Global Hope Festival. She is currently flying high with a single called 'Ingoma Yam' released in collaboration with Zyo and Kitso. In March 2021, Mfinyongo shared a stage with one of the most celebrated musicians in South Africa, Zoe Modiga and BandaBanda. She recently did a solo performance theme Ingoduko at Gqeberha hosted by Inverness on Tulla. Mfinyongo has been selected to be part of the main/curated production for the National Arts Festival 2022, in Makhanda.
The singer speaks exclusively to Sunday Oyinloye, Publisher, Green Savannah Diplomatic Cable
Excerpts: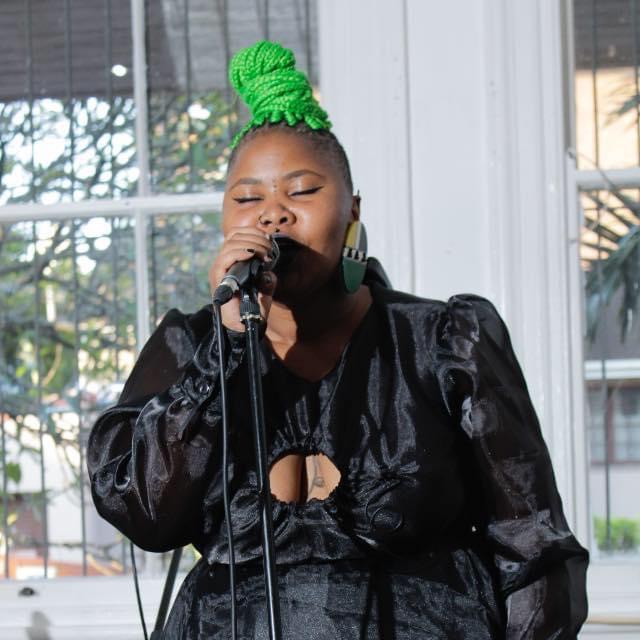 What informs your choice of traditional Xhosa music?
When people ask me this question, I often tell them that it chose me. Before studying African music, the first instrument I picked up was the guitar that didn't go anywhere and had a voice. I initially wanted to study music and hoped it'd be for the voice, then I enrolled in African music, and my life changed. Hearing the sound of the bows and the history that says "African music/instruments are at risk of dying" did not sit well with me. I wanted to contribute to the preservation of the music of my people.
How acceptable is the music, particularly among South African youth?
It has come a long way, people are listening and curious about this music, particularly the instruments I play. When people see me carrying it, someone will recognize it as "my grandmother used to play this instrument" and brings with it a nostalgic feeling. In the industry, this type of music is not played on the radio, hoping that will change in the future.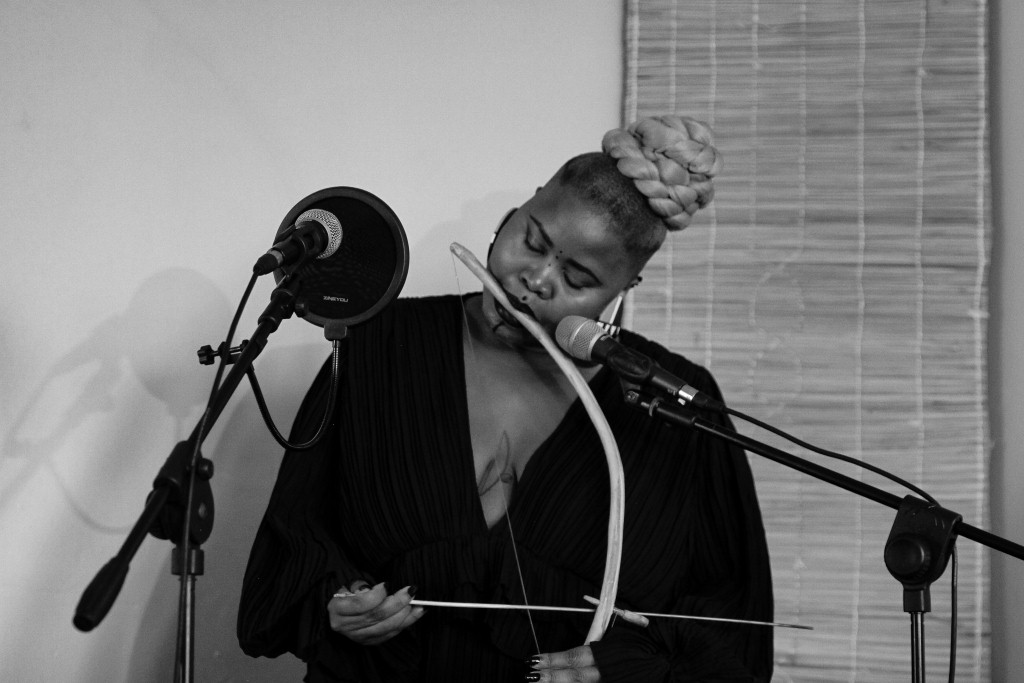 Do you entertain any fear about the future of African culture?
No, not at all. As long as we still have people who are keeping it even if they do not do it as it was done in the past. I have no fear. The problem is that people expect it to stay the same, while times are changing. I mean, we have the technology now.
Your hair is most times in green colour, what message are you trying to pass with that?
Not necessarily sending a message, but rather an expression of who I am and hope to be and really be comfortable in my own skin. By the way, I hear that the colour green symbolizes prosperity, growth, fertility, renewal, vitality, wealth, and healing and is the best colour.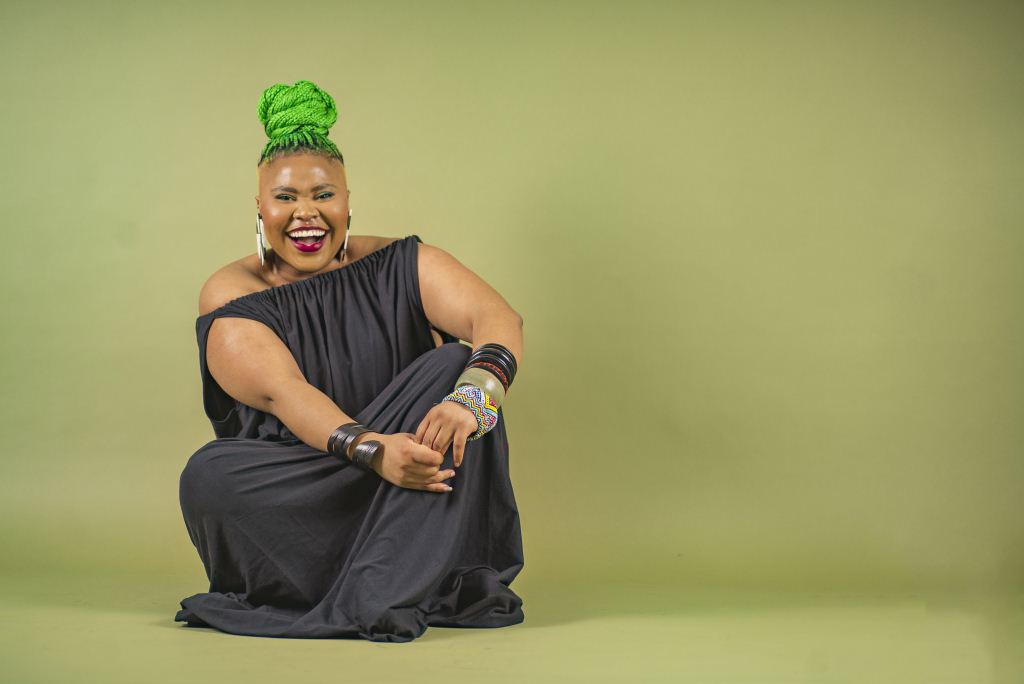 You specialize in two Xhosa instruments, uhadi (gourd/calabash bow) and umrhubhe (mouth-bow), how did you learn how to play them?
I learned to play at the University of Cape Town.
You are currently doing your PhD in Ethnomusicology at Rhodes University, how are you able to combine that with your career?
Yes, I am able to. Struggling to find a balance for now between studying and being a musician. I do think though that the work I am doing is necessary and important for the future generation.
Would you like to talk about your first single called Wenza Ngabom?
There is not much to tell there. It's one of those songs after a breakup and just realizing that people choose if they want to stay with you or not. Wenza Ngabom is simply translated to "You're doing this on purpose" and was recorded by a friend of mine while I was at University of Cape Town.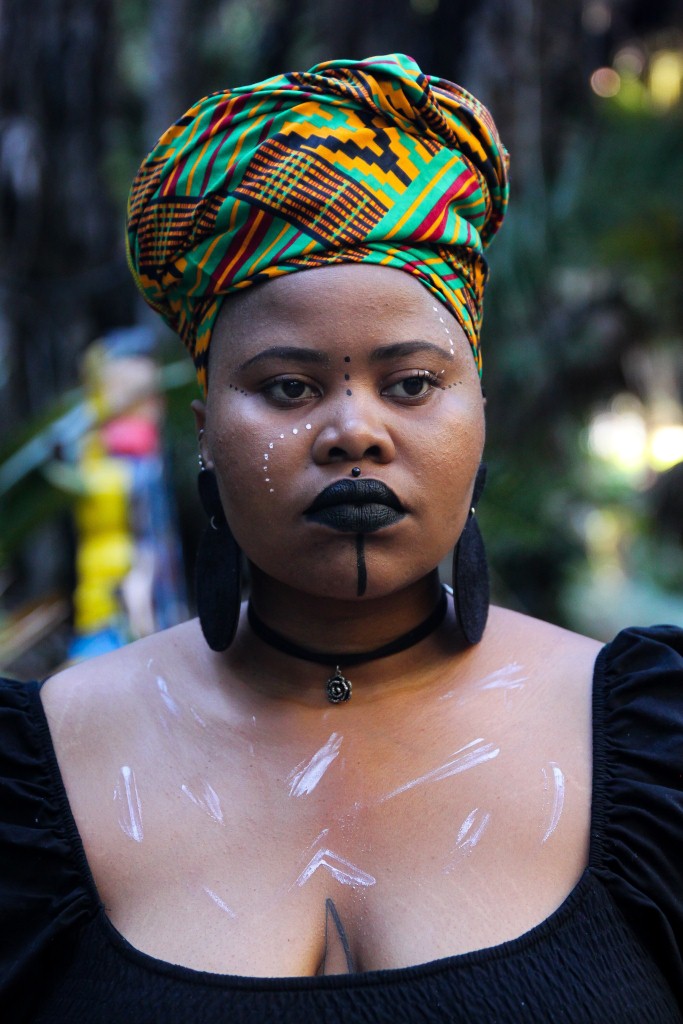 Last year, you shared a stage with one of the most celebrated musicians in South Africa, Zoe Modiga, and BandaBanda what was the experience like?
It was a great experience, which again gave me the opportunity to present this kind of music to different audiences and platforms.
What went through your mind when you received funding at National Arts Council to do a Buyel'embo/Ingoduko project, which included an instrument building workshop and a performance in Durban?
Thank heavens!! I get to spread the gospel of African Music.
What are you doing to give back to Nyanga East, Cape Town, where you were born?
I am hoping to one day have enough resources to build a school for young people to learn how to play the indigenous instruments, while they are young. Just like how people start learning the western instruments at a tender age.