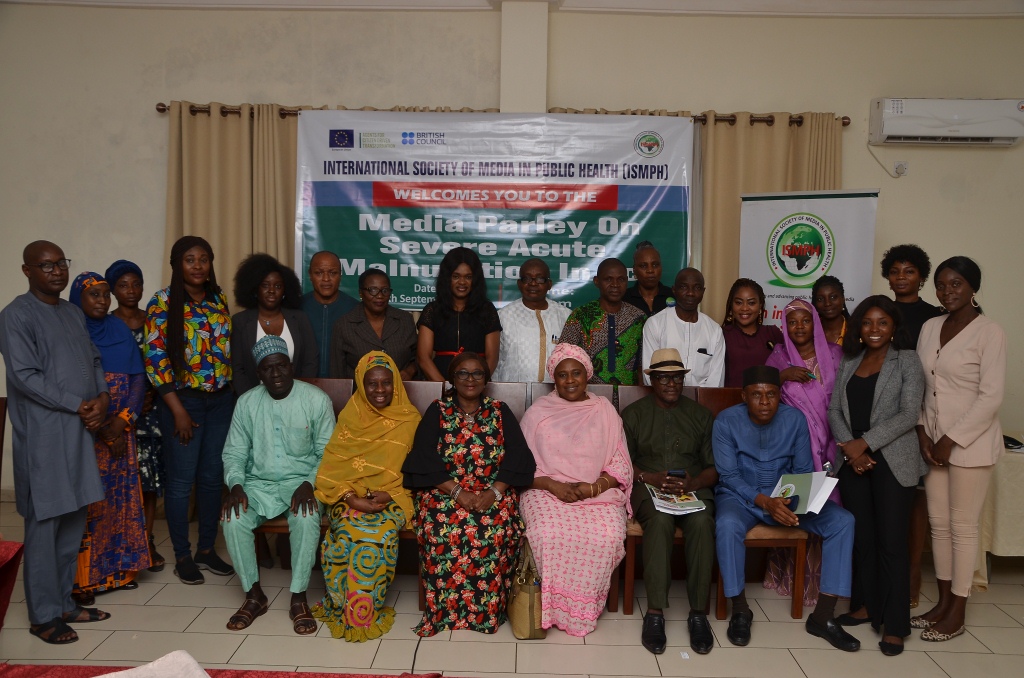 By Sunday Oyinloye
Barely two months after a successful empowerment of women on the prevention of Severe Acute Malnutrition(SAM) in Bwari and Kwali Area Councils of the Federal Capital Territory, Abuja, Nigeria, International Society of Media in Public Health (ISMPH) on Monday held a parley with Media Executives to brief them on the journey  so far in the implementation of European Union Agents for Citizen- Driven Transformation (EU-ACTS) project in the two councils, and to solicit their support in bringing  to the front burner, the issue of SAM in the country.
In her welcome remarks, the Executive Director of ISMPH, Moji Makanjuola said the purpose of the parley was to drive conversion on the issue of SAM, reemphasize the strategic role the media plays in its reduction and to seek the support of the Media Executives in combating it.
On why Nigeria should act fast on the issues of severe acute malnutrition, Makanjuola quoted a joint statement by WHO and UNICEF which says" a child with severe acute malnutrition is 9 fold more likely to die that one without"
According to her "these are disheartening figures especially as we consider that children below 4 make up to about 8-8.2% of the national population'"
Makanjuola said her organisation has undertaken to work specifically to combat the epidemic in Northern Nigeria stressing that under the project funded by the Children Investment Fund Foundation, ISMPH utilized the media to emphasize the budgetary inadequacies in Nutrition and to demand accountability from duty bearers.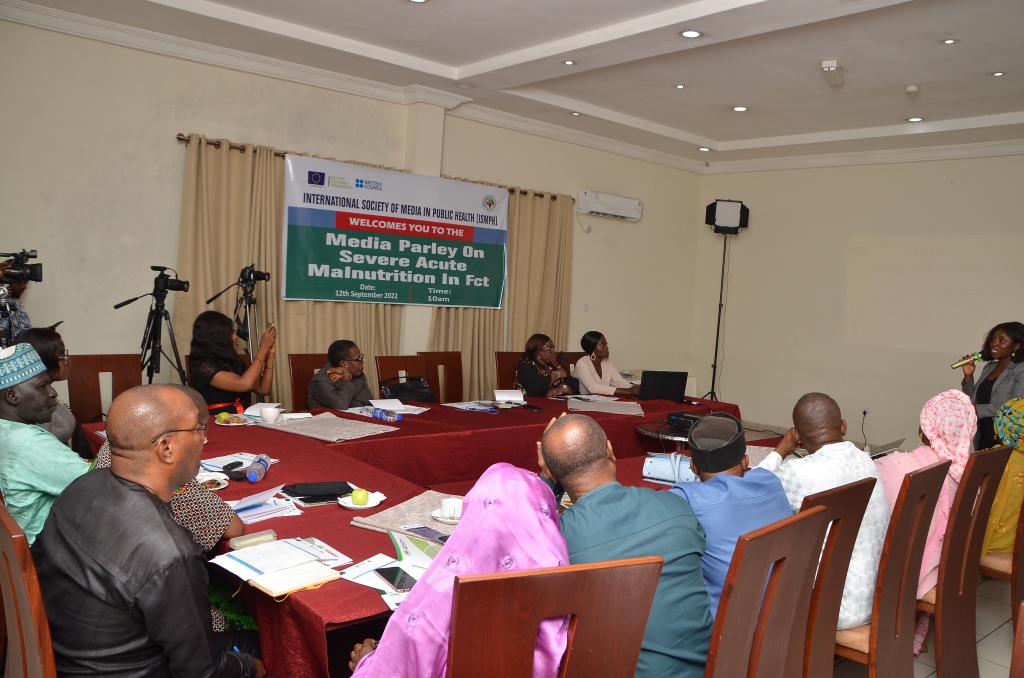 Her words: "we realized early that for true impact, the solutions proffered to the issue of malnutrition must be well-rounded and innovative. While calling for improved policies and systems, we must also focus on providing sustainable solutions at the grassroots where malnutrition is most prevalent.
"Through our latest intervention ISMPH has observed that malnutrition is spurred by poverty, cultural myths about child care, and deficiency in knowledge about healthy food mix by poor and vulnerable mothers. This is why we are excited to implement a project which directly responds to these drivers of SAM through the strategic economic empowerment of mothers of vulnerable children.
"At all points in our interventions, ISMPH has leveraged on its cordial relationship with the media. We are hopeful that the media will continue to join us in this laudable goal by creating awareness and initiating discourse on SAM in the Federal Capital Territory and demanding that the existing laws and policies on child nutrition are implemented to the letter"
In her presentation titled "Impact of malnutrition on Nigerian child" the Director Family Health of the Federal Ministry of Health, Dr.Salma Anas said Nigeria ranked first in Africa and second in the world in terms of malnourished children "with an estimated 2million children suffering from SAM and only two out of every  ten children affected currently reached in treatment"
She disclosed further that National Demographic Health Survey (NDHS) 2018 showed that 7% of children are wasted in Nigeria and 3.4% in the Federal Capital Territory stressing "the underlying causes of malnutrition in Nigeria are poverty, ignorance, inadequate food production, inadequate food intake, uneven distribution of food, poor food preservation techniques, improper preparation of foods, food restrictions and taboos and poor sanitation"
Salma who noted that malnutrition in all its forms affects the social, economic and human capital development of a nation said the Federal Ministry of Health and other relevant MDAs in collaboration with partners have made a lot of progress in addressing the high prevalence of malnutrition in Nigeria.
"Some of the interventions in this regards includes development of nutrition policies, guidelines and frameworks to guide implementation of evidenced based nutrition interventions across the spectrum of live, establishment of CMAN sites across the country, capacity building of health workers across the states on implementation of nutrition interventions, ANRiN Nutrition project, procurement of nutrition commodities, mandatory and Bio fortification of foods,  supplementation of Vitamin A, Iron folate and free deworming among school  children" she said
According to her, improving child nutrition is key to preventing stunting and poor productivity later in life adding "this requires a multi-sectoral approach and collaboration and collaboration from stakeholders in the public and private sectors"
A medical expert, Dr. Nihinlola  Mabogunje in her presentation "Advocating for resources in tackling malnutrition" observed that malnutrition is a complex issue. She said exclusive breastfeeding is key in preventing malnutrition.
Mabogunje however said that absence of crèche in most offices across the country is preventing exclusive breastfeeding. She challenged the media to open conversation on this in the interest of the future of the children and the country at large.
"Apart from crèche, the media should also make the issue of household food security for the vulnerable a national discuss. They should advocate for proper sanitation of the environment and good healthcare system in Nigeria" she said
A Development expert, Dr. Ejike Orji in his goodwill message said malnutrition is a major issue in Nigeria, adding that the number of children with brain stunting is alarming
Orji who is also the Senior Special Adviser to the Minister of FCT listed climate change, population explosion and insecurity as some of the challenges militating against provision of nutritious foods in the country.
ISMPH's Program Director, Solomon Dogo and the Program Officer, Bukola Smith earlier briefed the Media Executives about the project and its implementation, and also the objectives of the Media parley which they stated as follows: Bring to the fore, the reality of issues of SAM epidemic in FCT. Secure the commitment of Media Executives to create visibility on the challenges of SAM, engage media for partnership to combat SAM in Nigeria and get the commitment of the media to call for policy implementation if need be and  hold duty bearers accountable on SAM prevention and treatment through intense reportage of SAM