Why Nigerians should be worried about Climate Change – Onuigbo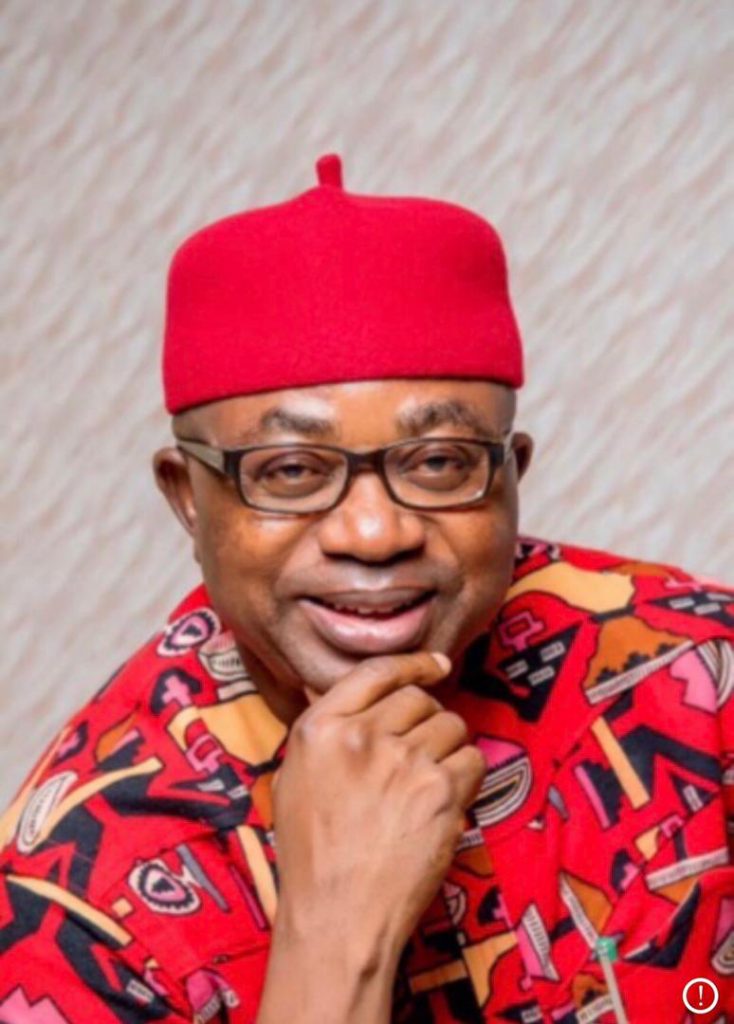 National Assembly member, Hon. Sam Onuigbo trained in Finance, Accounting and Corporate Governance. He is a Fellow of the Institute of Chartered Secretaries and Administrators, London; Fellow, Nigerian Institute of Management – Chartered; Member, ASIS International, Virginia, USA and Patron, Nigerian Institute of Management, Umuahia Chapter. After over 17 years of unbroken and meritorious service with the US Embassy, Nigeria, during which he held the highly sensitive position of the Supervisory Fraud Prevention Specialist, he voluntarily resigned. He is a recipient of several Meritorious Honour Awards from the US Department of State; Professional and Vocational Service Awards from Rotary Club International; Award of Honour from the Forum of Commissioners of Finance of Nigeria; several Long Service Awards from the U.S. Department of State; Letters of Commendation from two former US Ambassadors to Nigeria. At the National level, Onuigbo was Special Adviser, Public Affairs, Office of the Speaker, House of Representatives, National Assembly, Abuja. At the state level, he was Commissioner, Ministry of Lands and Survey; former Commissioner for Finance. He is currently the member representing Ikwuano/Umuahia North/South Federal Constituency at the House of Representatives after becoming the first representative from the constituency to be re-elected. Since assuming office as a federal legislator, Sam Onuigbo has sponsored motions and bills that have impacted the lives of not only his constituents, but also Nigerians at large. In 2019, he was elected to the Board of Global Legislators for a Balanced Environment (GLOBE) International, as the Vice-President Africa (the first Nigerian to be so recognised). He is also the current President of GLOBE Nigeria, after serving as its Vice-President between 2016-2019.He is also the Chairman of Climate Parliament, Nigeria.
The Federal lawmaker in an exclusive interview with Sunday Oyinloye, Publisher Green Savannah Diplomatic Cable speaks on Climate Change, security challenges in Nigeria and what he has done for his Federal Constituency
Excerpts: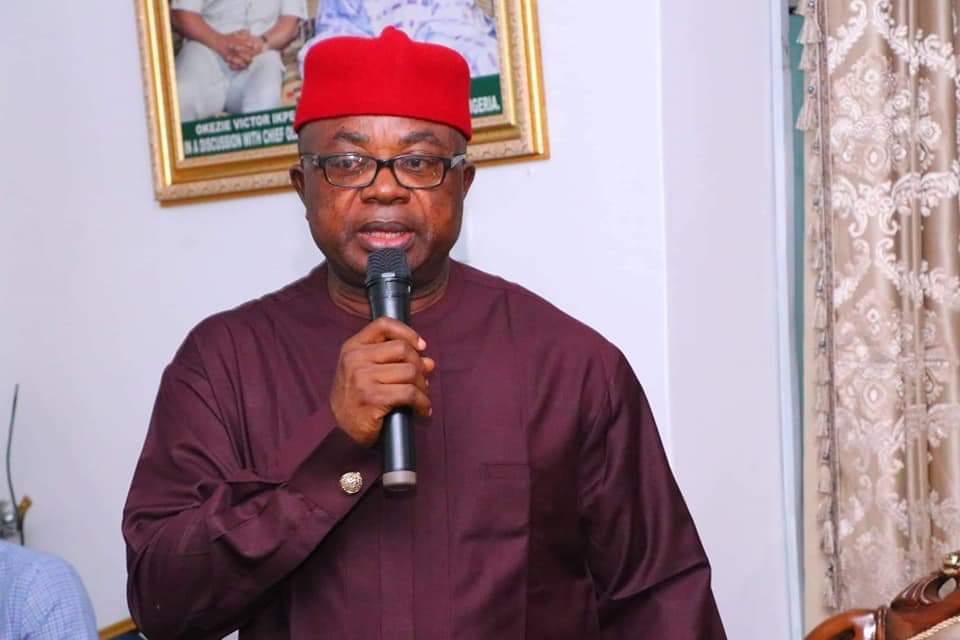 You Chaired the House Committee on Climate Change in the 8th Assembly and have continued to be a huge advocate of the country and indeed the world paying attention to the impacts of Climate Change. Why should Nigerians be worried about Climate Change?
Nigerians should be worried about the devastating effects of Climate Change exactly the same way we are worried about every day survival needs. The negative effects affect us more because we rely on natural supply of water, rain and sun for our agricultural purposes. Those of us that rely on the activities of fishermen whose areas of operation have been so devastated to the extent that they do not even have where to keep their canoes again because of the impacts of coastal erosion have to be worried. We should be concerned because even the developed nations are also coming up with ideas; they are finding alternative ways of taking care of the environment. For instance, they are moving towards electric cars, renewable energy, as against the use of fossil fuel for energy, and when they succeed, it means we will be left with our fuel here, no demand, and no purchase. For an economy highly dependent on oil, that would bankrupt us, except if we begin now to key into just transition to cleaner energy sources and the commensurate economic benefits that come with them. We should also be worried because the impact of Climate Change has some security implications. The Sahel Region has been devastated by Climate Change such that farmers can no longer farm in those areas and as such they have been forced by environmental challenges arising from Climate Change to now start looking for where to stay and earn their living. Such farmers if they do not have other skills apart from farming will become ready-tools in the hands of insurgents or bandits. We should be concerned because the impact of Climate Change has increased the drought in the Sahara Desert which is now encroaching into where before was lush grassland. We should be worried as Nigerians because a place like Lake Chad that previously provided means of livelihood for between 35-40 million persons in countries that depend on it has dried up from what used to be 25,000 square miles to now less than 2,500 square miles, meaning that those people who were engaged in farming, animal husbandry and fishing in those areas are looking for where to migrate to. This has of course led to clashes. So Nigerians should be worried. The impact of Climate Change also leads to serious health challenges. It is estimated by the World Health Organization that about 150,000 persons die annually from the direct impact of Climate Change. This figure will rise to 250,000 between 2030 and 2050. This does not include the millions that die due to health issues complicated by the impacts of Climate Change. In fact, it is estimated that by 2030, 100million persons would have died from the direct and indirect impacts of Climate Change with global economic growth cut by 3.2% of GDP. So we should be concerned because Climate Change is a cross-cutting problem. It is not restricted to Ministries of Environment or Agriculture. It also concerns activities of the farmers, how they burn the forests, and how they bring down trees without replanting new ones. And then you talk of activities around the petroleum industry. In places like Rivers and Bayelsa States, the menace of soot is there, causing serious health challenges now and for the future. So, we should be able to look for ways and means of addressing these challenges taking into consideration the wellbeing of our people.
What is the nexus between Climate Change and insecurity, particularly in the North Eastern part of Nigeria?
The link is clear. Do not forget that the capacities of people; their level of education matters a lot. If you are a Doctor, Chartered Accountant or a Nurse etc., if somebody takes you out of Nigeria and drops you in Canada or the U.S or any other part of the world, you can survive because you have a special skill. When people depend wholly say on farming, animal husbandry or fishing, if they can no longer engage in these activities because their areas have been degraded, they embark on forced migration. They embark on this forced migration because the impact of Climate Change has already devastated their environment and they are looking for somewhere to stay. As they come to a new area to stay, they are likely to force themselves on those already there, and what you harvest are clashes of different dimensions and if not well-managed, it goes down to serious security implications. Lake Chad region used to be green. I remember Senator Bukar Abba Ibrahim told me that when he was young, the whole of that place used to be green. He is from Yobe State. But it is a shock that between the 1960s and now, the impact of Climate Change has affected the area. Now the nexus; some of these people like I said earlier are not professionals who could survive in any environment they find themselves therefore when they are forced by the impact of Climate Change to push and move to any location and do not have other skills, they become ready-tools in the hands of insurgents, bandits and are prepared to do anything, so as to survive. That is part of what has happened in the North-East. A lot of people are unemployed, unskilled but ready to have a way to survive. You would recall that the Great Green Wall Initiative was launched to help reclaim areas that have been degraded and plant trees that have economic values, so that while the trees are helping to protect the areas from desertification while retaining carbon stocks, the trees can also generate incomes for the people. These things were done in realization of the devastations caused by Climate Change. Climate Change has long been recognized by the United Nations as something that has serious security implications and that was why on June 3rd, 2009, the UN passed resolution A/RES/63/281 urging the Security Council to pay attention to the security implications of Climate Change. There have also been other United Nations Resolutions such as RES/63/32 of January 28, 2009 which among other things recognizes that Climate Change poses serious risks and challenges to all countries, and RES/68/212 of December 20, 2013 which seeks for the protection of global climate for present and future generations of mankind. All of these point to why we must take the issue of Climate Change seriously.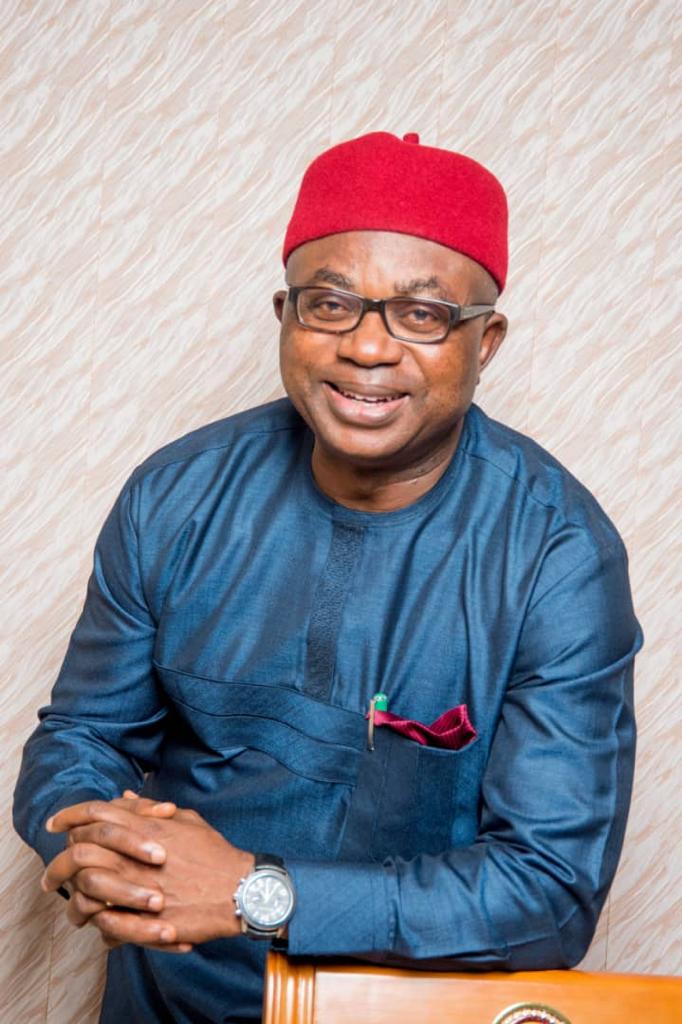 Would you say the Nigerian government is doing enough to address emissions of greenhouse gasses particularly in industrial cities?
It is difficult to say categorically that the government has done enough because the issue is that the attention of the government is divided and consequently, I do not think government has devoted enough time in tackling the issues of Climate Change. You should also bear in mind that Climate Change issues are evolving and no one country can boast of having done enough. It is also difficult to say categorically that the Nigerian Government has not done enough because government is supporting the Great Green Wall Initiative, and just on the 27th of May 2021, as part of her commitment to the Paris Agreement on Climate Change, Nigeria submitted her Interim Report of an Updated Nationally Determined Contribution, to the United Nations Framework Convention on Climate Change (UNFCCC). I have also been able to look through the 2021 budget and there are instances of improvement in funding allocations to address the issue of Climate Change. So clearly, the government is doing something about it.
So what should they do more?
Government needs to create more awareness; government needs to hold companies that are polluting the environment accountable, like oil companies, cement factories, etc. Then, as we are proposing in the Climate Change Bill which I sponsored in the 8th Assembly (and which has now been re-sponsored by me in the 9th Assembly), we should begin to create awareness on the impact of Climate Change on our lives right from the primary school level. In that Bill that was denied assent by Mr. President, we proposed that this should be in the curriculum of primary and secondary schools and that is why we are also proposing that the Minister of Information should be on the National Council on Climate Change to be able to push the issues of awareness very far. So government needs to come in from those angles. Government also needs to look at people who are bringing in equipment that have the potentials to damage our environment and take the necessary action. They also have to pay attention to some of the things the manufacturing sector is doing; how they are polluting the environment—water, air, etc. Government needs to pay attention to these things and carry out adequate awareness campaign. But there is a challenge; we are yet to have a law on Climate Change, which is what we are working to overcome. Fortunately, we are reviewing the Climate Change Bill with the support of the government and other stakeholders.
Most Nigerians are disturbed about the security situation in the country. How worried are you. Where did we get it wrong and what is the way forward?
I am disturbed because the primary function of a government is the provision of security and welfare for the people. Once you provide security, the individual can now go out and do his or her business and then have a good welfare. Without security, you cannot make any meaningful progress. No matter how rich you think you are, if you hear the sound of a gun around your neighborhood you do not need anybody to tell you that something that can kill you is coming close. So I think everyone is disturbed and everyone should really be disturbed at this point. Way forward? All hands must be on deck to stop the madness that is going on. The reason I am saying this is because if we fail to arrest this situation, it has the potential to engulf everybody and destroy all that we have laboured for and built over the years.
What practical things can government at the three tiers do to keep the youth away from criminality considering the fact that they are always the ones used by selfish Nigerians?
What they need to do is to create employment. They should start empowering the youths to keep them busy. In those days when I was working for a newspaper outfit, you go to work early and come back late–if you are lucky to come back that day. So you do not have any time to start thinking and implementing evil ideas. When people are busy, they will be able to get over evil thoughts. We need to go back to ethical re-orientation. We have to turn people away from unhealthy rivalry and primitive acquisition of wealth. I also want to appeal to the young ones to calm down because if you destroy everything, then what will be left behind for you to inherit when you finally assume leadership positions? Unfortunately, Nigerian youths who are the future of this country have been excluded in many things. What one can say about them is that they will inherit the nation's debt and the many injustices we are sowing today. In my view, that is not what we should bequeath to our youths—the resourceful youths of Nigeria.
Would you say that you have impacted positively on your Federal Constituency and if your answer is yes, how?
The answer is yes, I have impacted on my Federal Constituency positively. And I will tell you how. When I set out to run for this office in 2013, I set up a think-tank that went with me to over 285 homes in my constituency to engage the leaders, discuss with them, and show them by way of explanation why I am asking for their votes and support. I told them that I was going to run on the acronym of EAR: Effectiveness, Accessibility and Responsiveness. I asked them to vote me and judge me by the meaning of this acronym. Naturally, some of them did not believe me, but there were those who said "let's give this young man a chance, it looks like he's bringing a fresh idea into representation". I moved further to tell them that after a while in my representation that I was hopeful that I would be able to redefine what representation means. Within the period of four years that I was elected, I was able to impact meaningfully and productively on the wellbeing of my constituents. And that is why today, as we speak, by the special grace of God, I am the very first House of Representatives member that was re-elected in Ikwuano/Umuahia North/South Federal Constituency of Abia State. That was because they saw that what I promised, I delivered. They have also seen that this gentleman's achievements are not big cars, skyscrapers and luxury hotels. They have seen that I have truly come to represent them. In terms of projects, I have done so many projects. It will be difficult to list all of them for you here, but let me just mention a few. In 2017, I was lucky to have Mr. President send two Ministers on two separate occasions to come and represent him in commissioning two massive erosion control projects that I facilitated in my Federal Constituency. What is remarkable about it is that at that point in time, I got two out of twenty-five erosion control projects approved for execution in the entire country at that period. However, it must be mentioned that my Federal Constituency is erosion prone. As we speak, we have over 40 active erosion sites in Ikwuano/Umuahia North and South Federal Constituency. I have also been able to facilitate a major skills acquisition center–one of the largest in the country—which is domiciled at Apumiri, Ubakala, Umuahia South LGA. And I have by the grace of God facilitated the reconstruction and rehabilitation of a major federal road which is the road from Umuahia to Ikot-Ekpene and that road leads to Calabar and Cameroon. The job is ongoing. I am also working on facilitating a Federal Secretariat for my state. I was able to discuss with the Minister of Works and Housing, Babatunde Raji Fashola during a budget defence session in 2019, and following my presentation and my question on why Abia was not captured as one of the states with a Federal Secretariat, the Minister intervened and I must tell you that we worked on it for one year with the Governor of Abia State, to get allocation of 7 hectares of land for that purpose. I was with the Minister on the 11th of March, 2021 to ascertain the progress made and he informed me that they were still waiting for the Certificate of Occupancy and the Survey Plan from the Abia State government to enable them enter the place. On the strength of that, I wrote to the Governor the following day asking that action be taken. So I am hoping that it will be handled soon. I have also facilitated hospital projects; one is about now to be commissioned at Ahiaeke Oloko, in Ikwuano Local Government Area. I had earlier facilitated another hospital project at Obuohia, in Ikwuano too. That one was a total reconstruction of a hospital that was first built in 1984 but was allowed to become totally dilapidated. The project has been completed and commissioned. I have also facilitated very many electricity projects. In fact, I commissioned in the month of April, six projects in two days: electricity projects at Ndoro Oboro and Oboni Upah both in Ikwuano and another one at Umuagungolori, Umuahia North; block of classrooms at Umajata Olokoro, and another block of classrooms at Nsirimo, Umuahia South. There are so many other projects that we have in so many places that are ongoing while some have been completed. Some of them include school blocks in Ekebedi, in Oboro, Ikwuano LGA; Old Umuahia in Umuahia South LGA; a block of two classrooms at Adanma Girls Secondary School, Afugiri, Umuahia North LGA; a block of two classrooms at Umutowe Central School, Olokoro, Umuahia South LGA; a block of classrooms at Umulu Ibere, Ikwuano LGA (ongoing):a block of three classrooms at Umuajata Central School Olokoro. I have also done two massive water projects in Obunta Oboro Ikwuano LGA, and Inyila Ibere, Ikwuano LGA. Two other ones at Avonkwu Ibeku, Umuahia North, and Obuohia Ibere, Ikwuano LGA.I have also facilitated the construction of the Elemaga-Itunta mini-bridge in Ibere, Ikwuano LGA; construction of an ultra-modern Townhall at Ahiaeke Oloko, Ikwuano Local Government Area; construction of the Obuohia-Nkari bridge which is ongoing.
I have also facilitated a road that is under construction at Umuecheokwu, Umuovo, Old Umuahia and down to Amakama in Umuahia South LGA. And as I speak with you, I am working on two major projects. One of it is a market; the second one is a road project that will pass from Okwe in Ikwuano LGA, through Obuohia to Nkari in Ini LGA of Akwa Ibom State. When that road is done, it will reduce the journey from Umuahia to Calabar by one hour and you know Calabar is a major port in the country. Calabar also has an Export Processing Zone and major cement manufacturers are located there. We need good roads to be able to convey a lot of things coming from Calabar to other parts of the country. I also believe that providing alternative means of livelihood is an important way of impacting on your constituents. In view of that, we have also been able to do the following: training of select women and youths from Ikwuano/Umuahia Federal Constituency on fashion designing by the Industrial Trust Fund; training for mechanics in their workshops at Mgbuka, Ohiya Mechanic Village, by the National Automation Council; training of select youths from Ikwuano/Umuahia Federal Constituency on Solar Panels installation, POP and painting, and web design by the Industrial Trust Fund; training of select women and youths from Ikwuano/Umuahia Federal Constituency on fish farming by the Federal College of Fisheries and Marine Technology, Lagos; training of 1,500 women and youths from Ikwuano/Umuahia Federal Constituency on how to start and manage small businesses by the Border Communities Development Commission. This was followed by provision of stipends; training and empowerment of small-holder poultry farmers with galvanized battery cages, bags of feed, Point-of-Lay birds (65 each) and money through the Ministry of Agriculture; training and empowerment of small-holder poultry farmers with galvanized battery cages, bags of feed, Point-of-Lay birds and money through the Federal Co-operative College Oji-River. There are more trainings and empowerment programmes being planned.
Give me a picture of Nigeria of your dream?
The picture of Nigeria of my dream is where there is justice, equality, equity, fairness, and where there is recognition of every segment of the country. A place where the nation is allowed to achieve its full potentials as envisaged by the founding fathers of this country. This country is an immensely blessed nation with human and material resources. You can see the records Nigerians are creating all over the world. I want to see a situation where these Nigerians are able to freely express themselves to bring out their highest potential, so that it is not only outside that you see Nigerians excel. I want to see a situation where Nigerians excel within the country and bring out the full potential of this nation and make it that happy, successful, prosperous and virile nation that we are all craving of for. In a nutshell, I would like to see where every Nigerian whether Ijaw, Efik, Igbo, Hausa, Fulani, Yoruba can attain the highest office in the land, without let or hindrance. A country where everyone has a sense of belonging because he or she feels fairly and equitably treated. That is my dream.
What are your thoughts about the strike of judicial workers and parliamentary staff over autonomy?
It is very sad that a nation of the size of Nigeria could operate without the courts for months. This is a risky development because you need the courts to be working to be able to administer justice; to be able to ensure that judges deliberate on issues and even release those who are not supposed to be in jail. You need the courts to work so that those who need court order to carry out their business can do so. Of course, at the personal level, you need the courts to be on for lawyers to earn their living because it is a very significant segment of the country, so their strike is a very sad commentary. The question is why are we here? We are here because there is a disagreement between the Governors and the judicial workers and those working at the state Houses of Assembly. It is obvious that the Governors have resisted granting these people financial autonomy; a financial autonomy that the constitution prescribes in Section 121(3) is what the Governors are contesting and this flies in the face of ordinary people. Why are they contesting the autonomy of the Judiciary, an arm of the government? With this, they are creating a very poor impression of the country: the country is being seen in bad light. Investors will always rely on the independence of the Judiciary in case there is a business dispute. How do you get judgment; how do you get compensation for breach of contract if the courts are shut down? So for me, it is a source of concern, and I see it as double standard that the Governors accept other provisions of the constitution like Section 3(1) which lists the names of their states; Section 5(2)(a) and Section 308, that are favourable to their office, but do not want the one that has to do with financial autonomy for the Judiciary and the Houses of Assembly . If we want to move Nigeria forward, we have to obey the provisions of the constitution and then show the world that we are governed by people who rely on the provisions of our constitution. Not following the constitution leads to bad governance and maladministration and the by-product of maladministration is the kind of things we are seeing in the country today. So, everyone must appeal to the Governors to move fast and save the nation.