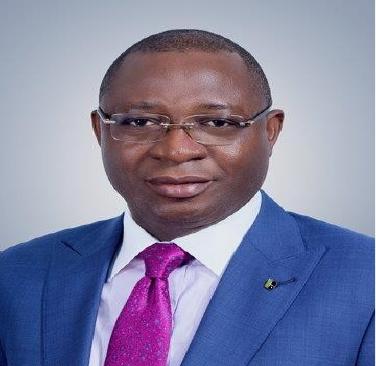 Adekunle AbdulRazaq Oyinloye, Managing Director/CEO of The Infrastructure Bank PLC, Nigeria is one of the most versatile Bankers in Nigeria. Oyinloye was at some point the Executive Director, Corporate Banking-Unity Bank Plc, and moved from his last position as Executive Director, Lagos and South-West of the bank to take the helm of affairs at The Infrastructure Bank. He is broadly experienced, with over two decades of working experience covering Management Consulting, Banking, Finance, and Human Capital Development.
A graduate of Economics at the Ahmadu Bello University, Oyinloye also holds post graduate degree in Banking and Finance at the University of Ibadan and post graduate degree in Economics at the University of Lagos . He is a fellow of the Chartered Institute of Marketing of Nigeria, Institute of Credit Administration, as well as an Honorary Senior Member of the Chartered Institute of Bankers of Nigeria.
He has also successfully completed many executive leadership-training programmes in many global institutions institutions including Wharton Business School.
In an exclusive interview with Green Savannah Diplomatic Cable, the Managing Director speaks about what The Infrastructure Bank PLC is doing to address the infrastructural challenges in Nigeria.
Excerpts:
Your Bank was established to facilitate development of infrastrucure in Nigeria, would you say you have delivered in your mandate?
The Bank was established to the development of infrastructure across country using banking and financial services. We are not structured and established to be directly undertaking technical engineering and design activities such as topographical and hydrological studies ; architectural and engineering designs, environmental and social impact assessments and so on for infrastructure projects,but essentially to lend intellectual capital to infrastructure projects in transforming them from concepts and ideas to financeable infrastrucure assets that investors and financiers could subscribe to , thereby making physical infrastructural development possible.
I will say relatively we have done well and I wish we could have done more, but the biggest challenge in our environment is that project preparation and development takes too long to complete depending on the complexity of the project and how effective the stakeholder engagement process is . This protracted phase within a project life cycle is mostly attributed to bottlenecks and redtapes around Government processes and procedures which every infrastructure asset must go through in line with extant regulatory and legal framework. Whilst project developers sponsors and their advisors are always keen to move swiftly in engaging with stakeholders in seeing through important phases in project delivery process, there is the need to bridge the human capital deficit especially within public sector groups in ensuring there is synergy between both public and private sectors in delivering on infrastructure.
It is important to note that infrastructure assets are mostly owned by Government and when Government is developing its assets especially in collaboration with the private sector through Public Private Partnerships, there are necessary procedures to follow to ascertain value for money consideration for stakeholders and assure return of and on investment. However, Bureaucracy, Red-tapism, information and knowledge gap on the part of Government representatives slow down the pace of project delivery.
For any infrastructure to be able to stand the test of time, it needs to be well conceptualized, prepared and developed with requisite documentation, financed with funding of the right temperament,and implemented by credible parties in line with global reference points and extant laws and regulations. All of the aforementioned takes time and if unfortunately there is a change in Government, the process may be truncated and started all over again. But that is not to say that we have not undertaken a number of projects successfully.
We have worked as project initiator and developer with Lagos State Government on the Lagos Metro Rail Transit- Red Line project since 2008/2009. Today, the consortium led by the Bank is the Preferred Bidder for the Red Line project. Though a couple of issues came up, but we have overcome all of them. Now, we are in the phase of real actual project development which began last month. That is a major transformational project for Lagos State which has a population about 18-19 million people on a very small land seize. Hence an integrated effective and efficient transport system is key to ensuring that people commute seamlessly within metropolitan Lagos and smoothly transit from one end of the State to other. This is one of the projects designed to ensure smooth movement of people and as such we are very excited about this. We have also provided services to Government on renewable energy generation especially through solar and presently we are undetaking this with a couple of States particularly in Northern Nigeria.
We also assisted the Federal Government in providing solution for the funding of Lagos Ibadan Express Road when Government terminated its engagement with the private sector group and re-awarded the construction contract to Julius Berger of Nigeria Plc and Reynolds Construction Company in 2013 .This is a very important road in Nigeria that had become intractable over the years with a lot of human casualities and loss of properties . We are happy that we were part of a solution to the problem of that road. It is an ongoing project, but it will be completed within the next two years by the grace of God.
In Housing, we have also been supporting some developers in arranging funds to ensure that their projects could attract lending to shorten the project delivery time. A lot of people need to understand the basic processes in project delivery. The niche we are trying to cerate in the infrastructure asset delivery space is for stakeholders to know tomorrow today and do everything right to help you possess that crystalball that sees tomorrow in your project delivery so that you dont have abandoned projects.
However,most project sponsors and developers don't go through the project delivery cycle and concretize all the phases therein. From the beginning, funding plans has to be attached to any project. If you have a project that has funding the first year, second year, third year and the fourth year, there is no funding, that project might eventually become an abandoned project. Imagine the amount of money that must have been wasted for starting the project in the first instance. There are too many examples around that you could see.
Do you advise Government at the three tiers on these?
We are available to render our services to the three tiers of Government when called upon. We were created for a particular purpose and we always try to engage all the tiers of Government as to what our services are and what we could do to help but, that is the best you can do. You can't force yourself on people. But on a number of cases, we are already working with the Federal Government and some State Governments. For example in Adamawa State we financed the remodelling and development of an international cattle market and also working on three market projects now and two hospital projects; Abia we have executed an agreement to undertake about 5 infrastructure development projects . In Sokoto, we are already at the preliminary stage of working together on about 10 projests; In Delta, Zamfara and Enugu States,we are working on a private sector led delivery of water transmission,distribution and reticulation infrastructure on a sustainable basis and there are many other initiatives in many other States as well
Infrastructural development requires a lot of money, how do you source for money for these projects?
We are a firm believer that the lack of infrastructure assets in the country is not a function of lack of money or funding but financiable projects as there are investible funds looking for long-term assets that infrastructure provides. If you take a look at the savings pool in the country, it is unbelievable that we have such money saved or still being saved and they are not translating to infrastructural development. You need to create a nexus between that savings and the infrastructure asset. It is not just by talking but by doing it. Those monies will not go to infrastructure except the infrastructures are well planned so that the owners of the money can see safety and security in financing such infrastructure assets. With this, they know when the money will come back. The issue is we don't develop our projects properly and make them bankable. Whether it is being done by Government or the private sector, when a project smirks of high level of risks, investible funds will disappear. What we do at The Infrastructure Bank PLC is to ensure we create pipelines of bankable infrastructure projects and make it easy for the owners of those excess savings to make best in terms of investment. So we do not lack a pool of funds to take to infrastructure, but most often, many projects are not even ready for financing. Most project owners and developers in Nigeria innocently state that "oh we didn't get money to finance this project because the Banks dont have money and they only like to finance traders'' but the reality check is that are these projects really ready for financing? Have the projects been well prepared and packaged ? Hence those are some of the questions to ask.
The ownership of your Bank is very unique. It is owned by the Federal Government, Gtate Governments, Local Governments, Private Sector and the Organized Labour. How do you strike balance without compromising standard?
Our uniqueness is also our strength. All these you are talking about have to do with ownership. It is spread between Government and the Private Sector. The three tiers of Government own about 26 percent of the Bank, whilst the Labour Centre plus Organized Private Sector own the rest.
The governance structure dictates what we do and how we do it. The various owners come together and form the Board of Directors. We have an engaging Board that operates in line with best practices and the members of the Board are representatives of various shares holding blocks and they shape what we do and how we do it.
However, we have our business strategies modeled on our strategic intents, core focus areas/sector,values,mission and vision,as approved by the Board of Directors. What sort of business are we going to do, how are we going to do them, is already predetermined, approved and sanctioned by the Board. Moreover, we are also regulated by the Central Bank of Nigeria and Securities and Exchange Commission, both of whom ensure that everything we do is in line with their extant laws and policies and as approved by the Board of Directors. As you know, there is unity in diversity and our unique and diverse shareholding structure ensures that we strike a balance between the remit for profitability and socio-economic development perspectives. Through our shareholders base attributes and other supportive stakeholders we have been able to move the Bank forward and meet stakeholders expectations in line with the Balanced Scorecard approach. It is hoped that by next year,we would be in a position to start paying dividends to our shareholders which was not the case during the prior life of the Bank. Between 1992 when the Bank was created and 2007 when the private sector effectively took over, the Bank did not make only make any profit at all but all the shareholders funds of about N800million-at a time when you need N25million for a Commercial Bank licence-was fully eroded. But we started making profit by 2011 wiping out cumulative losses of the past.
You must have some challenges?
There is no institution without some forms of challenges. What I always say is that challenges are there to be overcome and with every new challenge comes some form of ingenuity and resilience that hitherto has been subdued within the ember of the organisation. So for us, with every challenge we see opportunities which we have always been able to latch onto, to leapfrog to greater heights.
Now Government is promoting local contents that is made in Nigeria goods and services-The Infrastructure Bank PLC is made in Nigeria by Nigerians and the only Development Finance Institution with a focus on infrastructure development across the country. We should be able to proffer solutions in infrastructure development for Government. We have made ourselves available as the bridge between Government and the Organized Private Sector both local and international for the development of infrastructure and that is why we have been working with the Ministry of National Planning and Budget in the implementation of the National Integrated Infrastructure Master Plan (NIIMP) as their institutional advisor. We believe that if 50 percent of projects within the NIIMP is to be financed by the private sector, then we must create a bridge between the project clusters and private sector. So we wish the Government could work more with us in the delivery of infrastructure as a means of bridging the infrastructure gap in the country. At the Sstate level, this could also be done especially on provision of potable water on a sustainable basis. In most developed and developing economies, water is treated as a commodity essentially a commercial commodity but in Nigeria, we are still treating provision of potable water as socil commodity or service and that is why we are not able to produce potable water in the quantity that is needed in the country. Water is life. If you don't have good water to be consumed by the people, they will drink untreated water and they will become sick and your hospital is congested with the productivity level low while mortality rate is high. So why don't you make treated water available on a commercial basis and let people drink potable water which then reduces water borne diseases and associated treatment costs and generally improve productivity and wellbieng of the citizenery. We cannot have water on a sustainable basis under the current model of delivery. We have been able to convince a number of States Governments on commoditizing potable water delivery and we are working with more State Governments and multi-lateral agencies to deliver this on a sustainable basis.
Elsewhere in the world, Local Governments and Mmunicipalities are strong commercial entities on their own that can take on infrastructural asset development and transform them into self-liquidity assets. But project specific bond issuance programmes for infrastructure development is not common here. Local Governments may not have enough money on their own, but they have the right to collect tariffs /charges in the market place. They could raise bonds in the capital market, develop their infrastructures and charge utilization fee. We are working with a number of Local Governments now to see how we can strengthen their financial base and get them credit rated. We wish more Local Governments can use our services and strengthen their economic base so that their future survival could be assured.
Perhaps some of these Local Governments don't know about your services. Are you planning to have branches in the States?
Our business model is not retail it is wholesales, so having branches is not going to be productive for us at the end of the day. But being in certain strategic locations, I agree with you. We have been trying to reach out to States and Local Governments through their national organs. We work with the Nigeria Governors' Forum and ALGON to take care of the interests of States and Local Governments. This is why we are having engagements with some State Governments. For the Federal Government,we are here in Abuja where we easily engage with the FGN Ministries Departments and Agencies and we recognize the Federal Government as a major stakeholder.
May be in the future, we may try to devise additional ways of reaching the audience. We sell intellectual capital and not tangible products.
Do you give back to the society in form of corporate social responsibility?
Yes. We do for different categories of people, strata and sectors in the society.
What do you want Nigerians to known about your Bank?
The current administration is pushing for made in Nigeria. I will strongly want Government to know that the biggest made in Nigeria infrastructure facilitator they have is The Infrastructure Bank PLC. We have the capacity and capability to assist in the rapid development of infrastructure and we are proudly Nigerian. I want Nigerians to also know that they have an institution that can beat its chest to be among the best in the world.
Are you also involved with ECOWAS and what advise do you have for Nigerians in Diaspora?
ECOWAS is a treaty that has Nigeria as a strong member and an economic zone. In our growth target, we want to establish ourselves very well in Nigeria and also operate well in the West Coast using the ECOWAS structures.
Currently, we have engagement in Ghana, we have also been engaging with the government of Niger. We are beginning to go West Coast.
For Nigerians in Diaspora, interestingly, what attracts people to the developed countries is the infrastructure, good roads, water running 24/7, mortgages for housing, stable electricity supply among other facilities.
My advice to them is that there is nowhere like home. We also can make those things work here if we invest our time and resources.
We all must be thinking Nigeria. Nigerians in Diaspora should think more about Nigeria and think about what they can do to develop Nigeria.
Luckily, there is the Diaspora Bond that is being issued by the Federal Government of Nigeria for Nigerians in Diaspora to invest in the development of infrastructure in the country and also make a decent return on their investment-which is hard to come by in the developed market. Hence all Nigerians in Diaspora should try and subsribe to this Diaspora Bond.
Also Nigerians in Diaspora can invest in any of our investment ready projects which also helps them in seeing that those standard infrastructure they have abroad are also developed in Nigeria. We look forward to working with more of them. We are indeed currently working with a number of them.