By Sunday Oyinloye
He was never given any chance, perhaps only a few believed he would succeed Barack Obama. Many around the world saw him as a mere billionaire entertainer who after making his money was on an adventurous journey to the land of unknown. He was widely perceived as a day dreamer looking for what he could not get.
The world saw him as a successful businessman who just wanted to add colour to the US election, but the world also failed to realize on time that he is a man of history or a man of destiny if you like. All odds seemed to be against him but at the end, he proved the book makers wrong.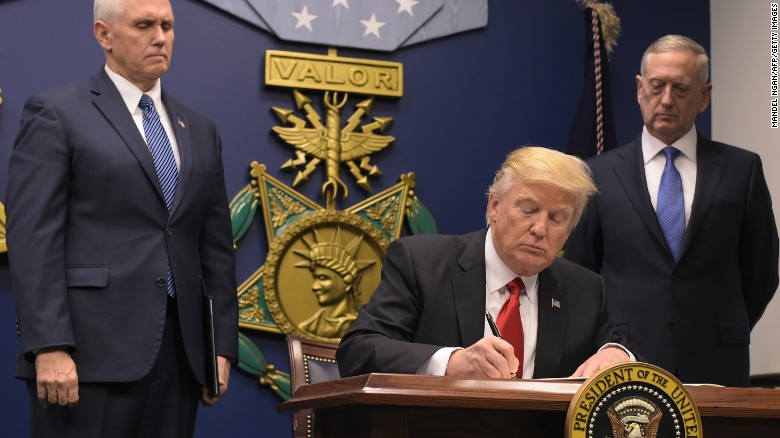 Like Bill Cosby, there were many sexual assault allegations against him by beautiful ladies who made the world to believe that the then Presidential Candidate had no other business than to touch women. The world seemed to be against him, he appeared surrounded by known and unknown "enemies''. He "fought'' everyone including his prominent party members and called the media names, yet Donald Trump succeeded Barack Obama who himself campaigned against him vigorously.
Six months after his inauguration as the 45th President of United States, controversies have not only trailed his victory, but Donald Trump has continued to make headlines across the globe because of his is actions and utterances as the US President just as it happened before his election.
Interestingly, any speech, step or meeting by President Trump has been subjected to hot debate not because he is the US President but because of his personality and unpredictability. Imagine his style of handshake becoming a subject of discussion in the face of many problems facing the world. That is President Trump for you.
Trump's position on the allegation of Russia meddling in US election in a meeting he held with President Vladimir Putin during the G-20 Summit in Hamburg Germany also generated heated debate. As if the US President enjoys controversies, he was also criticized when Ivanka Trump had to fill in for her father at a meeting during the G-20 Summit. The 35-year-old former fashion model that is believed to have great influence on her father sat at the table with world leaders for the meeting. That controversy was yet to die down before Donald Trump Junior's meeting with a Russian lawyer during last year's election became another serious issue.
Before now, the ''Tweeting" President'' has also been criticized for putting his family members in top White House positions. Trumps crave for twitter has also been attracting comments around the world and many have wondered whether it is a must for him to tweet on every issue, but the tweeting President would not listen. The more he is criticized, the more he tweets.
Don't ask me about his handshakes. One needs to be very strong to accept his handshake or better still; you have a handshake with Mr. President and take pain reliever afterwards. But that is his style and he cannot be blamed for it .Trump eats, swims, sleeps and wakes up in controversies .There is hardly a week that he will not be caught in the middle of a controversy. Indeed, his leadership style has been" one week one trouble''. But nothing seems to bother him. Castigate him till tomorrow, he has a mindset and nothing stops him from reaching his target.
No matter how you look at President Trump, he is a man who believes very much in himself and his ability to take America to the next level. However, whether or not he will achieve his goal is a matter of time. Again, no matter how you look at it, Trump has a date with history in the nearest future. History will either record him as a man who came "from nowhere" to make the world a better place or a man who came "from nowhere" to cause more confusion in a world that is already full of uncertainties.