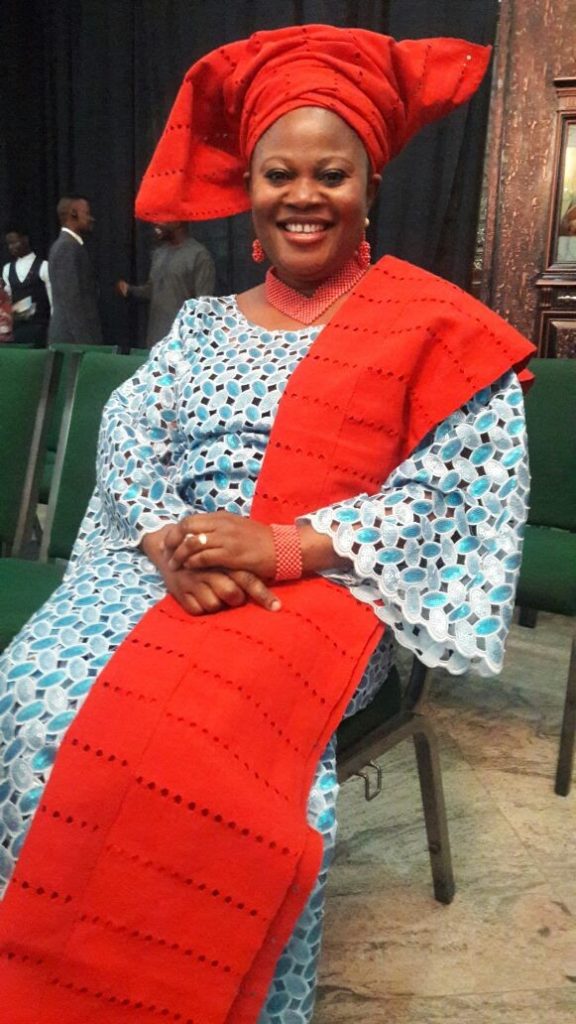 Bola Omotayo, is a  Business woman  of repute and  former  Chairperson of  the Ekiti State Chapter of Nigeria  Association of Women Journalists (NAWOJ). Though ,her business name is  Abeni Alaso Oge, Bola is fondly called Abeni Alaso Oke within and outside Nigeria. Her company  recently bagged  Nigeria National Quality Award . In an interview with Sunday Oyinloye, Publisher  of Green Savannah Diplomatic Cable, the former Journalist likened her journey in business to that of a bamboo tree.
Excerpts:
Why did you leave journalism for business?
I will say  I was born into business. My father was a commercial  farmer. From his farm, he fed many prisons across Nigeria for many years as a Prisons Contractor. My mother too of blessed memory was a business woman. The only thing my mother did throughout her life was business except for a  few years in her youthful age when she was a teacher. She taught just for few years and went into business and she never looked back, so I will say I was born into business. And to your question, why I left Journalism, as I said, it's in the blood , secondly there was a time in the course of my career that I had to go and work with the British Department  for International Development( DFID) and I discovered that the pace of work in a system like that is not the same compared to the public service(civil service). However, all along I had always been doing business on the small scale but when I finished my consultancy at  DFID and I went back to the state service, I discovered that my time was not fully utilized. I felt I wasn't doing enough. I saw a lot of free time and there were times you want to work, you know what to do but you don't have what to do, so the urge to really find other things that will gulp up the free time was appearing too much at that time , then I started buying things and asking  friends would you buy?. Later, I began to feel that  I was  giving less than I could give. That  was how it started.
What were the initial challenges?
It's  like creating a state without a takeoff grant. I started this business without a takeoff grant, I didn't have a takeoff grant as a civil servant at the state level. You could imagine what volume of savings I had . So, there was no real big amount of money. I started with peanut but with discipline.  And as a media lady, people will always come to you for Aso Ebi and there are some you can't turn down. Most of the time, I will buy the cloths and just keep them in my bedroom and at  a point, I looked at it one day and I said to myself , even if I don't have money, I can start a shop with all the cloths in my bedroom. With little money , I procured  more and with that, I started the shop. Since then, I have been nursing and nurturing it, I never received and huge support from anywhere.
Why Aso Oke?
That is an interesting question. There is a story that surrounds that.  I have shared it  many times and will like to share it a million times again. When I started , I didn't choose Aso Oke,(Hand woven cloth) Aso Oke chose me.  I wanted to sell ladies things, ready to wear things and that was how I started. I didn't know the name to give to the shop, so my sister came to visit me in Ado Ekiti. I was in Ekiti State then. I told her I would like to have a shop, but I don't know the name to give to that shop, she was in Abuja and she still lives in Abuja. She said it doesn't have to be one sophisticated English high flying name. That in Abuja there is Adunni clothing , she mentioned many local names. My sister  said I could use my name, that I  could say Abeni Aloso Ewa and then, I said if I should use it , some people might  mistake Ewa  (Beauty )for beans(Beauty and  Beans have the same spellings and similar pronounciation in Yoruba). I said I will use Abeni but I don't want Abeni Alaso Ewa because it's easy to mispronounce Ewa. Later on my own, I came up with Abeni Alaso Oge. When  I came up with that name, everybody who had it would say wao, how did you come about that? I would say I don't know, it just came. When I started, I had a sign outside, people passing by would read and  say Abeni Alaso Oke instead of Abeni Alaso oge And if I happen to be nearby, I would correct them, but they kept making the same  mistake, I  normally tell them that I don't sell Aso Oke. Even though Abeni Alaso oge was boldly written on my complimentary card, people still called me Abeni Alaso Oke. What was  registered with the CAC is Abeni Alaso Oge. One day, somebody called me and said hello, Abeni Alaso Oke and she asked whether I was at the shop. But I said, I have told you that we don't sell Aso Oke, we sell lace, we sell Senegalese  we sell cosmetics and other materials . I said to her, I am Abeni the custodian of fashionable apparel not the custodian of tradition hand woven cloth. After the call, I was still furious and I was complaining aloud wondering what was wrong with them that they would not listen to correction. And then, there was a friend nearby who said maybe God is sending them to you why don't you include Aso Oke in your stock. And then, I relaxed. It was then that I really recognized it as a voice from a place beyond me and I started making my enquires about Aso Oke. I started procuring Aso Oke and started displaying it in my shop. But one important thing happened. One day, a colleague and friend came into my shop and she said well-done Bola, you have inherited your mother's business. And I asked her whether she knew my mother, she said yes. The lady was a member of NAWOJ Which I was leading at that time. I knew her as a friend and a professional colleague but I didn't know that she knew my mother. I didn't know that when she was to bury her father, my mother was the one who supplied the Aso Oke which she gave to her friends and family as Aso Ebi. It was then that I remembered that, oh my mother was in it. Then I began to connect the whole thing. So for me, it's not just a business, it's a calling
Are you looking at taking Aso Oke beyond the shores of Nigeria?
Yes, that has been happening not by me but my customers . Many who visit Nigeria do come to my shop to buy Aso Oke  because it is something that symbolizes Nigeria. My Aso Oke has been taken to many countries that I have not even visited. Exportation by me will surely happen.
How soon?
As I told you, it is not just a business, but a calling. There is a hand behind me that is leading and I just try to listen. On my own, I will like it tomorrow, but it requires money to take it to that level. We are however using social media to promote our business.
You have just won the  Nigeria National  Quality Award, how did it happen  and what does this mean to you?
I received the news of the award with tears of joy. Like I told you , I never had a takeoff grant, nobody set me up so to say. There are people who would transfer business to their children, there are people who would be set up by their spouses, there are people who would use contract proceeds as takeoff grant, but mine was not like that . I started with peanut and it's been growing at a pace that I would ordinarily say I don't enjoy. It  has been hard but all I can do is to keep thinking, keep reading, keep working, keep hoping and keep praying . One of the speakers at  the award used the analogy of a bamboo tree . You plant the bamboo tree, after a year nothing is there, in the second year no growth above the soil, the third and fourth, nothing and about the  sixth  year, you see the bamboo tree up there. If you observed, the only thing I said when I received the award was Thank you UNIDO for watering my bamboo tree. It has been like the Journey of the bamboo tree. For once, I felt I had a good reason to be happy so deeply that my labour has not been in vain. When I returned home the following day, I saw it as a call to duty, a call to do more, a call to press further. I started thinking, how do I raise money to go to the next level? Because you don't want to go below the bar, you want to raise your bar on quality, strategy and other areas. As I said, It is a call to duty and to do whatever we are doing better.
What makes your company different from others?
By nature, I am a very thorough person. I'm painstaking by nature, I am meticulous, whatever I decide to do, I do it well. I like it big and presentable. That has informed the quality, the texture, the length, the width of the Aso Oke that we present to the market. We help people add value for their money, we don't create illusions here. If you buy Aso Oke from me, I can beat my chest that for the money you are paying, you have value for it.
Visit us today at :  ABENI ALASO OGE (Aso Oke Shop) Shop 08A Faruk Bahago "A Courtyard" Garki International Market, Abuja, Nigeria.  Telephone:  +2348118822000