By Sunday Oyinloye
His reign was peaceful and eventful, development in all fronts, indigenes having breaking through and non-indigenes counting their blessings, yet when his time was over, no one could stop it. His ascension to the throne was peaceful and he left a united town. He lived a fulfilled life and left his footprints on the sand of times.
Oba Charles Oladele Ibitoye, the Olomu of Omu-Aran in Kwara State, Nigeria who recently passed on to glory was a caring Royal Father loved by many in the community and Kwara Sate in general because of his humility and good human relations. As a man I knew well, he never discriminated against anybody and he treated all residents of Omu-Aran the same way not minding whether they are indigenes or non-indigenes. In fact ,there is no town in Kwara State where non-indigenes are as free as Omu- Aran. This is a legacy that had been passed to generations by the previous monarchs and late Oba Ibitoye never deviated from it.
Oba Ibitoye was an active member of St. Paul Anglican Cathedral Omu-Aran and because of his punctuality in church, he had a permanent seat there. He served God with his heart until he passed on to glory. The people of the town will not forget him because during his tenure he made the welfare of his subjects and the development of the town his priority, little wonder today, Omu-Aran has become the envy of other communities not only in Kwara State, but across Nigeria.
The late monarch was a good listener and a man full of wisdom. With that, he was able to reign in peace. He might not be a perfect human being, but he had open mind and could accommodate anybody. This perhaps explains the reason why he was loved by his people and respected by other monarchs.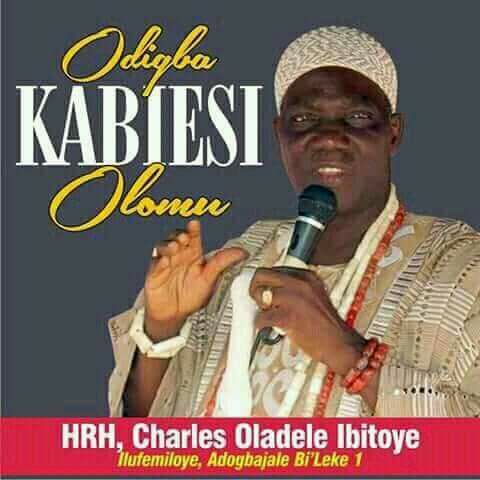 Just like his predecessor, Oba Sulaiman Durotoye Abegunde, the late Oba commanded respect among the people, he would call a spade a spade.
Our Royal father, your dream of transforming Omu-Aran to a small London may not have been fully accomplished as you revealed in your last interview with G.S.S Omu-Aran Old Boys Association Magazine, but in your life time, Omu- aran was and is greater than London spiritually. What a rare privilege to have the Spiritual Head of C&S Movement worldwide, Most Rev. Dr. Samuel Abidoye, Presiding Bishop of Living Faith Church worldwide, Dr. David Oyedepo, General Overseer of New Testament Christian Mission International, Rev. Moses Rahaman Popoola, Founder of Joint Heirs Church, Dr. Johnson Adeoti and a host of other men of God as indigenes of your town? And what is more? The home in heaven is greater than that of the earth.
It is not how old, how long but how well and glorious. You came , you lived well and left a legacy for our great town. I say good night to a humble and great monarch. We shall not forget the song the Choir normally sing for you at St Paul Anglican Church, Omu-Aran …..Oba o oba alase Oba, Oba to mo Jesu..(meaning a monarch who knows Jesus) What on earth could be more fulfilling? Once again, I say good night to a man of peace. The entire people of Omu-Aran will miss you, but I am believing God as the scripture says that one day, we shall meet to part no more.
Our Monarch, rest in the bosom of our Lord Jesus Christ. Olomu of Omu-Aran, good night.
Being a tribute to Olomu of Omu-Aran , Oba Charles Oladele Ibitoye, the late Monarch of my town.