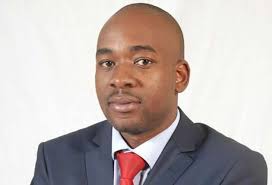 Hon. Nelson Chamisa, the MDC-T -MDC Alliance Presidential Candidate in Zimbabwe's July 2018 elections is a man of history and the world is waiting to see if he would re-confirm this. To Chamisa, the moment for change in Zimbabwe is now and he sees himself as the right person to drive the change. Born in February, 1978, Chamisa made history in 2003 for being the youngest member of the Parliament at the age of 25 representing Kuwadzana East, few years later, he became youngest Cabinet Minister in Zimbabwe's Government of National Unity in2009 when he was appointed Minister of Information and Communication Technology. In March 2007, Chamisa had close shave with death; he was attacked at Harare International Airport on his way to Belgium. That incident left him with a broken skull. According to Chamisa, he is the face of change that Zimbabweans have been waiting for and ready to lead by example. Highly intelligent, Chamisa who is the main challenger of the incumbent, President Emmerson Mnangagwa in this interview with Sunday Oyinloye, Publisher of Green Savannah Diplomatic Cable, says the era of analogue leadership in Zimbabwe is over, even as he promised to transform his country if elected the President . The politician also disclosed that what most African countries have are rulers and not leaders. The way out according to him is for a new crop of young visionary leaders to emerge and take the continent to the next level stressing '' I am one of those new crop of young visionary leaders"
Excerpts: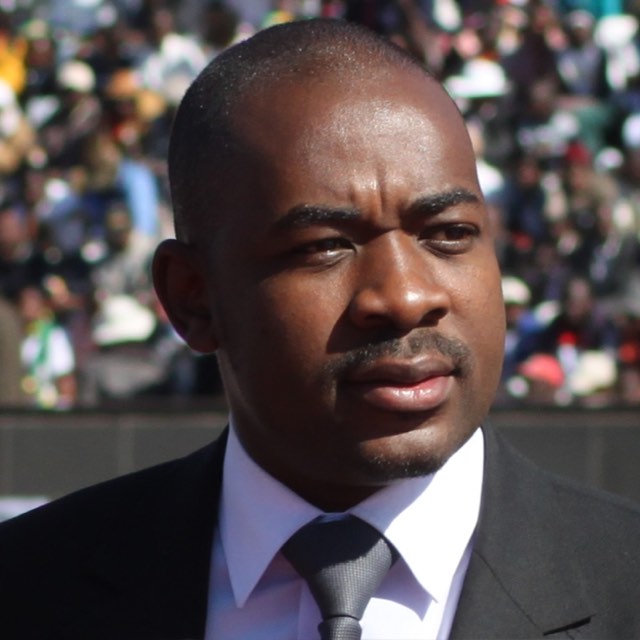 What will you do differently if elected the President of Zimbabwe?
I have programme of transformation for the people of Zimbabwe, programme that speaks to opportunities and prosperity for the people. It is clear that I am a young man, just 40years old. Because of my age, I am able to move with the times. This is a digital era, and I want to move the country to a digital level as opposed to the current analogue stage.
How do you see year 2018 as Zimbabweans get ready for elections?
I see it as our year of true liberation, a year of transformation. Yes, we got liberated in 1980, but we have not seen transformation in leadership, so we need to consolidate on that liberation to the level of transformation and also build on the transformation, because as a people, we have had many cries, sorrows and worries. This year presents us the opportunity to correct the darkest period we had as a people, and that is why this election is very important. We have no doubt that we will win this election. I am the face of the change Zimbabweans have been waiting for. Nelson Mandela did it, Thomas Sankara did it, Martin Luther King did it, and Barack Obama did it. For me, the moment is ripe, the age is ripe and the time is ripe. This is a great moment in our country and we hope to make history.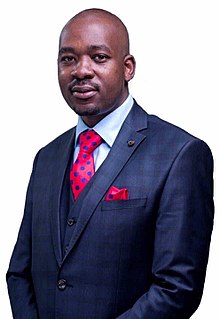 Do you have what it takes to defeat the incumbent President?
The issue is not about what I have but what I intend to do for the people of Zimbabwe. The people of Zimbabwe are going to choose a leader of their choice. The emphasis is not about me but about the people. We are going into this election talking about what we can give. I was in the inclusive government for some years as a Minister. On the issue of experience, I have it as stipulated in our constitution, also in terms of age, anyone who wants to be the President must have attained the age of 40. I clocked 40 in February this year, so I cannot be seen as unqualified or lacking in governance experience.
One of the problems affecting Africa is corruption which is also an issue in your country, how do you intend to fight corruption if elected as the President?
The fish rots from the head. The reason why Africa is so corrupt is because the leaders are corrupt. Leaders in Africa are in the premier league of corruption, they are destroying their people's hope because of corruption. The first thing we have to do is to put in a fresh air and I represent that fresh air in Zimbabwe. I have been a member of the parliament with tract record. I have shown my commitment to the development of my country. We need leadership by example, we need whistle blower policy and we need a leader who will make corruption less attractive, that is what I represent and the kind of leadership I will provide. If am voted into office, there will be a hot line where people can provide information for the government, so that those who are caught and found wanting could face the wrath of the law. There will be a specialized unit of the police to deal with corrupt elements within our society if I am elected.
For decades, Zimbabwe was like a pariah state, what will be your disposition towards the West if elected as the President?
We believe in building bridges and not making enemies. We need to have reengagement; we must work with everyone, the West, the East, any country ready to work with us for the development of Zimbabwe. We are going to extend our hands of fellowship to promote dialogue; we are going to build partnerships and join comity of nations. We have to drop the toga of a banana republic and pariah state status. To be able to do this, there has to be a fresh dimension, fresh ideas and fresh perspectives in terms of our foreign policy. If elected, we are going to put the flag where the money is. We shall be emphasizing companionship.
You are 40 years old, therefore you are still a youth; what plans do you have for the youths of Zimbabwe?
It takes a young man to lead young people. I belong to the digital age. The incumbent President is 75 years old; he belongs to the analogue age. I will engage young people and create job opportunities for them. I will also ensure that they are psychologically empowered. They will be supported in their various entrepreneurial activities because the future of Africa rests on entrepreneurship.
Zimbabweans will also want to know your agenda for the women?
I have a special package for the women, happiness, joy, freedom and protection; these are what I am promising them. We need to revisit our laws that are not in the interest of the women. We need to make laws that will benefit and protect them. Women are special species, they also require special treatment. We shall also advance their participation in politics through capacity building; they are not going to be supporters alone but also leaders. We are going to remove obstacles that are militating against women participating in politics and also empower them economically.
Some people believe that the 2008 election was rigged; do you have any fear concerning the July election?
Once beaten twice shy, we hope that the reforms we are calling for will be sorted out. The fear of rigging is there if you look at it from historical perspective.
What are you telling your supporters and Zimbabweans in general?
Zimbabweans must come out in their millions to vote for change, vote for transformation, to vote for opportunity, and for prosperity. They should come out and vote for the person that will deliver. We need to work together to achieve the much needed change in our country
Are you assuring the world that you will accept the result of the election whether you win or lose if the process is credible?
Any credible election has to be accepted by any credible individual. I am a credible candidate and a credible citizen; I will accept a credible outcome. We will support any one that wins. But let me say that I will support myself because I am a credible candidate and so I am going to win
What makes you better than the incumbent, President, Emmerson Mnangagwa ?
I have not killed anyone, I have not murdered anyone. I have not committed any act that could destroy the country, I have not destroyed the economy, I have not been caught stealing money, I don't have traces of corruption. I have a clean record in terms of service delivery.
What is your message to Africa and the rest of the world as regards the coming election?
We have raised concern about some issues; chief among them is audit of voters roll. Also of concern is the issue of who prints the ballot papers, and we also concerned about the composition of the Zimbabwe Electoral Commission itself. These are some of the issues we have put on the table and we want the international community to look into these issues. My massage to Africans is stay in solidarity with the people of Zimbabwe for a credible election. We need Africa to be a continent of ideals not a continent of worry and sorrow. We need Africa to produce leaders and not rulers. The problem with Africa is that we have too many rulers but a few leaders, this is the problem. Africa's main challenge is that of leadership