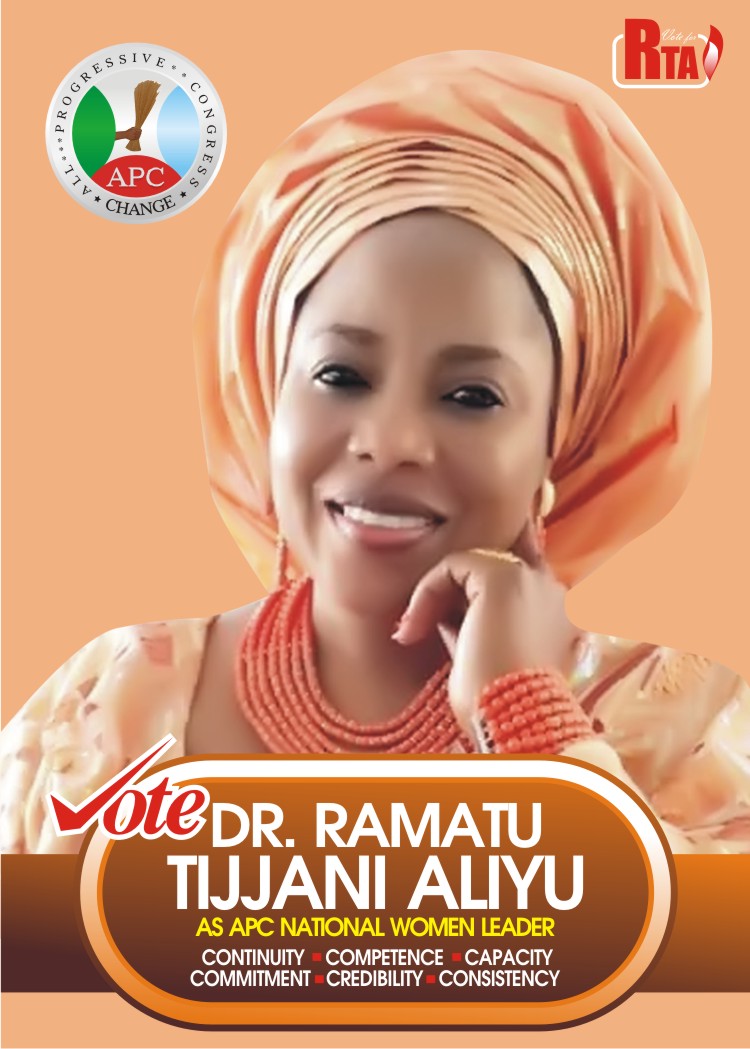 By Sunday Oyinloye
The National Women Leader of Nigeria's ruling party, All Progressives Congress (APC) Dr. Ramatu Tijani Aliyu has described as false a report in a Nigerian Newspaper and some blogs that she was no more interested in her seat as APC holds her National Convention today in Abuja.
In a two separate Press   Statements personally signed by the politician and made available to Green Savannah Diplomatic Cable, Dr. Ramatu said she is very much in the race and also described as false a news going round that she received Three Hundred Million Naira for women mobilization during the 2015 Presidential Election.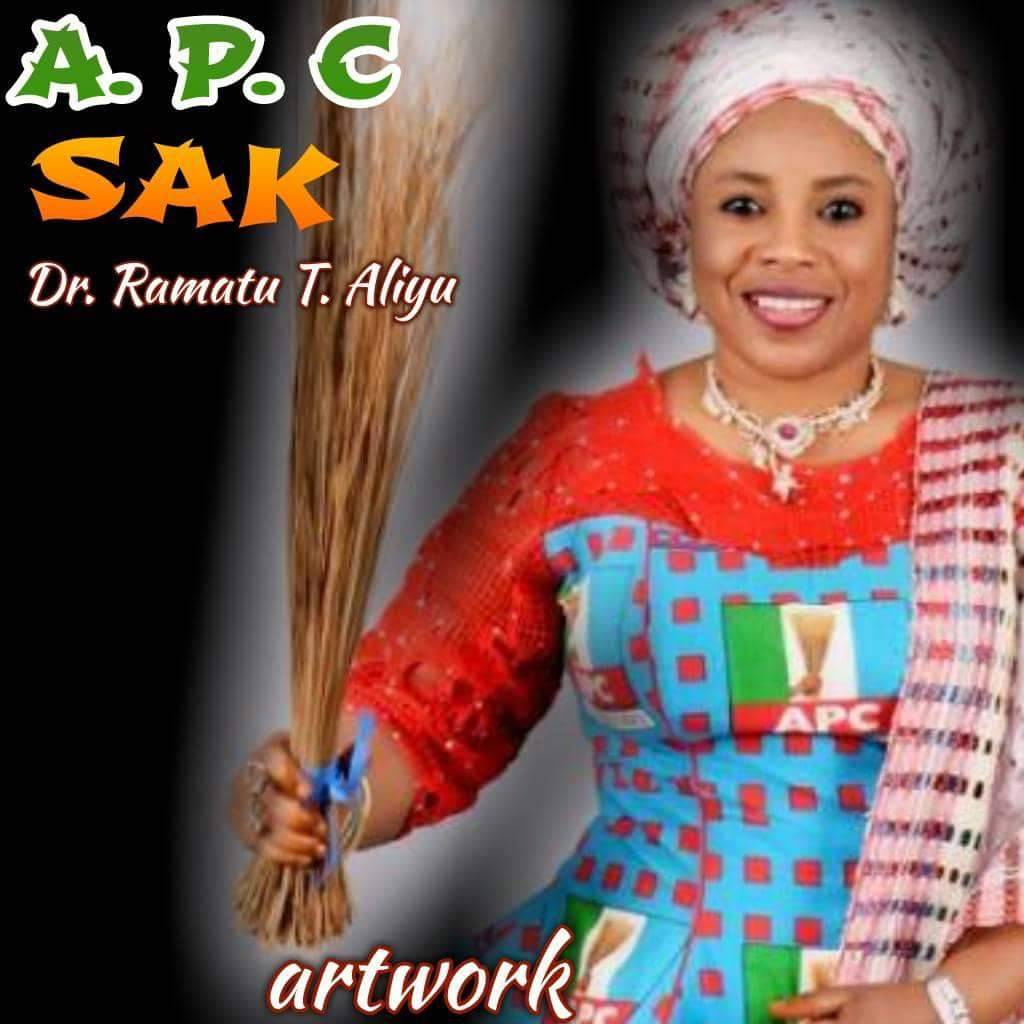 She said "I  have received with shock and displeasure a false news  that I  Dr. Ramatu Tijjani Aliyu the incumbent National women leader of the APC and a widely endorsed candidate for the National Women leadership of our great party in Today's Convention has withdrawn from the race.
"This development is not just unfortunate but a crude demonstration of the garage politics and dirty propaganda being deployed by my opponent and her sponsors in an attempt to deceive our delegates. To think that someone seeking to become a National Women leader of our great party the APC can descend so low is not only bad for the APC but also dangerous for our nascent democracy.
"I hereby clearly and unequivocally reassert that I Dr. Ramatu Tijjani Aliyu is still firmly in the running to retain my office as the National Women leader of the APC and to build on the good work we have started together. I therefore urge our delegates and party faithful to disregard and ignore any such news and plots to deceive you into voting for the wrong candidate."
On the allegation that she received  Three Hundred Million Naira to mobilise women in the 2015 Presidential Election, read the full text of her press statement bellow:
I NEVER RECEIVED THREE HUNDRED MILLION NAIRA CAMPAIGN FUNDS FOR THE APC WOMEN MOBILIZATION IN 2015 PRESIDENTIAL ELECTION-Dr. Ramatu Tijjani Aliyu*
My attention has been drawn to a new campaign of calumny by forces conspiring against my re-election into the office of the National Women Leader of the APC. The latest attempt to smear my hard earned reputation in order to discredit me in the eyes of the APC faithfuls and its Leaders has just been unleashed in the shape of a spurious allegation of 'financial misappropriation of APC campaign funds' to the tune of a whopping three hundred million Naira (₦300,000,000.00).
I have reliably gathered from an insider that having tried every trick in the book to pull me down in the forthcoming National convention of the APC without success, they have resorted to a crude distortion of history to achieve their sinister agenda. They have now curiously alleged that I, Dr. Ramatu embezzled the sum of ₦300,000,000.00 meant for women mobilization during the last APC Presidential campaign. And that I have nothing to show for it in terms of mobilization and outreach programmes.
As ridiculous and unfortunate as this latest plot is, I am inclined to put the records straight and preserve my special seat in the annals of APC history. To this end I categorically state that I, Dr. Ramatu has aver and verily state that during the campaigns, I neither directly nor indirectly received the sum of ₦300,000,000.00 or any such sums for the purpose of women mobilization for the 2015 Presidential election of the APC or any other elections for that matter. This bogus half-truths only live in the imagination of my detractors.
The point must be made abundantly clear that I, Dr. Ramatu only received the sum of ten million Naira (₦10,000,000.00) from our father and leader Asiwaju Bola Ahmed Tinubu for women mobilization; the same amount I graciously handed out to the Youth as well as the physically challenged wings of our great party the APC. It is equally noteworthy to reemphasize that the said ₦10,000,000.00 was judiciously and appropriately expended on vital components of our women mobilization drive in the lead up to the 2015 general elections, and the records are there for anyone who cares to know. Nonetheless, I will still go ahead to furnish interested parties with some details of our mobilization drive that has more than justified the ₦10,000,000.00 graciously given by our leader the Asiwaju.
It is on record that in the course of the women mobilization efforts in the lead up to the 2015 general elections:
I, Dr. Ramatu Tijjani Aliyu purchased, printed and distributed Thirty Thousand (30,000) Clothing-wrappers with PMB pictures to about Thirty Thousand (30,000) women across Nigeria. Paid out of my pocket, running into tens of millions of Naira in order to aid the mobilization of APC women.
I distributed Books, Stencils and School bags to Primary school pupils within the FCT and Environs in demonstration and support of the free education program as enshrined in the constitution of the party, APC.
I also distributed APC branded Bags of Rice, T-shirts, Face caps and APC Aso-oke (Head gears) in their thousands to enhance the electoral fortunes of the APC.
I was everywhere with President Buhari campaigning; in the rain, and in the sun, to appeal to both lettered and unlettered Nigerian women to vote for our dear President and the APC in the 2015 elections.
I sponsored the Free Mama Kit for all Pregnant women for distribution during Antenatal clinics in Abuja and environs in the lead up to the Presidential election. .
I completed and tiled Orphanage schools, provided food stuffs, Generator sets, Slippers, Towels, Diapers, Infant formulas, Treated Mosquito Nets, Buckets, Toothbrushes in hundreds to Motherless Babies homes and homes for the less privileged. All without funds from the party.
I mobilized APC women and visited the IDP Camps on several occasions to donate Food items, Matrasses, Slippers, Bags of rice, Cartons of Spaghetti, Maggi cubes, Palm Oil and Groundnut Oil, Buckets, Treated Mosquito Nets in hundreds to give succor to the down trodden all in the name of PMB and APC.
I sponsored many Primary Common Entrance and Secondary school WAEC/ NECO and provided food for many students all in the name of the party.
I never stopped nor waited until it is available. In company of APC women, I took succor to the homeless Mother of the Benue Triplets and many other displaced victims of the Benue Flood.
I mobilized APC women to organize Roadshows, Carnivals, Processions and Match for PMB on several occasions and at different locations.
Throughout Ramadan periods (even under recession) when the down-trodden felt the pain like never before, I established several feeding centers for thousands of less privileged to feed during Sahur and Iftar.
Likewise to the Christian faithful, always played the role of a Mother and a hope of the Hopeless as I used my Charity Outreach to distribute branded Bags of Food stuffs, branded Cartons of Spaghetti, Dairy products, Clothes and Basic necessities to the Churches, Christian centers and Neighborhoods to put a smile on many faces, and touched many lives during Christmas and New Year periods in order to endear my party APC and PMB to the hearts of many Nigerian citizens.
The point must be made that the publicity and logistics components of the women mobilization campaign alone exceeds the ₦10,000,000.00 referenced above. Indeed what is apparent from the foregoing is that I had gone above and beyond the available resources to expend my personal resources in the mobilization of women and even youths in my quest to ensure maximum support for President Buhari.
And in case anybody is wondering why one who doesn't earn any salary will expend her personal hard earned resources on the campaign of Mr. President, wonder no more, it is an open secret within the APC family that President Muhammadu Buhari is not only a father but also a mentor to me, Dr. Ramatu Tijjani Aliyu whom he has taken under his wings from the very inception of my political career. My loyalty to PMB knows no bound and will therefore spare no expense to ensure his success. Unlike my detractors, I will not play to the gallery just to invoke the favour of Mr. President because am not a fair weather politician.
I therefore urge the peddlers of this  unsavory and baseless allegations to retrace their steps and engage me on issue based politics and campaign because that is the only strategy that will appeal to me.
Signed:
HAJ. Dr Ramatu Tijani Aliyu
National Women Leader,
APC