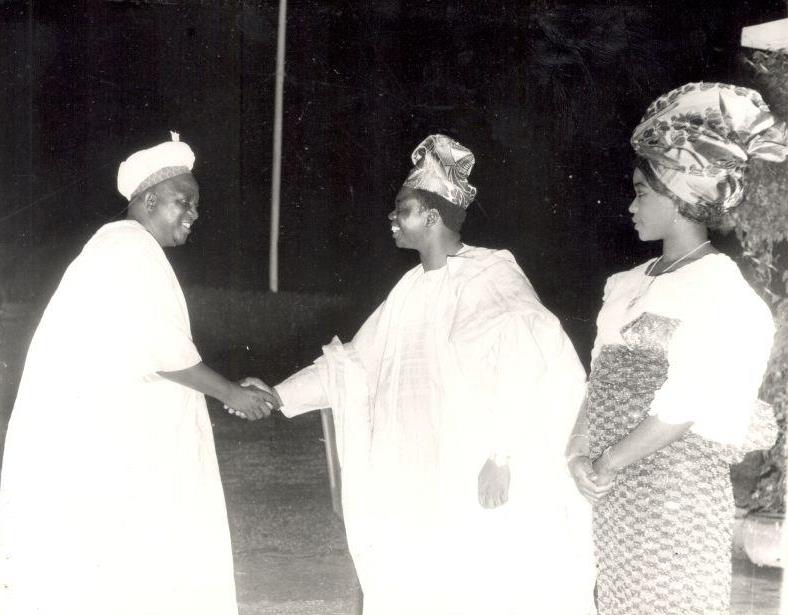 By Sunday Oyinloye
The life and times of Brigadier- General David Bamigboye was unique and productive as attested to by Nigerians even before his death. For a man who became a Military Governor of the old Kwara State less than ten years after he enlisted in the military, the story of his life speaks to the fact that with determination, commitment, hard work and fear of God, no mountain is too high to climb as demonstrated by this icon before he was called to glory.
As a Military Governor, Bamigboye was loved by the then equally young Head of State, General Yakubu Gowon because of his giant strides in many sectors of the economy. Little wonder, Gowon paid a working visit to Kwara State in the 70s and acknowledged the good works of the former Military Governor.
From General Gowon's account, Bamigboye proved to be a good Administrator and gave the administration under which he served a good name and image. Going down memory lane, Gowon disclosed that Bamibgoye's administration was so efficient that it had to assist other states in the North with manpower.  Close to 50 years after, Gowon still acknowledges this great soldier and astute Administrator in death.
Fate and history were good to him. You ask why?   Bamigboye first met General Gowon in Zaria as a secondary school student. Interestingly,  it was in the same town  he met young and pretty Betty ,whom he eventually married.
Bamigboye, met his beautiful wife 53 years ago, and they had the best of times together until September 21, 2018 when he said bye to the love of his life, Betty, fondly called mama Funmi by the former Governor.
General Yakubu Gowon mirrors the life and times of Bamigboye while his wife, Betty shares the good and sweet memories she had with her husband in few words. Other Nigerians, friends, children, and grandchildren also speak on this great statesman
Excerpts: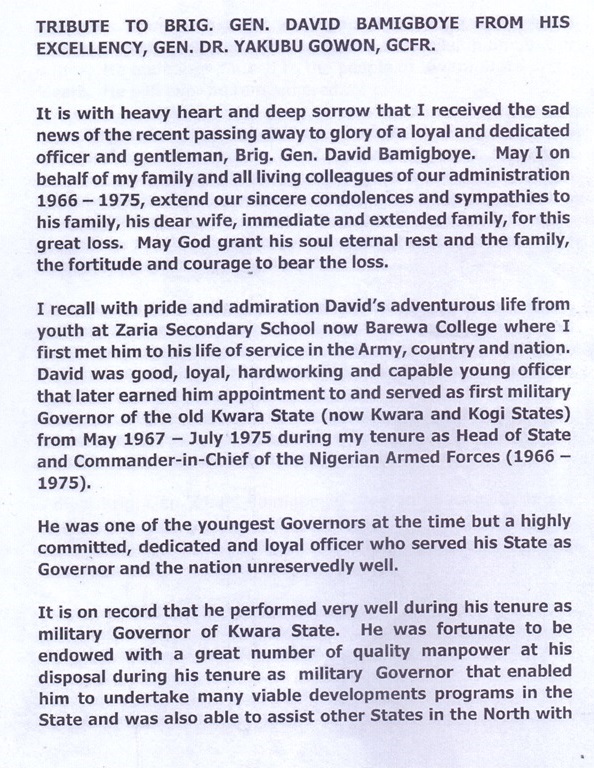 Tribute by his wife, Lady Aduke Betty Chinyere Bamigboye, Yeye Asiwaju  of Igbomina/Ekiti land
I never thought you would leave me so soon my darling Baba  Funmi. Just like yesterday our paths crossed in Zaria, though you were a Yoruba man I never envisaged it would blossom into marriage with 4 hefty lads and 2 lovely ladies …what more could I ever ask for.
You were my friend, confidant, supporter, mentor, lover and father. How I miss occasions when we were together. The war never spoilt our relationship but rather cemented it and we were happy together for 53 years as a couple until death snatched you away just like that however I take solace in God that you are in a better place and looking down on me and our lovely children.
Sleep well my darling till we meet again in God's vineyard.
---
Tribute by Kwara State Governor, Alhaji Abudlfattah Ahmed
Tribute to a foremost statesman, great and brave soldier of the first generation of Nigerian Army, a man of calm mien, a man of few words, amiable officer and complete gentleman. He governed Kwara Sate non-controversially, and played his part towards the development of Kwara from a toddler to adulthood.
May his gentle soul rest in peace
TRIBUTE TO HIS EXCELLENCY, LATE GENERAL D L BAMIGBOYE BY MAJ-GEN S. ILIYA (rtd)
Your Excellency, it is an understatement on my part to state that the news of your passing shocked me to the marrow. The Bible tells us one day our body will collapse into dust from where we come.
You were an excellent example of an officer and a gentleman. We had very good working relationship which was between a superior and subordinate. I learnt modesty, hard work and contentment from you. You were calm, God fearing, focused, considerate but above all unassuming. A leader full of empathy and completely  detribalized. Coming from a humble background you did not betray this valuable attribute. You remained strongly connected with your family. As a General and seasoned administrator, you scrupulously kept to your strategic vision of building a veritable and firm foundation on which Kwara state stands today. As a subaltern you gave me singular opportunity to get exposed to the reality of the world. I feel proud and lucky to have served and mentored by you.
I recall vividly the moment you removed the watch from your wrist and placed it in my hands as a parting gift in your home town. I consider it a valuable and mementos moment which will ever remain etched on my heart. God, who is all knowing and perfect, has called you to have perfect eternal rest.
Sir, I salute you.
Maj-Gen. S. Iliya (rtd),
Former Aide-de-Camp
---
Professor Abdulkadir Olarewaju Sulyman, former Minister of National Planning
You set a pace for the development of your dear state. Your indelible marks since you left government commendable. You shall continue to be remembered for your simplicity, accomplishment and God given character.
---
Chief E.A Ojo, Asiwaju of Obbo
General, history will remember you for the foundational work you did for Kwara 1975-75. You were indomitable, courageous and yet humble. You broke the shackles of Igbomina/ Ekiti and liberated us.  Your monumental contributions will be appreciated by future Kwarans.
---
A Tribute by a friend, Prince (Dr) Samuel Adedoyin
The Gentleman Officer and StatesmanBrigadier-General David Bamigboye was the first and pioneer Military Governor of Kwara State at its creation on May 27, 1967.  The State was carved out of the defunct Northern Region as Central West State, which was later known as Kwara State.  He started the State with running its affair in 1967 with virtually no basic facilities like good road network, hospitals, and other amenities, pipe-borne water, etc. At the end of his administration in 1975, he has developed and improved the State with the provision of good roads, building of General Hospitals and the State Secretariat, The Kwara State Polytechnic, to mention just a few of them.
Recognizing the importance of manufacturing and tourism, it was during his tenure that the followings were achieved namely, Kwara Hotel, the Herald newspaper, and the establishment of factories like the tobacco, biscuit, Noble Beer, Ijagbo, Bacita Sugar Refinery dotted all over the State. In fact, the welfare of his people was paramount to him, for which he transformed the State through provision of infrastructure, like schools, roads, and hospitals.
He was an embodiment of patriotism, industry, vision and honesty. As a detribalized Nigerian, he established an educational exchange programme with the defunct East Central State Government whereby Igbos were admitted into Queen Elizabeth School, Ilorin and Kwarans attended the College of Immaculate Conception and Queens School, Enugu. He created Local Governments especially Irepodun Local Government which facilitated an increased growth and development of the hinterland, and this is why the Igbominas want him immortalized. His death is a personal loss to me being a good and trustworthy friend.
May his gentle soul rest in perfect peace.
Adieu Brigadier-General Bamigboye
---
Tribute by in-laws, Nduhuobokwe Uzoagba Progressive Union (Lagos Branch) 
Late Retired Major General David Bamigboye;  our great in law, generous, revered, respected, visionary and honorable gentleman. A man who loved and cared for all without boundaries.
You were an inspiration to those who dare;
To defend the nation.
To provide leadership.
To love and care beyond tribal affiliation.
If death could be defeated in battle field, we are confident that you, a courageous and brilliant soldier would have won the battle.
We take solace that life is not all about how long, but how well. You lived well here on earth. You touched Lives in millions! We pray that the Heavens welcome and accept your great sole and may God in his infinite mercy and Love, grant your family, especially your beloved wife and all who mourn you, the fortitude to bear the huge loss.
Adieu the General!
---
Bamigboye, classical example of young to rule- By Dr. Bola Olaosebikan, OON
It is a great honour and privilege for me to write a tribute on a foremost Elder Statesman, the first military Governor of Kwara State and the person I wish to refer to as the "Architect of Modern Kwara State" in person of Brig-General David Bamigboye, whom I am lucky to have known for many years as a friend of the family; and I can say that Gen Bamigboye was a great gift from God to Kwara State and to humanity in general.
I met Baba Bamigboye through my father and since I knew him for over thirty years, I can say that he was consummate humanitarian and kindness personified.  His slender arms were full of kindness. And when I heard about his death that is why I take solace in the immortal words of Chuck Palahniuk, which says," We all die. The goal isn't to live forever; the goal is to create something that will." Baba Bamigboye has left indelible mark behind; he has immortalized himself through lofty ideals and programs. Even though a professional soldier, yet he was a gentle, kind and ever smiling when you meet him. He was very approachable, ever listening to find solution to whatever you took to his attention. I can say that helping people and helping to establish Kwara State Infrastructure were his dearest passion and legacy.
And I thank God that he had a wonderful opportunity to live a life of his passion and was also able to deliver his mission to Kwara State and humanity in general.  Brig-Gen Bamigboye was an iconic leader and Kwara State was lucky to have had such a rare and a great selfless leader at birth in 1967.
Kwara State had Col Bamigboye when the state was created and from the way he governed Kwara State, from infancy; He governed it with all his heart and nature also recognized him with the "unbreakable record forever'' of been the "first and longest serving Governor of Kwara State" (1967-1975) and we are also be proud of him and his leadership trait because he had many things to show even with the modest funds available to government in those days without petrodollar. He built Infrastructure; he built institutions and he built industries for Kwara State.
He was truly a David, a King that governed purposefully and he gave Kwara State a great foundation.
General Bamigboye was also an exemplary leader and pacesetter in many regards even when we talk about the idea of "Not Too Young To Rule" principle which is now becoming a dream for leadership in our nation, our father General Bamigboye was a first -class example for the youths of Nigeria to remember and to emulate. He was a trail blazer. He became the Governor of Kwara State at the age of 27, when he was appointed by the then Head of State Gen Yakubu Gowon in 1967.
And even though he was a trained solider, train to fight wars and protect Nigeria from external aggression, he proved his mettle as not just a first -class soldier, but that he was also a first- class administrator, from the way he laid the golden eggs for Kwara State development agenda and the following infrastructural and institutional development can be attributed to him and his administration as the first Governor of Kwara State:
*He built the Kwara State Government House. He built the Kwara State Secretariat
*He established Kwara College of Technology (now Kwara Poly)
*He established Herald Newspaper. *He built Kwara Hotel
*He established a virile Civil Service for Kwara State
*He built many Secondary Schools and General Hospitals
*He created the first sets of Local Government Administrative Divisions in Kwara State.
*He gave free education and Scholarships to many Kwarans
Sir Brig-David Bamigboye was a great achiever, yet lived gentle life, very caring husband, father, grandfather, compassionate and helpful community leader, apolitical; mentor too many people, guidance, role model and man of his words.
He would be fondly remembered by his loving family, he would be remembered by Omu-Aran people and the Igbominas in general. He would be remembered by Kwarans. He would be remembered by Soldiers and Civilians alike many of whom he has touched their lives. He would be remembered that all those who have anything to do with Kwara State Government now and in future. Let us also hope that Kwara State Government would immortalize Baba Brig -Gen David Bamigboye and may his selfless service to humanity and good name be source of pride to the family and to us all.
As we continue to celebrate the life and times of our father, husband, friend, uncle nephew, grandfather and great grandfather Brig-Gen. David Bamigboye, let's reflect on the ideals and ethos that he stood for while alive and continue to model our lives towards those things that will make us leave this world better than we met it. Let the word of Martin Luther King Jr, : "No one really knows why they are alive until they know what they'd die for", be our watchword.
I pray that God in His infinite mercy will grant us the fortitude to bear this irreparable loss.
Adieu Baba David Bamigboye and May you be granted paradise by your Creator.
Olaosebikan, a former Kwara State Commissioner of Health and Founder of Healthcare Magazine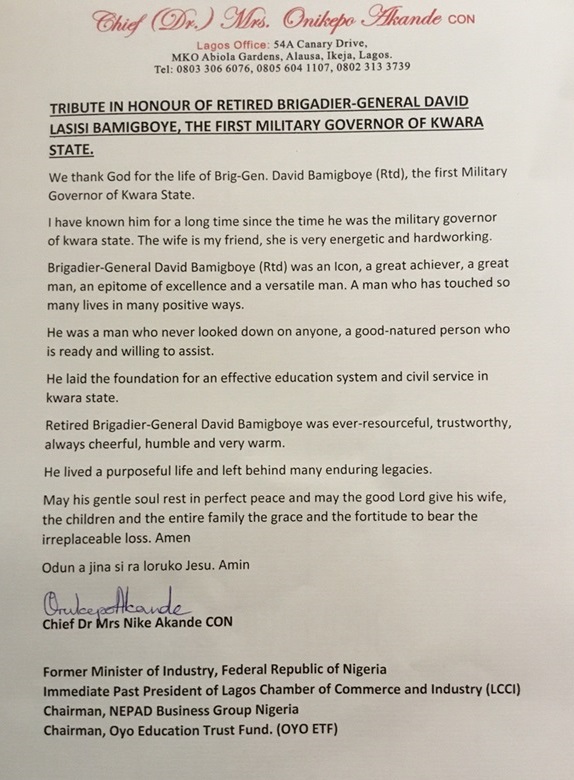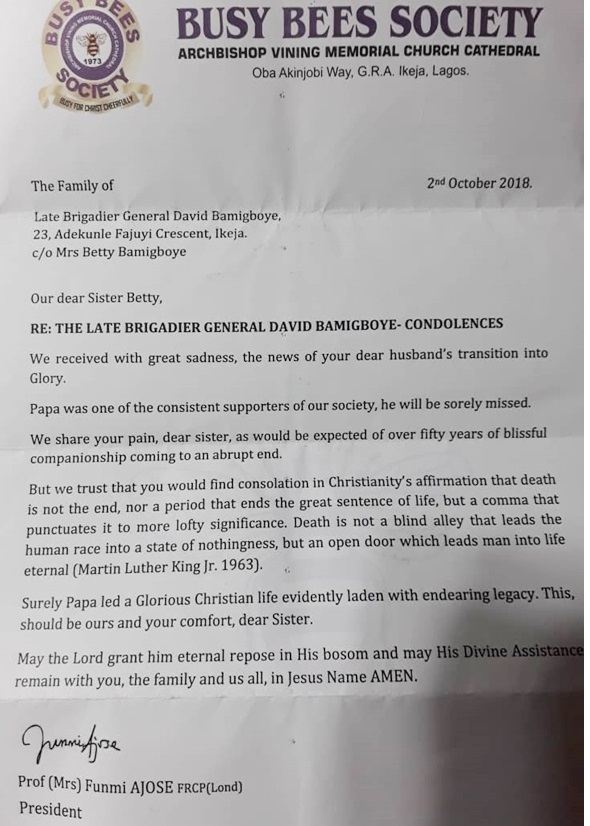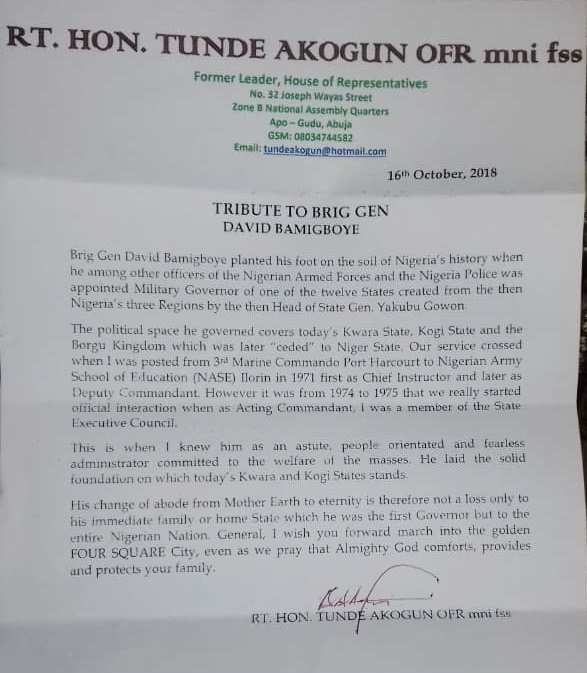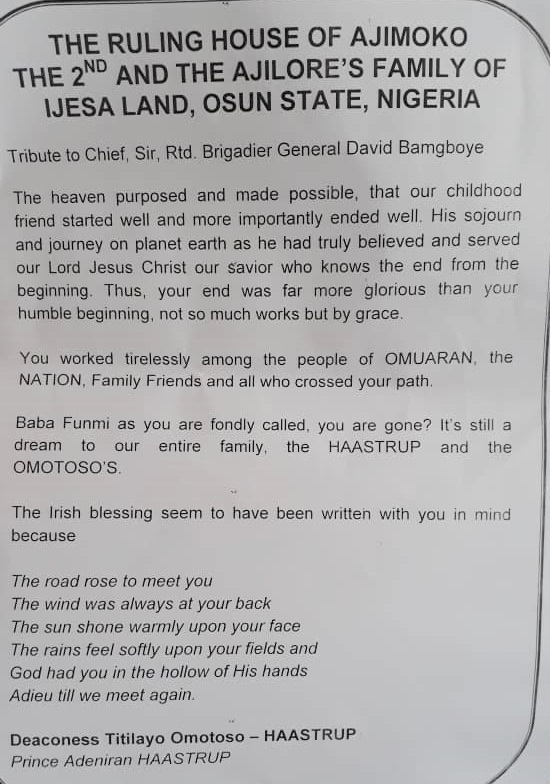 A tribute by family friend, Engineer Alfred Ayo Jagun
 Death, and indeed death, so sudden of an amazing gentleman. Shocking and bad was the news of your home call. Life indeed is a bubble in the wind. Your memory looms large in the depth of our hearts where it is eternally cherished.
I met Brigadier-General David Bamigboye (Rtd) in the year 1962, in the company of our late friend, Major Abiodun Ilori and friendship remained till death do us part.
Brig. General David Bamigboye's beautiful smile and soft spoken nature endeared him to many people. He lived a fruitful life and was a source of hope and inspiration to many people that were close to him. His towering personality and charisma amongst his friends and family was a marvel of innovation. He exercised Spartan discipline and was the real manner of the realm he administered.
His pursuit of principles and conviction braised the norm. David was not accustomed to pretence and deceit, but prudence and forthrightness in a society plagued by obsequious servility.This patriot was greatly misunderstood and often alienated in dubious quarters. In history he walked the lonely path of truth and honesty like the Crusader, made few friends but herald worthy legacies.
When he was made the first Governor of Kwara State, he made valuable contributions to the state development amongst which are:
Establishment of First Kwara State Polytechnic,
Kwara State Hotel, Ilorin
Water Project Schemes in the Local Government and Pipe Borne Water for Igbomila Land
Upgraded the Kabiyesi of Igbomila to the status of a first class Oba
Created hospitable and Medical centers, Primary/Secondary Schools
Scholarship awards in most Local Government wards etc.
Brig. General David Bamigboye, you lived a purposeful life, while others were joining Political parties for position, you remained neutral and as a senior citizen offering advice to the upcoming generation.
May Almighty God grant you eternal rest in Jesus name.
We know it is well with your dear wife, children and the family you left behind.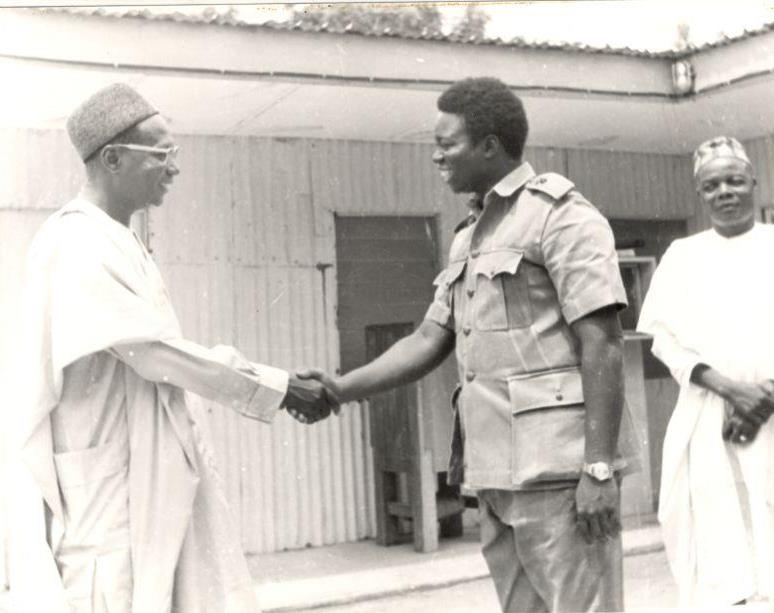 ---
Tribute by a friend Otunba (Dr) M.O Jolayemi OFR JP
He was a good and loving friend of mine and always had .He was a good communicator, full of wisdom and ideas, always ready to share his thoughts on several topics. We always discussed at length whenever we spoke on the telephone. As a patriot, his love for Kwara State never wavered and his impact on Kwara State cannot be overemphasized.
General David Bamigboye was kind, thoughtful and always ready to lend a hand. He lived an exemplary life worthy of emulation. He was a good disciplinarian and a rare breed.
---
Tribute by a family friend, Samuel O. Olatunji, former MD Gateway Bank Plc
Brig-Gen D L Bamigboye: a profound man of character and contentment
It was in the morning hours, sometimes in 1971 when I was in (what was then known as) Form 3, at the legendary Offa Grammar School, Offa in Kwara State, that I first saw …………. There was a ceremony involving the Olofa of Offa (some royal investiture or so) and our massive school compound and field was chosen as venue; so, as students we became curious and privileged 'observer-guests', needing no invitation. Brig-Gen D L Bamigboye as Military Governor came from Ilorin to perform the ceremony. The memory of his exuberant presence, immaculate military uniform, blooming youthfulness and generous smiles left an evergreen impression on me.
Although,  my roots are in Arandun, and as well as Omu-Aran, I never had any direct encounter with him in either town. Rather, our personal and deeper relationship blossomed in Lagos where he settled, post -retirement, and where I also live in.  This relationship somehow became a sort of post-graduate school of sorts for me in many respects, the hall mark of which I take the liberty to summarise below.
Our departed Baba, role model and trail blazer, who became a Military Governor at a mere 26, was a fulfilled and contented man, a natural outcome (and reward) of the choices he made and the values he lived by. Modesty and simplicity were trademarks and integrity was a badge of honour. We had a discussion many years ago about governance and accountability and it was as remarkable as it was shocking to hear him affirming that, as State Governor, it didn't even cross his mind that State Government money was something one could spend the way you liked! The outstandingly modest life he lived post -retirement bore eloquent testimony and validation to that mind set when he was in power. By a remarkable irony and coincidence on the afternoon of Friday 21 September (the day he died), someone quite familiar with him visited me and, being aware of my relationship with Chief, also asked after him and started talking about  him. He recalled that so many of the developmental landmarks that defined the State and the capital were the achievements of his Administration – the Secretariat, the College of Technology (converted to the Polytechnic), Kwara hotels etc. The same man called me back late in the night that day to inform me of his death!
The simplicity and prudence with which he lived, post -retirement, supplied an instructive insight into what he must have learnt in life and public office, and perhaps providing a vital clue into how his Administration was able to achieve so much at a time of relatively lean resources.
The good Lord endowed Chief Bamigboye with extra doses of grace for humility and gratitude. There were no veneers around him and he sometimes asked for counsel with natural ease even from people far younger than him, despite his track record of achievement in life. There was an occasion he felt a friend of mine and I had done him some favour. He was keen to see us and when we couldn't come immediately, he called us, in turns, and spent an incredible half an hour plus with each of us, expressing how grateful he was, with a lot of heartfelt prayers to spice his appreciation. He was to rehearse this, many times over since then!
In contrast to the habitual resort to force and violence displayed by many high-ranking ex-service men, in resolving even routine civil matters, Chief displayed an extraordinary predilection to peace and dialogue even when people appeared to be taking advantage of him. You could hardly help thinking; he was sometimes too soft with dubious men. He was an avowed apostle of peace. He handled offences gracefully and did bear with those who disappointed him (and there were a few at all levels!) with due understanding and tolerance. He was a devoted man to family and relationships with a genuine interest in people and community.
We sometimes discussed the scriptures. About three years ago after one such discussion, he said to me, 'I promise you, I will take the Bible more seriously '. Chief passed on, a contented man of character, with a life that was a seminal lesson in service, integrity, simplicity and honour.
Considering his achievements and status in life, Chief was relatively a man of modest means. However, the family and particularly the children, have something of immeasurable value to inherit and internalize, in all abundance: the virtues of a good name, integrity, service, character and contentment which in the sight of God are of great value.  We thank God for his life and pray for the comfort of God on every member of the family, friends, associates and our community. Amen.
---
Tribute by Kola Adefila
General David Bamigboye was a quintessential mentor. Nobody in Omu Aran particularly and Kwara State in general would claim not to know Brigadier General David Bamigboye being the architect of Kwara State and a true pathfinder of modern Omu Aran as the pioneer governor and Administrator of Kwara State. He of course had more special attractions to, and loved by all people of Omu Aran. Incidentally I had more than a casual interest because at the time Brigadier General Bamigboye, (Rtd.) was the Governor, I got involved with of one his nieces though that never gave me any direct contact with the governor. I however became close to Brig. General Bamigboye, (Rtd.) when I got married into the family. I recalled a particular occasion that General Bamigboye had to counsel me and I could vividly see then that truly "all that glitters is not gold" and he made me realize that life is never bed of roses. That particular incident drew me very close to Brig. General Bamigboye and it afforded me the rare priviledge of great mentorship from him. I recalled another incident that at short notice, he agreed to send me to Kaduna to meet Late General Hassan Usman Katsina for a particular favour. I was amazed at the response I got from Late General Hassan Usman Katsina who spoke glowingly of General Bamigboye and what a gallant and fine gentleman he was and that revealed to me the very high esteem in which he was held. Brig. General Bamigboye was a perfect proof of a fine gentleman. My closeness to him afforded me the opportunity to know that he was a devoted family man. I learnt a lot from his meekness, his contentment, his cheerfulness, openness, his large heart, and general exemplary character. As I became quite close to him, I found him very accommodating, very reliable, and trustworthy and a quintessential mentor. In reminiscence, the first major encounter I had with him lingered in my mind till date as that experience taught me to always let go and not drag issues with people but rather always seek for lessons to learn from all issues with people. Brig. General Bamigboye also influenced me among other people to see the truism in the words of Abraham Lincoln who said: "As I grow older, I pay less attention to what people say; I just watch what they do". Brig. General Bamigboye lived a good life worthy of emulation. As we gather we should celebrate his life as we could also see in his life the truism in Albert Einstein words which said: "The value of a man should be seen in what he gives and not in what he is able to receive". Brig. General Bamigboye gave his all in the service to his fatherland and Omu Aran in particular. We will all miss him but we are comforted by the fact that we have all had the privilege that our paths have crossed that of a fine gentleman and a proud son of Omu Aran.
Brig. General Bamigboye, we love you, but God loves you best.
Rest in perfect peace.
---
Tribute by the children
 Our father was truly a great man, ever so kind and humble. So humble that the position of esteem he held wasn't instantly apparent to strangers. What was very obvious however, was how very well loved and respected him was by all those who came in contact with him.
He lived a purposeful and enriching life, one worthy to emulate. He gave the best advice and was always available to assist everyone who reached out to him. He was our number 1 supporter, mentor and a doting father. We will never forget his cheerful jokes, comforting words and positive attitude to life. Our Dad had a truly appreciative heart, no matter how small the gesture or gift.
He was firm but fair, an officer and a gentleman, so compassionate and generous. His simplicity and modesty were out of this world, and we are constantly reminded of his time with us and lives of those he touched.
His death came as a devastating blow and tremendous loss to our family and friends. But we take pride in the legacy and great works he did. The tributes and Eulogies which came from far and wide are a testament to the kind of man he was.
Thank you Daddy for teaching us what it means to have integrity, honesty and humility.
We will always continue to make you proud as you look down on us.
We, your children-and dear wife will always love you and your memory will keep us striving.
---
Tribute from the grandchildren
To everyone, he was General David Bamigboye. But to us, he was the most caring, kindest and sweetest Grand-dad you could ask for. He was well respected and we all looked up to him as a role model due to his achievements in Kwara State. Grand-dad was like a second father figure to us. He was always there for us; from playing games with the babies, to giving wisdom to the elder grandchildren. He had lots of hair, which is definitely where we all inherited our long hair from, and he loved to keep his hair jet black. Grand-dad was always happy and cheerful and his great big smile will never slip from our memories. Even though he is not with us now, we know he will always be there in spirit. We hope and pray that we continue to make Grand-dad proud as we grow up to be just like him.
He will truly be missed.
We love you and miss you so much Grand-dad.
---
Tribute by Mrs. Rachael Fehintola  Adefila  (Niece )
Adieu my dearest father, mentor and confidant. I should have known when you started to sing those home coming songs but it was too much for me to accept that you were bidding me goodbye. I have no doubt you are already resting in the bosom of your creator with the hosts of heaven.  Your exit is painful and unimaginable but I take solace in fact that you lived a fruitful and fulfilled life leaving for us a legacy to dwell in.
Rest on my beloved Uncle, for you deserve the rest till the resurrection morning when we shall meet at His feet.
Your sister, my mother (as you always called her) is pained that you had to leave before her, but who are we to query God. To Him, we submit totally.
Good Night.
---
Tribute by an in-law, Architect Ben Asagwara
Where do l begin to write about my brother-in-law, General Bamigboye, the man l call daddy, what and how do l write about him? I am writing this tribute with a very heavy heart, needless to say, l have a lot to say but l really don't know where to start from.  Daddy was a loving father, humble, very polite, respectful officer and a gentleman to the core.  He was a caring and generous leader who led by example, a pillar to many and an extra ordinary person with amazingly great attributes. General Bamigboye was so passionate about my sister's health that he neglected his.  Memories of the time we spent together just keep flashing back; l can imagine him asking me to repeat an interesting story l told him about a particular friend, which made him laugh and laugh each time l repeated the story. Equally, he would tell me stories of his time and course mates at the Mons Officer Cadet School, Aldershot in UK. I learnt a lot from him, he was my mentor. The great lesson l took from him was humbleness, honestly, simplicity and fear of God.
He was a man of mission and he believed in the Project Nigeria, I am sure many reading this tribute will agree with me that he touched lives of many by providing education to the less privileged members of our society. He left a positive mark on those privileged enough to know him to be part of his life.
I will miss him greatly. General   Bamigboye will forever remain in my heart and his spirit will always be felt.
Sleep in the bosom of the Lord, Amen!
---
General David Bamigboye was humility personified – Ahmed Ajiboye (Journalist)
General David Bamigboye was a friend of the poor and the rich. He could relate with any class of people, the first Military Governor of Kwara State was simplicity and humility personified. He related freely with those that came his way irrespective of their level and class in the society. His death is not only a personal loss to the family and Omu-Aran community but also to the entire Kwara State and Nigeria by extension Nigeria. For me, I have lost a great friend, teacher and motivator and father!
My first encounter with him was during the burial of his mother, years back. I remember vividly, it was during Ramadan fast. There was a need to transfer some cash to Ilorin for Television, Radio and Newspaper announcements and the late General needed a trustworthy person to do that. So, one of my bosses in The Herald Newspapers, Mr Sunday Oyinloye(now Publisher of Green Savannah Diplomatic Cable),  who is Gen. Bamigboye's Nephew , sent me. Since then, I had been a regular visitor to the late General.  Each time, he came to Omu-Aran for functions; he would call me that I should come down either to bring his complementary copies of The Herald Newspapers or other messages.  My relationship with him became cordial that he would invite me to his living room for discussions on some burning issues. Each time I went to him in Omu-Aran, he would treat me like a king and whenever I was leaving, he would instruct his driver to drop me at the park with his personal car.
Interestingly, during the Kwara at 50 celebrations, some Journalists wanted an interview with him but they didn't succeed. I called him and he asked me to come to his residence in Lagos with the Editor of The Herald on Sunday. Till passed unto glory, whenever I called him, he would call my full name "Ahmed Ajiboye ", with Igbomina dialect and I would laugh He was not one that abandons his friends in times of difficulties and challenges. He would always be there for you.
We are enjoined by the Scriptures not to lament and mourn like people without hope. In line with this Biblical injunction, we have accepted with equanimity and total resignation to the Almighty God the transition of Gen Bamigboye to glory. It is a painful reality that he is no more. We must, however, take solace in the fact that his was an action-packed life that was lived to the fullest in the service of God, the nation and humanity.
---
Tribute by Mrs. Omobola Oladipo
Uncle David, you were an embodiment of peace, a quiet achiever, a loving and pleasant man, so humane to all and sundry. May God bless and keep your children and withhold your family.