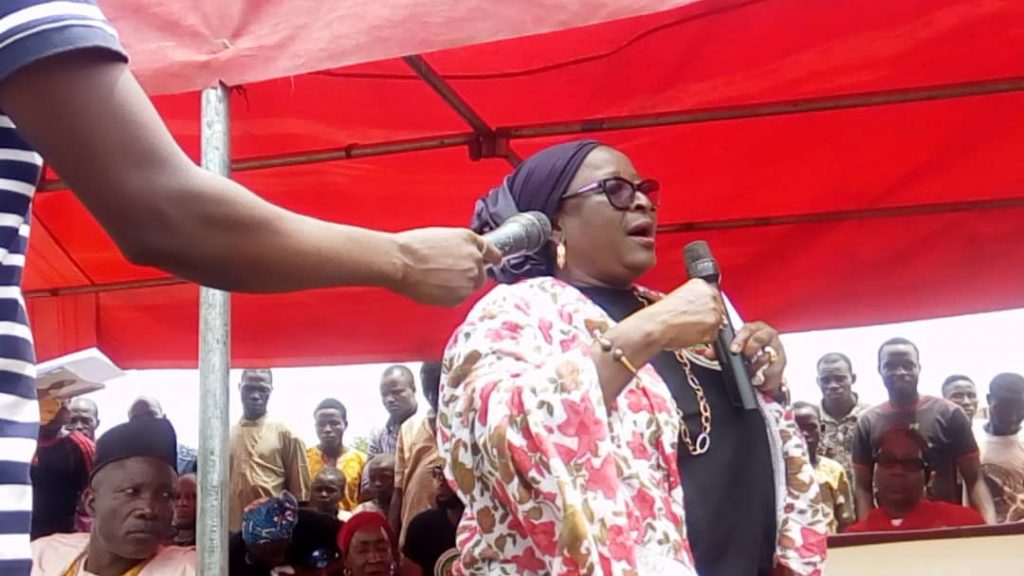 By Sunday Oyinloye
In July, 2018, the Executive Director of International Society of Media in Public Health (ISMPH), Mrs. Moji Makanjuola led a media team on training to Uke area in Nasarawa State as part of their field work. The team visited the palace of Yakanajie of Uke, Alhaji Ahmed Abdullahi where Makanjuola made it open that she wanted to adopt a community in the area for health intervention .The traditional ruler who knew the challenges of Roguwa in accessing healthcare services suggested that she should adopt the community and that was it. Getting to Roguwa which is not far from Keffi Road was not an easy task as the Coaster bus that conveyed the media team struggled on the rough road. It was like going to a land of no return because of the bad state of the road. Today, the same road has been graded because the media drew government's attention to its terrible state.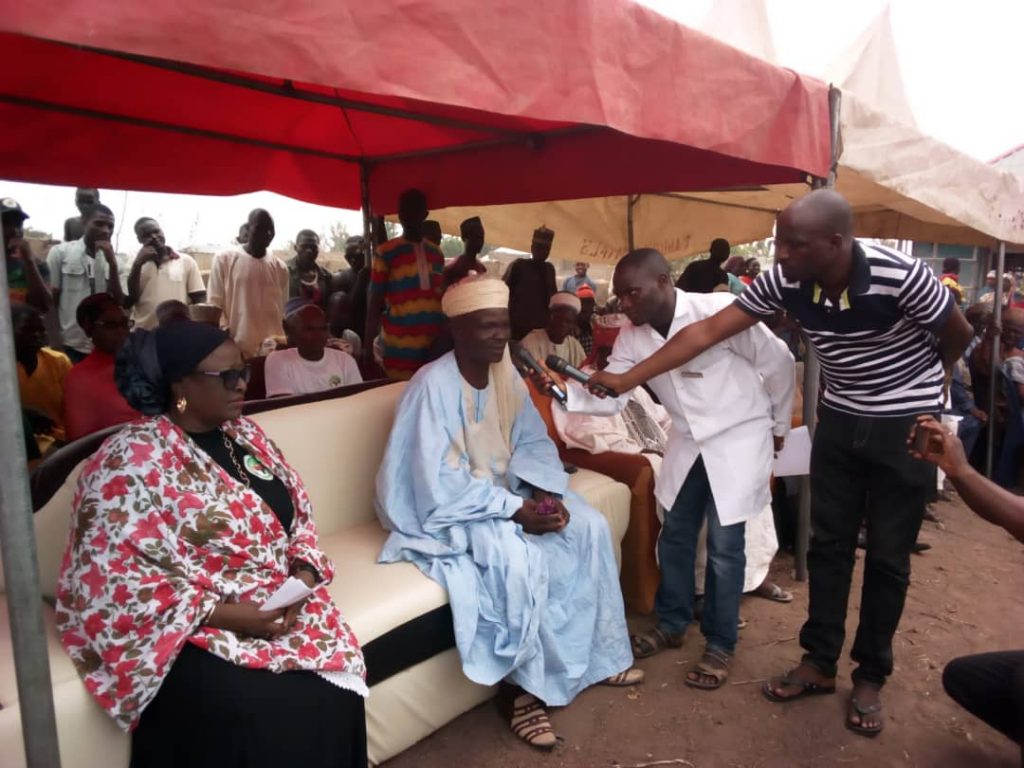 Makanjuola was even more touched when her team got to Roguwa. The Health Centre that serves a population of about 4000 has five beds, three of which were donated by good spirited individuals. No qualified Nurses or Doctor. Some indigenes had narrated their ordeal to ISMPH Executive Director and the visiting journalists that they have lost many lives in the community due to the poor state of their Health Centre and non-availability of medical equipment and qualified medical personnel.   The experience almost drew tears from the eyes of the veteran journalist and her resolve to help the community became even stronger.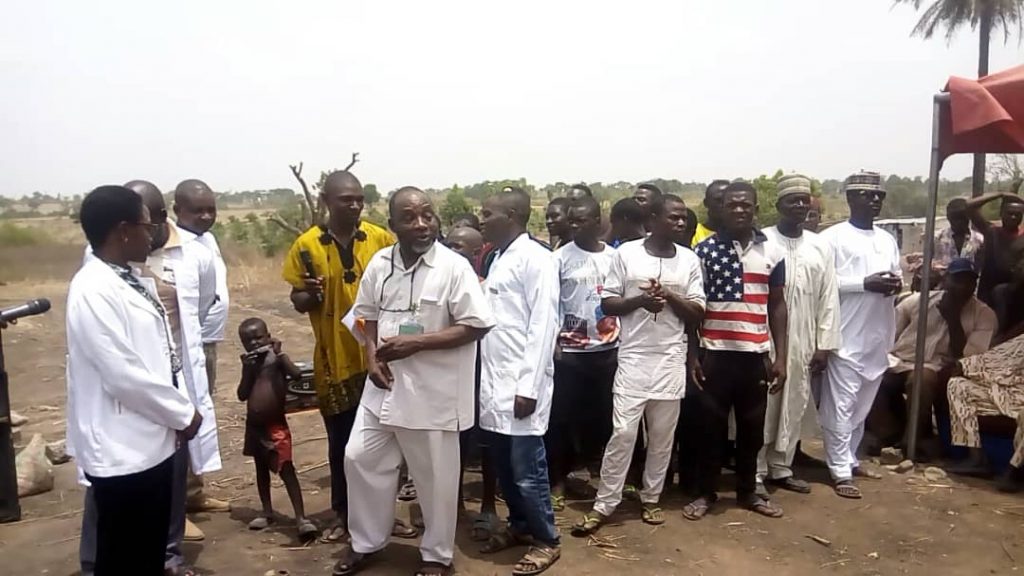 Last week, ISMPH in collaboration with NPHCDA held Health Outreach in Roguwa .The outreach entailed free medical consultation and treatment of common ailments with drugs. Mrs. Makanjuola also donated some items to the community. The outreach attracted hundreds of people, young and old.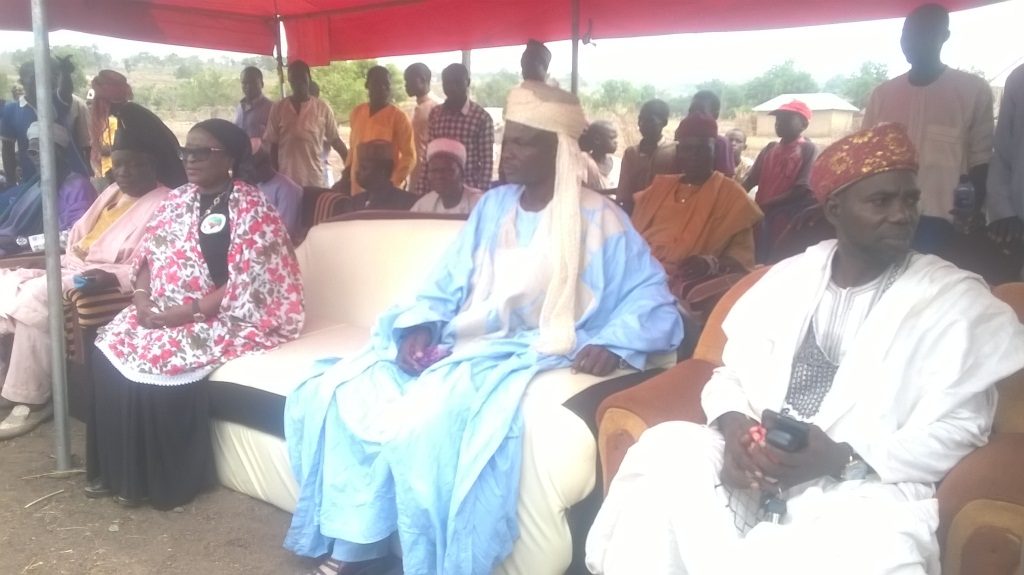 The Executive Director spoke about what she was trying to achieve with the outreach "We want to educate them on the need to always keep their environment and bodies' clean.  We are looking at oral health; friends and colleagues have donated tooth paste and tooth brush, detergents and other items.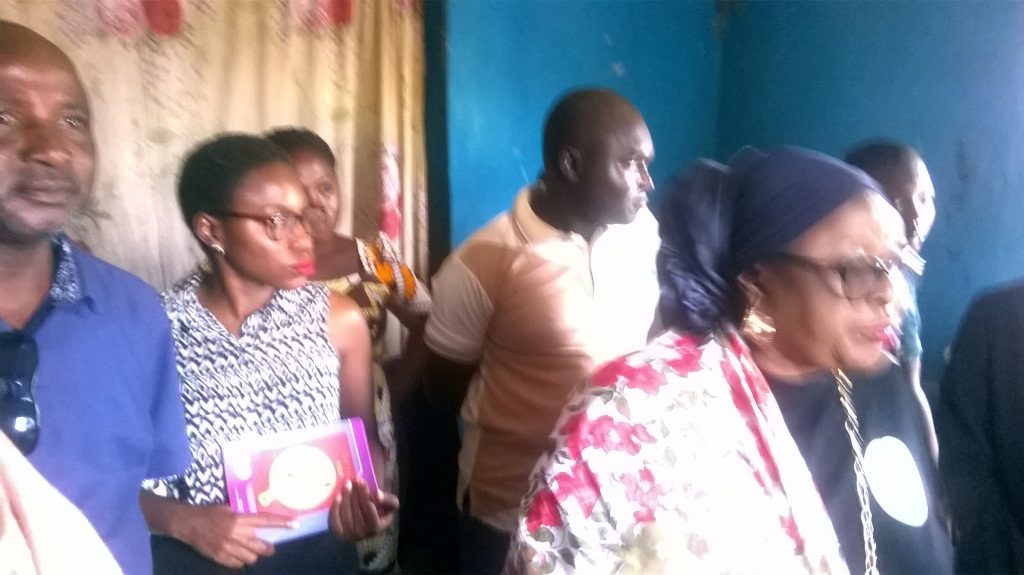 "We are looking at women, we have donated items for feminine use, and we are looking at the whole gamut of public health with more emphasis on prevention or methods of preventing some of these diseases that have continued to ravage some of our people. We are hoping that this will further improve their health status. From findings in the last three days, it is clear that malaria still tops the list of the diseases that ravage people at this community."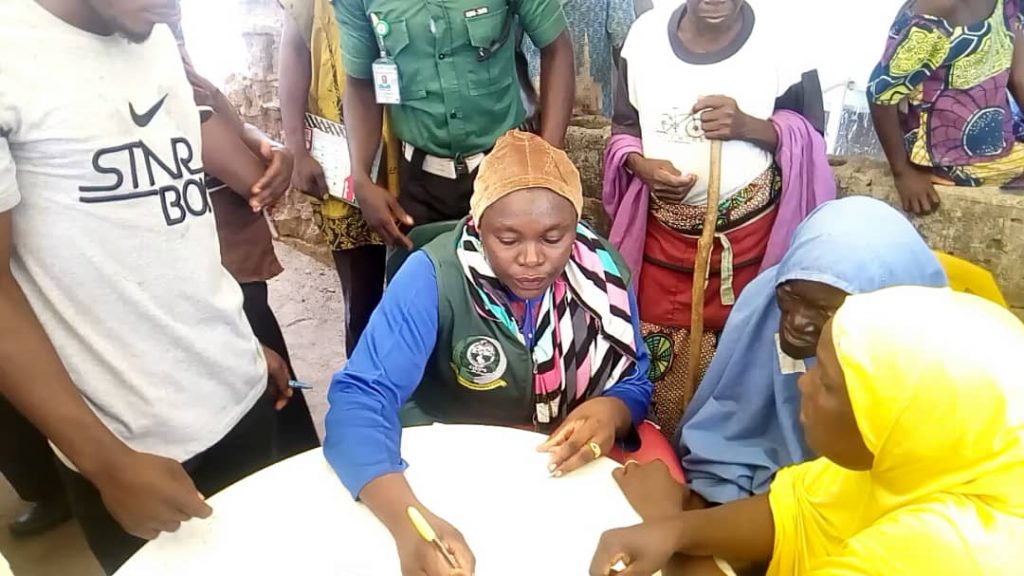 On items donated to the community, Makanjuola said "We have tried to demonstrate transparency and accountability by taking everything that we brought to the palace of the village Head. He will equitably distribute everything so that every household is touched. We are saying that government alone cannot do everything. So, I am using this medium to tell Nigerians that what they have in excess can be used for other people".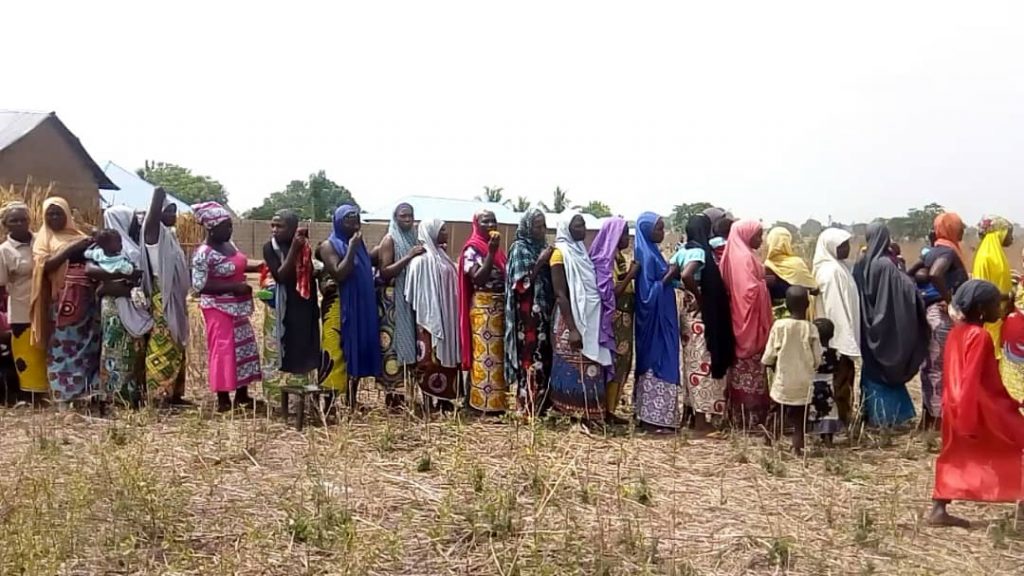 She continues:  "there is so much to do. I want to specially thank the National Primary Health Care Development Agency through the Executive Director, Dr. Faisal who listened to our call and worked with us with his personnel and brought medications which are needed for this environment".
Makanjoula spoke about her inspiration "My inspiration is my mother. I am doing this on behalf of all of us, all Nigerians who believe that we should be our brothers' keepers. I am fulfilled especially that I look forward to God's grace in my life and what He has done. I had health challenges growing up, but here I am today with what medicine has been able to do in terms of intervention and I am still healthy and alive to do this. I am going to sustain it.  Roguwa is my adopted village."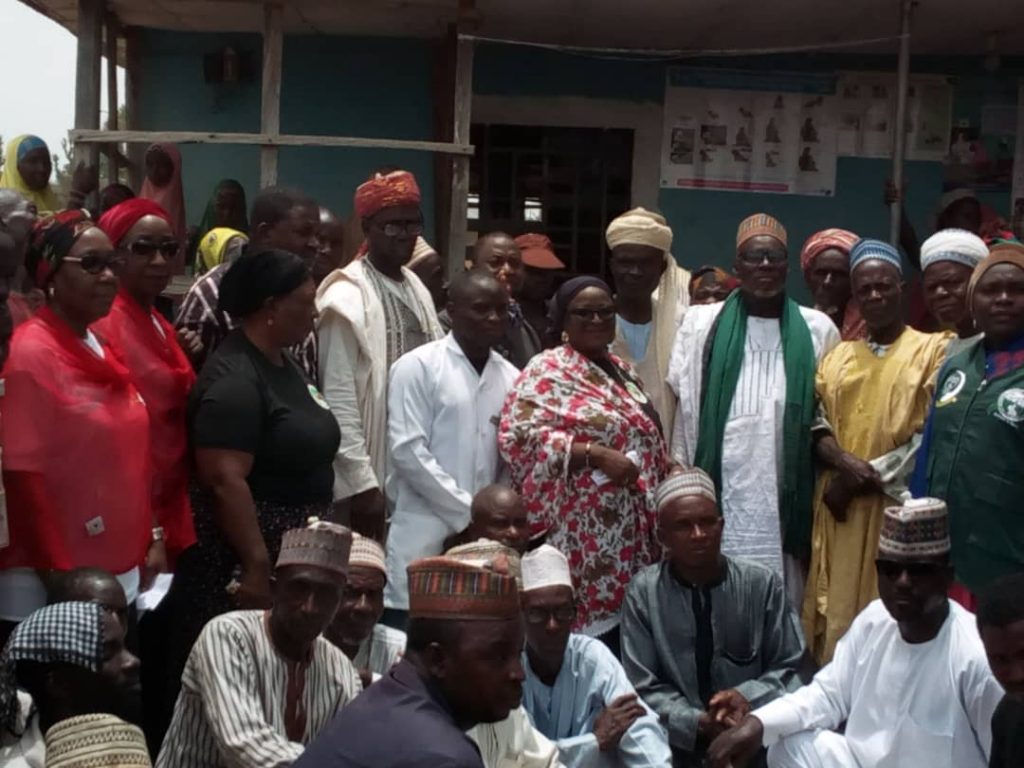 In her goodwill message, NPHCDA Zonal Technical Officer, Nasarawa State, Dalhat Nafisat Tijani who stood in for her oganisation advised pregnant women in the community to always go for antenatal care. She also advised those who have children under the age of one to take them for immunization. Besides, Nafisat counseled them to pay more attention to their environment and personal hygiene.
The Chief Medical Director of Gwarimpa General Hospital, Abuja, Dr. Godit Milam and Dr. Ejura Opaluwah of the same hospital also challenged the people of Roguwa to keep their environment clean because of the prevalence of malaria in the village. They also advised  the people to always seek medical attention when necessary.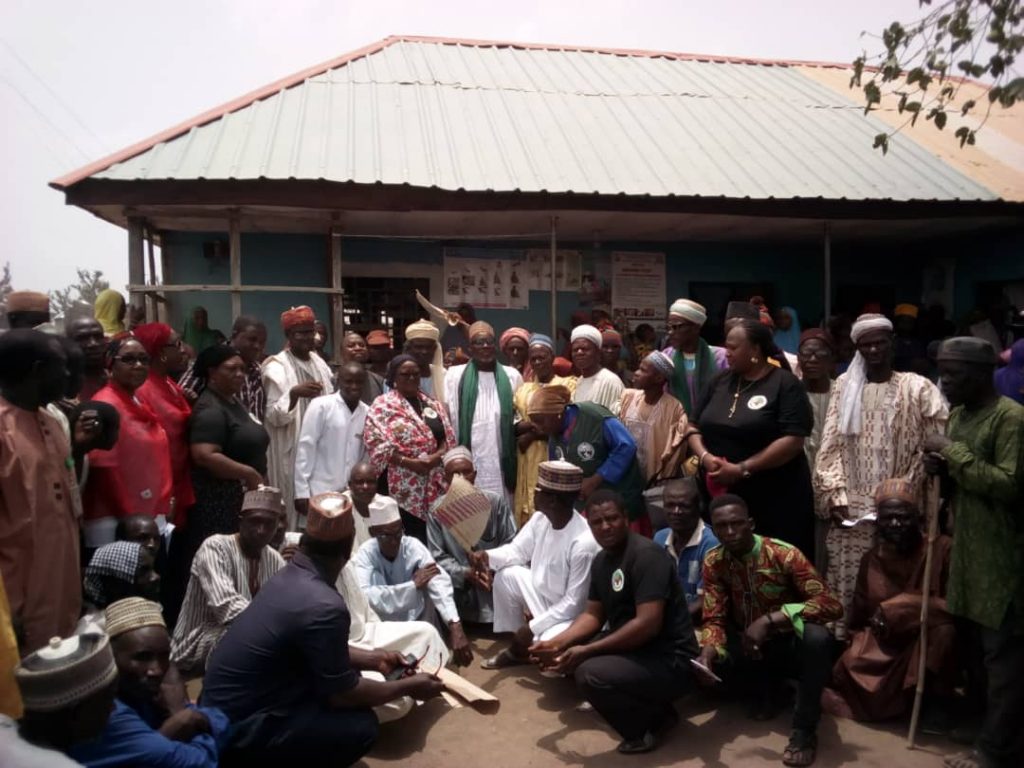 The village Head of Roguwa , Alhaji Abdullahi Mohammed on  his part  commended Makanjuola stressing "We lack words to describe what she has done and we pray God to be with her and provide for her the more. We call on other well- meaning people who have been blessed by God to come and do even more than what the Jakadiyan Lafiya Uke has done. This community is also grateful to NPHCDA"
Speaking in the same vein, Alhaji Ahmed Zakari who stood in for the Yakanajie of Uke, Alhaji Ahmed Abdullahi commended the Executive Director of ISMPH for giving back to the society and challenged other Nigerians to emulate her. He equally commended NPHCDA for its support.
Some beneficiaries of the Health Outreach who spoke with Green Savannah Diplomatic Cable commended the initiator for having the love of their community at heart and called on other Nigerians to toe her path.
"I am very impressed with what this woman has done. I thought we have been forgotten but I am happy that someone who is not even from our state has remembered us. This shows that she has human feelings" says a woman who identified herself as Ramatu. The same view was expressed by Ibrahim, a youth in the community who also benefited from the programme. Like other community members, they want their Health Centre reconstructed and provided with medical equipment and personnel.
The adoption of Roguwa community by this veteran Journalist speaks to one fact and that is, if all well- to- do Nigerians adopt one community each or jointly adopt bigger communities, the quality of life of most Nigerians will be better. It is also hoped that government would provide the community with a standard hospital to cater for the people. Government will also be doing the people well if the graded road leading to Roguwa is tarred.