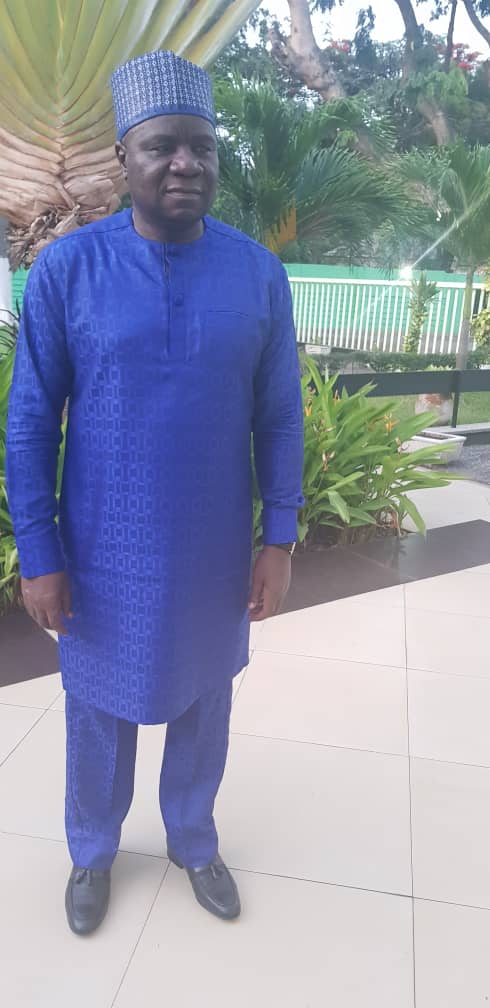 By Sunday Oyinloye
Nigerian High Commissioner to Ghana, Ambassador Olufemi Michael Abikoye has reiterated the commitment of President Muhammadu Buhari to the fight against corruption in Nigeria even as he seeks more collaborative efforts between Economic and Financial Crimes Commission (EFCC) and Ghana's anti-corruption Agency, Economic and Organised Crime Office (EOCO)
The Ambassador during a courtesy call on the Executive Director of EOCO, Commissioner of Police Frank Adu-Poku(rtd) said the present  administration in Nigeria  pays premium attention on economy, security and fight against corruption adding "the government of President Muhammadu Buhari through the Economic and Financial Crimes Commission (EFCC) since 2015 to date convicted over 600 persons and also recovered over Five Hundred Billion Naira N500 billion, equivalent of $1.6 Billion Dollars of looted funds".
He acknowledged what he described as excellent bilateral relationship subsisting between the two governments stressing that he has consistently been telling Nigerians living in Ghana to be law abiding during his meetings with them in different regions of Ghana.
Abikoye said the High Commission was prepared  to collaborate with EOCO on issues related to money laundering and cyber-crimes and also reassured the Executive Director  of his readiness to facilitate contacts with the EFCC, NFIU and other relevant Agencies in Nigeria that are saddled with similar responsibilities.
The High Commissioner further called for closer cooperation and collaboration, particularly between the EFCC and EOCO in the areas of exchange of information on corruption issues and training.
He stated that Nigerians and Ghanaians need to stand up against all forms of bribery and corruption in the society stressing that corruption is a "cancer" that the two nations must fight and conquer.
The Ambassador however revealed that the two nations must be prepared for corruption to fight back with stronger forces.
Ambassador Abikoye listed some negative effects of corruption as under development, impediment of smooth business operation between the two countries and youth unemployment.
While acknowledging the enormous responsibilities of the EOCO in the fight against corruption, Abikoye however advised the Agency to be cautious when investigating alleged corruption cases especially those which could in the long run affect people doing legitimate businesses in the two countries
In his response, the Executive Director of EOCO, Commissioner of Police Frank Adu-Poku (rtd) commended Abikoye for the visit
He acknowledged that the visit was the first of its kind by any Ambassador in Ghana since his appointment as the Executive Director and promised to reciprocate the visit
Adu-Poku said he was in agreement with all the suggestions raised by the Ambassador, including his willingness to collaborate with all relevant Agencies in Nigeria and the High Commission.