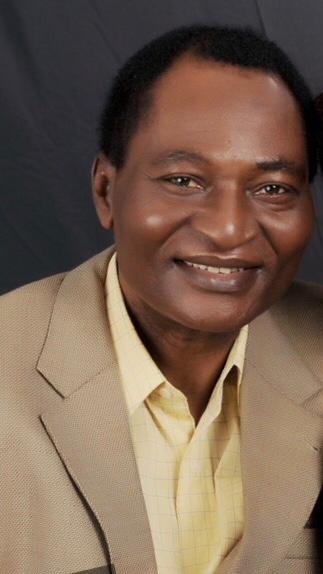 Former Nigerian Ambassador to Cote d'Ivoire, Ebenezer Oluwadare Olusanmokun is a man who believes that with determination, anyone could achieve his or her life ambition. As a secondary school student who grew up in a rural area, he was resolute to have his career in the Foreign Service. Ebenezer remained focused until he achieved his dream of becoming a Diplomat. The retired Diplomat who was instrumental to the takeoff of Nigeria's Open University in this interview with Green Savannah Diplomatic Cable speaks about the challenges he faced as Nigeria's Ambassador to Cote d'Ivoire, leadership problem in Africa and other issues.
Excerpts:
 How was growing up like?
I grew up in a rural area.  By the middle of my secondary school years, I made up my mind that I was going to work in the Foreign Service. You might wonder how that came about.  My family background kind of influenced me.  My eldest sister who was probably the second female graduate in the whole of Ekiti got married to a civil servant and that civil servant was seconded to the International Labour Organisation in Switzerland.  My eyes opened and I began to see the world, so I said  to myself that I would  join  Nigeria's Foreign Service whenever I graduated .
How were you able to achieve your dream?
I studied Modern Languages at the University, majoring in French. In those days, few months before you graduate, you apply for jobs, and I applied to the Federal Civil Service and indicated that I wanted to be a Foreign Service Officer.  I was not called for an interview for four years. I had almost settled down in another career in the private sector before I got a call that I reluctantly went to answer. But very quickly within a week or two they wrote to me that they gave me the job. Then I had the challenge of deciding whether I should leave the job I was doing or stay.  Again, my sister became very instrumental .She reminded me that it was the job I had always wanted to do, that I should go ahead and take it. Again, I looked at the salary and I said it was too low compared to what I was earning in the private sector. But I thank God that I made the right choice.
How was the journey before you became an Ambassador?
The journey was fairly smooth.  We did a short induction course, about three months on assumption of duty.  After the induction course, the rule then was  for us to be sent abroad to lean a foreign language, but since I already had French, I was excluded and while my colleagues  went for six months foreign Language study, in Europe and other parts, I got posted straight away within six months after  I joined the Foreign Service. I was posted to New Delhi, India
When did you become an Ambassador?
I became an Ambassador in 2003, even though I had served as Charge d' affaires, for instance when I was posted to Senegal late 1998. After seven months, I was posted to Hong Kong as Consul-General which is more or less like an Ambassador. It was from there that I was appointed as an Ambassador to Cote d' Ivore.  After New Delhi, I had served in France and Brazil.
When you were in Cote d' Ivore, you had a problem with the Nigeria community to the extent that some Nigerians there wrote a petition to the then President, Chief Olusegun Obasanjo that you were not sensitive to their plight, what really happened?
The issue is this. Cote d' Ivore, is one country where you have a large population of Nigerians mostly from the South West. Some of them have been there for quite a long time. Any Ambassador posted there has to work with them; otherwise they can make your stay uncomfortable. I had no problem until I wanted to introduce some changes. There is something that we call identity card. Cote d' ivore did not allow them to become citizens. Cote d'Ivore will usually not give them the National ID card. So the Embassy normally issue identity card to every Nigerian. At a point, the identity card became a sort of racketeering. Some Nigerians were issuing fake ID cards to other Nigerians, collecting money from them. Severally times, they were caught by the Ivorian authorities with fake ID cards. Whenever anyone is caught, they will bring his ID card to the Embassy to certify whether it was issued by the Embassy only to find out that many were forged. We then decided at the Embassy that in order to put an end to the racketeering, we must institute an ID card that cannot be forged. So we got IT Company to import the machine for the cards because the Embassy didn't have money to import it. In fact, the IT Company is owned by a Nigerian who had been living in Cote d 'Ivore for many years. He agreed to import the machine from Germany at his own expenses and install it at the Embassy, and then the Embassy staff will assist him.  We gave him a space within the Embassy and we were issuing the ID cards with him together with our staff. We agreed on terms of payment. There was also a margin for the Embassy that was going into the Federal Government's treasury. So the guys who were behind the racketeering became very angry, that we blocked their racketeering, so they started all kinds of things. They started with demonstration. I came to Nigeria for an official duty and the day I arrived they said these people were demonstrating. All their petitions to the then President, Chief Olusegun Obasanjo ended in nothing because majority of members of the Association of Nigerians living in Cote d'Ivore were not with them. They sent a delegation to the President that those who were demonstrating were doing it for their selfish end. Therefore the identity card remained. That  was how the whole thing ended.
They also alleged that you stopped the subvention that the Embassy was giving to the umbrella Association of Nigerian community there?
Whenever we issue any  ID card, we agreed that after the cost of production has to be paid to the company and a apportion paid to the Federal Government's treasury, what remained would be  credited  into  the account of the Nigerian community. There was still grumbling by the minority who were on the side of the racketeers. As an administrator, I made sure that all the hostile elements that were in the minority were "overthrown". So we had a new   set of executives  who  were willing to work with the Embassy and they were in the majority. Whatever that was apportioned to them, it was the executives that could decide how to disburse the money.  But, we just made sure we closed every avenue of racketeering.
What was your greatest moment as a diplomat?
I had many great moments. When I was in Hong Kong and the Nigeria National Open University was going to start during Obasanjo's administration after many years of being on drawing, board they said there was no money. And the Open University needed somebody, an expert to come and help set it up. The Commonwealth office recommended an expert to come and help start it. A Nigerian was recommended. And that Nigerian was a Professor working in the Open University of Hong Kong. The then Nigeria's   Minister of Education, Professor Aborishade came with some other officials.  They went to China and requested that Hong Kong should please second the man. Hong Kong said they are willing to second him but Nigeria has to pay all his salaries and allowances. Hong Kong salaries are very high. So President Obasanjo said they should ask me to find sponsorship for him in the private sector, companies that have businesses in Nigeria, that I should approach them. I was able to do that. The man came to Nigeria, but they were playing politics. For one year they didn't do anything. Professors in Nigeria were saying why should they go and bring someone from abroad; therefore, government needed it to be extended by one year. So they called me, but those private companies said they were paying their taxes in Nigeria, that it was not their duty to educate Nigerians.  But I had to use all my diplomatic resources to get them to do what the government of Nigeria wanted which they did. Today, the Open University of Nigeria has turned out many graduates.
Some Nigerians are calling for the closure of some of our missions while others are saying that we should maintain them, what is your position?
My position is that diplomatic missions are an expensive venture. There was a time in the 80s when we were toying with the idea of being a medium power. That was Professor Bolaji Akinyemi's era as the Minister of Foreign Affairs. There was a group Nigeria initiated that was called Concerts of Medium Power .Unfortunately , Nigeria has not pulled her weight  while all the countries we were at pars with 30 to 40 years ago  have moved  forward.  We seem to be on one spot. So, the justification for having many missions may not be there today, because economically, we are not doing as well as we ought to be doing. Nigeria's economy has been seriously weakened, we still rely mainly on oil and the oil is becoming less important in the world's economy, So, Nigeria cannot afford to maintain all the missions we have at the moment.
Should the Federal Government close down some of them or reduce their staff strength?
It is in the best interest of the country to close some down, because living them open is causing a lot of negative publicity for Nigeria. For instance, we have embassies that cannot pay their rents; we have embassies where children of officers are driven out of school due to non-payment of school fees. This is scandalous.
How do you determine which to close?
You have to look at our vital national interest before you do that, mostly economic interest. But sometimes, political interest and that is particularly relevant in Wes Africa. We must ensure that we are friendly with our neighbors, so that the enemies will not use them to subvert our stability. Therefore, we need to pay special attention to our neighbors. We don't need to close those missions, although we can reduce our staff there to save costs. For other major countries like China, America, UK, France, Germany, Japan, India, Canada, we can maintain our missions in those countries, but reduce the number of staff.
One of the major challenges of Africa is leadership. Some countries not only have old leaders, these leaders have been there for long and they are not ready to leave. What would you proffer as solutions to leadership problem in Africa?
Leadership is a major problem in Africa. Patriotic leadership is what we need. Many of African leaders don't love their countries; they only love their personal wellbeing and their pockets. Many of the things they do, if they love their countries, I don't think they will do those things. But, the quality of leadership is not something that we can fix in a day. We have the laws but the leaders don't obey them. The African mindset has to change. The purpose of leadership is to add value to the lives of the people. Leaders supposed to work to make life better for the people, things that will make them acquire more skills; make education accessible at affordable prices.  A leader, who does not prioritize education, is a wrong leader. Many advanced countries lack natural resources, but they have a lot of skills and good education, they have technology, so they are making progress as if they have natural resources. Therefore, leadership in Africa has to be more people -oriented, more people centered. Leadership should be about service to the people, leadership by example. The kind of followership you get will depend on the type of leadership you have. Indeed, leadership is a major problem in Africa. We need better educated leaders,  not just someone getting degrees alone, but leaders that are broad minded, leaders that are wise  and leaders whose policies will be people centered
If tomorrow you become the President of Nigeria, how will you address the security challenges?
First, I will ensure that our security services are modernized. I will ensure that they are equipped with modern gadgets. I would ensure effective and efficient intelligent gathering.  Then, I will also improve the quality of training. All these will not happen in a week. There has to be an integrated plan on how to develop our security apparatus over time. Our shelves in Nigeria are full of good plans, but we don't implement, so security is key. People are afraid to go to their home towns today for fear of being kidnapped. They are scared of   terrorists and robbers. In a situation like this, life is only being half-lived
Then, what is wrong with Nigeria?
Leadership deficit is one challenge facing this country. There is also the challenge of lawlessness on the part of the people. Nigerians are generally lawless, they never like to obey any rules .All human beings will prefer not to obey rules but when you know that there is a penalty for breaking laws, then you will sit right. But in Nigeria, if someone commits a crime, the police will still have to seek permission of the President before they do their work when in fact they have been empowered by the constitution to do that. You don't need anybody's permission to do that. It's not just the leaders that don't obey the law, the followership don't also obey the law. Even the police that are supposed to enforce the laws are one of the greatest lawbreakers. They drive against traffic when there is no emergency, and they do it with impunity. Lawlessness is a major issue and of course corruption. If the leaders show good example we will not be having these issues.
Are you not concerned about the future of Nigeria?
Yes, I am.  If this country has to move forward, it has to be restructured.  I wonder why a lot of the so called educated people still have to be persuaded on this. Let the centre devolves power. The Federal can have its police but the states too should have theirs.