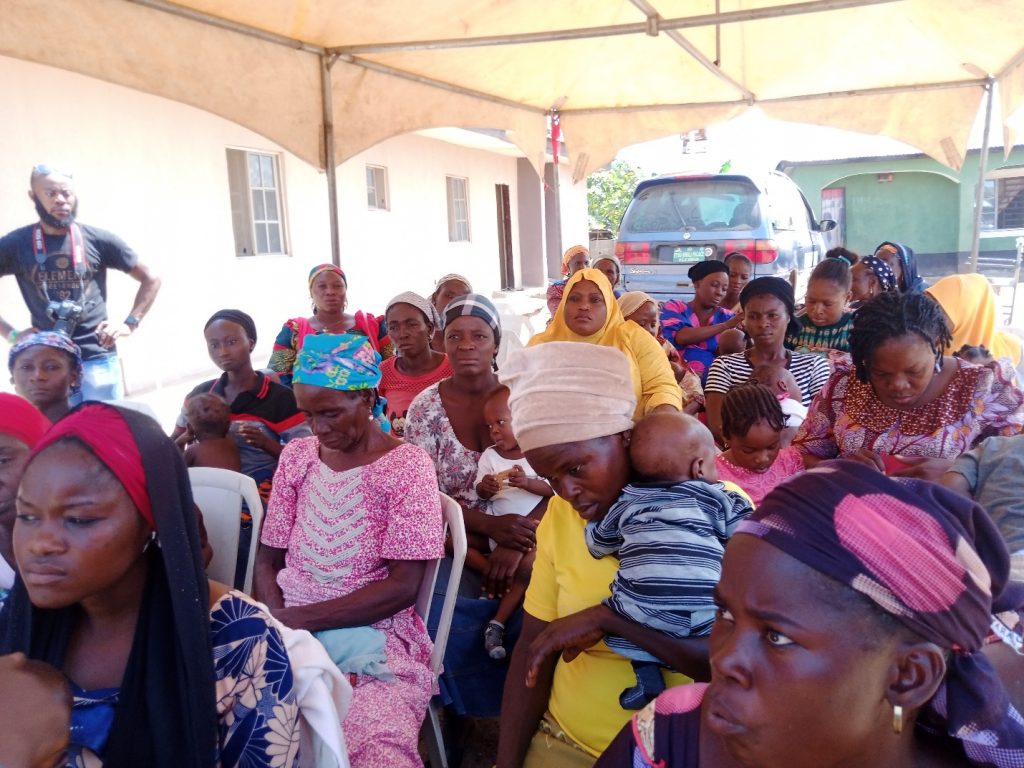 By Sunday Oyinloye
International Society of Media in Public Health (ISMPH) has conducted a Focus Group Discussion with vulnerable women whose children suffer Severe Acute Malnutrition (SAM) in Kwali Area Council.
It marks the beginning of the Media Advocacy/Empowerment Strategy for the Prevention and Management of Severe Acute Malnutrition in Kwali and Bwari Area Councils in the Federal Capital Territory (FCT), Abuja.
International Society of Media in Public Health is the implementing organization for European Union Agents for Citizen Driven Transformation (EU-ACT)
The team led by Solomon Dogo Director of program, introduced ISMPH and its notable work in the area of public health and Severe Acute Malnutrition over the past 4 years. He also introduced the EU-ACT program and painstakingly explained its objective- to reduce incidences of SAM through the economic empowerment of identified vulnerable mothers in Bwari and Kwali Area Councils who would use easily accessible waste products and turn them to material items.
The women identified poverty and Ignorance as the major cause of Severe Acute Malnutrition even as they lamented their inability to feed their children with nutritious diet.
They shared personal accounts of their struggles with consistent visits to the hospital to treat unending health challenge due to Severe Acute Malnutrition.
The women who are mainly farmers, petty traders and self-employed persons stated that they were excited about an opportunity to learn new skills which do not require the purchase of expensive raw materials. Many averred that their businesses only yielded the barest minimum which was inadequate to meet basic needs.
Responding to a question on the sustainability of any new line of business, ISMPH's Director of Programmes Solomon Dogo assured the beneficiaries that his organization would help kick start their branding and marketing by featuring their products on Television and radio platforms.
He also affirmed that the training would be well rounded and includes segments on basic nutrition for children and business strategies which will enable them create sustainable ideas while providing helpful knowledge for the benefit of their severely malnourished children.
In his remarks, the Esu of Kwali Alhaji Shaban Audu Nizazo expressed gratitude to ISMPH and its donors for choosing to empower vulnerable women in Kwali Area Council.
He assured the team of his support and encouraged the beneficiaries make the best use of the opportunity.
According to a 2017 United Nations Children's Education Fund (UNICEF) report, an estimated over 2.5 million Nigerian children under age of five suffer from Severe Acute Malnutrition (SAM), with nearly 420,000 children dying annually as a result of this extremely dangerous condition that makes children nine times more likely to die from common childhood diseases such as diarrhea, pneumonia and malaria.
It would be recalled that ISMPH recently conducted training for some journalists in Abuja In order to ensure media visibility of the project and also ensure that Journalists report from the point of knowledge.