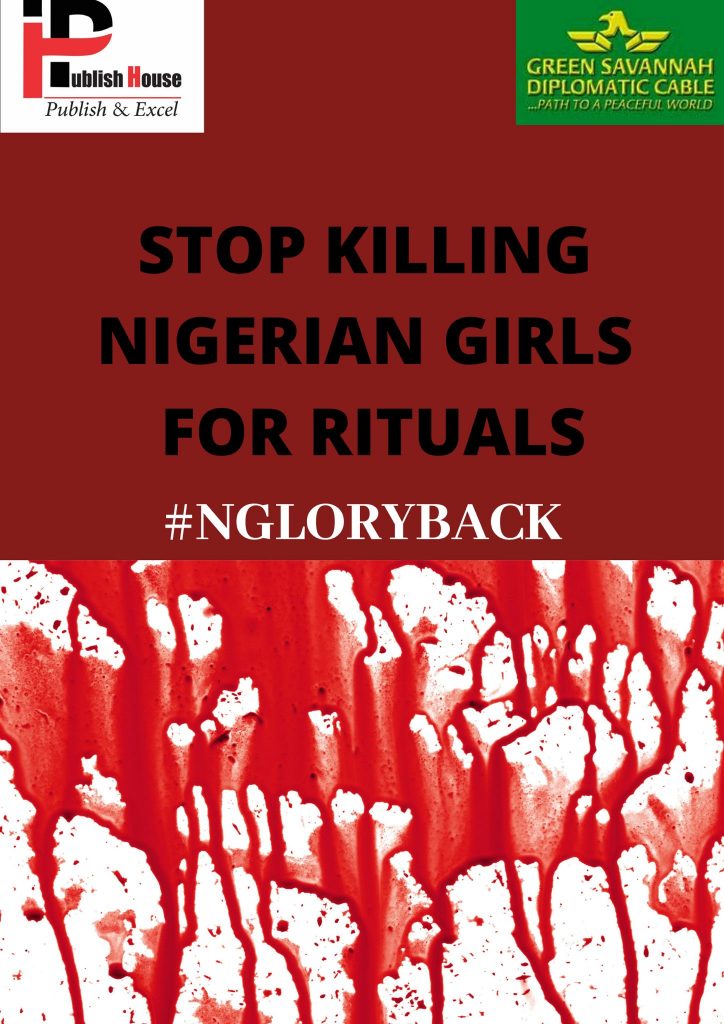 By James Adetola
Green Savannah Diplomatic Cable has released a 32-seconds jingle in its Stop Killing Nigerian Girls for Rituals Campaign #Ngloryback initiated by the international online magazine published by Nigerian Journalist, Sunday Oyinloye
This is coming barely a week after multi-award winning international acclaimed Jamaica-born Reggae Gospel Artist; Kay Morris endorsed the Campaign describing it as a project that is out to help humanity.
Kay Morris is a multi-faceted woman, a Minister, an Ambassador and accomplished Reggae Gospel Music Hall of Famer (inducted in November28, 2010, in New York City), a humanitarian and President Kay Morris Foundation, Canada and Ghana respectively, whose humanitarian works has taken her to many nations on the continent of Africa, the Caribbean, Europe, Asia and South America.
#Ngloryback aims at putting an end to ritual killings in the country, particularly money rituals which is becoming rampant among the youth who are looking for short-cut to wealth, which has damaged the image of Nigeria.
iPublish House Canada is partnering with Green Savannah Diplomatic Cable on the project
A statement issued and signed by the Campaign's Director of Media and Public Relations, Malam Abdulrahman Aliagan, stated that the jingle which is in English "talks about the need to embrace hard work rather than killing for money rituals, and is being translated to Nigerian languages and will be aired by radio stations across the country in order to get the message to every community in Nigeria"
According to him, Kay Morris in her message to the National Convener of #Ngloryback , Sunday Oyinloye said" It is commendable that Green Savannah Diplomatic Cable has embarked on this life-saving initiative , a bold step to bring light into darkness and to expose the evil works of darkness. This is what somebody has to be bold enough to step out and be the change agent in order to save the lives of innocent girls and other citizens of Nigeria"
It would be recalled that Oyinloye while giving reasons for the project said the Campaign would lead to attitudinal change among the youth who form the bulk of the population and further enhance the safety and security of all Nigerians adding "ritual killings in our country must end now so that we can bring back Nigeria's glorious past and heritage in order to secure the future of the younger generation"