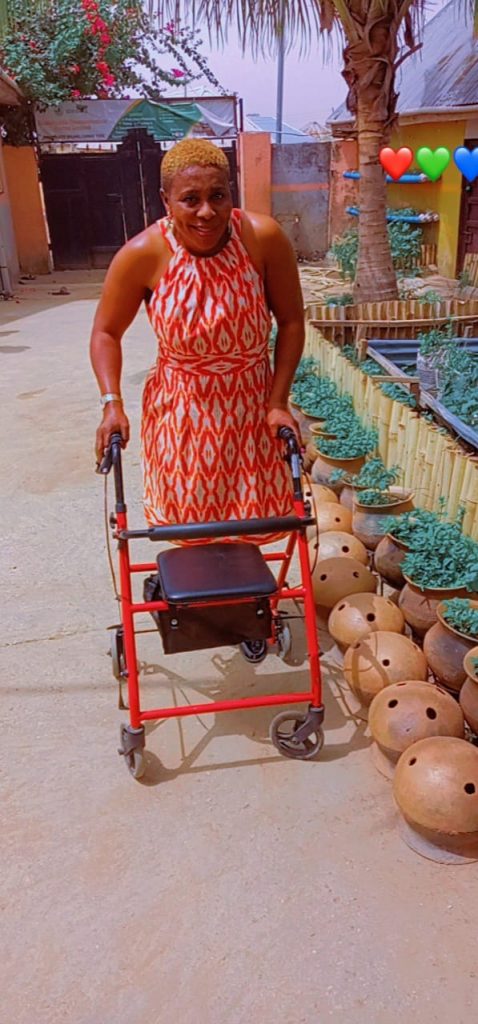 By Sunday Oyinloye
Getting to Sustainable Development Farms (SDFarms)on a very rough road in Orozo community , Abuja, Nigeria   was not a good experience ,but the few hours I spent  on the farm was refreshing, though , I turned down an offer of water, pawpaw and other fruits from  the owner of the  farm, Dr. Stella Iwuagwu, a paraplegic who has succeeded  in shaming  disability. The spinal cord injury she sustained in an accident in Zaria on her way to Kano has not prevented her from achieving her goals in life; rather, it has propelled her to do what millions without physical limitations could not do, even with her neurogenic pains.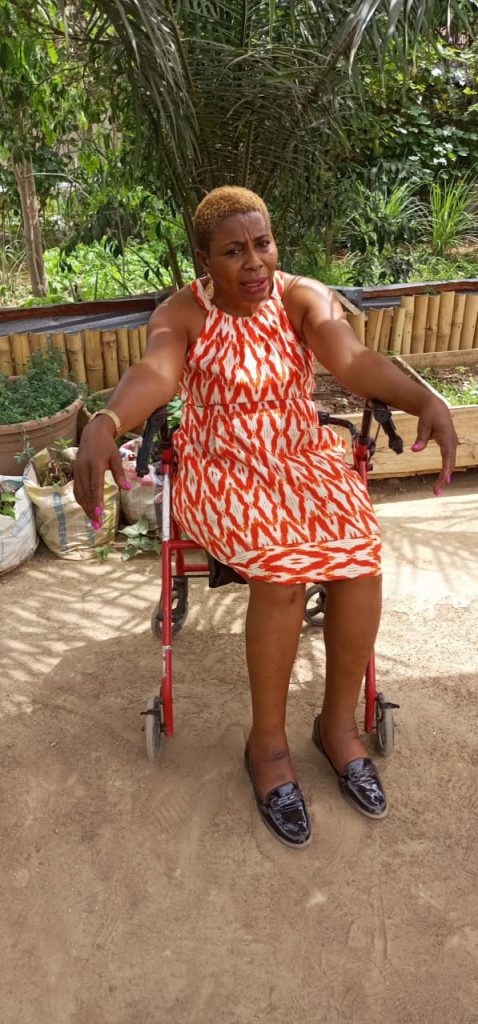 From the entrance of the farm to different sections, one could see ingenuity and creativity, no space is wasted, even spots where some would have used as flower beds were used to grow plants and herbs. SDFarms is a sustainable demonstration farm which produces food as medicine. It produces dozens of food and herbs powders like Beetroot powder which contains calories, carbohydrates , fiber, protein, vitamin C, Vitamin A, folate, magnesium, and phosphorous.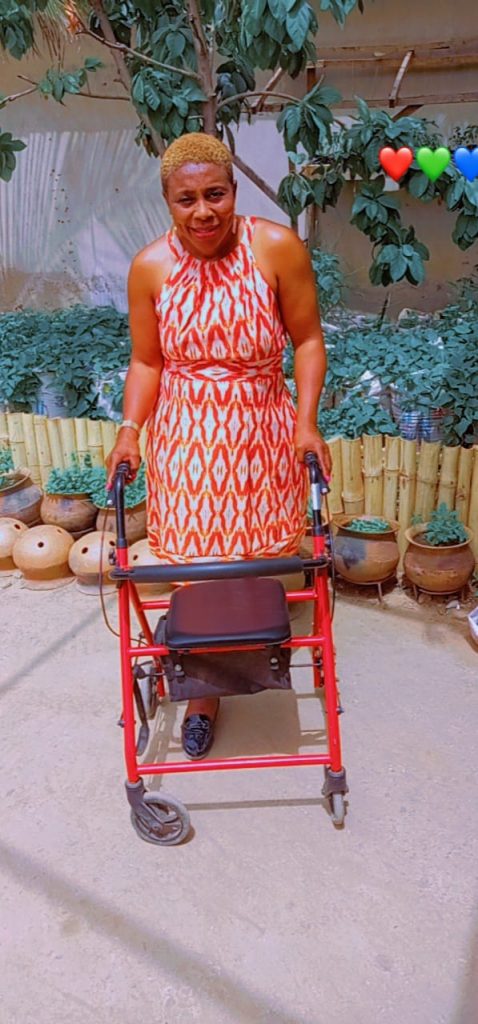 Located on six plots of land, the farm also produces Alfalfa powder which helps boost metabolic health. It equally produces Turmeric powder, which helps boost immunity; Banana powder which lower blood pressure and a host of other powder made from food and herbs planted on the farm. In all, the farm produces 28 powers and seven cookies. The farm also has more than 20 plants
Entering the farm and looking to the left, you see Stella's creativity in two blue plastic water pipes with plants hanged on the wall. Under the pipes is bamboo converted to plant bed. Looking straight, you see pots and cement bags turned to ridges lined up with variety of plants. No room for any wastage. This is unique but not strange because the farm believes in zero waste. Not even water sachets or plastic cups are left to waste; they are all effectively used to plant one thing or the other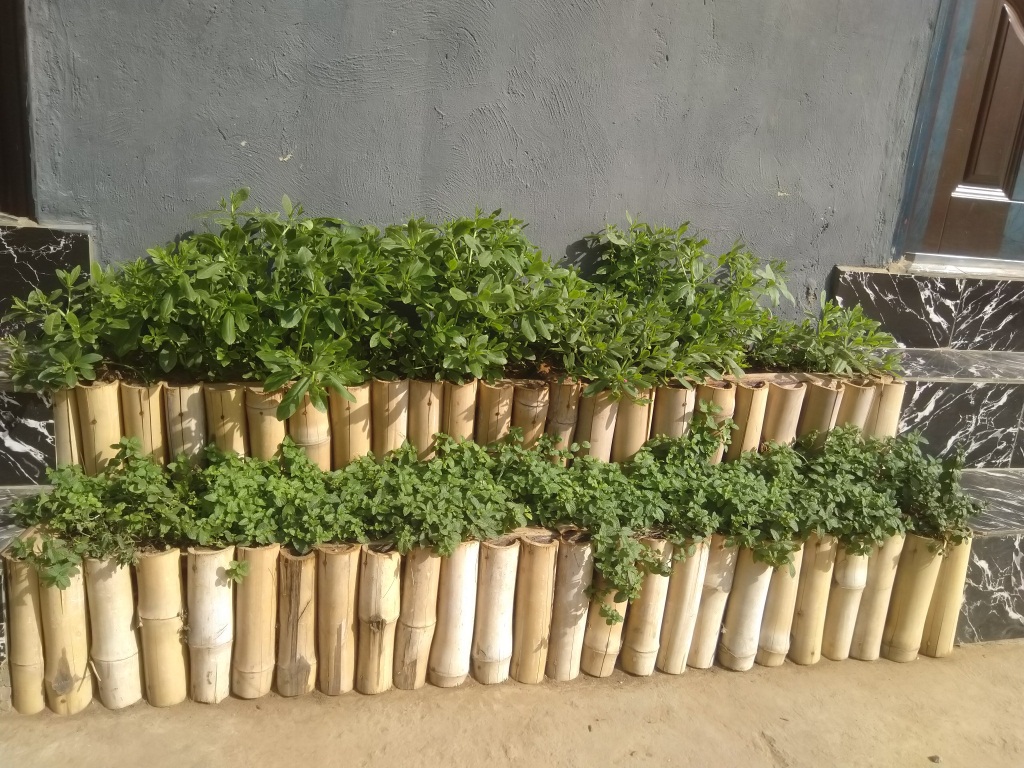 Going deeper into the farm with the farm manager as my guide, one could see coconut trees, palm trees, pawpaw trees, banana trees and others, all bearing fruits. Most parts of the farm are filled with edible plants. There is also a beautiful farm house and big solar panel to make the farm environmental friendly.
The demonstration and zero waste farm also produces what is used to feed the animals being breed at the farm. SDFarms is an integrated zero waste organic learning farm that applies innovative sustainable production and consumption principles to promote food security, health and well-being of man and his environment.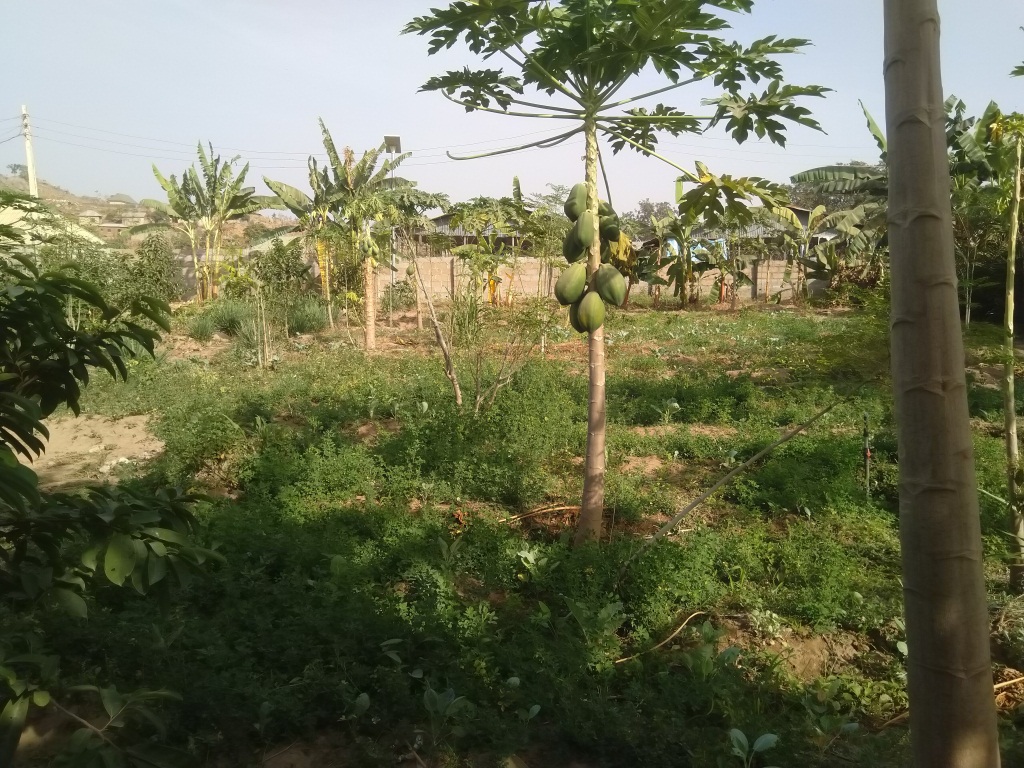 The farm is into production, processing and training related to piggery, rabbitery, fishery, poultry, snailery, mushrooms, vegetables, herbs and other economic plants. Her mushrooms for instance are produced from sawdust.
The owner of the farm promotes functional nutrition as the foundation for holistic health. She believes that we are what we eat can be a source of disease or a source of health and wellbeing.
Little wonder, she empowers individuals and communities to prioritize their nutrition and their environment for optimal health and development.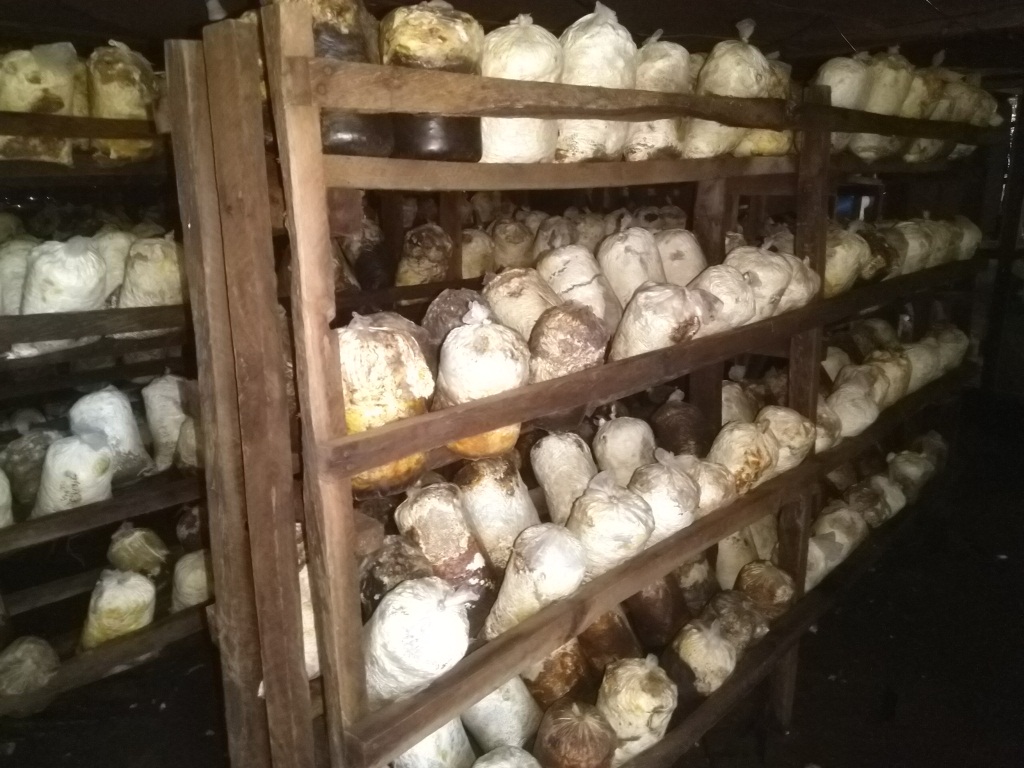 Green Savannah Diplomatic Cable asked her why she set up the farm .Her words: "One thing led to the other. First, when I came from America, I just wanted to eat healthy. I've always grown my own food. So, I came in determined to continue to grow my food. I started with 100 chicken, then fish, then the layers. I just focused on growing what I would eat. I didn't set up to run a farm business, just interested in a backyard farm for my household use, but other people started paying attention, they marveled and saw it as something special, but it was normal to me .
"They wanted to learn and I started teaching them. Meanwhile, I was also doing my NGO work, which focuses on the right to health. And I was looking at what was happening within the health system. I noticed that a lot of patients were having their rights violated; they were not getting quality care. Another reason why I was growing my food was because I didn't trust the food in the market. They are loaded with chemicals.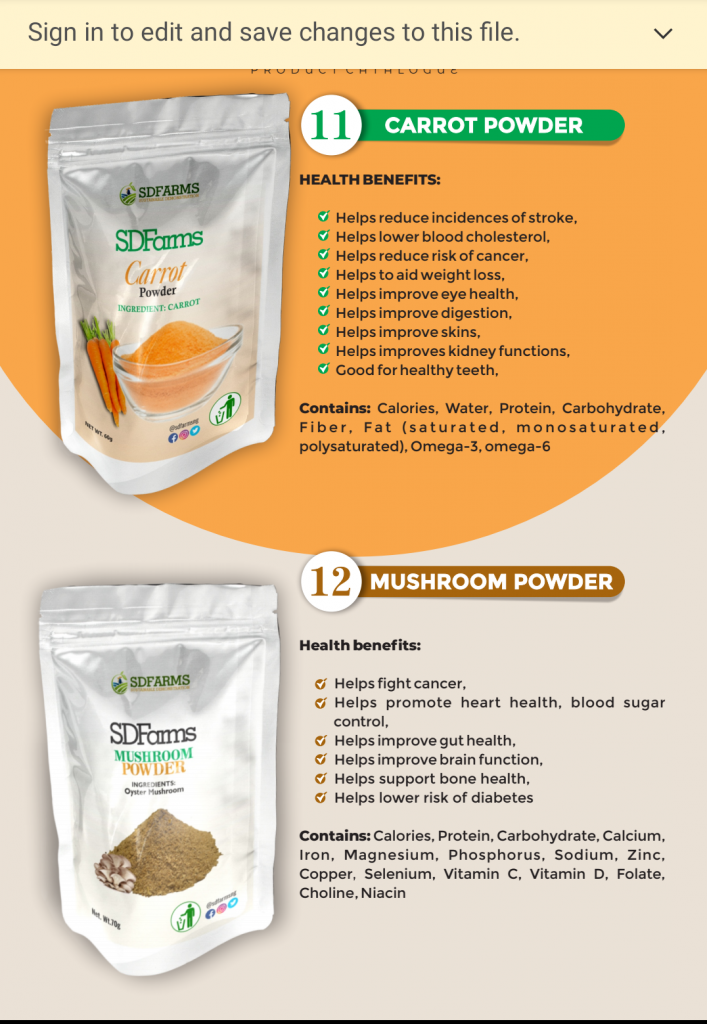 "That was why I started growing my food. I also came to realise that trees, particularly fruit trees can make a difference. They give us food and protect the environment.. All of these benefits are things that inspired me. My spinal cord injury which made me to be on a lot of medicines, also taught me some things about the importance of what we eat. People are getting sick because they are not eating the right food and also not living in the right environment. The easiest way to make people eat healthy food is to encourage them to grow it.
"Again, the realization that we cannot achieve the right to health without the right to food motivated me to initiate the Sustainable Demonstration Farms"
I asked Stella whether her limitation is not a challenge to farming "Not really, if I can crawl, I will crawl, but I use the wheelchair, sometimes, I sit on the floor and pull and pull. You can focus on what you don't have and you can focus on what you have. I focus on what I have and what I can do and the ones, I can't do, I ask for help to get them done. I have inspired people and even my staff, and since they could see what I am doing even with my disability, they don't have any excuse not to perform well. I like what I am doing, I want to inspire people. If my limitations have not limited me in producing my own food, what is limiting others" she asked
Stella explains further "Everybody can plant something in their backyard no matter how little even if your compound is made of cement or interlock, you can plant in containers. If you can plant flowers in containers, then you can plant tomatoes and pepper there. Interestingly, it's just a thin line from having it for your homestead and having it for your economic empowerment"
Dr. Stella Iwuagwu is a Nurse, Midwife, Public Health Specialist, a Social Entrepreneur, and a passionate human rights advocate. She is the founder and Executive Director of Centre for the Right to Health (CRH), a non-profit organization she founded in 1999 with a mission for research, training, advocacy and services for the realization of the right to health especially for vulnerable and marginalized groups in Nigeria.
Stella through her organization has also been in the fore of sexual and reproductive health and rights advocacy, training and services especially HIV prevention and impact mitigation especially among marginalized and most vulnerable population in Nigeria.
She initiated the Health on Wheels a mobile clinic that took healthcare to rural and hard to reach communities, which became a life saver during COVID lockdown. Stella has a PhD in Health Education from the Southern Illinois University, Carbondale, and a Master's degree in Management from the Wagner School of Public Service, New York University, Master's degree in Public Health from University of Ibadan, and Bachelor of Nursing Science from Obafemi Awolowo University, Ile-Ife.