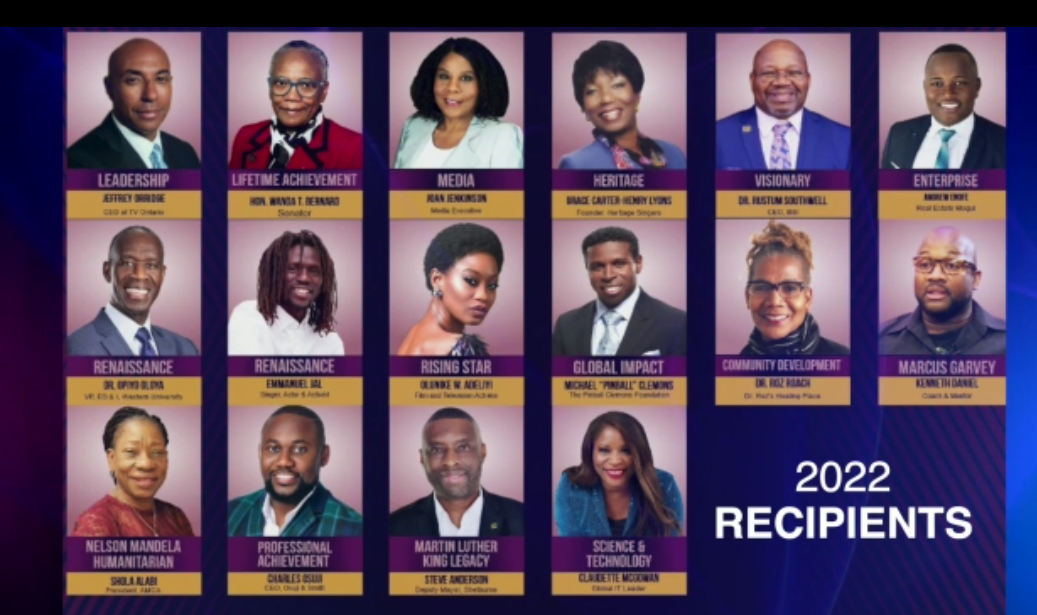 By Sunday Oyinloye
All is set for the 2022 edition of Afroglobal Television Excellence Awards which holds on Saturday 29th October, 2022 at Meridian Arts Centre, 5040 Yonge Street, Toronto, Canada.
In a Press Release made available to Green Savannah Diplomatic Cable by the Executive Vice President Afroglobal Television, Canada, Patricia Bebia Mawa, the two-in-one event will also feature unveiling of the 100 Most Influential Black Canadians.
According to Afroglobal Television, the 2022 Leadership Award recipient is Jeffrey L. Orridge, CEO of TVOntario (TVO).
Jeffrey served as Commissioner of the Canadian Football League (CFL), making him the first Black Commissioner of any major professional sports league in North America. Orridge was the Executive Director of CBC Sports and General Manager, where he secured media rights to four Olympic Games, and oversaw the 2014 FIFA World Cup. He served as General Counsel for Basketball USA, and became Director of Global Sports Marketing for Reebok
The 2022 Science & Technology Award recipient is Global IT leader, Claudette McGowa, Founder and CEO of Protexxa ,  cyber security company. She has co-led Phoenix Fire & The Firehood, a multi-million-dollar women-focused angel investment fund and network for women in technology. She is on the boards of MaRS, SickKids, Black North, Elevate and First Book Canada.
Honourable Senator Wanda Thomas Bernard, PhD, C.M., O.N.S. is the recipient of the 2022 Lifetime Achievement Award. She is the first African Nova Scotian woman to be appointed to the Senate of Canada, representing the province of Nova Scotia and her hometown of East Preston. She was awarded the Order of Canada in 2005, and the Order of Nova Scotia in 2014. Senator Bernard served as a professor at the Dalhousie School of Social Work, where she held the position of Director for 10 years. During her time at Dalhousie, she developed a curriculum for the 'Africentric Social Work' course.
The 2022 Professional Achievement Award goes to Charles Osuji, CEO & Managing Partner of Osuji & Smith Lawyers. He was named one of the top 25 Most Influential Lawyers in Canada and one of Calgary's Top 40 under 40. With over 45 local and national recognitions, he leads one of the fastest growing law firms in Calgary. By the age of 30, Osuji, an internationally trained lawyer from Nigeria, bought a 37-year-old firm where he had served as an articling student two years before. Under Osuji's leadership, the firm has received the Top Choice for Business Law Services in Calgary for three consecutive years, the 2021 Best Employment Lawyers, and the 2021 Best Real Estate Lawyers in Calgary.
The 2022 Global Impact Award recipient is Michael Pinball Clemons.  Michael and his wife Diane Lee Clemons are the founders of The Pinball Clemons Foundation, an organization that provides marginalized and racialized youth with educational resources and options to integrate into mainstream of society. The ultimate goal is to see youth successfully entering the workforce, and gainfully employed in careers they desire. Since 2007, the foundation has been responsible for the construction of a hospital in Uganda, over 200 schools in developing countries, two orphanages in Haiti, and has locally awarded more than 200 scholarships.
Renaissance Award goes to Dr. Opiyo Oloya , Associate Vice President of Equity, Diversity and Inclusion at Western University in London, Ontario. Previously, he was Interim Associate Director of Education with the York Catholic District School Board, where he spent 32 years as a teacher, principal and Superintendent of Education. He obtained a teaching degree at Queen's in 1986 and Master's degree in education at the University of Ottawa in July 1988. In October 1992, he pioneered the Karibuni African music show at CIUT 89.5 FM. His weekly column, Letter from Toronto has been published since July 1996 in Uganda's New Vision newspaper.
The 2022 Media Award recipient is Joan Jenkinson, Executive Director, Black Screen Office. Joan is a highly accomplished media executive and an influential member of the Canadian screen industry. She is Co-Founder and Executive Director of the Black Screen Office, where she works to empower Black Canadians working within the screen industries to thrive and share their stories. Joan was Vice President of Independent Productions for VisionTV, where she commissioned, developed, and executive produced hundreds of hours of award-winning content in all genres.
Dr. Rustum Southwell , is the recipient of 2022 Visionary Award. He  is the founding CEO of the Black Business Initiative (BBI). One of the first Black franchisees in Nova Scotia, he owned and managed various restaurants before becoming the Executive Director of the African Canadian Business Development Centre. Dr. Southwell has helped build communities through his involvement with the Black Cultural Centre, Co-Chair of the African Heritage Month Committee, and Chair of Hope Blooms Youth Ventures.
The 2022 Rising Star Award goes to Film and Television Actress, Olunike Wendy Adeliyi. She was born in Toronto, Canada, to Sunday Adeliyi, a Nigerian computer scientist and Roxiana Bell Adeliyi, a Jamaican nurse. Raised in both Jamaica and Canada, Olunike ultimately earned a place at the highly coveted American Academy of Dramatic Arts in New York City. She returned to Toronto to pursue a film, television, and theatre career, which landed her the series-regular role of Leah Kerns in the popular television series, Flashpoint. Olunike's popularity rose after appearances in films and TV shows such as Titans, American Gods, and Workin' Moms. Recognised with 2021 Canadian Screen Award nomination for her performance in the drama series Coroner. Olunike has performed in theatres throughout Canada and the U.S. playing leading roles in many productions including Blue Window and Michael Cristofer's play The Shadow Box.
Steve Anderson is the Deputy Mayor for the Town of Shelburne and a Regional Councillor for the County of Dufferin in Ontario, Canada. He is a senior practicing litigation lawyer with over 17 years of experience with the Toronto Transit Commission (TTC). He has served as Vice President of the Ontario College of Kinesiology, Board Member of Community Care Access Centre, and Citizen Appointment for the City of Brampton Task Force. He is a Board Member for the Town of Shelburne's Diversity and Inclusion Committee, and Defence Construction Canada. He receives the 2022 Martin Luther King Legacy Award.
Entertainment Award for 2022 recipient is Emmanuel Jal. He is a South Sudanese rapper, singer, actor, activist, and public speaker. From his traumatic start in life as a child soldier in the war-torn Southern Sudan of the 1980s, Emmanuel has overcome struggles to become a recording artist and peace ambassador. He achieved acclaim for his style of Hip Hop and Afro pop with its message of peace and reconciliation. He Has done Ted Talk, co-starred with Reese Witherspoon in the motion picture "The Good Lie", and launched the super food "Jal Gua".
Shola Alabi is a founding members of Africa Missions Canada (AMCA), a chapter of the Africa Missions Global. She served as Vice President from 2004 until 2013, when she became President. Under her leadership, AMCA has built water wells in Kenya, instituted two schools and Empowerment Centres in Uganda, and through the Rwanda Cow project, many have seen their status change, become financially independent, and grown in their Christian faith. Shola is also the Director of Diversity, Equity & Inclusion for Scarborough Centre for Healthy Communities, working with communities, NGOs, and government agencies. She receives the 2022 Nelson Mandela Humanitarian Award
The 2022 Marcus Garvey Memorial Award goes to Kenneth Daniel, a coach, mentor and community leader. One of the original members of the Scarborough Caribbean Sports Club Basketball program of the 1980's, his talents on the court were celebrated, earning him MVP titles and as a player with George Brown College. Kenneth formed the Making Hoops / High Flyers Basketball Program, a community-based initiative for children and youth. Kenneth has received the International Year of Volunteers by the City of Toronto and Scarborough's 150th Commemorative Award for Community Service.
Founder & Executive Director, The Dr. Roz's Healing Place, Dr. Roz Roach is the recipient of the 2022 Community Development Award. Dr. Roz Roach holds a Nursing Degree, Bachelor's Degree in Applied Social Science, a Master's Degree in Trans-Cultural Psychiatry, and a Doctorate in Health and Human Sciences. A certified Psychotherapist, Psychoanalyst, Raw Food Scientist, and Acupuncturist, she is the Founder and Executive Director of Dr. Roz's Healing Place, a Centre for Empowerment and Healing for women and children survivors of domestic violence. Dr. Roz Roach negotiated with three levels of government to raise 5 Million dollars to change lives.
The 2022 Enterprise Award goes to Andrew Enofe, a Real Estate professional, investor and business leader, with a successful career as one of the leading realtors in Canada. He has vast industry knowledge with over a decade of professional experience in Real estate and wealth management. He has received awards of excellence and performance, including the Right At Home 2017 Directors Award, 2018 President's Club Award, 2019 Diamond Award and the 2020 and 2021 Chairman's Award. Andrew is among the top 1% of Realtors in the Toronto Regional Real Estate Board
Recipient of the 2022 Heritage Award is Grace Carter-Henry Lyons, Founder and Musical Director of the Heritage Singers. The 30-member group is a reflection of the Canadian mosaic, with members hailing from many parts of the world. The Heritage Singers have developed a rich repertoire of music, from sacred to secular, work songs to lullaby, seasonal ditty to perennial ballads. Grace was tutored in singing by former Julliard School of Music Graduate, the Late Joyce Britton. She worked for 15 years in the banking industry, and served as Manager at Citi Bank.