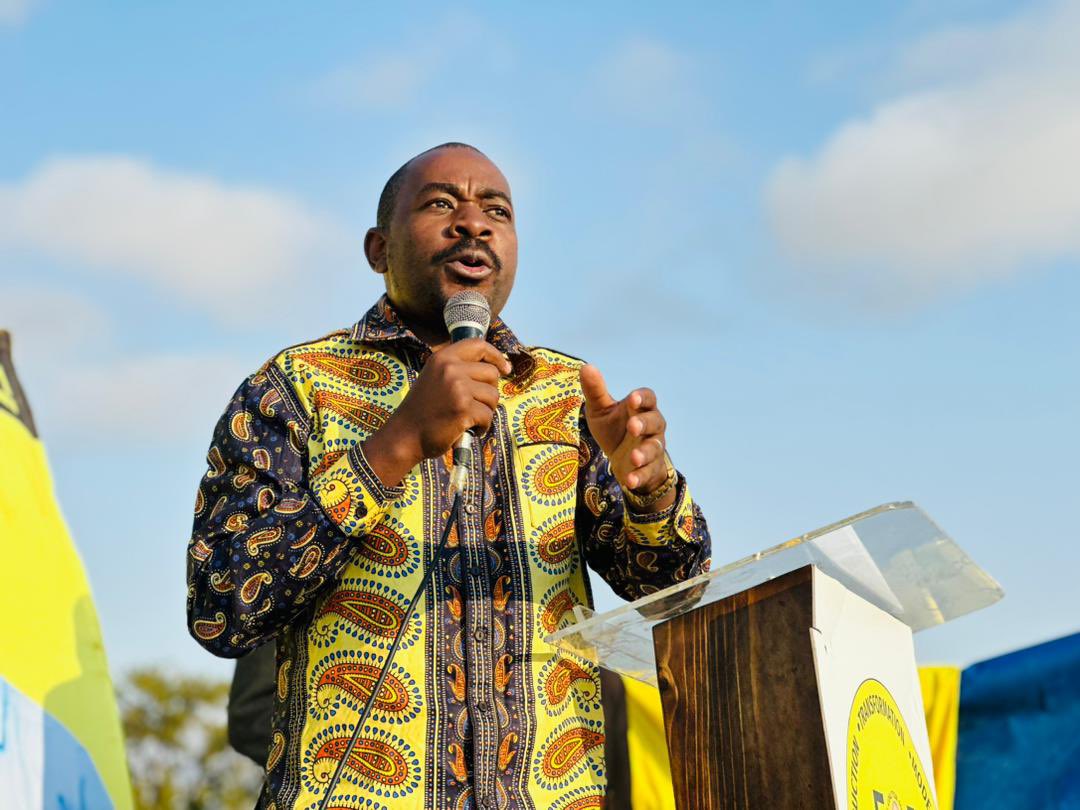 By Sunday Oyinloye
The Presidential Candidate of Citizens Coalition for Change (CCC) in Zimbabwe's August, 2023 election, Nelson Chamisa yesterday in Bulawayo released the much awaited Blueprint that will transform his country if elected the President.
The New Great Zimbabwe Blueprint restores, reconstructs, modernises, transforms and reconciles Zimbabwe for radical and disruptive transformation for the socioeconomic betterment and advancement for everyone.
Chamisa 45, who is believed by the international community to have won the 2018 controversial election, is contesting against the incumbent, Emmerson  Mnangagwa  who will be 81 in September 15.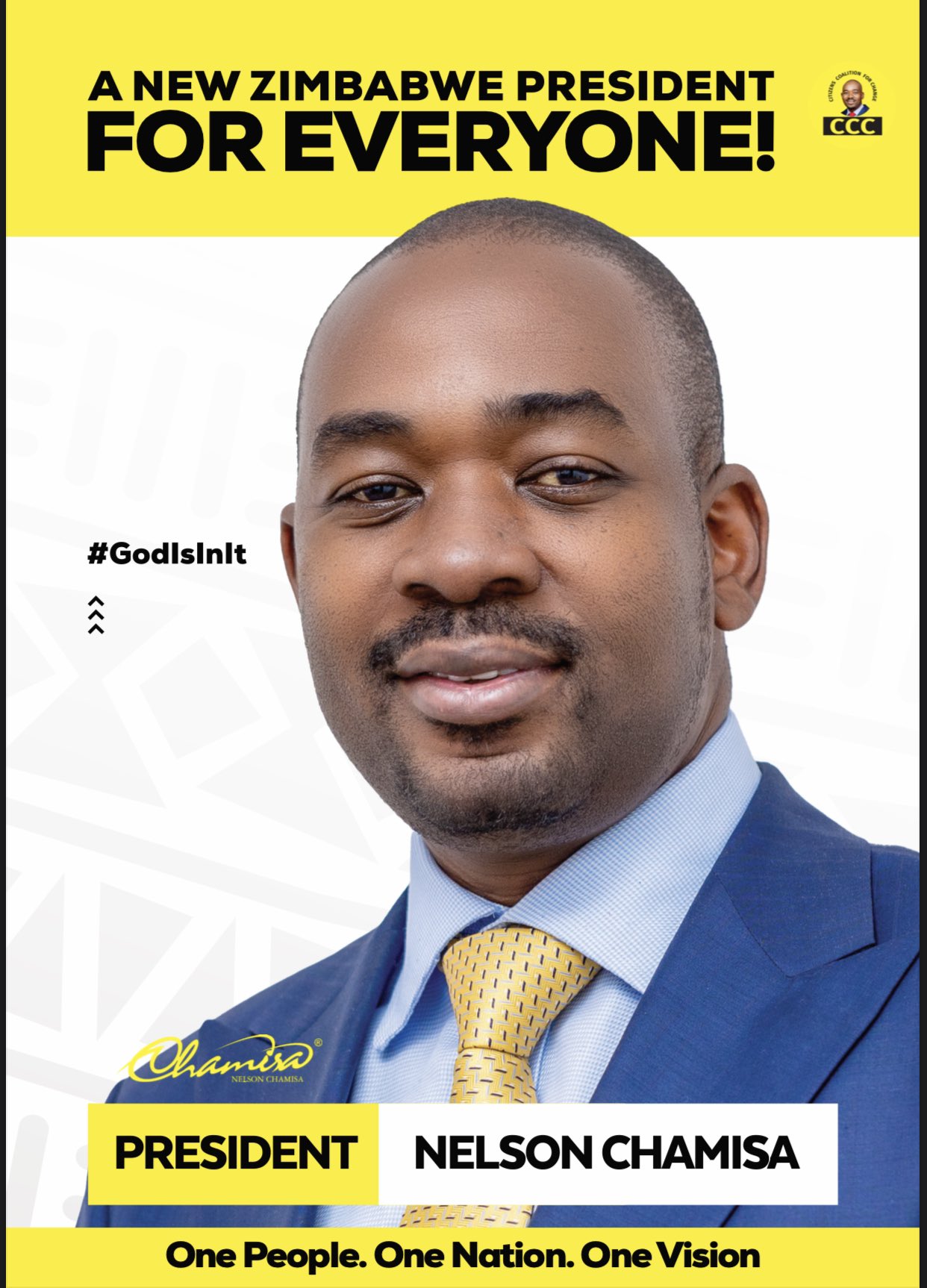 Mnanagawa  is a member of ZANU–PF and a longtime ally of former President Robert Mugabe.  He held a series of cabinet portfolios and was Mugabe's Vice-President until November 2017, when he was dismissed before coming to power in a coup d'état, only to become the President in a disputed election
Unveiling the Blueprint christened " A Great Zimbabwe for Everyone"  Chamisa whose CCC members have come under physical attack by suspected ZANU-PF thugs in recent time said the Citizens movement's philosophy places God first  and the citizens at the centre for the   flourishing of happiness, freedom, peace, unity, justice, and prosperity, as values which guide and inspire government plans, policies, practices and laws of the land, to blossom life, liberty, dignity, security and prosperity of each and every citizen.
According to him "We have an inspiring vision to make Zimbabwe great, transforming her unto a jewel in no time. We will lead and build Zimbabwe beyond aid, restoring our breadbasket status from the empty basket case we have become. We will make our beautiful country more secure, more prosperous, victorious and glorious for everyone
"We will turn what appears impossible into inevitable possibilities and what appears an unobtainable dream into tangible and lived realities of our daily lives. We will build an inclusive and prosperous nation"
He disclosed that if elected, the CCC-led administration will stimulate rapid accelerated growth; improve macroeconomic conditions, successes of business providing opportunities for private sector led job creation anchored by predictable and consistent policy adding "We will, with immediacy, take decisive steps and disruptive actions to stop the haemorrhaging of the economy, the suffering of the people, resource looting and leakages buffeting our country and impoverishing its citizens"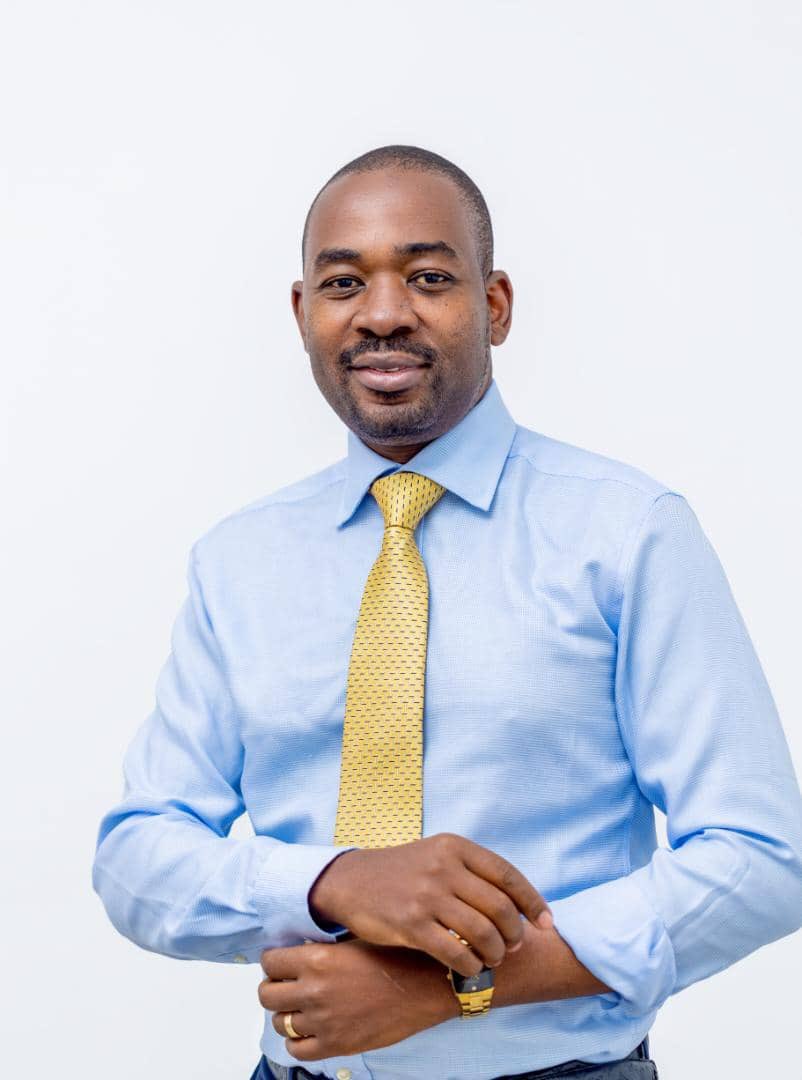 To the citizens, particularly the youth in his country, the former Minister of Information, Communication and Technology has this to say "the August 2023 general election presents a change moment for Zimbabwe, representing the best chance for change for everyone. It's arguably the best and clearest opportunity to take a different and new direction in the politics of our nation. It bears repeating that August 2023 is a choice between change and continuity, light and darkness, progress and stagnation, prosperity and sterility, hope and gloom. Fellow Citizens; choose light, hope, and prosperity. We are the face of hope"
At independence, Zimbabwe adopted a vibrant economy whose currency was stronger than the United States dollar, that is, in 1980, Z$1 was equivalent to US$1.5.
Over the last 43 years, as a result of bad governance and drought of leadership, the country went through vicious cycles of economic meltdown characterized by exchange rate volatility, hyperinflation, total collapse of national currency and loss of savings and pensions.
To chart a great future for Zimbabwe, Chamisa disclosed that within 100 days in office, he would take 20 actions:
Release all political prisoners. Restore dignity, rights, hope and respect to all citizens.
Restore sanity to the education system. Remove the CALA curriculum. Dignity to teachers.
Remove bond notes. Stabilize the economy. Tax reforms.
Free and Universal Primary Education and primary healthcare.
Set stakeholder turnaround timelines for all public service, parastatals, municipalities, and applications processes.
Free airwaves including allowing cheaper internet e.g. Star-Link.
Reintroduce the executive mayors and devolution.
De-politicise the state, government, Parastatals and Councils.
Re-visit border paperwork for passengers, vehicles, and goods, especially RSA, Bots, Zambia, etc. Reduce cross border charges.
Stop leakages and illicit financial flows. New laws and mechanisms to deal with corruption.
War on drug cartels and barons.
Title deeds to urbanites and all farm land, new farmers.
Massive infrastructure rehabilitation and projects.
Fix broken politics. Decisively deal with violence, intolerance and hate.
Restoring Zimbabwe in the family of nations. Normalising relations with all key nations and countries.
Debt resolution.
Fair prices to farmers for their produce and crops.
Restoration of leadership values, manners and ethics.
Repeal all oppressive legislation.
E-government and digital platforms for everything
The 100 page Blueprint touches on all sectors of the economy as well as other aspects of political and social lives. The CCC Blueprint explains in details how every promise will be met and what Zimbabwe stands to gain.
In Chamisa's words "We have gone into detail and covered the broad spectrum of issues so that the people of Zimbabwe have the bigger picture of what we intend to do when they choose us to lead in this election. We are ready and we have the programs to take Zimbabwe in a different but better direction. This program however depends on the right choice the Zimbabwean people must make in the coming election. It is a choice to elect a team which is ready to set aside personal interests and put Zimbabwe first or to continue with the false promises made in the past43 years.
"The citizens' government is committed to transforming Zimbabwe so as to position the nation and its citizens to compete with other growing economies in Africa and the world over. The time for change is now. The alternative is to continue with a kleptocratic state together with all its associated weaknesses. That can't be a viable option. "