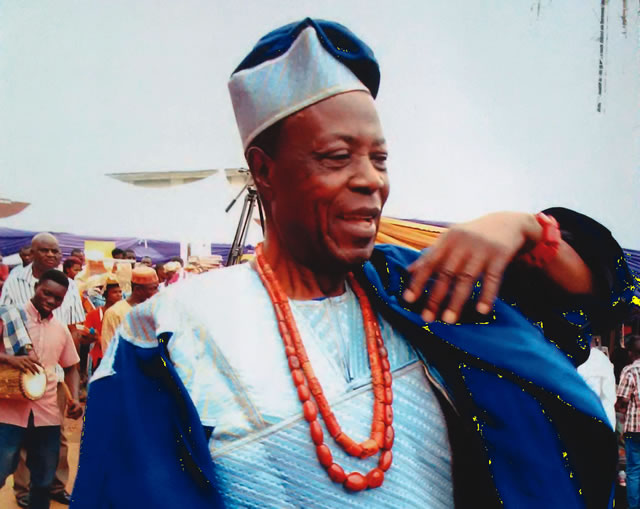 By Adebola Abeni Omotayo
The Odoba of Ado-Ekiti, High Chief Alex-Olu Àjàyí, is best described by me as Daddy. He was indeed, Daddy to me in every sense, and most probably, more than I deserved. Daddy was the Head of my Clan, The Odoba Clan of Ado-Ekiti, hence his title, High Chief Odoba until his translation on the 24th of May, 2023.
He had been installed the Odoba before I was born. The circumstances of his career and the voyage of my childhood years did not give me any allowance to come in close contact with him until his retirement to Ado-Ekiti to serve the land fully as a respectable member of The Ewi-in-Council.
From the day Daddy knew me as an Aoko, (Aoko is the name for every female descendant of The Odoba while a male descendant is an Abamode) he left no reason for me to doubt his commitment to my wellbeing and the wellbeing of every Aoko or Abamode who had access to him. He also wanted the love to spread through the clan. He introduced with an open heart everyone to everyone who met at the Odoba Castle or in his presence anywhere and everywhere. I will quote Daddy in the upper case letter in this article. Every reader who knew Daddy would hear his baritone again in their imagination as they read the quotes.
Much as I wish to keep my life private, I understood perfectly, whenever I came to the castle, and Daddy quickly asked: "do you know him or do you know her"? My tendency to keep a low profile did not stop Daddy from playing his role as a bridge builder and father to all.
The moment I mentioned Abuja to Daddy, the first thing Daddy said was, "SON MI WA N BE, O YE KE MAA RIRA YIN" and the next thing he did was to send his phone number to me that I should call him. Every time I called Daddy thereafter, he would still say, "ṢE ẸYIN ATI SON MI TO WA L'ABUJA N RIRA YIN ṢA?"
As the first university graduate produced by Ado-Ekiti, "Ile Ifa", ( _Ifa panegyrics revolve around wisdom_)  Daddy's unparalleled native intelligence was not lost to his sound education and wide travel, he only topped his native intelligence cake with his generous scoop of western education and insights. The mass was then garnished with his indepth knowledge of the Bible, as a child of an Anglican Church priest who traveled with his father on several missionary postings.
Daddy left behind a record of meritorious service to the nation in different spheres, which ranged from the education sector as a teacher, school administrator and at the upper echelon of management in the West African Examination Council (WAEC), to politics and private business. Daddy did excellently well in all and built a huge, incomparable network of friends across the globe.
In my presence, Daddy walked in to a wedding programme and met Baba Olusẹgun Obasanjo seated, and to my amazement, Daddy tapped Baba Obasanjo on the back as a pal and said, "ṢEGUN, Ẹ KU IWAJU O." Daddy was friend and business partner to the immediate past Ọọni of Ife. Daddy was friend to the immediate past Ayangburen of Ikorodu. I had a stint in Ikorodu and I planned to visit the then Ayangburen on Daddy's passport but I couldn't do that before the king joined his ancesstors.
Daddy once had a birthday lecture at Ado-Ekiti with Chief Bode Olajumoke as the Guest Speaker. During question time, Daddy was excited to see me raise my hand to ask a question and he nudged the chairman of the occasion to notice my raised hand until I was given audience. The following day, I stopped by at the Odoba Castle, Chief Bode Olajumoke was there and daddy didn't waste any time to introduce me again as one his questioners in the previous day's lecture.
Even in the days of turmoil, I found myself at the Odoba Castle in my dream receiving care from Daddy and his gorgeous and gracious Queen. They were actually waiting eagerly to see me physically; then one day, I knocked on the door of the castle again. As mummy responded to the knock, asking "who is that?" and I responded, it's me mummy, daddy said: "BOLA NÌYẸN", "BOLA NÌYẸN." Mummy ran to the door, dragged me to the dinning where daddy was sitting. I met them on a meal of Akara, and while Daddy was offering me some from his plate, mummy hurried to the kitchen to get me another plate for a special serving. They asked all the needed questions, counselled me and blessed me. I also once invited daddy to a program on behalf of a friend, his response was like that of a mother hen whose interest is mainly on the welfare of the brood. I felt so loved, that affection was more than fatherly!
The way daddy called his wife whenever he needed her attention was very unique. He was undoubtedly blessed with the best wife in the world who often answered his call with, "ẹbọ a fin, ẹbọ a fin". There were times too that mummy hailed her husband in my presence in a way that showed me that though Mummy was always at the service of The Odoba as an official and dutiful Consort, they were cordial friends too as husband and wife, you will know that when you hear Mummy say,  "D-Odoba!" I can continue to write on Daddy and his Olori but there will be another time to share more. For now, I like to encapsulate this larger than life figure by highlighting his attributes that were lit up to me.
Daddy, Aba'Dọba Alex Olu-Ajayi was:
Sociable; his network of friends was unparalleled.
Respectable; he still said "Ẹ PẸLẸ" to me and introduced me as his "aburo" which I found embarrassing because I just wanted him to say, ọmọ mi nìyẹn. Daddy was older than my mum and had children who are older than me!
Exposed; yes, daddy saw the world and he interacted with the elite class.
Well traveled; the reason why he was able to draw different parallels across the globe to resolve knotty issues that confused other people.
Intellectual; of course, Daddy was well-read, and characteristically made meaningful contributions to discourses in high profile fora.
Friendly; Daddy was very warm and that is how he made friends and nurtured relationships.
Interactive, no dull moments in his presence, he was always ready to engage, inform and update the people around him on any topic of interest.
Versed; daddy knew at least a bit of almost everything in this world.
Hospitable; yes, everyone who had been at the Odoba Castle knows this and can testify to it.
Responsible; his wife's loyalty and gracious life, his children's achievements, his return home to serve the town, among other things, all testify to his remarkable sense of responsibility.
Intuitive; in Daddy's youth, he was trying to locate an address in an area. He found a young girl nearby, and he parked to ask if she knew the address. As he parked his car by the young girl's side, something told him that the girl was his wife and that was it!
Homely; Daddy was very comfortable in his home, he built an enviable home which paid off till the end.
Loving; daddy was super loving. There are many writings within the public domain attesting to that.
Humble; Daddy called his wife Mummy and the vibration of his voice tells you that he truly recognized the mummy in her. One day, I was with Daddy in the sitting room at The Odoba Castle, time and again, Daddy would call "MUMMYY!" so, I told Daddy that the way he called "MUMMYY!" made me laugh because it actually sounded like a baby calling his mum. Daddy laughed heartily and his baritone voice roared, "I AM THE BIGGEST BABY" Then, all I could do was to laugh more because daddy just tickled me more.
Stately; from his stature to his carriage, his manners and approach, Daddy was truly stately.
Tenderly, Daddy could be firm but he was not harsh in anyway, he was methodical, and particularly civil.
Peaceful; daddy was a lover of peace, he once told me of certain duties that hunters in Ado-Ekiti owed the Odoba but he won't insist on anything from anyone to that effect. That was because he loved peace.
Content; yes daddy was content with what he had, he worked for his earnings.
Modest; he was modest and comfortable.
Understanding; yes, Daddy often showed understanding when dealing with people from different backgrounds. This could be link to the fact that Daddy was a good listener. He would not be in a hurry to comment. I saw him at palace sittings a couple of times. He was a most respectable High Chief but he also respected himself so much by his calmness.
Harmless; that was why he could keep so many friends and sustain his relationships.
Loyal; Daddy said his responses to me were duty to his uncle, The Late Pa G.B Gidado (my father) who was instrumental to his becoming The Odoba even before I was born. Daddy knew me decades after Pa G.B Gidado's translation but he remained faithful to their relationship.
Fatherly; truly fatherly was he. His children, biological and non-biological, including me, are innumerable and the drums shall be rolled out in his honour, from Lagos to Ado-Ekiti. All shall hail
The High Chief Alex-Olu Àjàyí,
The Odoba Ahusi,
Agbejodojumoṣe agbepurekemole, agbejodojumoṣe agbegungogorogo,
Amugburin-eo-bọdide,
Amiyanmodi
Ameomekasu,
Ọmọ Ọwá Ologe ko m'uru eṣin gbalẹ i sun……
Aaba, ọn ki ọ ọ ọ ọ ọ!
Adieu Daddy, you are indeed unforgettable.
Adebola Abeni Omotayo
Abuja, Nigeria.
August, 2023