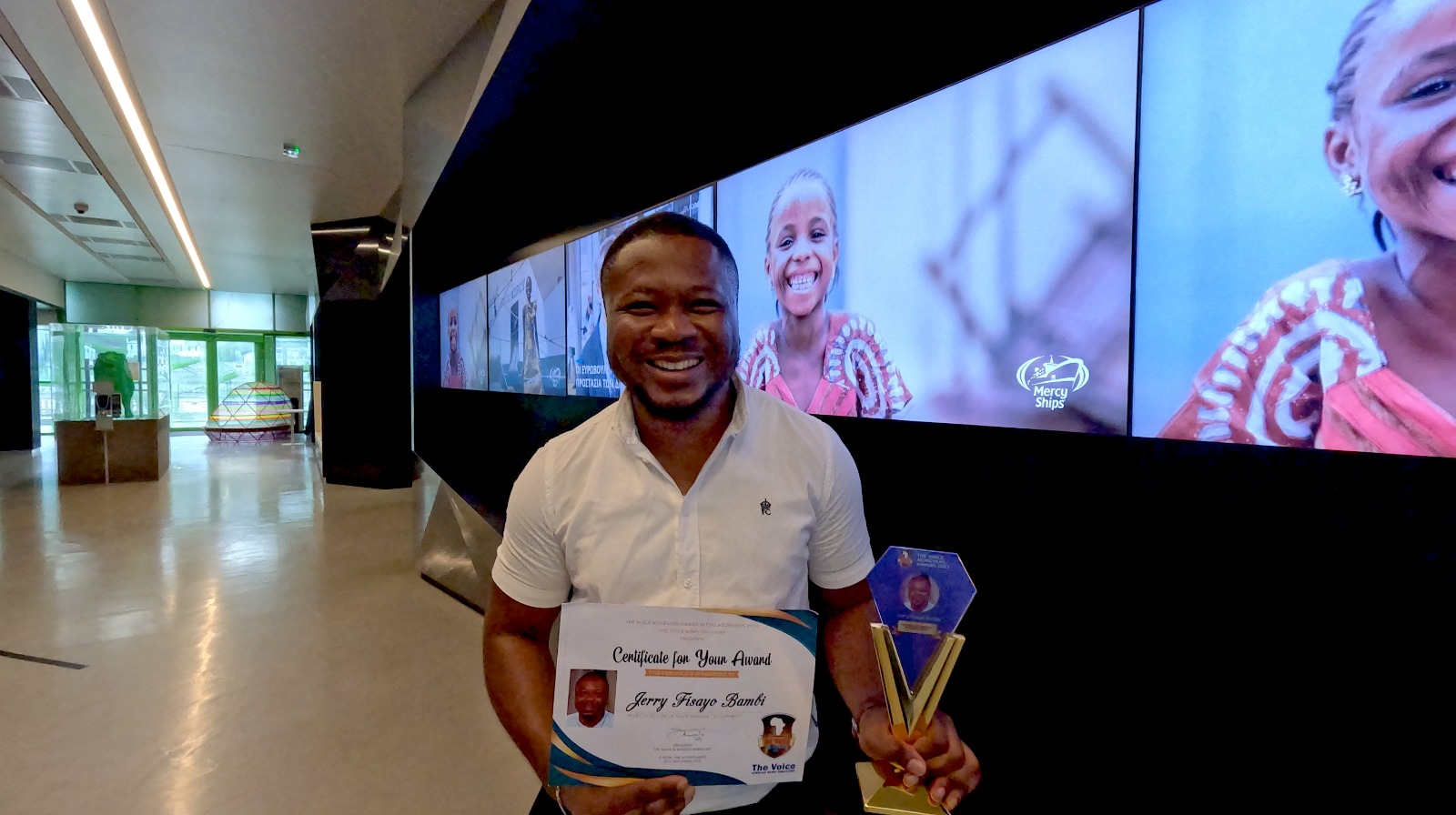 By Adesewa Oyinloye
Nigerian- born Journalist, Jerry Fisayo- Bambi who works with Euronews France, says Journalists should not focus only on stories that portray Africa in bad light even as he advised them to uphold the highest standards of ethics and accuracy.
Jerry who produces "Inspire Africa" and  has just received Excellence Award in Journalism at The Voice Achievers Award in Almere, Netherlands said he would continue to give voice to the voiceless and work hard to change the culture of negative stories about Africa through his work without compromising ethics of Journalism.
According to him "Journalism is a calling, vocation to uncover the truth, shed light on the darkest corners of society, and to give voice to the voiceless.
"In a world where information is more valuable than ever, it is our duty as journalists to uphold the highest standards of ethics and accuracy".
He noted that media coverage of Africa has often been plagued by stereotypes, biases, and a focus on negative stories, such as poverty, conflict, and disease stressing "There is a renewed effort in changing this wrong narrative, and I couldn't be more proud to be part of that group of journalists dedicated to promoting a more balanced and nuanced understanding of the continent".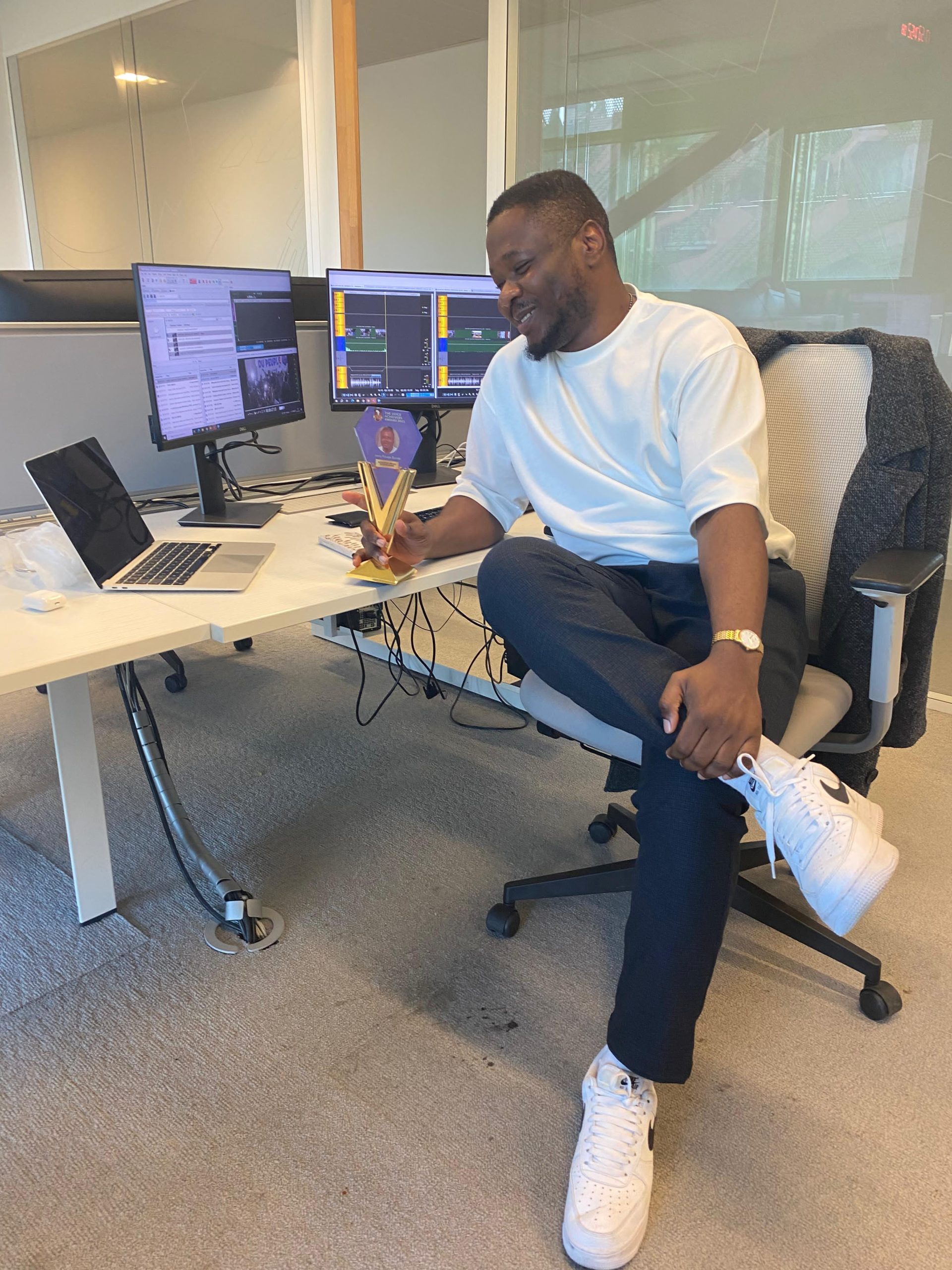 Jerry who dedicated the award to his parents, his colleagues, and Journalists across the globe disclosed that stories published by the media have the power to shape public opinion, influence change, and hold those in power accountable.
His words "In a time when the world faces unprecedented challenges from climate change to global health crises, from social justice movements to political upheaval, the role of Journalists  is more critical than ever
"Many brave journalists work in regions plagued by conflict and censorship, where the pursuit of truth is met with adversity. It is for them that I accept this award with a deep sense of responsibility to continue our collective mission of informing, educating, and advocating for a better world.
"This award is not just a reflection of my own efforts, but a testament to the dedication and hard work of an entire team. Behind every great journalist, there is a network of editors, photographers, researchers, and countless others who make the work possible. I share this award with all of them, and I thank them for their unwavering support. I also thank The Voice Magazine, Netherlands for this award"
Jerry began his career in Nigeria as a journalist with the Steam and Globe Broadcasting limited, and Info Nigeria ltd, owners of Cool FM and Nigeria Info 99.3 respectively. He would later work in Group 8 owners of ONTV, Spice TV and Soundcity.
He soon signaled serious intent in his field when he presented coverage of the Nigeria Economic Summit 2014 and the World Economic Forum for Africa same year. He interviewed the chairman of the Dangote group Aliko Dangote on the role of education to the development of the Nigerian economy and also interviewed the former British Prime minister Gordon Brown on Britain's role in the fight against terrorism in Nigeria the same year.
With a continental vision, Jerry set out for Pointe Noire, the Republic of Congo where he learnt French and joined the bilingual independent international channel Africanews.
He became the face of the news channel and one of the two presenters for the daily live breakfast magazine 'The Morning Call' which sometimes polled an average TV audience of 6.3 million views across Africa.
The impact of the show led to a big campaign that put him and his cohost, the Harvard Neiman Fellow, Hannane Ferdjani on the pages of top business magazines in Africa, -Jeune Afrique, New African magazine, African Business etc.
It also put him on bill boards in major capital cities in Africa and France- Abuja, Accra, Johannesburg, Kinshasa, Libreville, Brazzaville, Pointe noire, Paris (metro stations). But this was only the beginning.
In 2019, Jerry started the production of 'Inspire Africa', a show that told the stories of people making change, innovation and impact in Africa. Working behind the scenes at the start and as the conceived, he soon took over as producer and presenter, going on to make a new mark with his team, by presenting several impacting stories of innovation and that of women empowerment.
His show will go on to get several partnerships including from a World Bank led project SWEDD and the NBA Africa Junior League.
His skill and amiability led to viewers voting him in 2020 as Nigeria Achiever's Awards TV personality of the year.
The exceptional Nigerian broadcast journalist currently works with the euronews group in France where he is also setting an incredible mark as a black and African journalist leading a diverse team of journalists from across the western world.
Some of his past awards and recognitions include: a 2016 BBC Komla Dumor shortlisted candidate, Nigeria Achievers Award TV personality of the year 2020, Honorary award recipient for Inspire Africa, Bonteh Digital Media Awards, Cameroon 2021 and 2023 nominee of the 40under40 Africa awards.