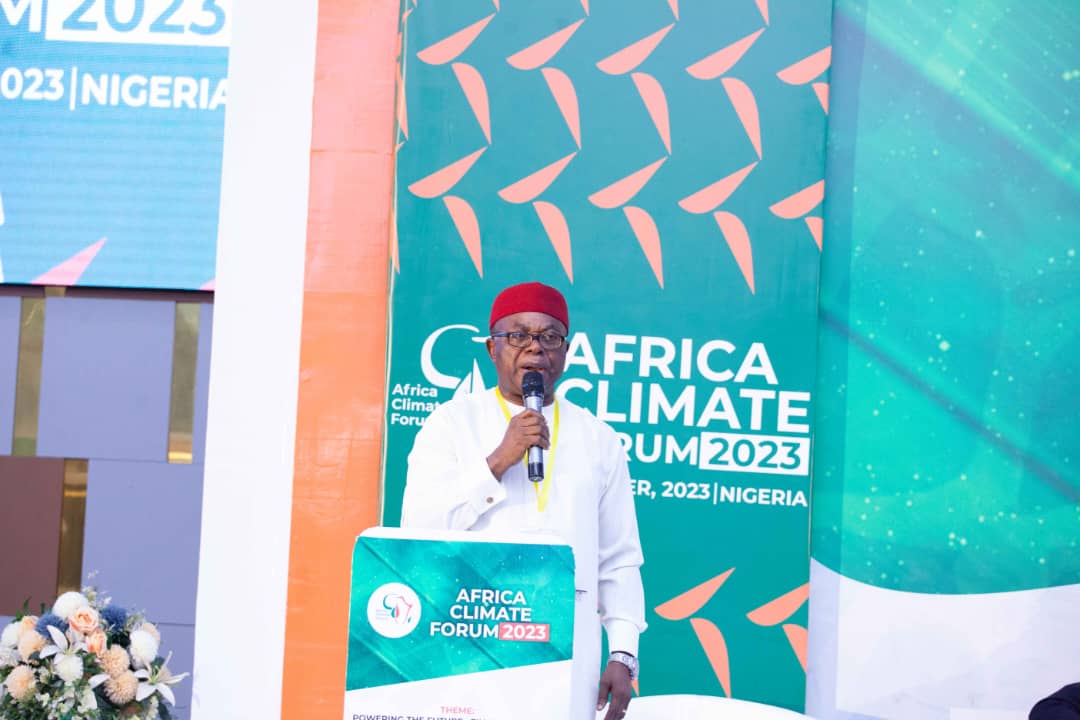 By Adesewa Oyinloye
A former National Assembly member and Chairman of the Security, Special Interventions, and Climate Change Committee of the Governing Board of the North East Development Commission (NEDC), Hon. Sam Onuigbo  has  emphasized  the need for financing energy transition to ensure sustainable progress in the present climate context ,even as he expresses optimism on future of sustainable energy in Africa.
Speaking at the Africa Climate Forum 2023 in Abuja with the theme: "Powering the Future: Financing Energy Transition for Sustainable Progress", Hon. Onuigbo stressed the significance of transitioning from traditional energy sources to renewables such as wind, solar, and hydropower.
The former lawmaker who was a Keynote speaker at the pivotal dialogue disclosed that the shift is essential for economic growth, productivity, and achieving sustainable development goals.
He said the 9th National Assembly in Nigeria made significant strides in legislation related to climate change, climate financing, electricity, and climate education.
According to the Climate Change Champion "some of these strides include amending the 1999 Constitution, moving electricity from the Exclusive List to the Concurrent List, and passing the Climate Change Act".
Hon. Onuigbo disclosed further "The Climate Change Act, which came into effect in 2021, provides a framework for mainstreaming climate change actions and sets a target for attaining net-zero greenhouse gas emissions between 2050 – 2070. This legal framework includes the establishment of a Climate Change Fund.
"Section 26 of the Climate Change Act is aligned with the theme of the conference "Powering the Future" It is a forward-thinking piece of legislation, emphasizing the integration of climate change into Nigeria's educational curriculum.
"This provision of the act is a commendable step toward raising awareness and preparing future generations to address pressing environmental challenges effectively".
Onuigbo explained further: "The Electricity Act, passed in the 9th Assembly, marks a significant shift in the power sector. It decentralizes and de-monopolizes the entire value chain, promoting competition, renewable energy utilization, and State Electricity Markets. Several states have already passed their own State Electricity Laws".
He reiterated the commitment of President Bola Ahmed Tinubu to improving electricity accessibility and affordability adding that this has been demonstrated by his quick assent to the Electricity Act.
In Onuigbo's words: "The President aims to stimulate renewable energy development,  improve rural access to electricity, and establish the Rural Electrification Fund".
He commended Dr. George Nwangwu, Director General of the Global Centre for Law, Business, and Economy, and the entire team responsible for organizing the Africa Climate Forum Conference
The former lawmaker expressed optimism for the future of sustainable energy progress in Africa.