One wheelchair like a million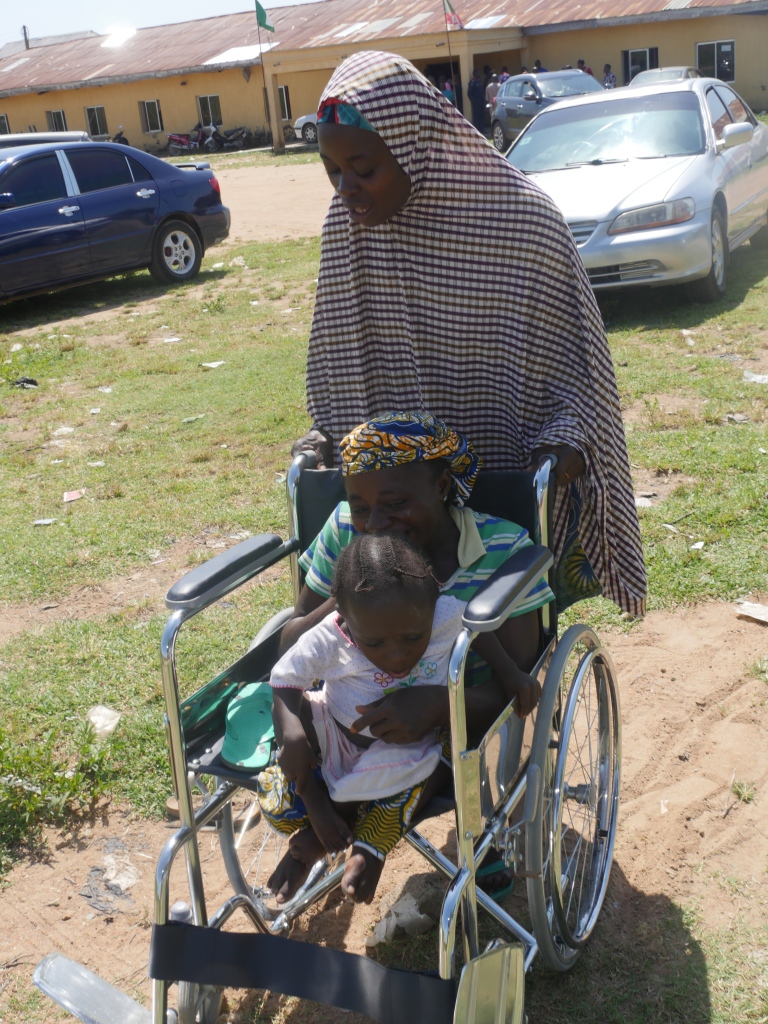 By Sunday Oyinloye
For those who are able and healthy, they might not know the price of physical disability and what people living in that condition are going through especially in Africa where they are treated with disdain and like outcast. To be physically challenged in some African countries could be very frustrating, because only few employers of labour consider the physically challenged persons who are often viewed as liability rather than assets. Even in many public buildings, provisions are not made for the movement and comfort of the disabled and many of them do not have mobility aids.
The physically challenged in Nigeria have formed different associations in an effort to get the attention of government at the three tiers, but not much has been achieved because the mobility of the physically challenged is not on the priority list of the government, therefore, disabled persons mostly rely on Non-Governmental Organisations and good spirited individuals.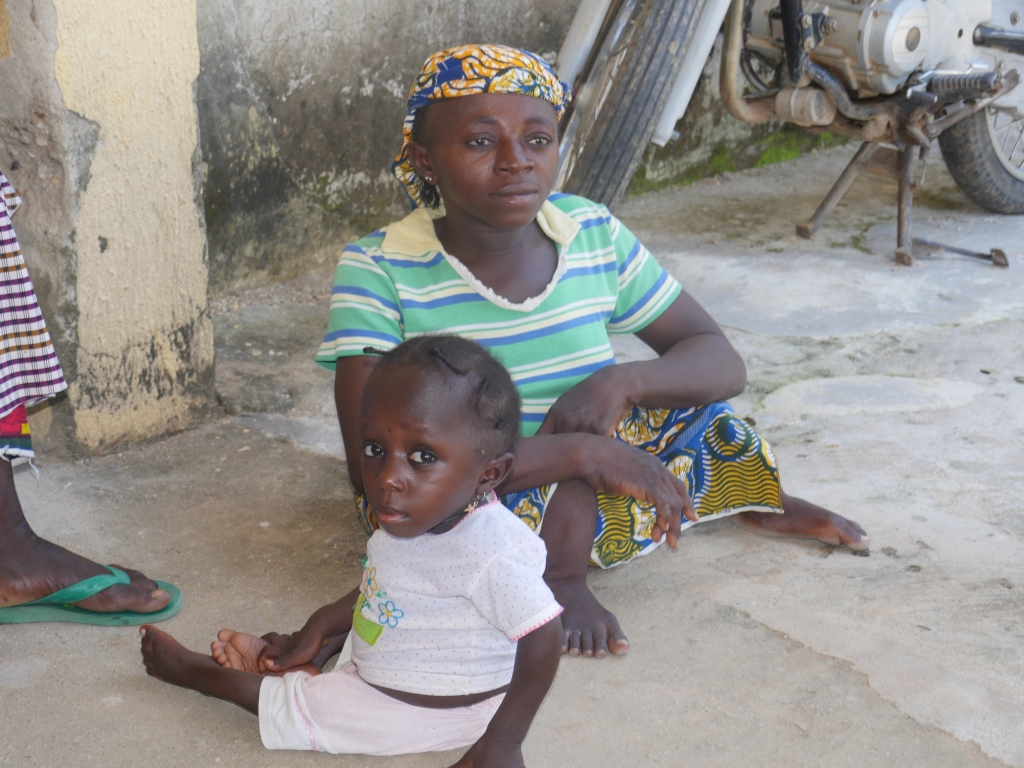 A single mother, Ramatu Usman whose baby is also physically challenged is one of the numerous persons with disabilities looking unto where help would come from until a surprise wheelchair was given to her on Monday by a consortium of NGOs that facilitated the European Centre for Electoral Support's Inclusive Representative Resource Centre located in Karshi Development Area Council, Uke Nasarawa State.   The wheelchair was donated by Nigeria's Minister of Women Affairs, Paullen Tallen.
Handing over the wheelchair to the Chairperson of Karshi Development Area Barrister Fatimah Assibi-Ubam  for presentation to Ramatu, the Executive Director of International Society of Media in Public Health (ISMPH) Mrs. Moji Makanjuola disclosed that the wheelchair was donated by the minister who  noticed the pitiable condition of Ramatu when she came to commission the Resource Centre.
In her words: "The Minister of Women Affairs came to commission this centre and she saw our sister that in spite of her disability, she still came, there and then, she promised to give a wheelchair to Ramatu, we have come today to present what the minister gave us for  Ramatu so that her movement can be made easier  and that she can take part in development. This is what this Centre is all about"
Makanjuola called on corporate organisations and individuals to donate for the physically challenged so that they can be productive members of the society.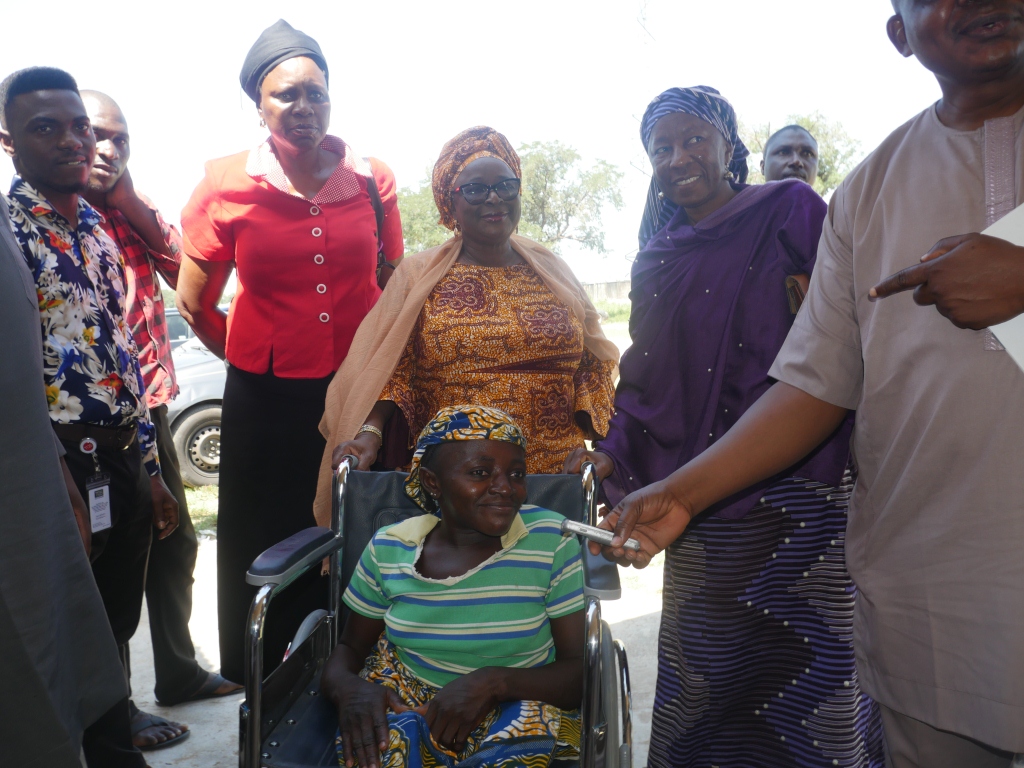 On her part, the Chairperson of Karshi Development Area Council, Barrister Fatimah Assibi-Ubam commended the Minister for spotting and assisting Ramatu. She also commended the consortium of NGOs that facilitated the establishment of the Resource Centre in her area. The NGOs are ISMPH, Development Initiative for Africa Women, and Osasu Show Foundation.
For Ramatu, whose husband abandoned her to cater for an equally disabled daughter, it was a dream comes through as she expressed appreciation to the minister and the NGOs.  Moments later, she crawled towards the wheelchair before she was assisted to seat on it.  Her condition drew tears from the eyes of some of those present.
Though, it was just a life that was impacted, if every human being decides to impact positively on one person, the world will definitely be a better place to live.