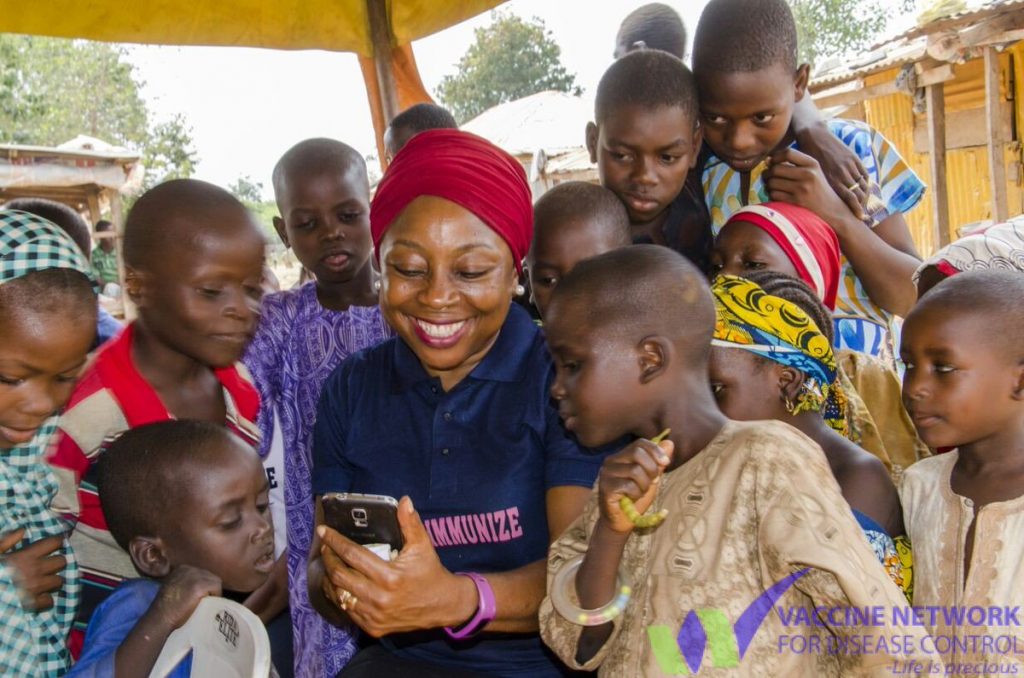 Chika Offor is the Chief Oversight Officer of Vaccine Network for Disease Control. She has a project called Support a Settlement. It is a project for communities that reject immunization for one reason or the other. Vaccine Network for Disease Control  has adopted Damangaza  Angwausawa, a community with 6000 population  within  Abuja , Nigeria. Chika known for her passion for tourism in an interview with Green Savannah Diplomatic Cable speaks about her new passion for the health sector.
Excerpts:
---
What was the motivating factor?
At the beginning, it wasn't like that. Having an health related NGO was never in my mind. People who knew me before could testify to my passion for Tourism. I went for a meeting and I discovered that a lot of children were dying because of pneumonia and nobody was doing anything about it. They were dying not because the vaccines were not available, but because they were not knowledgeable about what to do to prevent pneumonia and what to do when they get pneumonia. I  met  Dr.Chizoba  Wonodi , we talked  about it. And I said let's do something about this. I asked what we  could do And her answered was  maybe journalists were not sending the messages round. Nigerians were aware that polio was killing people, but nobody remembered pneumonia. That how we started. We got about 40 Journalists for training on this disease, John Hopkins sponsored it. By the time we finished ,the journalists put it in newspapers. I just couldn't stand the fact that some people are refusing immunization. We said lets go and look at communities that have rejected immunization. We started asking around Games village ,Abuja. We asked some women selling groundnuts and they told us there was a village where people don't take immunization. When we got there ,we met their chief. I asked why they don't take immunization, they said when come to immunize them, they demand for money. But the bottom line was that they do not believe in immunization. That was it.
So what followed?
We used the village as a pilot scheme. We took all their elders to meet Pediatrics Association of Nigeria . We then decided to start something with that village. That was how we started . We began to visit the village almost on daily basis, we carried their children, showed them affection, we also talked to the men. John Hopkins came in, they followed us to go and look at the village. We still talked to them but they refused. At that point, we went to AMAC to ask them the issue with the village. We gathered  that the villagers don't come out for immunization, that the  women would say their husbands did not tell them to  be immunized. At that stage, we had to think of another strategy.  That was how the idea of fashion show  came. We used their children as models, trying  to build trust with  the villagers. We trained the models how to cat-walk. After convincing their Chief, he gave us five of his children, so when others saw what the chief did, some parents also gave us their children. But they asked three hefty men to follow us.
We cleaned up the children and made them look like real models.  John Hopkins assisted, we got dentists to clean their teeth and did many things to get them ready. After the fashion show, we got their trust. Then we started hiring buses once every month to take them for immunization at the health centre. Even people at the health centre were hesitant because of their looks. What we did was to coopt some health centre personnel into our team. So, there was a good coalition. Once a month, we did it for about two years. Then it  became a habit, the villagers  began to see the gains of immunization.  If you take your child for immunization and you complete it, they will give you Routine Immunization Certificate. So, once you have that certificate you are entitled to a price like sewing  machine, pepper grinding machine and other items from our NGO. That became an incentive.
Why is it that most NGOs are based in the capital cities?
A lot of NGOs may have their Head Offices in the capital cities, but they also have branches in the states. You need to have a presence in the capital, that is the only avenue you can meet other NGOs. The name of my NGO is Vaccine Network which means that we don't work alone. We network with other NGOs. If you are in the city, that does not mean that you don't have presence in the rural areas. Secondly, it depends on what you are doing. If you are dealing with policies like some NGOs trying to change policies for the government, they cannot be in the rural areas. I am talking about national policies, so it depends on what an individual NGO is doing. We have a lot of slums within the FCT.  FCT has one of the lowest coverage in terms of immunization. There are over 300 communities in this Abuja and you have slums everywhere. So it depends on which area you are looking at.
The journey so far, how has it been?
It has been an interesting journey. I read English Education, so for somebody who read English Education to be in the world of health which is more like a science affiliated area, I have learnt a lot. I have leant a lot about some scientific researches. Now I know that the most important goal is to save the Nigerian child and I also know that without health, every other aspect is irrelevant. Let me give you an example. If you don't advocate that polio is kicked out and tuberculosis is kicked out, what type of children are you going to have.? So health is a fundamental human right. For me, health is the first thing before you begin to think about other things. Ordinarily I would have preferred  tourism where my real love is, but I have seen that there is a  need for me to be involved in the health sector. Journey so far? we have adopted a community called Damangaza Angwausawa. There are about 6000 people in that community,( 2000 children inclusive) and 90 percent of them were not going for immunization before. The mortality rate was over 100 children every year. They die every year because they were not immunized. But they have been surviving since they started to embrace  immunization. The challenge now is water. We are getting people to support in the area of boreholes. It is a  community thing, you can't  do one and leave the other. You need to do all. That is what I have learnt. Take one community at a time . Many times, people take more than they can chew, so they cannot monitor. I advise everybody, take a community that you know you can monitor. When you take a community, take a small aspect of it. Don't take what is too much for you. For instance, take a health centre in your village and monitor how often they have light, then maybe every month, you visit the health centre to ask about light situation. Start to talk about it. Let somebody else look at the beds, let another person look at water. Once you take a small aspect, you will be able to follow it to logical conclusion. When an NGO takes too many things, such an NGO cannot make much impact. But we should not leave it for the NGOs alone, it should be done by all Nigerians.
How much have you been able to impact on the society since you started this journey?
Oh. A lot. I have empowered a lot of women and once women are empowered, the children are safe. If as a woman you have something doing and your child is sick, you will be able to take that child to the hospital, so we have been able to save a lot of lives . People now know the importance of milk, beans and other nutritional foods that could help their children. In the area of policies, we are also there. We are among a coalition of NGOs  just inaugurated  for  budget tracking.
We have many NGOs tracking health budgets and look at the mess at the National Health Insurance Scheme?
It depends on which area of health you are monitoring. NHIS was not monitored, but guess what, its now being monitored . It is better late than never.  Sometimes you get carried away ,you monitor a particular area and leave others. People lost interest in  the National Health Insurance, now that they know that 15percent of  the consolidated revenue will go to health and 50percent of that goes to Insurance Scheme,  people are being conscious of it. Few days ago ,a coalition of NGOs to monitor health budget was inaugurated. We all came forward  to chat a new course. Big NGOs coming together in different areas of budget tracking, with the aim of having a template which anybody can use. When we put it online individuals  can use that template. You can even track the health budget of your state with the template. So ,it is never late and it's going to work.
Are you confortable with the health services in Nigeria?
I am not.
What is the problem and which way forward?
I won't lie about  it, I am not comfortable about our health services. It is systemic problem. The Primary Health Care Centres are supposed to be the first port of call, not the General Hospital, but  most of the Primary Health Centres  don't have enough personnel and drugs. That is a big problem. That is why government is talking about revertilsing  the Primary Health Centres. In this whole of Wuye, there is no Primary Health Centre . It  means if someone has headache he will have to go to a General Hospital. That is why I am advocating support for every Primary Health Care Centre  the country. Once they are functional people in the rural areas will begin to patronise them. Only special cases will be going to the General and National Hospitals.
What are the problems associated with immunization  programmes in Nigeria?
Finance. Immunization in Nigeria has saved a lot of lives. Over seven million children are born every year. And those are the children that need immunization apart from their mothers who also need immunization at some points. However Nigeria is not paying for this alone. Nigeria was paying a portion while GAVI  was paying a portion, but they pay more. Okonjo Iweala went and rebased the economy, with that we were removed from low to a medium income economy, so we are not going to get aid anymore. GAVI is saying we will not support you anymore but we will not leave you immediately, we are going to stagger it over a five-year period. 2017 we are going to give you 80perrcent of what we usually give you, 2018 we give you 60 percent, 2019, 40 percent, 2020, 20 percent then we stop. So there is a gradual exit. Even the portion we pay as a country we borrow from the World Bank. Now when GAVI leaves, what happens? That is the present challenge. That is the biggest health challenge we have in the country now. The Federal Government has to take over vaccine as their responsibility. They have to know where they will get the money from . To get vaccine, you pay six months in advance. GAVI helped us by paying their two year portion in advance which expired in 2016 and stretched a bit to2017. Tell me don't we have reasons to panic?  Where are we going to get the money?. On the average, seven million children are born annually and they need immunization, therefore Federal Government must take ownership, states should also support. We have a health emergency in Nigeria, we have a crisis in our hands. People are trying to find a solution but it's very difficult. 
What type of support does your NGO needs from the international community?
We need technical support and funds .International NGOs use local NGOs but there is something  they do that I feel is wrong.  They are using the same old NGOs some of which are not making much impact, why keep using same NGOs why not change and use another set? Again, sometimes they give too much money to a particular NGO.  You give an NGO $3miilion, why not break it down and give to smaller ones and monitor them. Don't allow an NGO to bite more than it can chew. This is my personal opinion because the coverage rate is reducing and they are spending more money. They are spending more money without much results. Millions of dollars pumped into the country, yet  you can't feel much impact. There is a difference between getting grants and the ultimate  goal of saving lives.