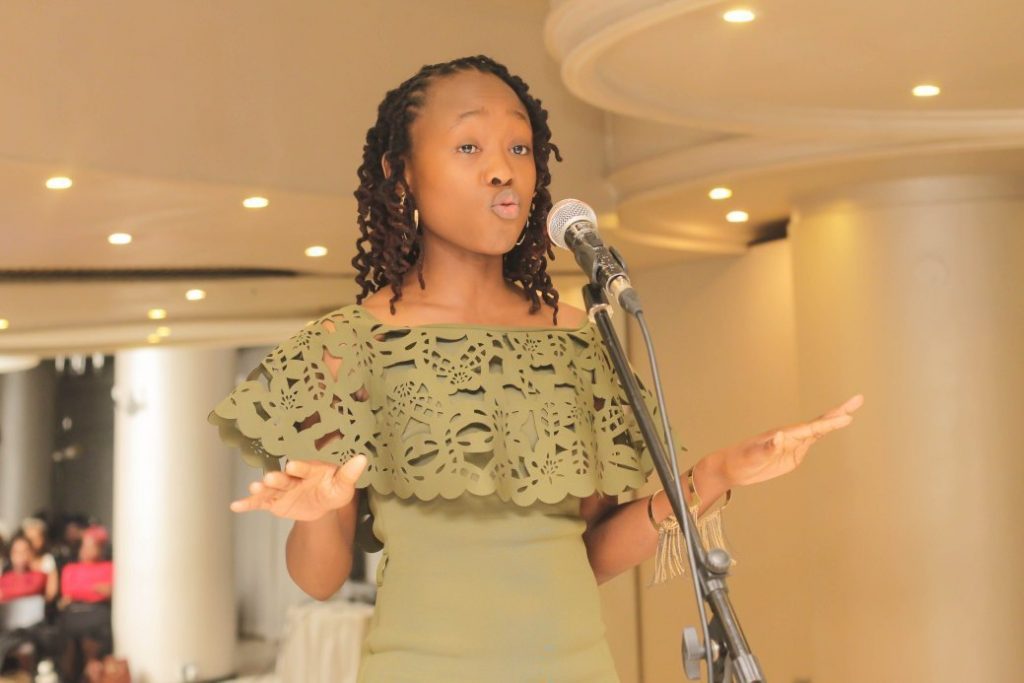 Emmah  Mabye is a South African Tax Consultant.  A very creative personality, Emmah practices as a Tax Consultant  by day and Performance Poet by night. This comes from  trying to balance her profession (Accounting/Tax studies) and passion for the spoken word. What started in 2009, as a mere stress reliever has helped her  become a poetry firebrand.  Through her powerful command of the stage she  brings poetry to life. Using the technique of creatively expressing everyday life, she often  take her audience to a world of solace. Emmah has had the  privilege of taking her works to schools, national radio, national TV and even performing for the Presidency at the South African Local Government Association (SALGA) 2016 National Conference attended by over 2500 delegates.
In her first published poetry collection, Clocking In, Emmah journeys into man as a tripartite being – thus clocking into one's spirit, soul and body. The book is comprised of her poems over the past 8 years. The collection has been well received not only in South Africa but also in Malawi, Zambia and Canada. Under the South African State Theatre's Incubator Programme, Emmah got to stage her first theatre production in 2017 also titled "Clocking In". The reviews from audiences were testament to the power and voice that Emmah possesses on stage. In this interview with Sunday Oyinloye, Publisher of Green Savannah Diplomatic Cable, Emmah recounts her encounter with South African President, Cyril Ramaphosa, her experience as a Poet and  plans for the future.
Excerpts: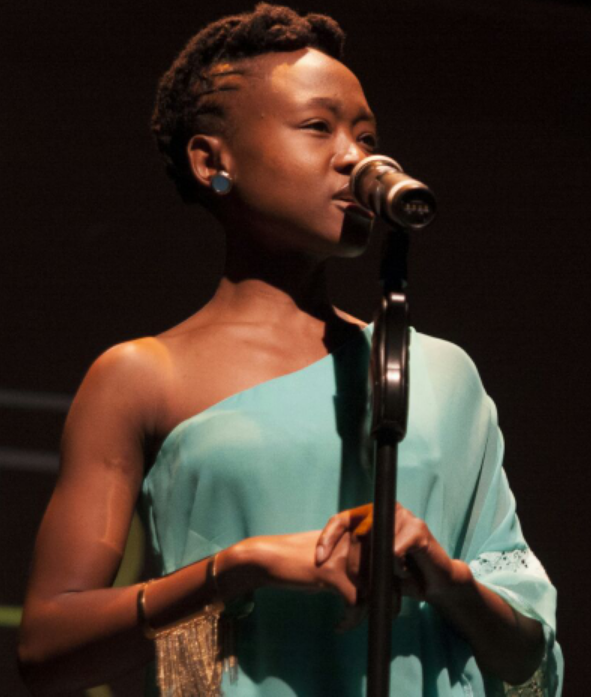 You started poetry in 2009 as stress reliever, can you share that experience?
Poetry for me kicked off in university, the University of Pretoria where I was studying BCom Accounting Sciences. It goes without saying how stressful studies could get and I felt  one needed to engage in other activities for some sense of balance. I wasn't much of a sports person, so I took out all my stress through writing. I can confidently say Poetry found me and helped me through my final years at the University. I felt so much solace in writing poetry at the time. I don't think as people we fully grasp the potency of words and I'm so thankful to have discovered the power of healing through words and sharing that with others.
Why did you choose your brand of poetry?
The poetry I do allows me to be free and to speak my truth as naturally as I possibly can. It took me a long while to get here; at some point, I even wanted to quit poetry altogether. I hadn't found my voice then . Poetry has also helped over the years to hear that people were able to relate to the poetry presented, thus aiding me in tailoring it to make it palatable for them.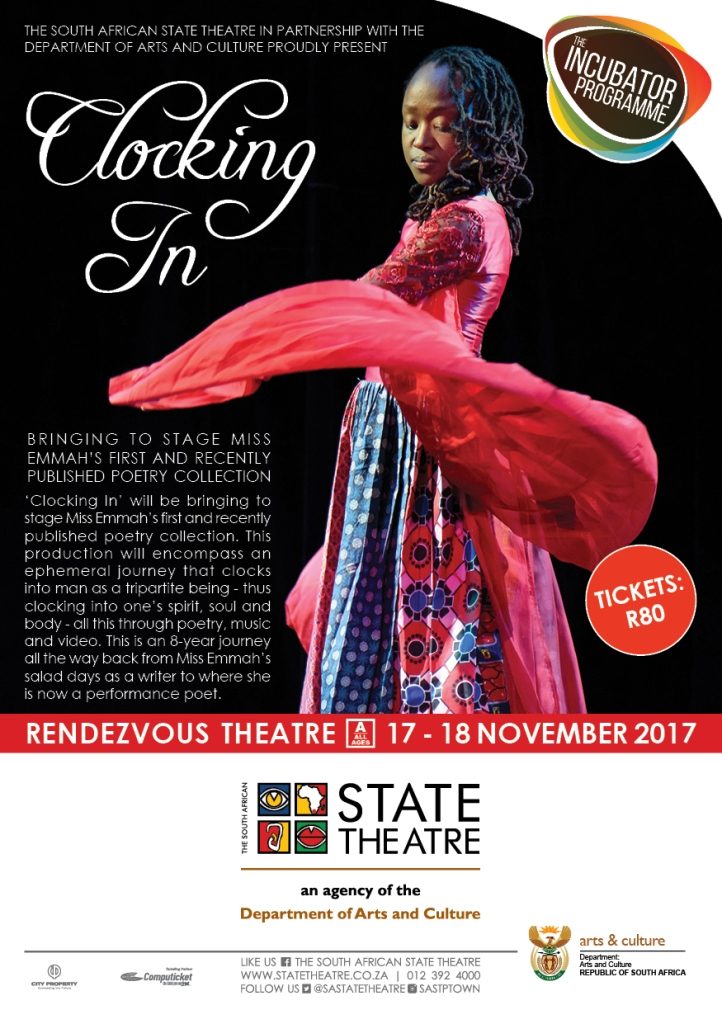 You have featured on National Television, Radio and also taken your works to schools, and performed for Presidency. What went through your mind day you performed for Presidency?
I was somehow nervous before going up on stage. When I eventually got there, I just thought of giving a good performance. It was so affirming to have the then Vice, now  President Cyril Ramaphosa comment on my poetry. I had a great sense of delayed excitement, so it only hit me afterwards that I actually shook and had a brief chat and acknowledgment from him. It certainly felt surreal. The warm reception too for my work from the various national delegates who were present made me realise how much one's work has no boundaries. But more so, how much your gift can take you places.
What prompted you to publish your much celebrated Poetry collection, "Clocking In"?
I am that artist that tends to be highly critical of herself and wanted to wait a couple of more years to be able to put my work on the market. However, a fellow self-published author encouraged me to publish the poetry collection. Mr Nkhohla believed so much in my own work and actually gave me the confidence to finally publish a book, after all these years of only performing poetry.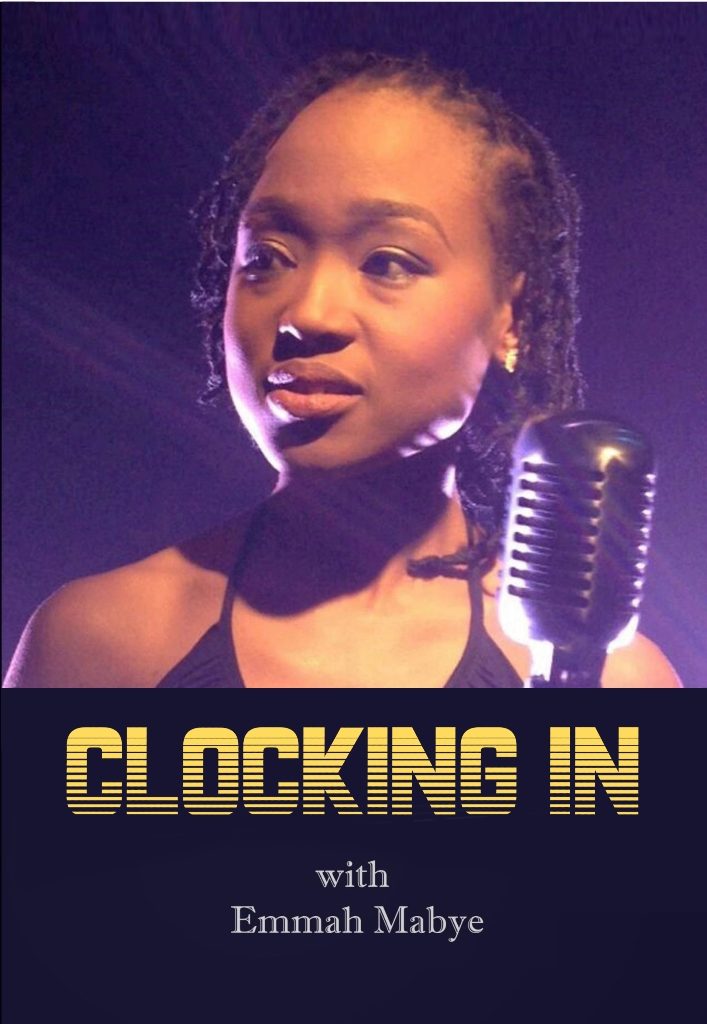 Your collection is well received in South Africa, Malawi, Zambia and Canada; do you also have your eyes on West Africa?
When I released the poetry collection ,I hadn't set my targets on any specific region of the world. I must say I really appreciate  the support given so far outside of South Africa. The book is reaching places I am yet to set foot on .I hope that through this platform there will be orders from my brothers and sisters in West Africa as well
You staged your first Theatre production in 2017 titled "Clocking In", how would you describe the production?
The Clocking In poetry production was absolutely raw, real and electrifying. It allowed me to take poems from the poetry collection and stage them in a manner that made the words come alive. Through poignant poetry, the audience is taken on a journey that is guaranteed to have them also fall in and out of love, to laugh, be angered, to cry and smile. The use of music and visual imagery is engaging and ties in perfectly to complete the journey with the audience. The Clocking In production is evidence of the power of art to create discourse, introspection of self and impact. The poetry  in its content and form  tackles everyday experiences which anyone can easily relate with. The experiences range from intimate partner violence which dominated a great part of the year 2017 and the femicide that gripped the country, to falling in and out of love, poverty, societal pressure, racism which the youth has grappled with of late, the struggle with spirituality to ultimately the affirmation of one's self worth and sense of purpose. It was so well received that I would like to have a tour of it soon.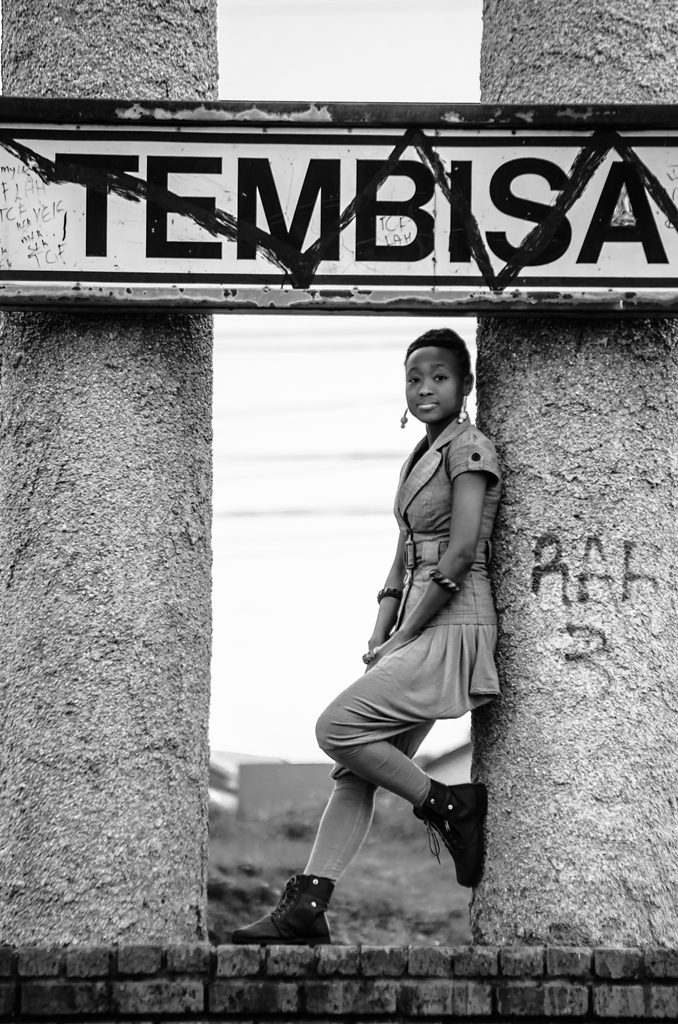 Are you planning on changing the narrative of Africa as a dark continent with your works?
I believe that we have so many young people currently changing that narrative, and I most definitely wish to also be part of those game changers. There is so much to be done with and through this art and I appreciate platforms such as this to make the world know that people like me do exist to make an impact through poetry. I strongly feel that a large part of this narrative begins with us as Africans celebrating our own, pushing our own agenda and people forward – with that much confidence. Eventually the rest of the world would have no choice but to catch up with our light.
What are you doing to groom the younger ones?
I'm extremely honoured to occasionally be invited to schools and other places where I am granted the opportunity to motivate the younger ones, not only in this art but also life in general based on my own journey.   Currently I am collaborating with an organisation known as Split Image that is hosting events and workshops that help the youth navigate the poetry space and explore their own voice. I certainly wish to do more of the above.
What works should the world expect from you in months and years ahead?
One can definitely expect more works to be produced by me in the future. I want to explore other mediums of packaging my work and I would like for my poetry to enter spaces the world could have never thought possible, especially via poetry. In the next few months, I will be staging the Clocking In poetry production in various provinces and I hope to also take it beyond the South African border.
Contacts:
Facebook: Emmah Mabye
Twitter: @EmmahMabye
Instagram: Emmah_Mabye
Email: emrhema@gmail.com