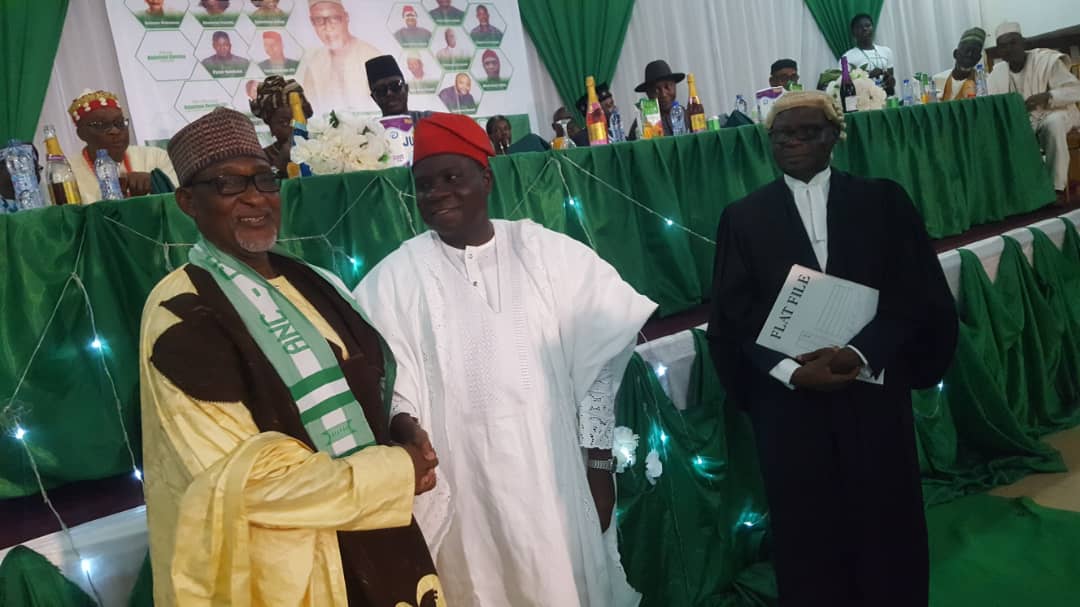 By Sunday Oyinloye
After years of distrust among Nigerians living in Ghana, Nigerian High Commissioner to Ghana, Ambassador Olufemi Michael Abikoye has finally unites the Nigerian Community in the country bringing all of them under one unified umbrella.
Before the High Commissioner was able to unite the Nigerian Community in Ghana, many preferred to associate with their ethnic groups, a situation which created suspicions in the way they relate with themselves in all areas of life.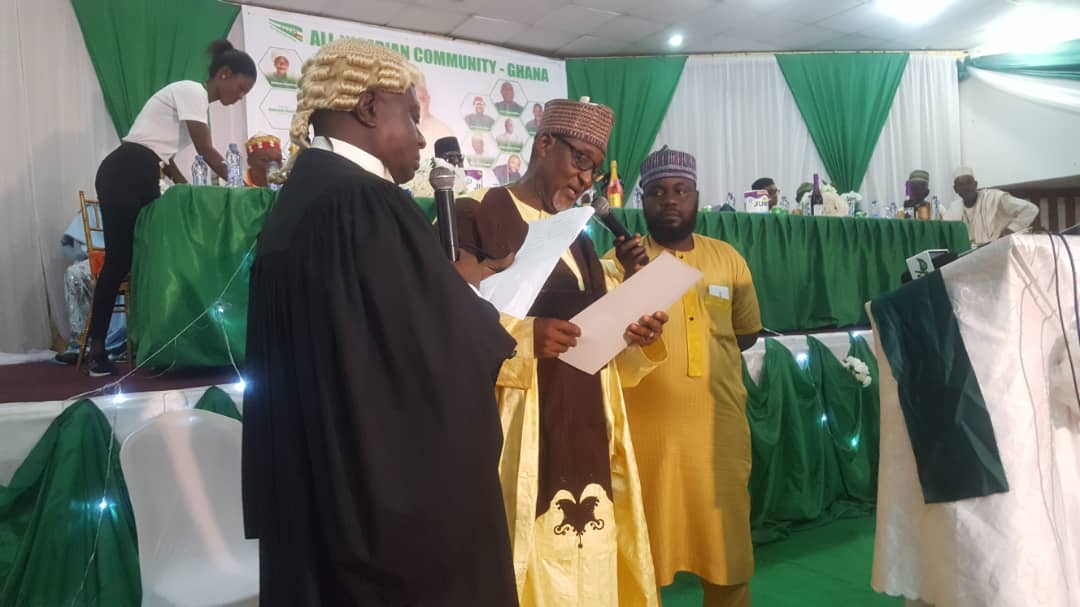 Inaugurating the All Nigerian Community (ANC) in Ghana, Ambassador Abikoye harps on unity and admonished both the Executive Committee and the larger community to see themselves as Nigerians before any other consideration.
The High Commissioner reminded them of the evil of disunity and challenged them to be united at all times.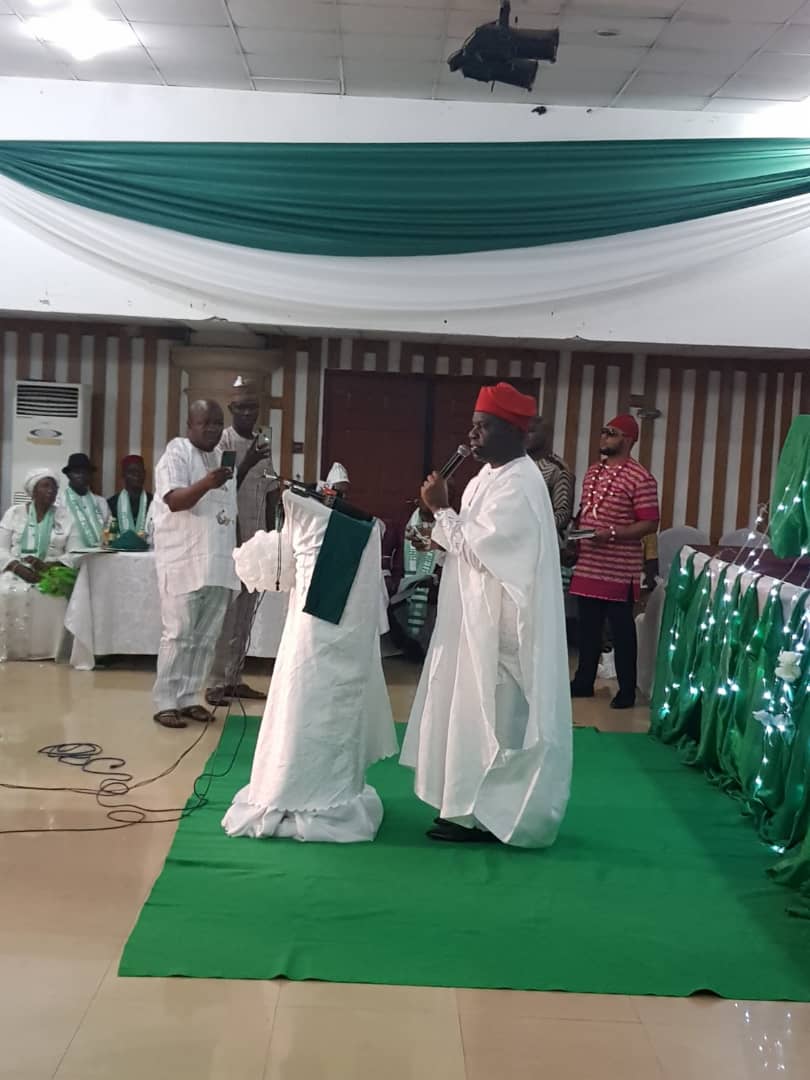 His words:  "I want you to be united and shun disunity, put all your differences behind you and open a new chapter in the annals of the community even for generations yet un-born"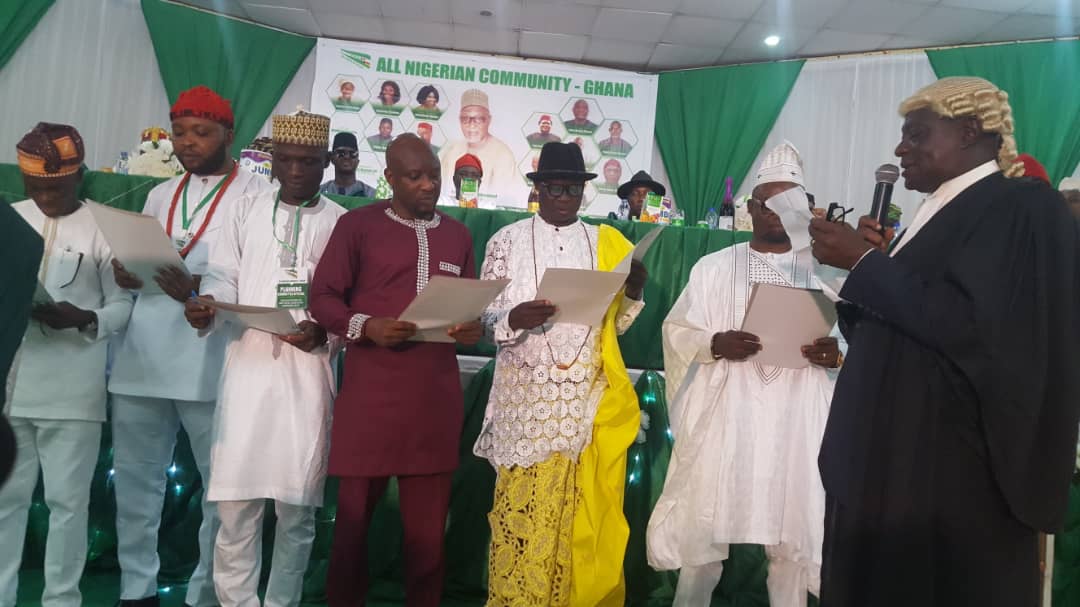 According to the High Commissioner, It is in the interest of all Nigerians in Ghana to stand as one especially in Ghana's environment that has been witnessing some form of resentment against members of the community.
In his acceptance remarks at the inauguration ceremony which was witnessed by the representative of  the  Chairman of  the Nigeria Diaspora Commission, Hon. Abike Dabiri-Erewa,  the  newly  inaugurated  Chairman of ANC,  Hon.  Salihu Alhaiji  Mohammed  commended   the  High  Commission  for  the tenacity  in  bringing  about " the  remarkable  day"  for  the  Nigerian  Community  in Ghana.
He  solicited for  the  cooperation,  patience  and  contributions  of all  and  sundry  to  make  the  objectives  of their  new  chapter a reality.
It would be recalled that When  the  High  Commissioner  resumed  office  in  Ghana  in  2017,  the  ANC  at the  time  had  been  in crisis  and  had  no  executive  team  to  drive  its  affairs,  to the  collective  disadvantage  of  Nigerians living in Ghana.
After  painstaking  negotiation and  consultation  processes,  the  High  Commission  was  able  to  conduct successful  elections  that  brought  together  individuals  drawn  from the  six  geo-political  zones  of  the  country  to  ensure  a  balanced  representation  in  the leadership.
In order to   ensure  fairness  in  the  distribution  of  leadership positions,  the  new  president  was  elected  from  the  Arewa  community, considering  that  the  previous  president  was  from  the  South-South community,  while  the  three  Vice  presidents  were  elected  from  the  Igbo, Yoruba  and  South-South  communities.
They  are  to  serve  for  a  two-year  period after  which  new  elections  will  be  conducted  and  the  next  executives  will  be elected  on regional  rotations.
It is expected that the  newly  inaugurated  executives  will  contribute  their  quota by  providing  the  needed  sacrificial  leadership  to  harness  the  Nigerian community  in  exerting  their  influence  and  projecting  a  new  positive  image of  Nigeria  to  the  host  country,  as  well  as  taking  Nigeria-Ghana  relations  to the next level.