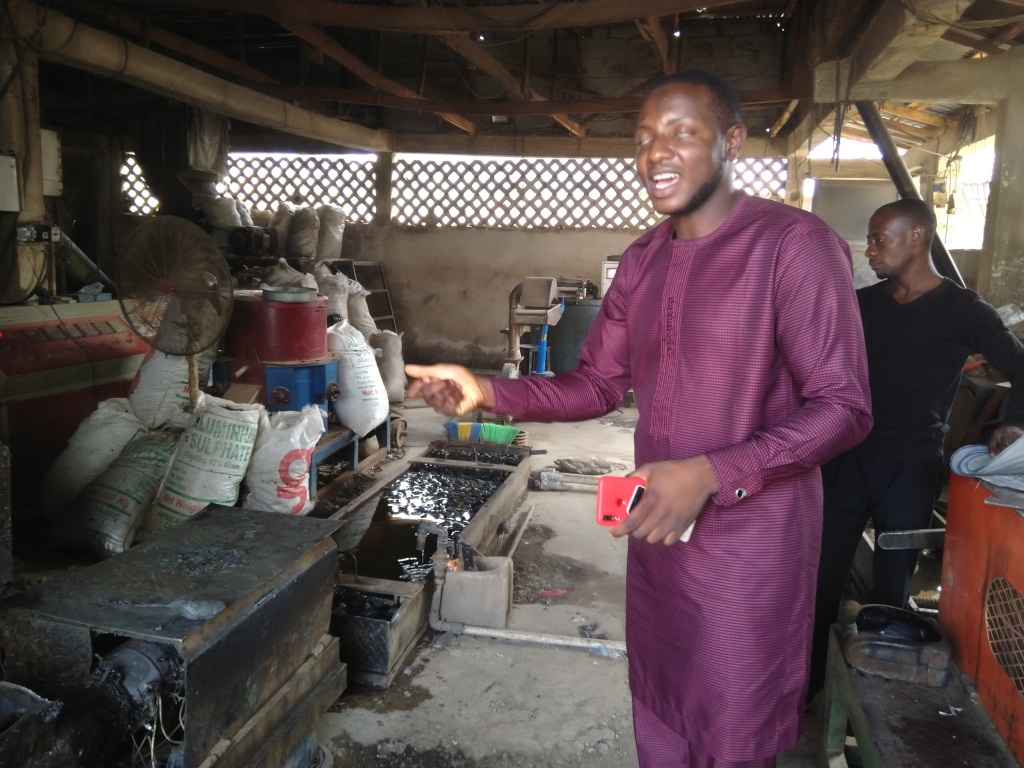 By Sunday Oyinloye
Bello Mubarak is one of the millions of Nigerians who have been contending with un-kept environment.  From Port-Harcourt in Rivers State to Kano in Kano State, Ibadan in Oyo State to Owerri in Imo State, the story is the same, pure water leather could be seen littering the streets, and hardly could you find any street where you don't see pure water leather except few areas where the rich reside. It is not only in these states that pure water leather  fly on the roads, Abuja the Federal Capital Territory and other states in Nigeria have the same challenge as if no one has the solution to this environmental problem.
The young man who read Agricultural Engineering at Bayero University, Kano and whose father is an Electrical Engineer is also one of the millions of Nigerians confronted with the challenge of corruption, specifically money for job syndrome. But as an intelligent and creative person, he chose not to buy a job in the oil and gas industry; rather, he decided to create one especially that which has great impact on the environment that has been grossly abused in his country.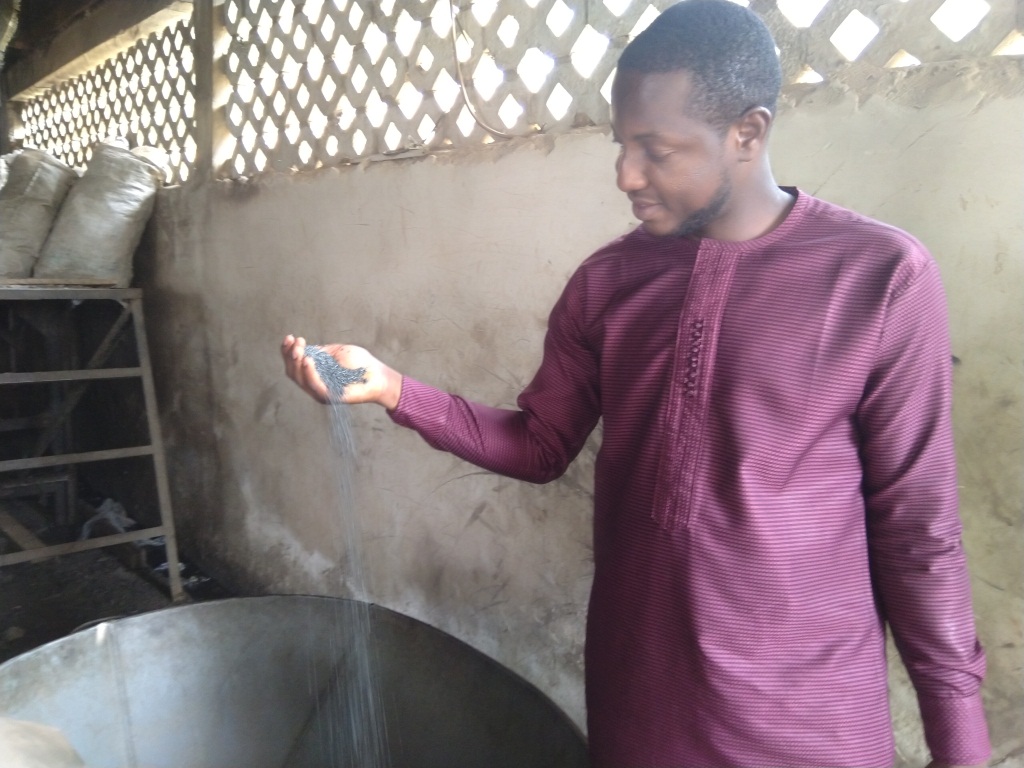 Mubarak is the founder and CEO of Munaj General Concept, a company that is into leather recycling and polythene manufacturing   at Dutse Alhaji in Abuja. His company does 90 percent recycling of pure water leather and other types of leather on the streets and dump sites. According to him, dirty leathers are brought to him from different states in the Northern part of the country and when he gets the waste, they are thoroughly washed and recycled to normal polythene raw material.
He explains the process:" We buy pure water leather and other forms of leather from scavengers and other sources, wash and recycle them to the normal polythene raw material. But the raw material will now come out as recycled raw material, not the pure raw material.  When the recycled material is in 100 percent purity, we add the pure black raw material, (original one) in a ratio of 90 to 10 and we get our polythene packaging bags."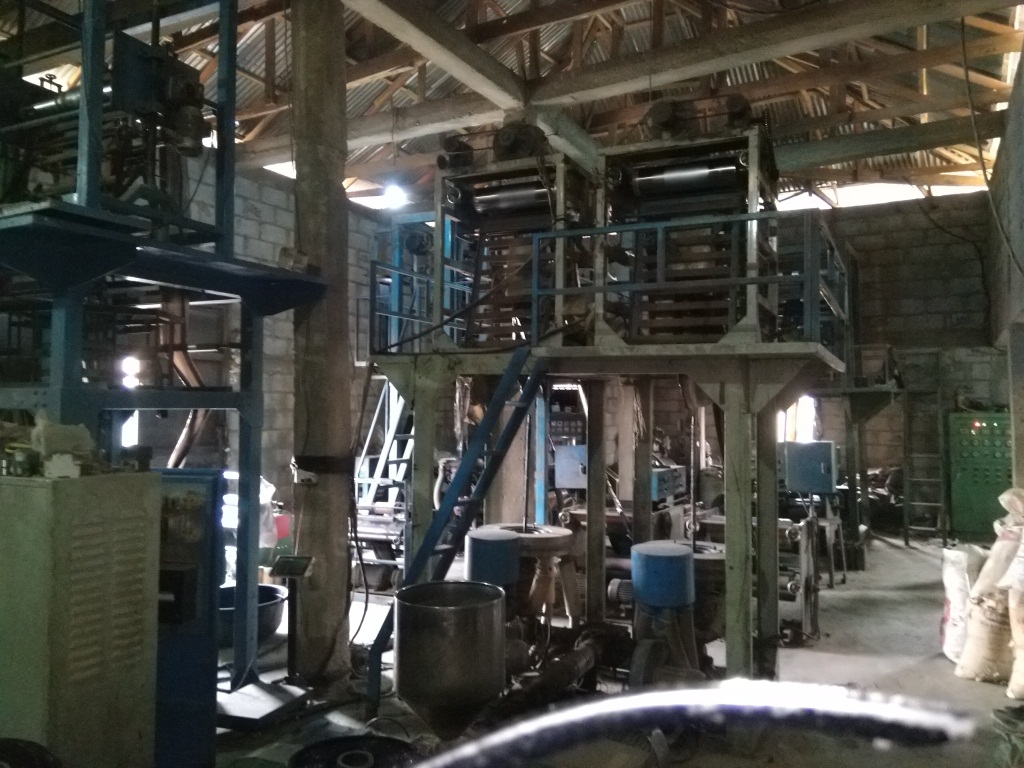 On how he got the whole idea he said: "It's an idea I nurtured right from my undergraduate level, but that time, the funds were no there. However, at a point, my father came in. He was able to collect loans from his friends and I started with N16 million, then I just had a machine which I bought second-hand. Then, we were not yet into recycling, we just tried to produce normal polythene leather. However, when the cost of production kept increasing and inflation was rising, and we couldn't bear with the cost of raw material, we started producing the raw materials from recycled leather. Let me reveal a secret to you. Right from time, I had always loved research; even my graduating project was a tomato slicing machine which is electrically powered as opposed to using knife which often injures farmers. The machine also saves time and slices tomatoes with precision. "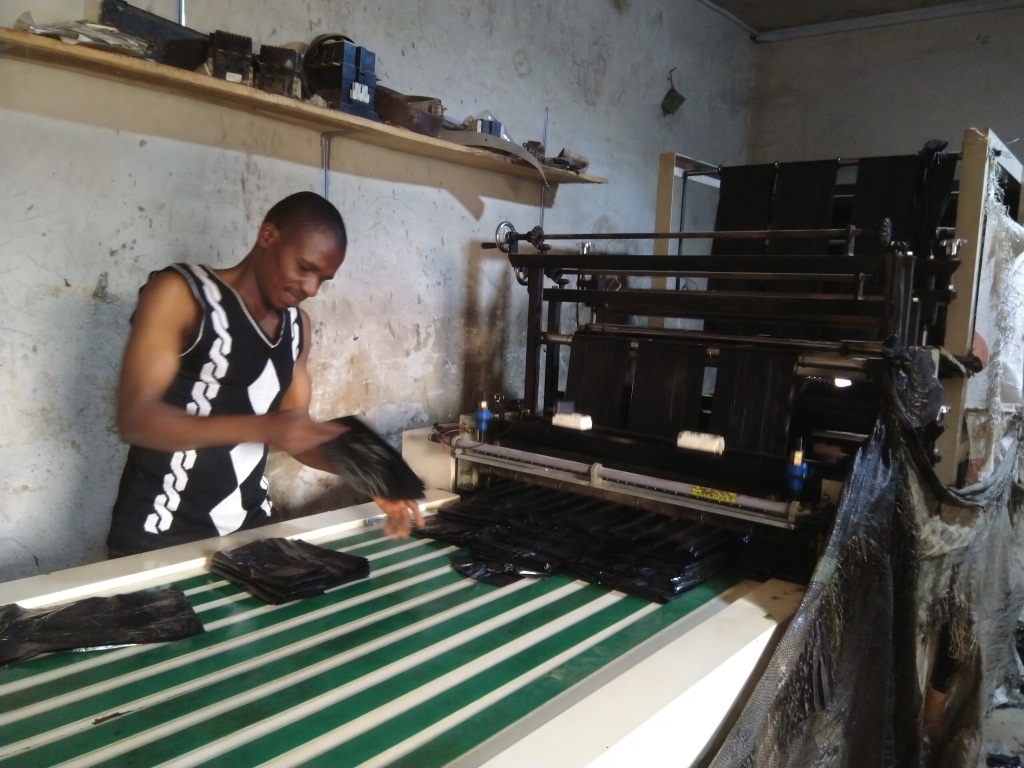 Mubarak explains the reasons for coming up with the machine: "There is generally lack of processing machines and storage facilities for peasant tomato farmers in the North who  produce the bulk of tomatoes being consumed in Nigeria. Most of these farmers have cuts on their hands in the process of cutting tomatoes for drying, so that was why I designed the automated tomato slicing machine. This is to tell you how much I love research.
"Coming back to what I'm doing now, let me share an experience with you first. I took it upon myself to apply for a job from the government, I submitted more than hundred curriculum vitae, but I was not given government job because I don't have the connection, so that gave me the tonic to think of how I can be an employer of labour. Again, seeing dumps everywhere, I said why  don't  I cut the cost of raw materials by recycling the dumps, so that was how I ventured into recycling , the dump you see out there is money, there is money everywhere if you have the eyes. When they bring dirty pure water leather and others, we clean and recycle them, no matter how dirty or oily they are."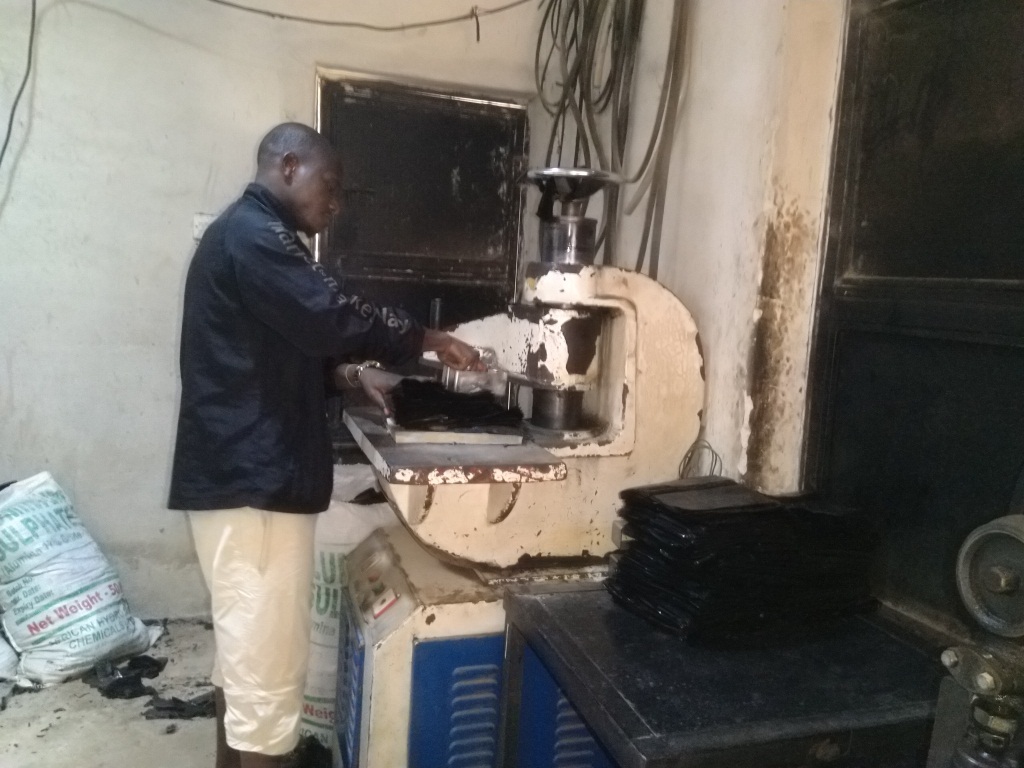 Green Savannah Diplomatic Cable asked him how he would rate a business he started in 2016 with N16 million" As at now, I can put my net worth at over N80 million''
He also revealed how he acquired some of his machines" I bought about 40 percent of the machine as second hand (used). Some companies have used them before, two of the companies that started nylon production when I started are no more producing, they sold their machines and I keyed into the ones that I felt were good for me, that was how I got some of the machine.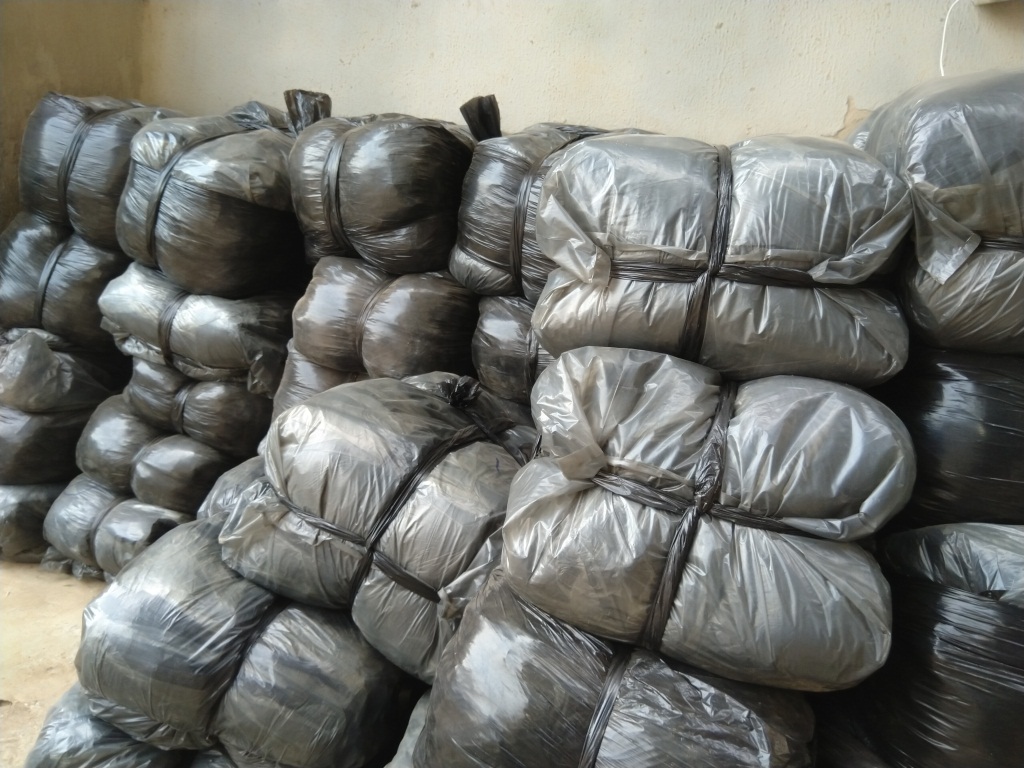 "Let me however say that it wasn't bed of roses at the initial stage; I lost N800, 000 the first month I started. For the first three months, I was not making any profit, but when the gain started coming, I was pilling up, adding more machine. From there, when recycling entered my head, I bought my first recycling machine from Kano as second-hand, I bought it for N2.5 million and I started recycling. Again, when i noticed that recycling itself needs  dry leather and not wet leather, I had to save to procure  a machine that can absorb wet leather, which I bought  from China for over N11 million in addition  to its washing machine line that  I bought  second hand here. That one is more than N2 million."
Today, Mubarak has 45 staff directly working for him and several others indirectly engaged by him. According to him, the bulk of the waste he uses comes from Kano.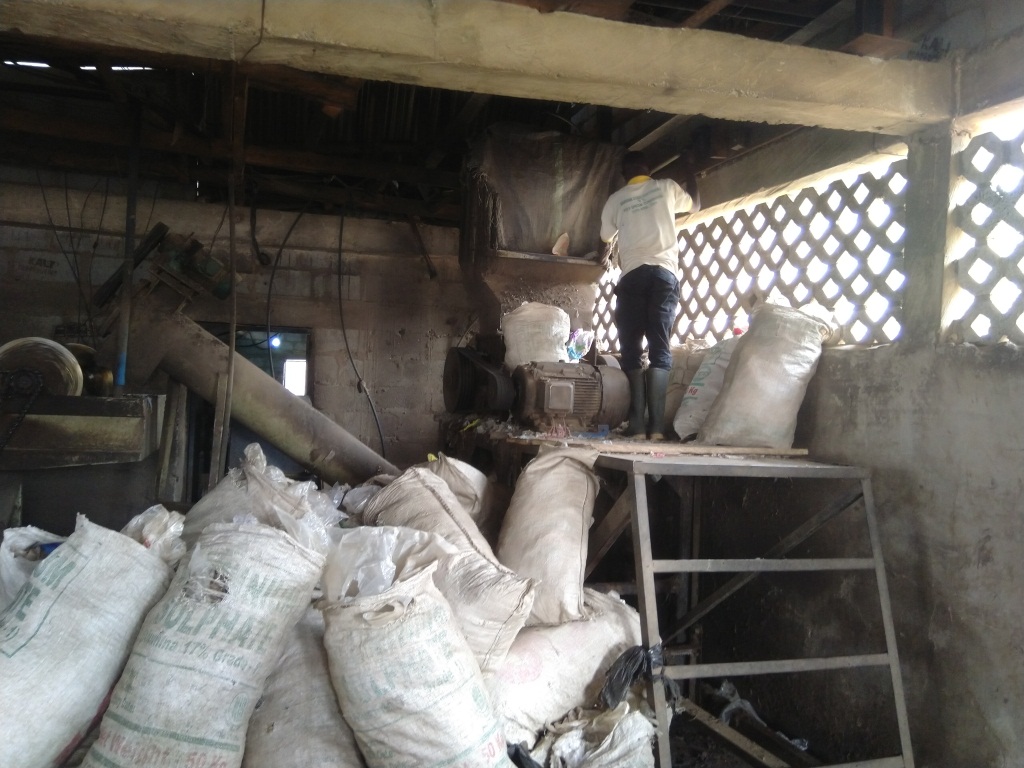 On his challenges he said: "My major challenge now is power, at times, we go one week without working. I have my transformer and my meter. They come all the way from the headquarters to check the meter from time to time, they give me my bill and I pay. At times, I pay N1.1 million a month. But, I don't really mind the tariff if power is stable"
Green Savannah Diplomatic Cable asked him why he didn't acquire a big generator to power his machines "working with diesel as at now is not favourable to the market because if we increase the price of our product, consumers will complain. All the same, I thank God that I have a good product. The customers rate me as the second best aside a Chinese company in Kano.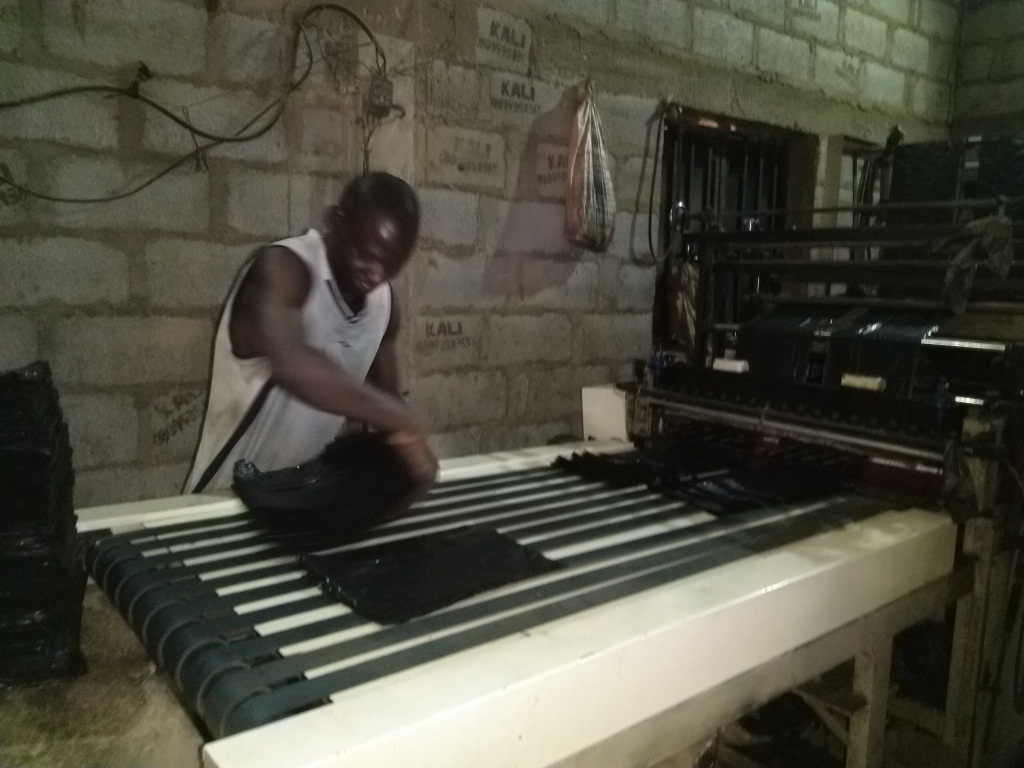 According to him, his major customers are in the Federal Capital Territory, Abuja, Kano, Nasarawa and Kogi states. He disclosed that he could hardly meet the demands of his customers who value his product so well. His words:" I gave myself a target of 25 tons every month, I'm still yet to reach 15tons because of power outages even though they claimed  that  government only  allows them to give an average of 18hours per day. But if they give me the 18 hours, I can meet the 15 tons"
We asked him how he intends to solve the problem" I am currently working on a project, though it has not materialized because I have five failures on the research. I am trying to produce free energy using electric motor, the process which you power it either through generator or through the power provided by the Power Holding Company of Nigeria. It will produce free energy using flywheel which goes to electric motor and the electric motor will return the energy back to the flywheel, in that process, I will off my generator to be powering itself, I am yet get it perfectly but very determined. If I can get it, I don't think I will have to rely on government power again. Funds is a major challenge in accompanying this research"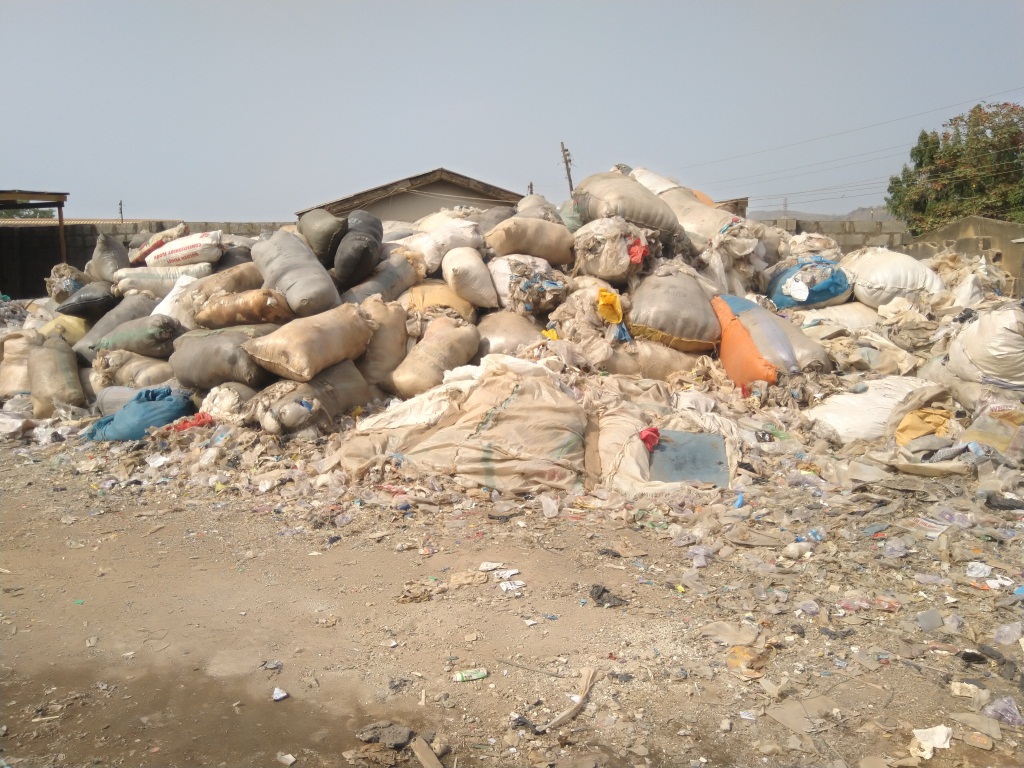 Mubarak wants the international community to support him to break more grounds as he works to make the environment better. He disclosed that with adequate funding, he has what it takes to make a great impact on the environment and create more jobs for the youth in his country.
"I came with a vision of keeping ecofriendly environment, clearing the streets of waste. As I am cleaning it, I would have loved government to come up with policies that will ease the cleaning of the environment, like keeping waste in designated places. We should do it the way of Rwanda and Singapore where you can't just dispose waste anyhow. One of my friends who recently visited Rwanda was almost in tears when he was narrating how neat the country is. I almost shed tears when he shared his experience with me.
"What is happening to my country, are we sleeping? Why can't Nigeria do something .These are people that survived genocide not too long ago, they have reunited and doing great things. What are we doing in Nigeria to make our country better and greater? He asked
Mubarak continues: "As for me, I will continue to do my best for the environment, but if there is no deliberate policy and actions to keep the environment clean by the government, the ugly circle of people dumping waste anywhere and anyhow will continue."
We asked him whether he would accept any government job now.
"No matter the pay, even if it is NNPC where I initially wanted to work, I won't accept it. Though, the President is trying his best to fight corruption, it is still deep-rooted in Nigeria. I was asked to pay to get NNPC job but I turned the offer down. I am not sure the anti-corruption agencies are capable of solving the problem of corruption in Nigeria because it has taken firm root in the country.
"My advice for Nigerian youth is that they should think of ideas and follow them up. I started with an idea and this is where the idea has taken me to, though I suffered, I had to sort out dirty pure water leather with my hands."
His dream for the next ten years "In ten years' time, I hope to see myself as the first and the best. I want to be the first to produce leather from cassava in Nigeria and Africa; I am working on that dream as we speak. I made a research and discovered that we can produce environmental friendly leather from cassava .If I can achieve the dream, I will be a happier person"
There is no doubt that this young man needs to be encouraged and supported, one because of what he's doing to protect the environment and secondly because of the passion he has for research  which might be to the benefit of his country in the future.