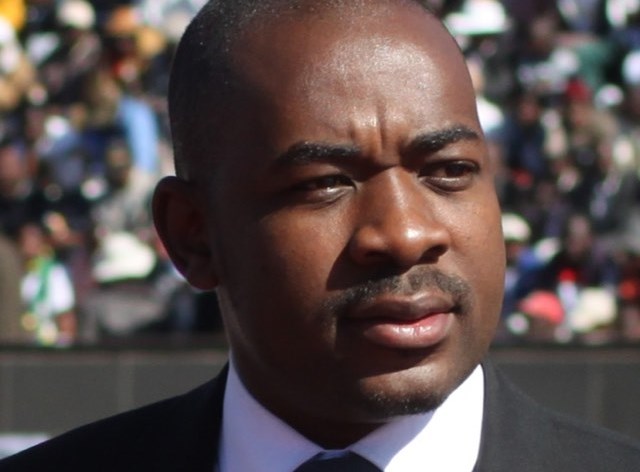 By Sunday Oyinloye
"These are extraordinary times in and for Zimbabwe. In such times, we cannot continue to do the ordinary nor can we afford to bury our heads in the sand like an ostrich. We cannot conduct public affairs in terms of the old normal when we are faced with a new normal. The new normal is abnormal".
These are the words of Zimbabwe's opposition leader and President of Movement for Democratic Change (MDC), Nelson Chamisa calling for immediate lockdown of the country "to avoid a catastrophic coronavirus pandemic".
In a statement he sent to Green Savannah Diplomatic Cable, Chamisa said: "The situation occasioned by the coronavirus is extraordinary, and it has resulted in a new and dangerous normal. Against this backdrop, our nation sadly notes the tragic death of Zororo Makamba. Our thoughts and prayers are with the Makamba family.
"Our great nation is facing a catastrophic coronavirus pandemic that is threatening the lives of the people. Although the deadly virus has not reached a spike in the number of the reported infections, we cannot afford to complacent in our efforts to stem the spread of the pandemic.
"We take note that some measures have been put in place to combat the coronavirus. Zimbabwe's development partners and civil society have complemented government measures in a commendable way.
"  While these interventions have gone quite some considerable way to address the pandemic, much more still needs to be done by all of us working together with a common purpose to raise public awareness of the coronavirus; protect the health of the people and safeguard their livelihoods."
Explaining further why there should be a lockdown the MDC President said "It has been brought to my attention that the extent of our health infrastructure is grossly inadequate to cope with the looming pandemic.
"Our Intensive Care Units are limited in number and poorly equipped. We lack Personal Protective Equipment for our health workers. Our hospitals are poorly staffed, and medicines are in short supply at our health institutions. Generally, Zimbabwe's preparedness is awfully inadequate.
"In the circumstances, it is clear that the country needs a systematic lock down to enable the adoption of drastic measures to deal with the coronavirus."
His recommendations are:
Immediately unite all Zimbabweans to fight the virus as Team Zimbabwe.
Close all borders and have detection and testing mechanisms at all our borders.
People arriving from high risk countries must go into a mandatory 21-day quarantine. Mandatory testing must then be undertaken.
Avail urgent support for nurses and doctors who are already working long hours with little support. Tools for trade for our frontline healthcare workers and other care givers.
Limit number of passengers in buses, ban all standing and order all public transport vehicles to have hand sanitizers.
Equip and designate hospitals in all the provinces to handle coronavirus patients
Discourage all gatherings other than funerals.
Call upon Mobile Network Operators and Internet service providers to assist by availing cheaper data and sms charges for effective information dissemination. Online platforms should be utilized optimally to enhance effectiveness of social distancing
We call on government to consider tax rebates and waive duties to enable Philanthropists to bring in protective clothing, hand sanitizers, ventilators and other critical equipment and supplies.
Government must provide masks, gloves and sanitizers at subsidized prices and provide these for free where possible.
Issue special incentives to enable corporates and well-wishers to provide water and other necessities to the poor and vulnerable.
All employees that can work from home and in isolation must be allowed to do so,especially those in non-essential services.
Open more well-equipped testing and quarantine zones.
Have central government allocating foreign currency to local authorities for purposes of water treatment and provision in all the residential areas.
His words: "In addition to all the above, we must reorganize government and state organs to ensure that they are organized effectively to respond to the crisis. We must with immediate effect implement the following:
Refocus arms of government and departments into a business unusual mode and into an emergency mode. Our men and women in uniform must be in an active mode to do what they know best in their civilian obligations.
Reorganize capacity to detect, test, track, isolate quarantine and treat the disease.
Engage the Private sector and business to do more in fighting the pandemic, including setting up an emergency response fund.
Have an Independent fund and Budget reallocations to pool resources and redeploy them to fight the pandemic.
Mobilise Food handouts to vulnerable members of our society who are facing food shortages who will be affected by a lock down.
Small businesses and Vendors need a special support mechanism to prevent collapse
Constant information and communication through media briefings daily.
Given the" parlous" state of the economy of Zimbabwe and in particular the scarcity of resources, Chamisa  appeals  to churches, civil society and the international community to assist this collective endeavour with all the necessary support to deal with this pandemic.
He calls on our faith leaders and the whole nation to unite in prayer "as we fight against the coronavirus pandemic."