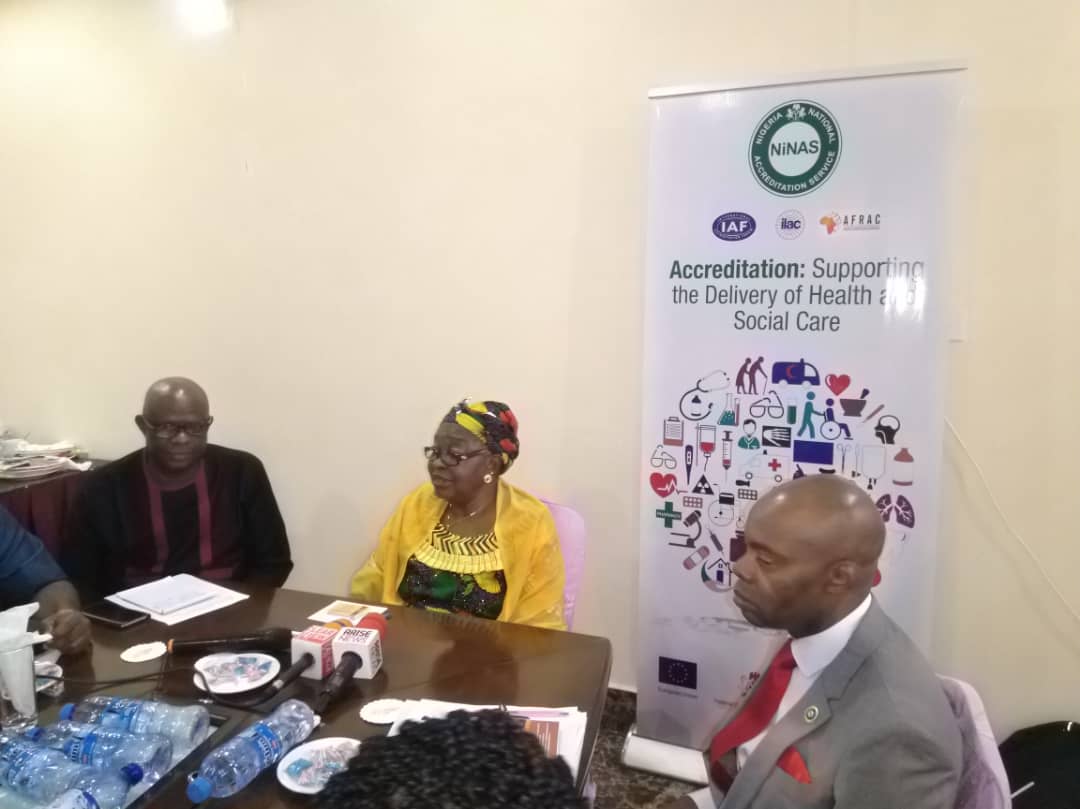 By Sunday Oyinloye
A solid foundation for quality culture was further laid in Nigeria during the week with the inauguration of the board of Nigeria National Accreditation System (NiNAS) in Abuja the Federal Capital Territory.
NiNAS was established as a key component of the National Quality Infrastructure Project (NQIP) for Nigeria. It provides cost-effective accreditation services that are easily accessible by organisations operating both in Nigeria and in the West Africa region. Apart from accreditation, NiNAS also provides training in ISO standards.
Shortly after inauguration, the Board Chairperson, Hajiya Aliyu Saratu said she would give her best for NiNAS against the background of what the organization stands for and the hard work of some people that led to its creation which made the inauguration of the board possible.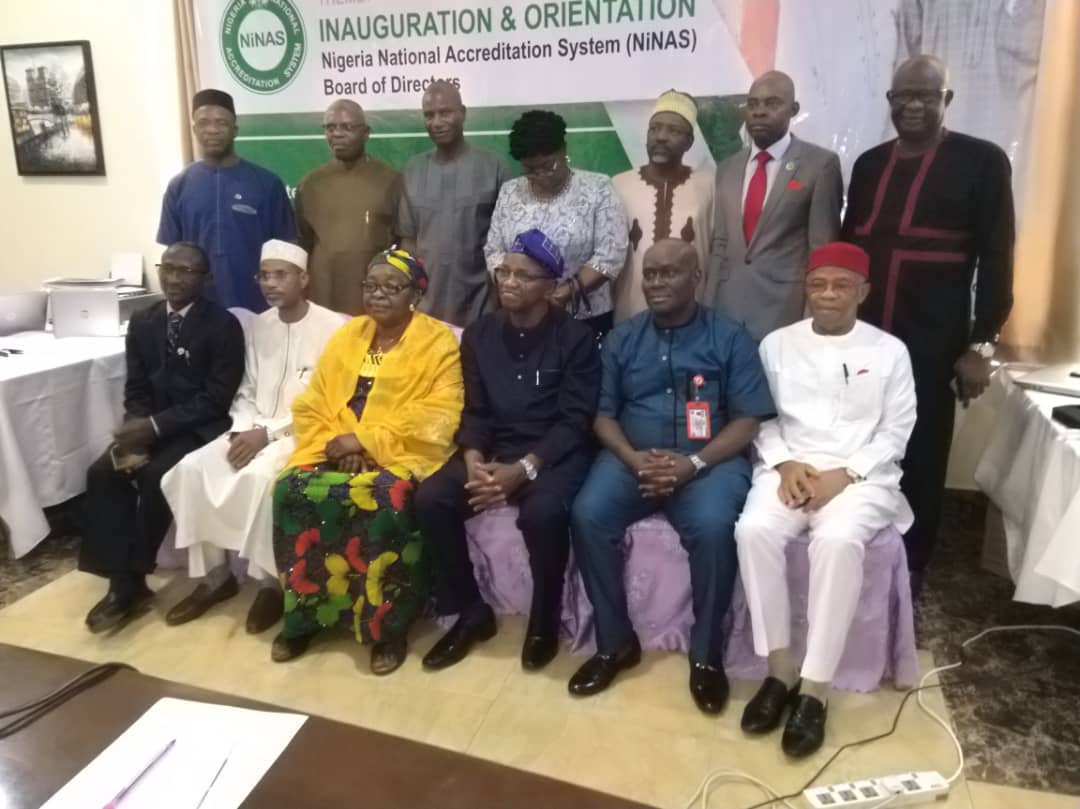 "I will do everything within my power with the cooperation of my members to see that we move the organization forward. Accreditation is something that is very important, I know this, and therefore, we shall work as a team to achieve our set goals. With NiNAS accrediting organisations, it will make the standard of everything we do in Nigeria to improve and the rest of the world will recognize us.
"We want to look far ahead with African Continental Free Trade coming, we need to be sure that we have a very good structure in place for us to work effectively to gain from the proceeds of African Continental Free Trade Area Agreement." She said.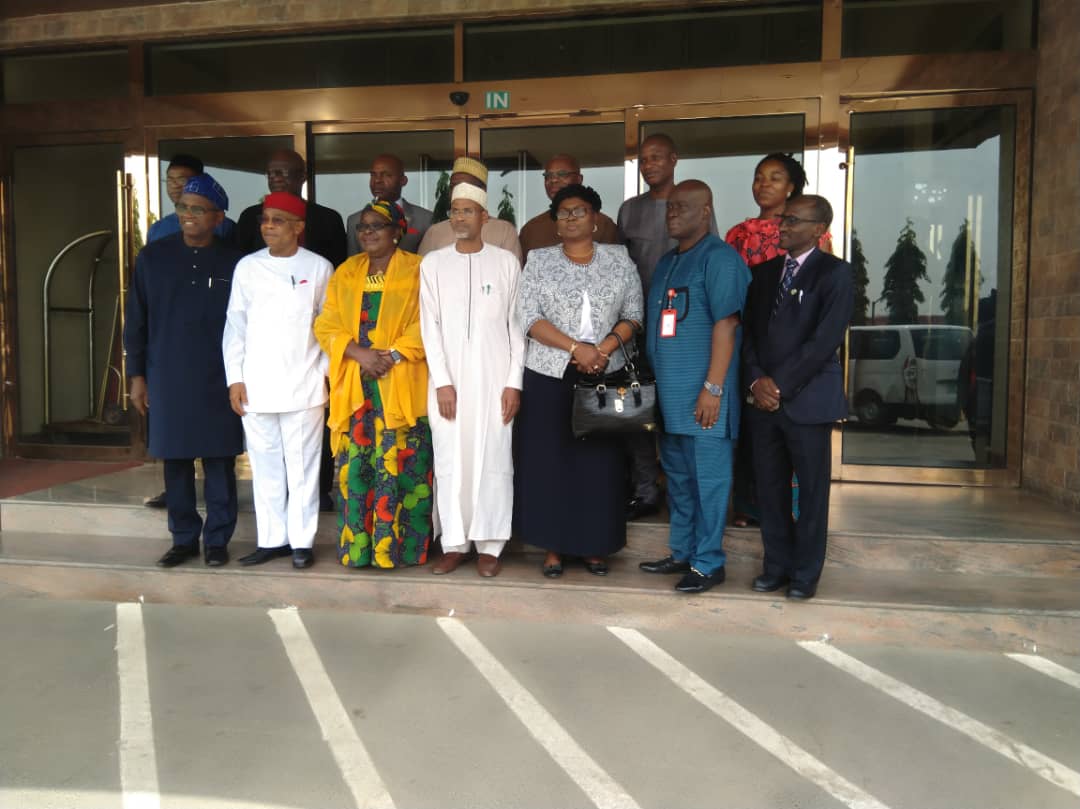 Speaking further, Saratu stressed the need to project NiNAS  so that more Nigerians could know what the organization is  doing,adding" We are going to have massive publicity in  print and electronic media to let everyone know what we are doing and how it is beneficial to them and the country as a whole, this is also to help organisations to be sure that they are doing the correct things, so we are going to give the desired publicity to NiNAS."
On his part, the Director-General and Chief Executive of NiNAS Celestine Okanya said NiNAS  has been on two  years busy journey adding" today we are migrating from a former board to a new board."
He disclosed why NiNAS had to form a new board "this is to include more stakeholders, that is why you see almost all the important agencies in the country on the new board, the private sector is also represented on the board, it has been a very important journey of quality for Nigeria because, within the past two years, NiNAS has achieved the two major points in accreditation that every country wants to achieve. Number one, we achieved the Associate membership of International Laboratory Accreditation Cooperation in  2018 and just on the 28th of February this year, NiNAS achieved the full membership of International Accreditation Forum. With these two membership achievements, we can now provide services in all the scopes that we chose to."
He, however, revealed that the  new board will be faced with a couple of challenges, "one would be to ensure that NiNAS  become more sustainable financially, the second  is for them to assist the government of Nigeria to actually place NiNAS where it should be on the structure of the government."
Celestine explains the reasons behind accreditation "the reason why we are doing accreditation is not for the government or organizations, but for consumers, without accreditation, we cannot guarantee the quality of everything we consume. For instance ,SON and others are doing good jobs, but when SON sets a standard, they needed companies to follow the standards, for companies to comply with the standards, they have to follow what the standards says, you need an independent body to provide evidence that they are following what  they say so accreditation is about ensuring that the standards set  are implemented to letter, so if accreditation is not in a country, you cannot guarantee what the standard bodies do, because those who give certificates, how are you sure that they are issuing certificates properly, somebody needs to check them and see whether, they are just sitting down writing the certificates, so that is what accreditations do. Ours as accreditation body is to provide trust and confidence for the consumers. In some countries, they described accreditation as checkers of the checkers, we check the checkers." he said.
The new board members are: Chairman, Hajiya Aliyu Saratu representing NACCIMA, Vice Chairman Dr. Nwachukwu Charles representing NAFDAC and  Adamu Dahiru representing IPAN. Others are: Prof. Goodwill Ofunne representing FISAS, Engr.  Yahaya  Ahmed Bukar  and Timothy Abner representing SON, Dr. Frank Jacobs; MAN, Mrs.Akeju Mopelola:  FCCPC,Dr. Tosan Erhabor; MLSCN, Agboade Orimadegun; NASME, Salka D.B.; NESREA, Celestine Okanya; NINAS and Ibrahim Abubakar Isah; FMITI.