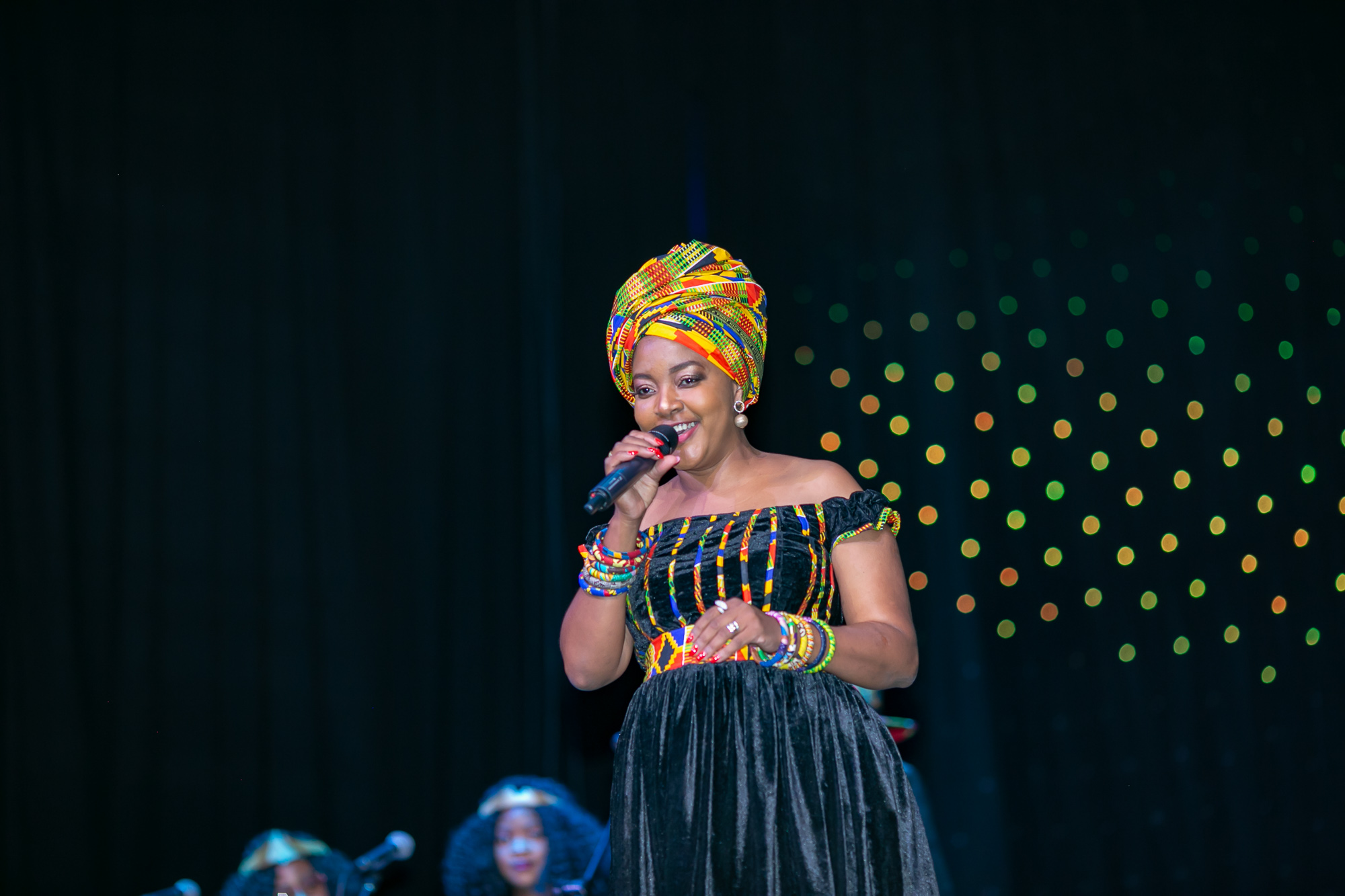 Angela Nyirenda was born in Chipata, Eastern Province of Zambia. Early in life, she was popular as a dancer even with her great talent in music which she later developed. Seeking to make a career in music, she moved to Lusaka the capital city of Zambia, where by providence, she met the Sakala Brothers who guided her steps and helped her to start her career. In 2004, with Moses Sakala as her producer, manager and main songwriter; Angela released the album 'Malo Abwino'. It was an unprecedented blockbuster, resulting in hit songs and a nationwide tour. 'Malo Abwino established Angela's musical style, combining traditional songs of tribes across Zambia with original compositions, including the title track, which was originally penned by her mother. It also established her as a fashion icon with her long trademark African print dresses and skirts, and tied headgear. Subsequent albums, 'Ngoma' (2006), 'Zambian Girls' (2010) and 'Salary' (2015) continued that legacy and contributed to the re-emergence of traditional music styles such as kalindula and mantyantya, and their accompanying dances. In her flourishing career, she was privileged to share stage with Tshala Muana, Miriam Makeba and the Sakala Brothers. Angela has also performed at concerts in some African countries and Europe. Through dint of hard work, Angela became one of the most successful female artists in Zambian history. Like the experience of many famous singers, she has seen good and bad times in her career. At a point she became a household name in Zambia, a negative story in the media almost destroyed her career as Angela tells Sunday Oyinloye, Publisher, Green Savannah Diplomatic Cable in this exclusive interview
Excerpts: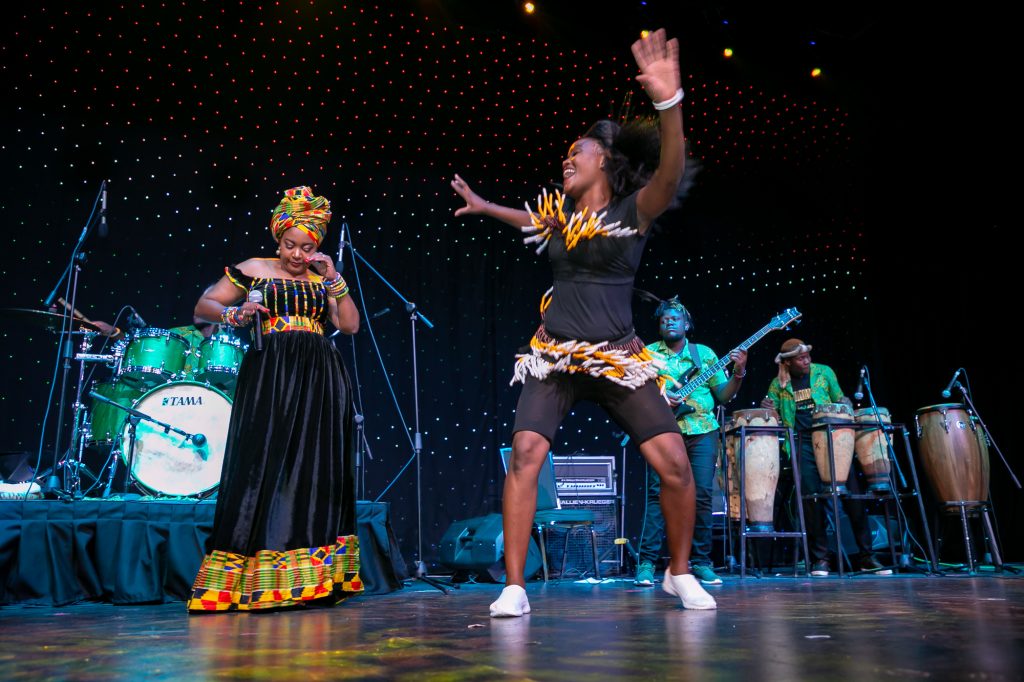 Why did you decide to be a singer?
I don't know where to start from because far way back when I was in primary school, I used to dance a lot. I enjoyed music, so that could be responsible. I was fond of dancing at home; I could dance in front of everyone at home including my father without feeling shy. At times, my dad would throw some coins at me to appreciate my dance steps. My family was so supportive of my talent. When I was in Grade 7, a musician who was a friend to the family asked me what I wanted to become after my school and I told him I wanted to become a musician. I said if I don't become a musician, I will be a journalist. When I was in Grade 10 in secondary school, I started writing songs; just combining from different artists. So, I began to develop more interest in music. At a stage, I wanted to take music as a career my mother reminded me that we live hundreds of kilometres away from Lusaka. .According to her, I could only pursue music if I meet those who are already established in the industry. She said since I was interested in traditional music, why didn't I meet with Sakala brothers? I told her that was a difficult one, but she said I never knew what fate had in stock for me. Later, someone like a sister who used to come to our house began to back me any time I was singing and then one day, that sister asked me whether I wanted to take singing as a career and I said yes. Interestingly, she said she would also like to be a professional singer. Later, we moved to Lusaka. When we got to Lusaka, we both agreed that we should do something like a flyer to appeal to people to contribute money for us to record an album without even knowing how to do it. We started walking round as early as 8am, but couldn't get contributions. People were turning us down. When we became tired, we decided to sit on a bench at the Post Office. Then Cecilia my friend saw her male friend that she had not seen for a long time. The guy was surprised to see us and asked what we were doing there; we showed him our flyer for contribution. As at that time, we got only 5 Kwacha (less than one dollar) from just one person from morning until 3pm when we saw the guy. He said we supposed to look for people in the industry instead of looking for contributions .The guy said you can ask people like those who are standing there (pointing to Sakala Brothers). Like a dream, he took us to them and introduced us that we wanted to take up music as career. Interestingly, he never knew them personally. They thought he was a boyfriend to one of us and they were impressed that a boyfriend could be so committed to building a career for his girlfriend; they gave us appointment for audition. That was how I started. We started backing them. But let me say that my mom was so supportive.
What informs your brand of music?
The type of music that I do is called Makewana . It was created by Sakala Brothers. What I sing is traditional rhythm which reflects the culture and tradition of the ten provinces of Zambia.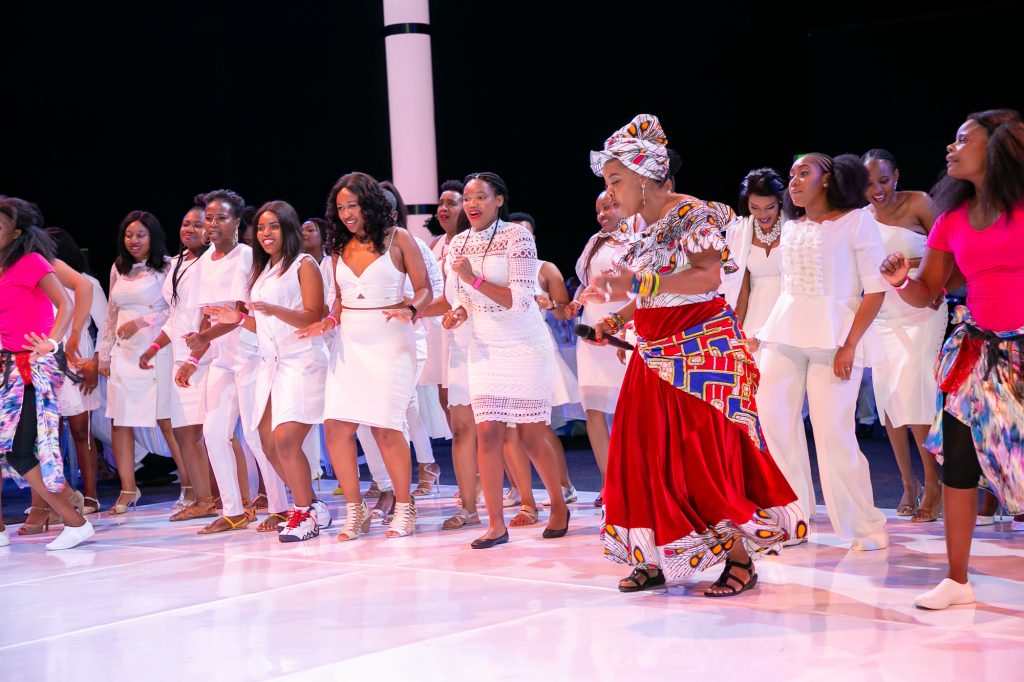 And what makes you different from other singers in Zambia?
One of it is my dress code. My music talks about our tradition and culture, it's so matured that it covers all ages. When my Manager, Moses Sakala who is also my husband asked me what would be my dress code, I told him a long dress because I didn't want anything that would make me uncomfortable . I also told him that my dress has to match my kind of music. That made a lot of people to like me .They even named my dress code "Angela Nyirenda dress ". When ladies go to their tailors, they would say they want Angela Nyirenda style. Another thing that makes me unique is that I have maintained the type of music.
How did you earn the title of Eastern Princess from your fans?
I don't know. It might be because I come from Eastern Province that my fans decided to crown me as their princess. Interestingly, my fans didn't know that my late father was a chief in a small village. I am actually a princess. Although, my father was not there in the village, he worked in a company called Eastern Province Cooperative Union where he was a Manager. He was living in town but he used to head a village.
Some of your fans also see you as a beautiful woman, how are you handling pressure from men who might want to ask you out?
I thank my fans for making me feel so special. In as much as we appreciate the physical appearance, the inner beauty is more important because it stands the test of time. Personally, I will say the inner beauty is what I respect most because regardless of how old you are, you will still look beautiful if you have inner beauty. As regards pressure from men, it's normal. Ladies with beautiful physical appearance are probably more visible and vulnerable. When you are even a public figure and people have told you that you are beautiful, it becomes a huge responsibility for you to handle, especially here in Africa, it's a challenge. Some rich men will want to take advantage, so it's up to you to be self-disciplined.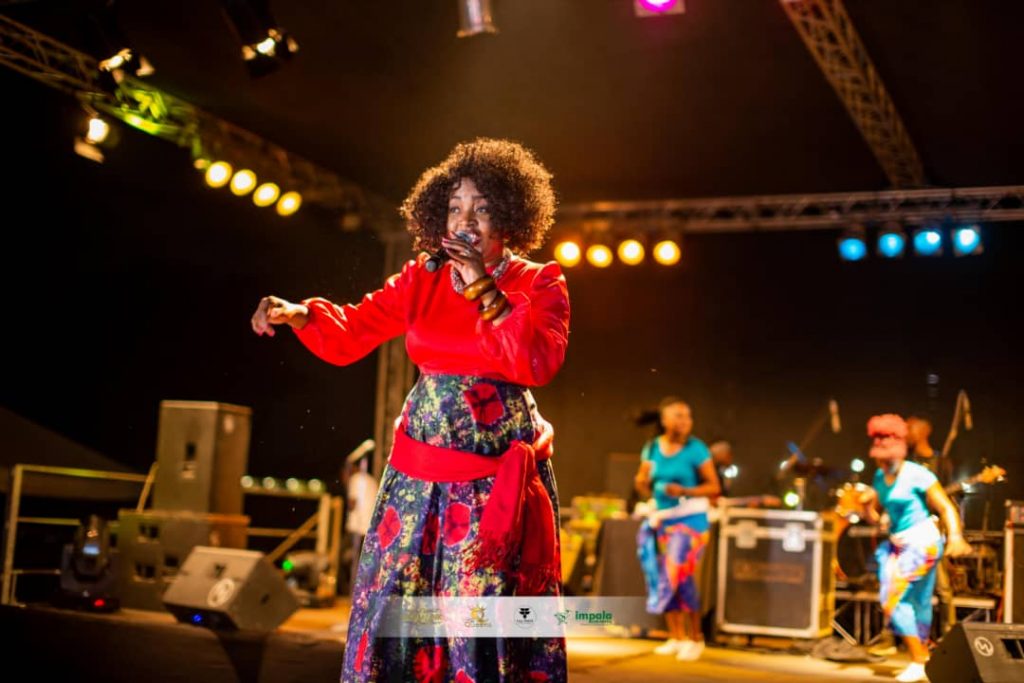 I am asking specifically, do you have pressure from men?
Yes, I do .Especially when I started music. You find some men wanting to make a name from you, that I am the first person to go out with that singer. But I knew and still know how to handle that. For me, I want to be happy in this career, and I'm here for good. So, if I become careless, how long will I survive in the industry?
Do you see yourself dominating African music someday?
That is certainly the dream of every musician. I want to work very hard so that my music could impact more lives within and outside the continent. My dream is also to see more Zambian women and indeed female artists in Africa sing songs that promote our tradition and culture. We have to be proud of where we come from. If we promote our tradition and culture through music, it will attract Africa to the rest of the world .That will attract tourists into the continent.
It's common to see female artists in Africa getting married to their managers or producers, what is responsible for that trend?
It's not only in Africa that artists are getting married to their producers and managers; there are many artists in other continents that are doing the same thing. For example Celine Dion was married to her manager and many others. The demand that comes with music is probably responsible for that. It's not easy to find a spouse who shares the same passion with you. Music is so demanding; sometimes, you are away from home from your family, some men cannot take that but if you are in the same field with your husband, it will be easy to resolve issues.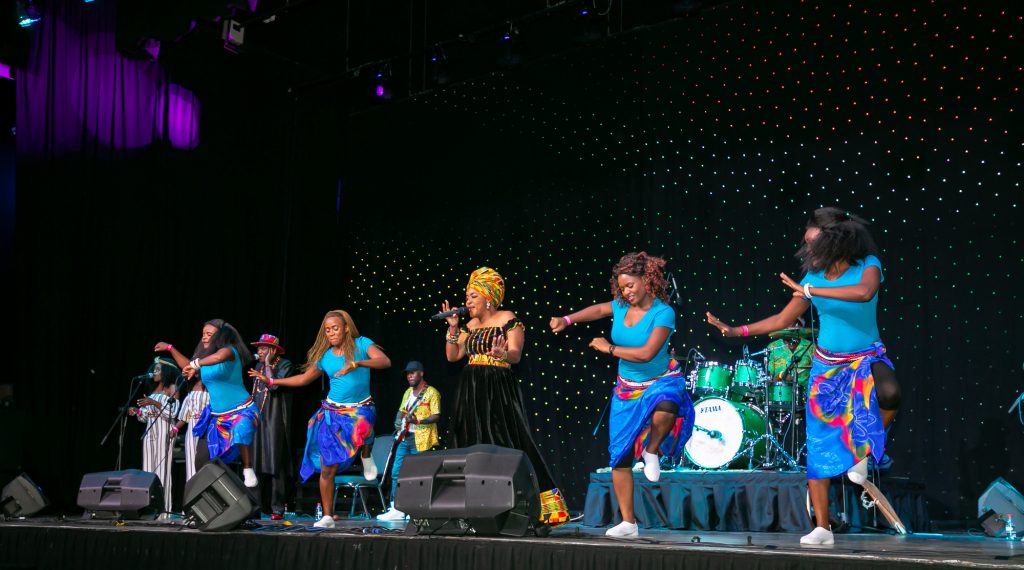 But that sounds like male managers and producers taking advantage of their artists.
I have heard of some who do that. Those types of managers will not even stick to one person in a group; they want to deal with more than one lady. However, there is nothing wrong in a singer marrying her producer or manager provided he is the serious type and they are really in love with each other. In that case, they will understand each other and support themselves. I am aware that that some managers or producers might want to take advantage of talented female artists who probably need help, but this does not apply to everybody.
You are one of the most successful female artists in Zambian history, what are your thoughts about wealth and fame?
About fame, I never made myself popular; it is the people that made me popular. I owe this fame to them and I am so thankful for their support and for believing in me. I assume you are talking about material wealth. If it's about that people never get satisfied with material wealth. You can have millions but the more you have, the more you want. I am not carried away by material wealth, because when it gets into your head, you will never be satisfied.
What would you consider the turning point in your life?
It's something a little bit controversial. And let me say that for the first time in my life, I felt so traumatized .My first album was a story which was actually written by my mom. It talks about the beauty of nature. When I took the song to my manager, he suggested that we should add a love story to it. Luckily, when the album was released, it was number one hit in Zambia. We had a very big launch. As at that time, my husband had just come out of a divorce. He was married and he divorced, so when I met him he had actually come out of that divorce. We met we talked about music. When my album was a hit and everyone was talking about it, suddenly, I woke up to a rude shock. It was reported on the front page of newspaper that Angela Nyirenda drives away husband from wife. I was shocked and traumatized
You were accused of snatching another woman's husband, did you do that?
It was so socking to me. They divorced when I was not even there. He was a free person by the time we started going out. Some people started analyzing it from different angles, particularly those who wanted to bring me down because they didn't like the idea that a female artist came from nowhere to become a star within a short time. Some of them were feasting on the issue and blew it out of proportion. It was so bad that some companies started to cancel shows where I was billed to appear because of the unfortunate misinformation. I almost lost my career. It was so terrible that I began to wonder whether I would ever sing again.
How did you come out of the controversy?
The healing process was so painful. Some people don't want to see me with my husband at all despite the fact that we worked together. People were not happy about our success. Thank God some people started calling again. Those who believed in my talent said whatever it is, they don't care. I got some encouragement from my in-laws as well. They told me to be strong and forge ahead. Thank God that I came out of it. I guess it was a price I had to pay for being a public figure. At a point, people started to put one and one together, asking why a few people were so bitter about my progress in music.
What should your fans expect from you in the coming months?
I am working on a new project which will be released any moment from now. I am also involved in dance lessons and counseling. In addition to that, I am interested in traditional recipes. At times, when I look at young people growing up I fear that we might forget about our local recipes, therefore, I am floating a restaurant for traditional foods.
Would you want to capture the most remarkable moment of your life?
I will say the lunch of my first album which was held at a big musical venue. We had thousands of people who had already entered the venue before we started the function and it was filled to capacity. Interestingly, those who were outside were more than those inside. Being my first album we never envisaged that large number of people, there was traffic jam. I was so scared that such a huge crowd came to watch me .For a long time, there wasn't a female singer that had released such a good album that would appeal to most people. The other moment was when I shared the same stage with Tshala Muana. I also had the privilege of meeting Miriam Makeba at State House. The First Lady, wife of the late President invited us (a few musicians) to meet her at State House. That was a privilege to me. Another thing I want to appreciate God for is me coming from a small town only to find myself performing at international stages where people appreciate my music when they don't even understand my language.
What do you owe your fans?
I am always indebted to my fans because I love them. I want to tell them again that I love them. I want to thank them for their endless support because they made me who I am today. I appreciate them because they have been mounting pressure on me to do a new album and they are part the inspiration for my upcoming album. So my fans are the best.
Are you looking forward to European or American tour any time soon?
Tours are always important in our career. I have performed in some countries in Europe and Africa. Now, I want to go to countries like Canada, Brazil, China, and India. I will also like to come and perform in Nigeria.