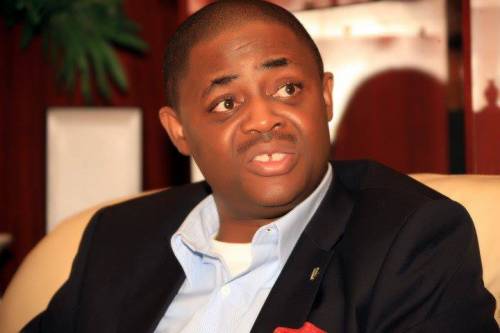 By Sunday Oyinloye
He parades himself as a wealthy man, but fails to add that wealth is not the same thing as wisdom, he calls himself a former Minister, yes he was a Minister, but he didn't tell the world that a " stupid"  man can be appointed a Minister in Nigeria. The man speaks good English; again, the ability to speak a language fluently is not a guarantee for words of wisdom.
Like the Netherlands weather, you cannot predict his next move, and like a chameleon, he not only changes "colour" he destroys his foes with his sharp tongue while the real chameleon uses its sharp claws. Perhaps, the only thing you can predict about him is careless talks. Don't ask me whether you can learn from his many words.
Most times, arrogance is written on his face as the Yorubas in the South West part of Nigeria would say. This politician has insulted many within and outside the government without any measure of decorum.  He referred to himself as a wealthy and experienced politician, but called a journalist a" stupid "man.
Welcome to the world of former Nigerian Aviation Minister, Femi Fani-Kayode, a politician who prides himself as the son of a wealthy man, but who also forgot to tell the world that riches without good manners means nothing ,at least in the part of Nigeria where he comes from.
In a video that has gone viral, Femi could be seen insulting Daily Trust Newspaper Cross River State's Correspondent, Eyo Charles for asking him who bankrolled his tour of projects in some states.
The former Minister called Eyo names and boasted of his wealth, connection, status and further threatened the young man.
Listen to Femi Fani-Kayode " I am saying this on live TV, what type of stupid question is that, bankrolling who, do you know who you are talking to, what type of insulting question is that, who can give me money for anything, who do you think you are talking to, go and report yourself to your publisher?
"I don't want to take any questions from this man, very stupid, I could see from your face before you got here how stupid you are, don't ever talk to me like that, whom do you think you are talking to, you have a small mind, very small mind, don't judge me by your own standard. I have been in politics since 1990. I am not one of those politicians you follow for brown envelopes; don't ever judge me by that standard.
"I spend, I don't take and I am not a poor man, I have never been and I will never be, don't you ever make that type of suggestion, bankrolling who, a former minister, a lawyer, don't ever try that again with me, see me well, don't ever try it and if you do, I will hit you hard. And if anybody sent you to ask that question and gave you brown envelope, go and tell them, you got more than they bargained for, very rude, it's not the standard of Daily Trust at all, and I will report you to your publisher, very stupid"
From his facial expression and the way he was bragging, one could clearly see that it is not all politicians in Nigeria that are honorable. He mentioned the word "stupid" four times and I was forced to go and check the meaning of the word again in the dictionary as if I do not know. The word stupid means lack of intelligence or common sense. Is it not an irony that a man who claims to be everything and sensible would invite a "stupid" man for his press conference?
Sadly, while he was busy abusing the journalist the way a typical Nigerian motor mechanic would abuse his apprentice, my collogue was standing saying sorry instead of him to at least say that he is not stupid or walk out of the venue.
Other colleagues who were at the press conference also disappointed me. Instead of staging a walk-out, they kept saying" sorry sir "like village primary school   pupils about to be caned by their teacher for indiscipline.
I expect some level of boldness and dignity from every journalist. It was a sad moment for me watching my colleagues begging a man that should have been disgraced.
What is too much in my colleagues staging a walk-out as a protest against an unwarranted verbal assault on one of their own, and as a sign that they are not cheap?
Any one of them could have been a former or serving Minister, so why dignify a man who refused to respect himself because he was a former Minister?
To my colleagues in Nigeria and other parts of Africa, I want to say that we need to be bold, firm and also carry ourselves with dignity. Our profession is noble. A situation where someone will tell a journalist to his face and in presence of his colleagues, that he doesn't have common sense is unacceptable and an insult on all of us.
I wouldn't have taken such insult from any politician. Call me a stupid man and I will give it back to you with common sense. Being a former Minister is not a license for unguided and derogatory statements. After all, it takes a "stupid" man to invite a "stupid "journalist for a press conference