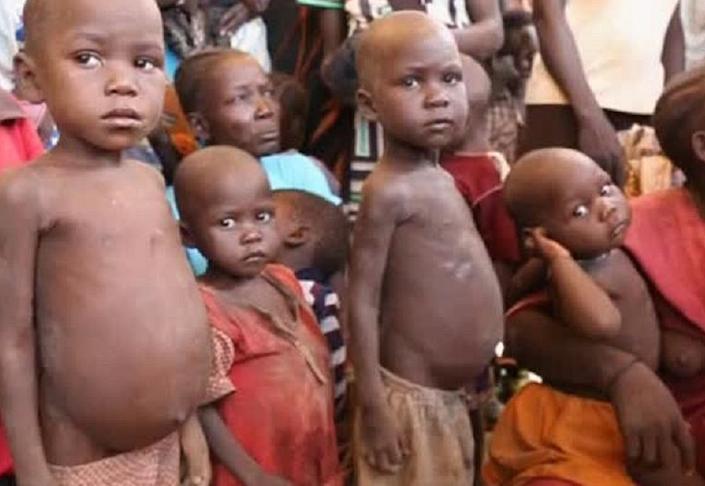 By Sunday Oyinloye
His frail physique on spindly legs readily stood him out. Potbellied and with thin frame, his dark leathery skin was riddled with that tinge of faded white indicative of the onset of rashes. Farouk and his ragtag band of street urchins daily make the rounds of Sabo, the seedy settler community in the heart of Ibadan metropolis,
Orphaned at birth, Farouk was brought from Katsina State to the Oyo capital by an itinerant cobbler and placed in the care of a cleric.
Incapable of feeding the horde of ever hungry wards in his care as they grew up, the " Mallam" regularly pushed them into the streets to scavenge for food, and if lucky bring home some naira notes. For Farouk and indeed many of his ilk caught in the web of grinding poverty, malnutrition and its concomitants have become dreary aspects of existential living.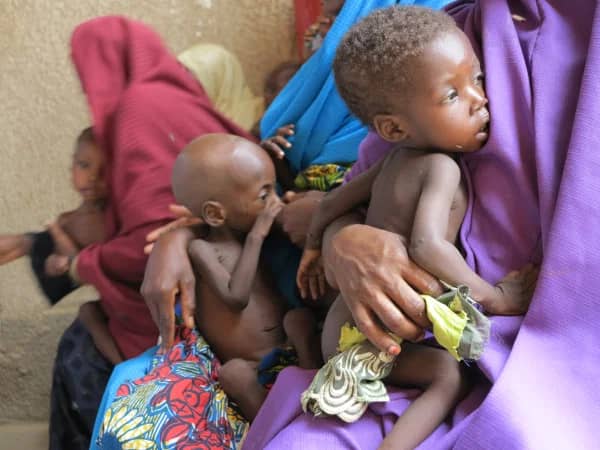 Indeed, the portents thrown up by the scourge of malnutrition are frightening, especially in Nigeria which is considered as a country of the young. The COVID -19 pandemic has not helped matter; it shifted the attention of the government and health authorities from other killer diseases. Little wonder, the N800million initially allocated to Nutrition in the 2020 budget was removed to fund COVID-19 pandemic.
The United Nations statistics report that 48 percent of Nigeria's population is under the age of 15, with the population of children under the age of five currently standing at nearly 31 million.
Amazingly, no fewer than seven million new-born babies are added yearly while an estimated 2.5 million boys and girls under the age of five suffer from Severe Acute Malnutrition yearly in Nigeria.
The United Nations Children Education Fund paints a graphic picture of the great challenge posed by malnutrition.
"Children from the North-West and North-East geopolitical zones are more at risk of malnutrition than children from other geopolitical zones.
"Underweight prevalence in those two zones is nearly four times higher than in the three southern zones. Results are similar for stunting and wasting prevalence," the agency said in a report.
It added that in five states in the north – Katsina, Kebbi, Jigawa, Yobe, and Zamfara – 58 per cent of under-five children suffer from severe effects of malnutrition, impairing their physical and mental development.
In South-West Nigeria, 22 per cent of children under five are severely malnourished, even stunted. Oyo State has 13.2 per cent rate of underweight children, while about 200,000 Osun children are stunted due to malnutrition.
These indeed are chilling statistics in a country where two-thirds of the population live below poverty line. More worrisome, however, is the dire fate faced by the likes of Farouk who survive the ordeal of malnutrition at infancy and end up with lower Intelligent Quotient, stunted growth, impaired physical and cognitive ability and the resultant negative effects on their performance in school and productivity in later life.
While malnutrition accounts for 11 percent of the global burden of disease and is considered the number one risk to health worldwide, the economic spectre also ought to be a source of worry to stakeholders in the health sector, with available statistics indicating that countries may lose two to three percent of their Gross Domestic Product as a result of iron, iodine, and zinc deficiencies.
Lilian Ajah-Mong, the Communication Officer, Civil Societies Scaling-Up Nutrition in Nigeria (CS-SUNN) an advocacy group, believes the current situation is akin to an emergency.
"It is actually an emergency because if you check the Multi Indicator Cluster Survey of 2016/2017, you will see there is a disconnect.
" As we are trying to eradicate the scourge of malnutrition, it still increases but when it becomes an emergency, all stakeholders will wake up to do what they should to ensure it is eradicated through increased funding for nutrition evaluation intervention," she said.
Emeritus professor of nutrition and former President of the Nutrition Society of Nigeria, Prof. Babatunde Oguntona, is more worried about the life threatening problems for children.
According to the don, 10 million Nigerian children-13 per cent of Nigeria's children– may grow to become mentally deformed in adulthood due to nutrient deprivation, particularly lack of iodine in their diet.
"First we have a lot of children in this country who have escaped childhood period and carried over a lot of nutrient deficiency into their early school years. But they are able to continue and the longer they live, the more nutritional deficiency takes effect," he said.
Researchers have also established the intrinsic link between malnutrition and the increasing crisis in the nation's public school system. With malnutrition said to impede cognitive development and limit learning capacity, nutritionists say malnutrition can lead to an overall low academic development among children.
It is therefore unsurprising that more than 10 million Nigerian children are out of school while 37 per cent of all Nigerian children are affected by the effects of malnutrition.
Even more dispiriting, UNICEF says lower school attendance has been linked to decreased accumulation of human capital during childhood and adolescence while stunting in early life is linked to 0.7-grade loss in schooling, a seven-month delay in starting school and between 22 and 45 per cent reduction in lifetime earnings.
How did Nigeria get to this sorry pass? It is all too clear that decades of maladministration had turned Nigeria into the acclaimed "poverty capital "of the world.
With several studies linking poverty with malnutrition, the depth to which the country has sunk on the malnutrition index is certainly understood.
It may, however, be uncharitable to argue that the different tiers of government are not worried about the ticking time bomb that the scourge of malnutrition has become. The Federal Government in particular is quick to flaunt its Home Grown School Feeding Programme for public school pupils.
Launched under the aegis of the ambitious N500 billion Social Investment Programme, the feeding initiative is to tackle poverty and improve the health and education of a whopping 24 million children in all states ready to participate.
The Special Adviser to the President on Social Investments, Mrs. Maryam Uwais, says the thrust of the initiative from inception is to provide a nourishing and balanced meal for 200 school days in a year to pupils in classes one to three in public primary schools so as to boost enrolment, increase cognitive function in children and battle malnutrition.
"Today, we have 103,992 cooks on our payroll, feeding 9,714,342 pupils in 53,715 government primary schools around 31 states, while all the remaining states are at various stages of meeting the criteria we have laid for feeding to commence," Uwais adds.
While there is no doubt that the feeding programme has recorded varying levels of success in encouraging enrolment and boosting nutrition, it is not without its glitches such as paucity of funds and poor meal preparation which are threatening the overall target of improving learning outcomes.
A window of opportunity to save Nigeria's malnourished children may lie in the Ready-to-Use-Therapeutic-Food.
If the successes recorded in some the North East states with the use of RUTF in improving the health of children are anything to go by, governments must as a deliberate policy provide more funding for the initiative to be sustainable. Already, records obtained from UNICEF indicates a yawning funding gap of about N5billion for the procurement of 258,950 cartons of RUTF for the children in the zone alone if they are not to suffer malnutrition in 2020!
Even in the face of COVID-19 pandemic, the task before the different tiers of government in Nigeria is all too clear. They must see investment in nutrition as a policy initiative to boost their economies.
After all, the World Bank puts it succinctly that each dollar spent on nutrition delivers between $8 and $138 of benefits; improving nutrition contributes to productivity, economic development and poverty reduction by improving physical work capacity and cognitive development.