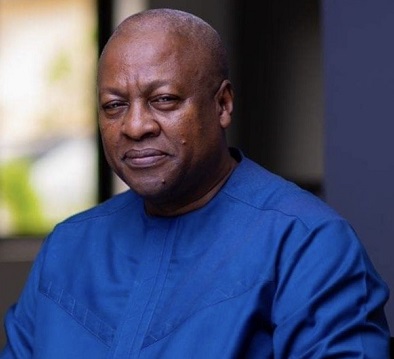 By Sunday Oyinloye
Former Ghanaian President and the flagbearer of the National Democratic Congress (NDC) in December 7, election, John Mahama says his country's economy under the present administration is not working for Ghanaians but just a few people stressing that the time to rescue his country is now.
Speaking yesterday night during the NDC 2020 manifesto launch at the University of Professional Studies, Accra (UPSA) which was monitored by Green Savannah Diplomatic Cable, Mahama faulted the administration of President Nana Akufo-Addo for what he described as high debt profile , uncontrolled borrowing and poor handling of COVID -19 pandemic promising a new Ghana where poverty and inequality would be a thing of the past.
His words" December 7, election is about the destiny and soul of Ghana. Our economy is in tatters, excessive borrowing over the last four years has placed Ghana in a very high debt risk category with absolutely nothing to show for it. Job losses are at an all-time high with business collapses becoming the order of the day. Business confidence is at all-time low with many Ghanaian businesses struggling to stay afloat.
"Ghanaians are tired and hungry while an elite few have access to all the opportunities the nation has to offer. Our institutions have been politicized and there is a gradual erosion of our democratic space
"Government has clearly failed to curtail COVID-19 pandemic despite the huge resources that have been made available by IMF, World Bank and withdrawal from stabilization fund, government has failed in its COVID-19 alleviation and containment programme
"Food distribution during the lockdown was chaotic and disorderly, protective gear remains in short supply, putting our frontline health workers at risk, it is critical that we rescue Ghana from the abyss to which it is sinking"
According to him" We must prepare Ghana to cope with the current global changes , we must open new horizons to instill a new sense of purpose in our people catching up on what we have missed while taking steps to enhance our growth ; our manifesto holds the key to the destiny of Ghana"
The former President said his party was committed to transforming the economy of Ghana adding that if voted into power, NDC would address critical infrastructure deficits by dualizing major national highways, expand railway lines, provide affordable housing units and complete abandoned hospital projects amongst other projects, while also operating a knowledge based economy.
"We will create not only jobs, but sustainable and decent jobs so that people can live dignified lives. We must put Ghanaian businesses at the center of our economic growth. It is only when Ghanaian businesses thrive that our economy can grow and create jobs and prosperity.
"Equal opportunities must be created for all Ghanaian businesses, and not deal with them based on political colour or family affiliation of their owners . Ghana cannot afford to do things the old way, it is time to close the wide gap that divides our society, it is time to finally end intolerance and social discrimination against ethnic groups, religious groups, gender and age group" he said.
Mahama who also frown at corruption in his country revealed that if he becomes the President, all corruption cases hitherto swept under the carpet by the government would be revisited adding that he would depoliticize the public service .
On freedom of the press, he said: "it is time to end repression of the media"
The former Ghanaian President while rolling out his party's manifesto said there would be tax exemptions and support for small and medium scale enterprises while the law banning the importation of salvaged vehicles would be scrapped.
NDC promised to legalize and regulate Okada business" in order to make it safer and an avenue for employment"
The party says it has robust plans for women; part of it is to increase maternity leave from three to four months and establish crèche in formal work places. Men are also to enjoy 7days paternity leave
NDC's manifesto christened "People's manifesto" made provision for the establishment of universities in regions where there are no universities and free Wi-Fi zones in tertiary institutions across the country.
If voted into office, Mahama promised to encourage the consumption of made in Ghana goods while pensioners will be entitled to 13th month bonus amongst other promises.