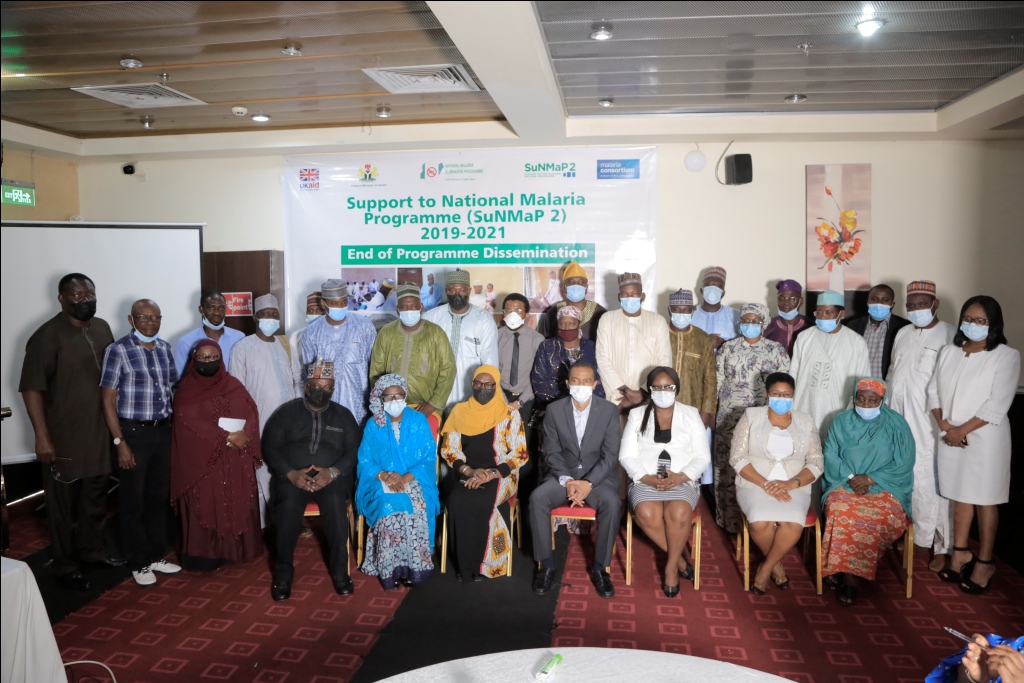 By Sunday Oyinloye
The mood at the end of programme dissemination meeting of Support to the National Malaria Programme Phase 11 (SuNMaP2) held at Ibeto Hotel, Abuja, on Tuesday was that of sadness and joy. Sadness, because a programme designed to save lives was terminated midway by countries that provided the funding. The impact of covid-19 and its negative effects on economies of nations is unprecedented; therefore, countries that funded SuNMaP2 believe that their resources should now be channeled to the fight against covid-19. And joy, because the programme has impacted positively on Nigeria, particularly in states where it was implemented, with lessons leant by stakeholders.
The programme was implemented at 62 government hospitals in six SuNMaP2 states; Kano, Kaduna, Jigawa,Katsina, Yobe and Lagos. Five of the six states are in high malaria risk areas with Lagos in an area of low malaria risk with uncertain prevalence of infection.
As testified by the representatives of these states at the end of programme dissemination meeting, the project was a huge success before it was terminated.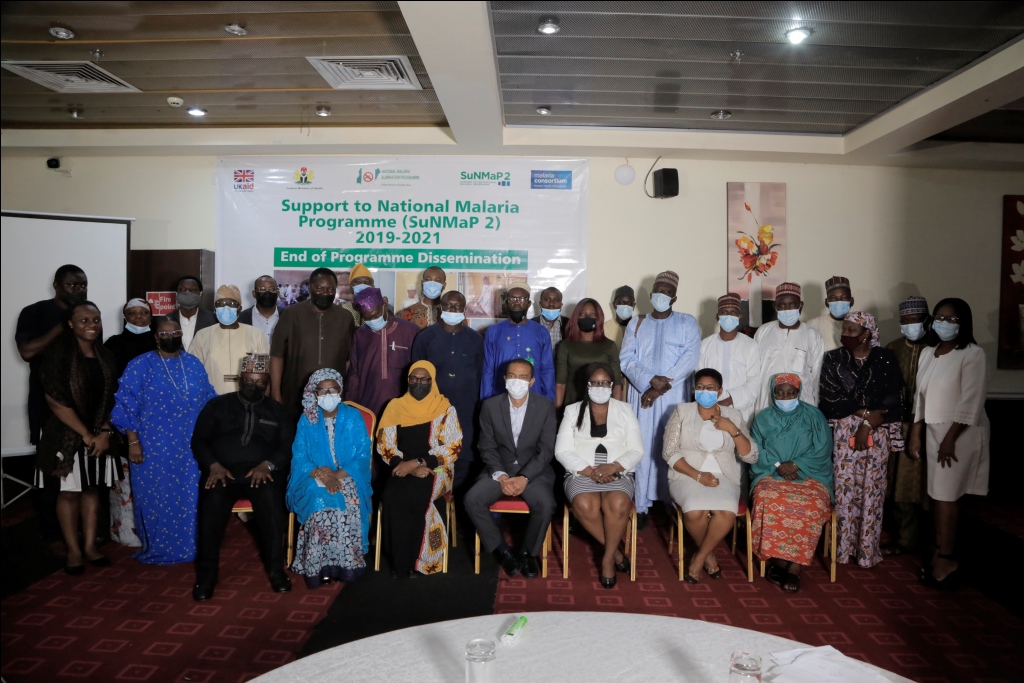 Understandably, covid-19 has literally grounded the world since last year and many countries are just recovering, but malaria related deaths' being recorded yearly in Nigeria is alarming, and it would have been better if SuNMaP2 was not discontinued. But as the saying goes, he who pays the piper dictates the tune, which is a lesson that Nigeria should look inward in most of its health intervention programmes.
Rolling out the statistics of malaria cases in Nigeria, Director, National Malaria Elimination Programmme at the Public Health Department, Federal Ministry of Health, Olufunmilayo Sanni-Adeniyi disclosed that 27 percent of global cases of malaria is recorded in Nigeria while the country also accounts for 23 percent of global malarial deaths.
What a scary statistics you would say, and one begins to wonder why Nigeria is not giving priority attention to malaria elimination.
Olufunmilayo said malaria has remained public health issue not only in Nigeria but also globally and has been with the country for ages stressing that it is time for Nigeria to eliminate it, which accounts for why the government has put many intervention programmes in place that will eventually lead to elimination.
Her words; "The interventions are working; for example, the Seasonal Malaria Chemoprevention (SMC) which is targeted at under-5 children in the North and so, we are very much working at malaria elimination and we are also thinking of replicating it in the South; it may not be SMC, it might be malaria treatment for infants, so that we can strike a balance.
"At the same time, we are having insecticide treated mass campaign across the nation where we expect that all the households should sleep under insecticide treated nets. This will prevent malaria in adults, pregnant women and children. Again, we also encourage all pregnant women to visit antenatal care during pregnancy to take malaria treatment for pregnant women, so we are putting many interventions in place; we are not relaxing in any area at all. We are also conducting insecticide residual spraying to kill the larva and the mosquito itself"
The SuNMaP2 Team Lead National, Dr. Nihinlola Mabogunje said one of the key achievements is that the programme was able to create idea in the minds of Nigerian that programmes can run without aids.
"We have created that awareness that people should start thinking beyond donors; how they be self-resilience "she said.
Answering a question on whether funding was a challenge, Dr. Mabogunje said "SuNMaP2 from day one was on the issue of sustainability, the first two years was to build capacity of National Malaria Elimination Programme
"The third year was to transit and then the fourth year was to mentor. We are supposed to be on the third year; we are not where exactly where we want to be, but one thing that is clear to me is that people are asking questions that what they would do if money stops coming, so Nigerians are thinking inward on how to drive the programme with domestic funds.
"The whole essence of SuNMaP2 is about increasing domestic resources and reducing out of pocket expenditure for the common man which is what tickles me about the project that the common man will not go into financial catastrophe because of spending on malaria. I guess we are getting there with the Basic Health Care Provision Fund that the government is building up and the national health insurance scheme,
"If we all can go that line, we will get somewhere and also SuNMaP2 went further to engage philanthropists and private sector to earnest their strength together and now that we cannot go further, we have passed the baton for other programmes to continue where we have stopped."
When asked about the impact of covid-19 on the project, she said" One of the impacts is what you have seen now, the people funding SuNMaP2 cannot continue .Covid-19 had impact directly and indirectly on the project.
"Throughout last year, people were at home, however, we continued the community activities but the impact of covid 19 on the economy of every nation is quite severe, people tend to focus on covid-19 which affects everybody''
Dr. Mabogunje was also asked whether the states where the programme was executed would continue with it "I have hope in my government as I stand here today. I am a Nigerian, and I believe strongly in my country that one day, we will get there. The states we worked; Kano State in particular has shown a sign that they want to carry some things forward; same with Lagos State. So, the first thing is to create awareness about sustainability in the minds of the people. When you create awareness, then people start to think on how to build their own resilience and start planning for the rainy day, so those states, will get somewhere particularly on community intervention programme".
Also speaking at the end of programme dissemination meeting, Dr. Gafar Alawode who represented Abt Associates on SuNMaP2 project as the Programs Director disclosed that what SuNMaP2 was contracted to do was how to tackle malaria in a sustainable manner and sustainable way.
'' I think the first thing the project had to do then was to change the endemic notion that malaria financing is a primarily on the purview of external financing or donor, so we had to change that through sensitization at the national and state level.
"The truth of the matter is that we cannot continue to depend on external financing, as a result of that, the Federal and the states were helped to develop a sort of a strategy; a roadmap for sustainable financing for malaria including how the money would be spent judiciously, there was a good roadmap and then, not only a roadmap there was capacity building for actors as well, so that they build their capacity in terms of how to mobilize resources and how to make a strong case for malaria in order to make government to be interested and willing to put in more money. To the best of my knowledge, that translated to a significant result."
He explains further, "what the project tries to do in terms of target was that in few years' time out of the total amount of money needed to fight malaria, half of it should be mobilized locally, that was the target we were working on at the national and state level.
"Part of what we did was to look at where the money would come from looking at the federal and state budgets; what is the fiscal room for government to be able to spend. That was very helpful we were about to be using that information for engagements and which I know some states have started putting in money, but unfortunately, due to global meltdown occasioned by covid 19, the tenure of the project had to be truncated , otherwise ,it was a very promising endeavor"
Green Savannah Diplomatic Cable asked Alawode the way forward: "In terms of what donor is doing and what stakeholders are looking at, there are other projects which have the capacity to build on the domestic resource mobilization, plans, strategy and the capacity that we built to actually transfer some of these resource mobilization maybe to a project like Lafiya project and others so that everything will not be an exercise in futility, and that we can be able to transition very well"
Dr. Alawode believes that malaria can be eliminated in Nigeria "if other countries have done it, why not Nigeria? The burden is huge but it's not an impossible task to be able to completely eradicate malaria. The resources needed, we are not yet mobilizing it that is number one challenge. We need more resources to scale up the intervention for malaria. We have been doing more of control, now we are at the era of elimination, but we really have to scale up the intervention, both the preventive and treatment and not only that, the environmental intervention as well as multi sectorial intervention. Other ministries apart from Health are needed."
He said the media has a lot of work to do stressing that malaria should be on the front burner
"We want to hear Mr. President and other leaders talk about malaria elimination, so that at the end of the day, we will be able to achieve." Said Alawode
From the presentations made by the SuNMaP2 Team Lead National, Dr. Nihinlola Mabogunje and Director, National Malaria Elimination Programmme at the Public Health Department, Federal Ministry of Health, Olufunmilayo Sanni-Adeniyi, there is the need for domestic support financing for malaria
Others stakeholders who spoke at the end of programme dissemination meeting also stressed the need for Nigeria to look inward in its efforts at eliminating malaria. They all believe that Nigeria has the capacity to source locally, the funding that would make another programme take the baton from where SuNMaP2 stopped. The constitution and inauguration of End Malaria Council was also suggested in addition to institutionalizing of new approaches and involvement of the private sector in the efforts at eliminating malaria amongst other suggestions.
Nigeria is indeed blessed with enormous human and material resources to eliminate malaria; however, time will tell whether another programme will continue where SuNMaP2 stopped. Before then, the question remains what next for malaria elimination in Nigeria?