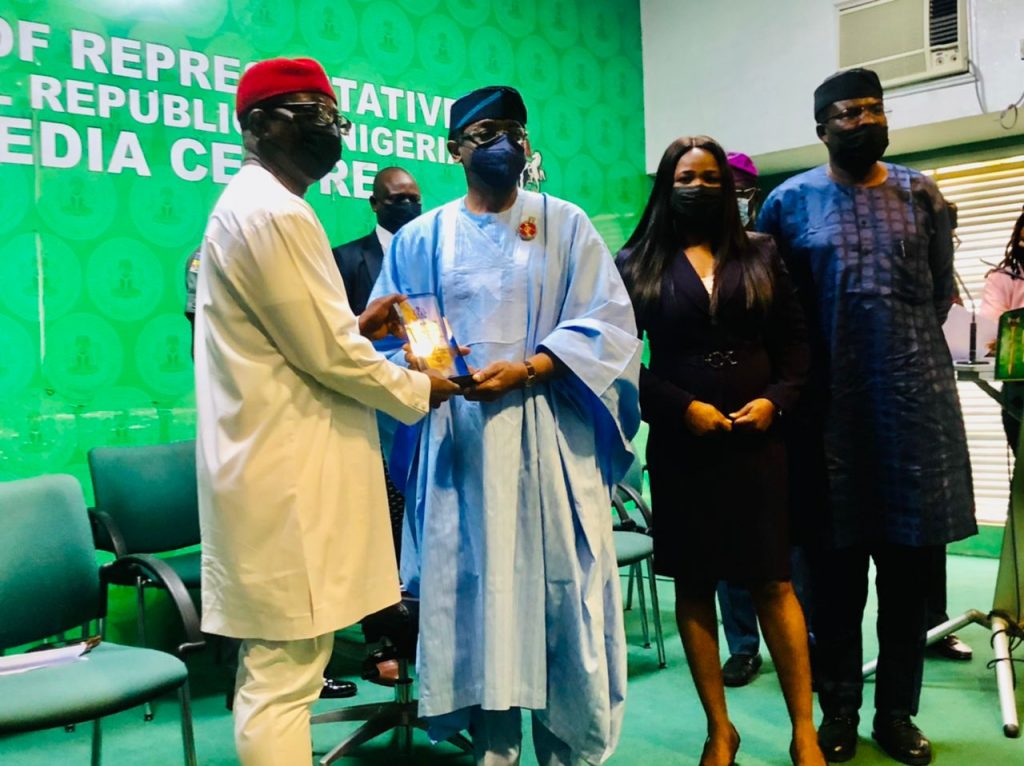 By Sunday Oyinloye
Barely a month after he received letter of commendation from the secretariat of GLOBE international in Brussels, Belgium, and a week after receiving similar letter from Climate Parliament, the Speaker of the House of Representatives, Rt. Hon. Femi Gbajabiamila has described the member representing Ikwuano/Umuahia North/South Federal Constituency at the National Assembly, Hon. Sam Onuigbo as a dogged and committed lawmaker.
Speaking yesterday at the presenting of the award of "Dean of Bills" to Hon. Onuigbo by the National Assembly Press Corps Gbajabiamila said "It is not about the number of Bills, but its quality. The Climate Change Bill is one of those Bills that affect every one of us for life. Climate Change is topical. Hon. Onuigbo was dogged and committed throughout the period of fighting for the passage of the Climate Change Bill and has earned my respect for this.
The Speaker, who congratulated Hon. Onuigbo for what he described as a "landmark achievement", stated that the lawmaker has done so much on the floor of the House.
In his words: "The Climate Change Bill is one that will be a legacy for life and I congratulate him. What he has done is inter-generational. Perhaps one day, I will organize a lecture on Climate Change in the House as most people do not know the nature of its impact."
Recall that President Muhammadu Buhari on November 18, 2021, assented to the Climate Change Bill sponsored by Hon. Sam Onuigbo. The President's assent to the Bill was a culmination of dedicated efforts by the Abia-born lawmaker and this has received global applause.
In his response, Onuigbo said the success recorded was only possible due to the "exceptional leadership and commitment shown by the leadership of the National Assembly especially the Speaker of the House of Representatives, Rt. Hon. Femi Gbajabiamila, who not only constituted (and also caused the Ministries of Justice and Environment to send in their own representatives) a review committee to identify and address the areas of contention that made President Buhari not to assent the Bill in the 8th Assembly, but also followed up to ensure that expedited passage was effected at the House and the Senate
Just last month, the Clerk of the House of Representatives, Chinedu Francis Akubueze wrote a letter of commendation to Onuigbo saying " I want to place it on records that in all my years of legislative practice, I had never come across a legislator with more passion over a topic as like you".