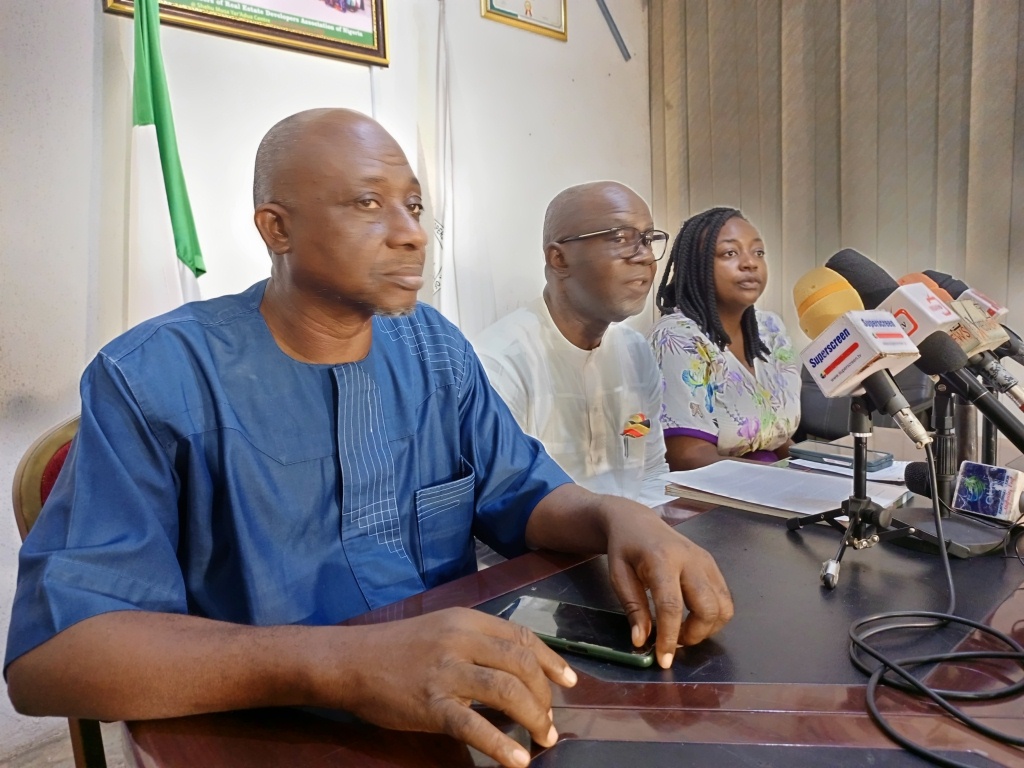 By Sunday Oyinloye
As Nigeria prepares to host the world at the 7th Real Estate and Construction (RECON) Expo 2023 coming up in Abuja from 21st -23 November, 2023, the Chairman of the Organising Committee of RECON Expo, Dr. Johnson Anene has given reasons why the event should be of interest to every Nigerian.
Speaking at a Press Conference in Abuja today, Dr. Anene flanked by the Executive Secretary of Real Estate Developers Association of Nigeria (REDAN),Mr. Yunusa Shuaib, and the Public Relations Officer of RECON, Adenusi Simisola  said  the 2023 Real Estate and Construction (RECON)Expo is to support  the Federal Government in its bid  at providing affordable housing for the citizens.
He said the Expo will also seek to provide solution to the over 22million national housing deficit while exploring ways to reducing cost of building and improving access to land.
According to him, RECON 2023 provides an array of real estate opportunities for people in the housing sector adding that  It is where construction companies  realtors, mortgage brokers, home appliance vendors, carpenters, interior designers and the likes connect to leverage on available opportunities in real estate business.
His words : "The real estate investment has over the years enhanced the economic development of countries like Brazil, Taiwan, United Arab Emirate, China, Russia, Indonesia, and South Africa, to mention a few.
"Real estate sector in other climes contribute hugely to Gross Domestic Product. In the United States of America and United Kingdom, you have contributions of 18 to 20 per cent to GDP.
"In Nigeria, statistics indicate that housing contributes a meagre percentage of about 0.5 per cent. This is what the Expo is trying to address.
"The 7th edition of RECON is intended to discuss on how to stimulate economic growth through investment in real estate, infrastructure, safe environment and technology.
"It will also promote local production of building materials, present new investment opportunities and create jobs for youths and support federal government's efforts at attracting more direct foreign investment into the country.
"RECON affords Nigerians the opportunity to learn about government support, incentives and allows them connect with certified realtors"
Anene disclosed that there will be launch and presentation of different products after which the Buyers – Sellers Forum that will allow buyers purchase products at discounted rates will commence.
The three-day Expo is expected to have over 150 exhibitors and 20,000 participants from Nigeria and different parts of the world.
RECON Expo 2023 with the theme, "Stimulating National Economic Growth Through Real Estate Investment, Infrastructure and Technology", is intended to drive more investment into real estate, constructions and other sectors alike.
It will feature exhibitions, conferences, Business to Business (B2B), Business to Government (B2G), and business networking.
Anene said exhibitors will have the opportunity to showcase, promote,  and sell their products and services while participants will have the opportunity to buy housing,  building materials and mortgages at discounted rates, and also network and explore new business, investment opportunities in addition to learning new building technologies through trainings and enlightenment programs.
Also speaking at the Press Conference, the Executive Secretary REDAN, Mr. Yunusa Shuaib said his organization is ready to partner with relevant stakeholders to address the housing needs of Nigerians.
RECON Expo is an annual real estate event organised by RECON EXPO Ltd, Shelter Aid Ltd, Afrinex West Africa Ltd in conjunction with Abuja Chamber of Commerce and Industry, Real Estate Developers Association of Nigeria (REDAN), with support  from  Federal Ministry of Housing,  FCT Administration, Federal Mortgage Bank of Nigeria (FMBN) Federation of West African Chambers of Commerce and Industry (FEWACCI), West African Ceramics Ltd (Royal Ceramics) Tata – John Deere Group and a host of other public and private sector organizations
The Expo is open to Real Estate Developers, investors, mortgage bankers, building materials suppliers, professionals and practitioners in real and construction industry, the diplomatic communities, MDAs, NGOs, Associations, Professional Bodies, Trade Unions and the public.