Thomas Adewumi University, Oko resumes May 16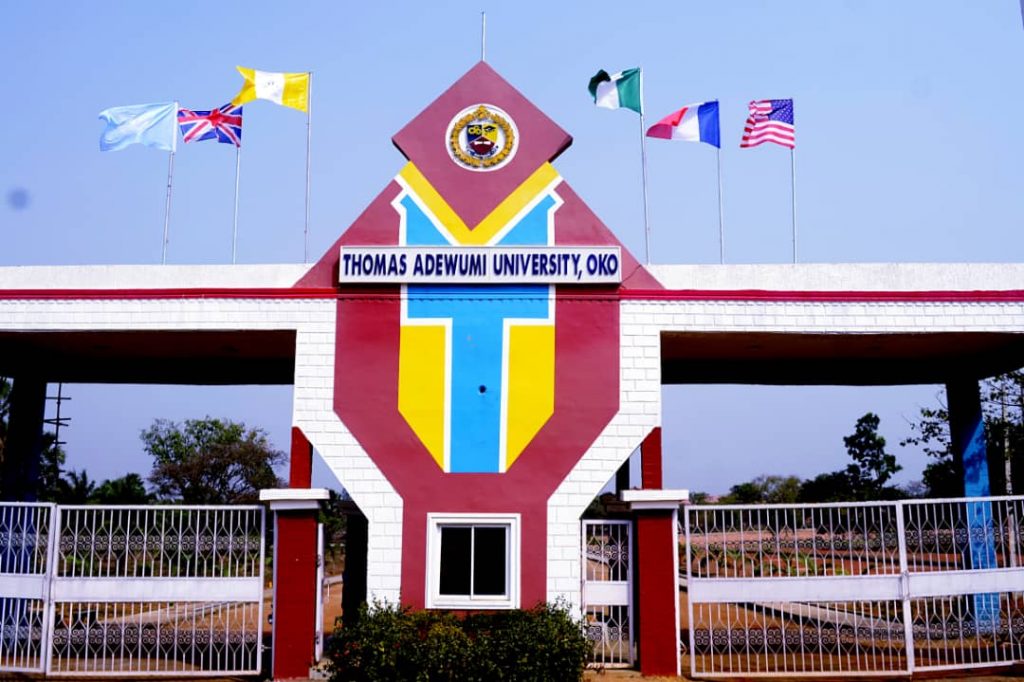 Thomas Adewumi University (TAU) Oko, Kwara State, Nigeria is to resume on the 16th of this month.
According to information made available to Green Savannah Diplomatic Cable by the management of the institution, candidates with a minimum score of 160 in the 2020 UTME can apply for any of the courses and also have the opportunity to pay their fees in two installments stressing "2020 UTME score is still valid."
Candidates seeking admission into TAU can read the following courses at the Faculty of Basic Medical and Health Sciences; Medical Laboratory Science, Nursing Science and Physiotherapy.
Faculty of Management and Social Sciences have; Accounting, Business Administration, Criminology and Security Studies, Economics, and Mass Communication.
At the Faculty of Computing and Applied Sciences, they can read Biochemistry, Computer Science, Cyber Security, Mathematics, Microbiology, and Software Engineering.
On what the students should expect, TAU management said;" They will enjoy serene and secured environment, well equipped Science laboratories and communication studios, qualified, friendly and seasoned lecturers, well- staffed and equipped health centre, comfortable halls of residence, well stocked library and recreational facilities"
"Our vision is to provide excellent academic environment suitable for the development of ideas and knowledge for the benefit of mankind while our mission is to be center of attraction for staff and students of the highest quality dedicated and attuned to the ideas of excellence, truth, progress and development in an excellent academic environment"
Thomas Adewumi University was one of the 20 new private universities recently presented with provisional licence by the National Universities Commission.
The university is the owner of the famous Thomas Adewumi International College, Oko reputed to be one of the best private secondary schools in West Africa.
The management of TAU advised those seeking further information on admission to call or whatsApp; 08101639831, 0905 392 9899, 0817 915 1183 or call: Registrar: 0803 376 4676, Dr. Ishola – 0803 288 5843, Dr. Folaranmi – 0803 247 4987. They can also visit www.tau.edu.ng
Thomas Adewumi University, Oko has Liaison offices at the following locations; 44, Lord Lugard Crescent , Asokoro, Abuja, Plot 2 Omole Layout, Ogunnusi Road, Ojodu Lagos, Opposite Kwara Hotel, Ilorin, Owolewa Building, Omu- Aran and Zenith Engineering Consulting , 3rd Floor Negwamatse House, 48/50 Ahmadu Bello Way, Kaduna